Psoromic Acid, a Lichen-Derived Molecule, Inhibits the Replication of HSV-1 and HSV-2, and Inactivates HSV-1 DNA Polymerase: Shedding Light on Antiherpetic Properties
1
Department of Natural Drugs, Faculty of Pharmacy, University of Veterinary and Pharmaceutical Sciences Brno, Palackého tř. 1946/1, 612 42 Brno, Czech Republic
2
Department of Applied Ecology, Faculty of Environmental Sciences, Czech University of Life Sciences Prague, Kamýcká 129, 165 21, Praha 6-Suchdol, Czech Republic
3
Museum of Literature in Moravia, Klášter 1, 664 61 Rajhrad, Czech Republic
4
Departamento de Ciencias del Ambiente, Facultad de Química y Biología, Universidad de Santiago de Chile, Casilla 40, Correo 33, Santiago 9170022, Chile
*
Author to whom correspondence should be addressed.
Received: 22 July 2019 / Revised: 7 August 2019 / Accepted: 8 August 2019 / Published: 11 August 2019
Abstract
Psoromic acid (PA), a bioactive lichen-derived compound, was investigated for its inhibitory properties against herpes simplex virus type 1 (HSV-1) and type 2 (HSV-2), along with the inhibitory effect on HSV-1 DNA polymerase, which is a key enzyme that plays an essential role in HSV-1 replication cycle. PA was found to notably inhibit HSV-1 replication (50% inhibitory concentration (IC
50
): 1.9 μM; selectivity index (SI): 163.2) compared with the standard drug acyclovir (ACV) (IC
50
: 2.6 μM; SI: 119.2). The combination of PA with ACV has led to potent inhibitory activity against HSV-1 replication (IC
50
: 1.1 µM; SI: 281.8) compared with that of ACV. Moreover, PA displayed equivalent inhibitory action against HSV-2 replication (50% effective concentration (EC
50
): 2.7 μM; SI: 114.8) compared with that of ACV (EC
50
: 2.8 μM; SI: 110.7). The inhibition potency of PA in combination with ACV against HSV-2 replication was also detected (EC
50
: 1.8 µM; SI: 172.2). Further, PA was observed to effectively inhibit HSV-1 DNA polymerase (as a non-nucleoside inhibitor) with respect to dTTP incorporation in a competitive inhibition mode (half maximal inhibitory concentration (IC
50
): 0.7 μM; inhibition constant (
K
i
): 0.3 μM) compared with reference drugs aphidicolin (IC
50
: 0.8 μM;
K
i
: 0.4 μM) and ACV triphosphate (ACV-TP) (IC
50
: 0.9 μM;
K
i
: 0.5 μM). It is noteworthy that the mechanism by which PA-induced anti-HSV-1 activity was related to its inhibitory action against HSV-1 DNA polymerase. Furthermore, the outcomes of in vitro experiments were authenticated using molecular docking analyses, as the molecular interactions of PA with the active sites of HSV-1 DNA polymerase and HSV-2 protease (an essential enzyme required for HSV-2 replication) were revealed. Since this is a first report on the above-mentioned properties, we can conclude that PA might be a future drug for the treatment of HSV infections as well as a promising lead molecule for further anti-HSV drug design.
View Full-Text
►

▼

Figures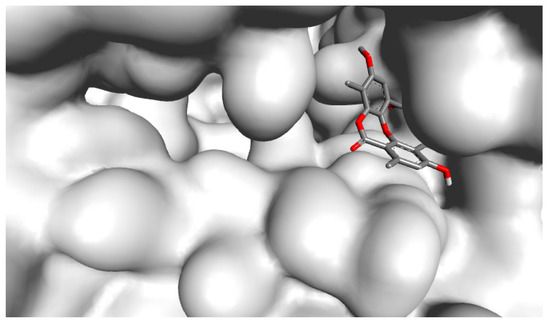 Figure 1
This is an open access article distributed under the
Creative Commons Attribution License
which permits unrestricted use, distribution, and reproduction in any medium, provided the original work is properly cited (CC BY 4.0).

Share & Cite This Article
MDPI and ACS Style
Hassan, S.T.S.; Šudomová, M.; Berchová-Bímová, K.; Šmejkal, K.; Echeverría, J. Psoromic Acid, a Lichen-Derived Molecule, Inhibits the Replication of HSV-1 and HSV-2, and Inactivates HSV-1 DNA Polymerase: Shedding Light on Antiherpetic Properties. Molecules 2019, 24, 2912.
Note that from the first issue of 2016, MDPI journals use article numbers instead of page numbers. See further details here.
Related Articles
Comments
[Return to top]