Evaluation of the Cadmium Accumulation in Tamarillo Cells (
Solanum betaceum

) by Indirect Electrochemical Detection of Cysteine-Rich Peptides

1

Escuela de Ciencias Químicas, Pontificia Universidad Católica del Ecuador, Avenida 12 de Octubre y Roca, 17-01-2184 Apartado, Quito, Ecuador

2

Departamento de Química, Universidad Simón Bolívar, 89000 Apartado, Caracas, Venezuela

3

Centro de Investigación y Control Ambiental "CICAM", Departamento de Ingeniería Civil y Ambiental, Facultad de Ingeniería Civil y Ambiental, Escuela Politécnica Nacional, Ladrón de Guevara E11-253, 17-01-2759 Quito, Ecuador

4

Grupo BIOCEMP, Laboratorio de Cultivo de Tejidos Vegetales, Departamento de Ciencias de la Vida y de la Agricultura, Universidad de las Fuerzas Armadas ESPE, Av. General Rumiñshui s/n, 171-5-231B Sangolqui, Ecuador

*

Authors to whom correspondence should be addressed.

Academic Editor: Silvia Illuminati

Received: 31 March 2019 / Revised: 11 April 2019 / Accepted: 16 April 2019 / Published: 12 June 2019
Abstract
Long-term cadmium intake can be very dangerous to human health due to its toxic effects. Although people can be contaminated with this element from different sources, contaminated food is probably the most important one. Foods such as vegetables and fruits can become contaminated with cadmium existing in soils, irrigation water, or chemical fertilizers. Some plants produce an excess of cysteine-rich peptides (CRp) when affected by high concentrations of heavy metals such as cadmium, thus indicating the presence of this type of contamination. Among these plants is tamarillo (
Solanum betaceum
), which is locally known as "tree tomato". This is a native plant widely consumed in the Ecuadorian Andes because of its abundance, low cost, and high content of vitamin C and fiber. The fact that
Solanum betaceum
produces CRp upon contamination with heavy metals means that this plant may be able to accumulate heavy metals. If this is the case, the plant can possibly be used as an indicator of metal pollution. The main goals of the present work were to evaluate the possibility of using
Solanum betaceum
as an indicator of metal contamination in plants and to examine its capability to accumulate metals. Both goals were met by determination of the amounts of CRp produced by
Solanum betaceum
cells cultivated in vitro in the laboratory under controlled conditions in the presence of different concentrations of cadmium. The CRp determination was carried out by means of electrogeneration of iodine in an iodide solution containing reduced glutathione as a biological thiol model.
Solanum betaceum
cells were grown in a Murashige and Skoog solution enriched with a 30 g L
−1
sugar aqueous solution and 1 mg L
−1
2,4-dichlorophenoxyacetic acid. The results of these experiments confirmed the following: (1) CRp production is a function of the amount of cadmium present as a contaminant up to a limiting value after which cell apoptosis occurs; (2)
Solanum betaceum
accumulates cadmium; (3) the analytical method used is appropriate for CRp determination; and (4) CRp determination is a valid alternative to detect contamination by heavy metals in plants.
View Full-Text
►

▼

Figures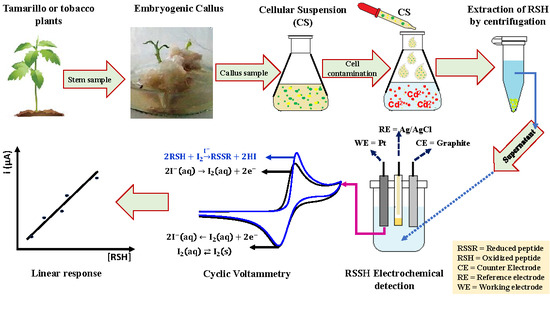 Graphical abstract
This is an open access article distributed under the
Creative Commons Attribution License
which permits unrestricted use, distribution, and reproduction in any medium, provided the original work is properly cited (CC BY 4.0).

Share & Cite This Article
MDPI and ACS Style
Montero-Jiménez, M.; Fernández, L.; Alvarado, J.; Criollo, M.; Jadán, M.; Chuquer, D.; Espinoza-Montero, P. Evaluation of the Cadmium Accumulation in Tamarillo Cells (Solanum betaceum) by Indirect Electrochemical Detection of Cysteine-Rich Peptides. Molecules 2019, 24, 2196.
Note that from the first issue of 2016, MDPI journals use article numbers instead of page numbers. See further details here.
Related Articles
Comments
[Return to top]