Open Access This article is
freely available
re-usable
Review
Formulation Strategies for Enhancing the Bioavailability of Silymarin: The State of the Art
1
Centre for Research and Training in Medicine for Aging, Department of Medicine and Health Sciences "Vincenzo Tiberio", University of Molise, I-86100 Campobasso, Italy
2
Department of Agriculture, Environmental and Food Sciences (DIAAA), University of Molise, I-86100 Campobasso, Italy
*
Author to whom correspondence should be addressed.
Academic Editor: Derek J. McPhee
Received: 12 April 2019 / Accepted: 6 June 2019 / Published: 7 June 2019
Abstract
:
Silymarin, a mixture of flavonolignan and flavonoid polyphenolic compounds extractable from milk thistle (
Silybum marianum
) seeds, has anti-oxidant, anti-inflammatory, anti-cancer and anti-viral activities potentially useful in the treatment of several liver disorders, such as chronic liver diseases, cirrhosis and hepatocellular carcinoma. Equally promising are the effects of silymarin in protecting the brain from the inflammatory and oxidative stress effects by which metabolic syndrome contributes to neurodegenerative diseases. However, although clinical trials have proved that silymarin is safe at high doses (>1500 mg/day) in humans, it suffers limiting factors such as low solubility in water (<50 μg/mL), low bioavailability and poor intestinal absorption. To improve its bioavailability and provide a prolonged silymarin release at the site of absorption, the use of nanotechnological strategies appears to be a promising method to potentiate the therapeutic action and promote sustained release of the active herbal extract. The purpose of this study is to review the different nanostructured systems available in literature as delivery strategies to improve the absorption and bioavailability of silymarin.
Keywords:
silymarin; silybin; nanoemulsion; solid lipid nanoparticles; nanostructured lipid carriers; liposome; polymeric particles; self-emulsifying delivery systems; enhanced bioavailability
1. Introduction
Self-emulsifying drug delivery systems (SEDDS) have attracted interest in the pharmaceutical industry because they can be dosed as preconcentrates and generate a drug-containing emulsion with a large surface area upon dispersion in the GIT. When used in SEDDS, surfactant molecules in a preconcentrate formulation self-assemble to form nanoparticles containing the drug. Thus, to favour faster absorption, higher concentrations of biocompatible amphiphilic compounds are used to form smaller particles. Another technological approach consists in generating a supersaturated solution, characterized by increased chemical potential compared to a stable, saturated solution. Supersaturation, therefore, is a thermodynamically unstable condition and the system tends to return to the equilibrium state by drug precipitation.
Thus, to apply the concept of supersaturation in order to circumvent the problem of the limited water solubility of silymarin and increase its absorption in the stomach and small intestine, the supersaturated solution must be stabilized through the use of precipitation inhibitors for a sufficient period of time. For example, different degrees of supersaturation and maintenance of the supersaturated state can be achieved using amorphous solid dispersions with different polymers such as PVP and PVA. On the other hands, controlled-release systems would represent one option to avoid excessive supersaturation. Therefore, advanced versions of these formulation strategies provide the ability to control the release profile of the drug in response to external stimuli such pH, ionic strength, magnetic field, ultrasounds, light and heat, which can improve the targeting and allow greater dosage control.
2. Silymarin: Source and Physicochemical Properties
3. Formulation Strategies Designed to Improve the Bioavailability of Silymarin
In the following subsections, various approach specifically designed for silymarin delivery will be reviewed and systematically classified in the final Table 1, including the suitable cross references mentioned in the text.
Figure 2
illustrates the types of formulations that have been developed to improve the solubility and bioavailability of silymarin, most of which being designed primarily for oral administration. Henceforth, the acronyms SLM and SIL will be used, respectively, to indicate the silymarin powdered extract and its main purified active constituent silybin or silibinin. The meaning of the other acronyms is shown in the list of abbreviations at the end of the review.
3.1. Nanocrystals, Nanosuspensions and Solid Dispersions
X-ray powder diffraction (XRPD) investigations demonstrated a low crystalline state for the rod-shaped smaller particles, which in turn manifested a better dissolution property than the larger spherical ones. However, although the precipitation technology is simple and cost effective, the tendency of the pharmaceutical particles to grow, and the difficulty in inhibiting that growth, posed obstacles to their production at industrial level.
This strategy, besides using water instead of the organic solvent, led to a reduced ratio of hydrophilic polymeric carrier and drug in the final solid dispersion. A series of 1% aqueous solutions of biocompatible polymers and surfactants were tested to evaluate their capacity as SLM carriers in enhancing the aqueous solubility of the drug. PVP and Tween 80 provided the highest drug solubility of about 800 mg/mL and 2500 mg/mL, respectively, and were selected for preparing SLM-loaded solid dispersions. The optimised SLM/PVP/Tween 80 formulation (5:2.5:2.5, w/w/w), combined both relatively smaller amounts of carriers and increased drug solubility and dissolution. Compared to a commercial product, the proposed solid dispersion improved the oral bioavailability of the drug in rats by almost 3-fold and also exhibited advanced hepatoprotective bioactivity.
3.2. Complexes with Cyclodextrins and Phospholipids
Natural cyclodextrins (CDs) are widely used in pharmaceuticals, drug delivery systems, cosmetics, food technology and the chemical industries. They can be found in commercially available medications, including tablets, eye drops, and ointments (see ref. [
56
] for a recent review on the subject). Formulations based on SLM inclusion complex with β-CD were reported by Ghosh et al. [
57
]. They were prepared by different methods, such as physical mixing, kneading, co-precipitation and solvent evaporation. The inclusion complex prepared by the co-precipitation method led to best results regarding the sustained drug release performance. In another investigation, a lyophilized SIL-HP-β-CD complex was prepared and evaluated in vitro by Kellici et al. [
58
], who performed detailed physicochemical studies on the SIL-CD interactions at the molecular level and investigated the respective bioavailability on MCF-7 cancer cells. In a different study, SLM inclusion complexes with, respectively, HP-β-CD and RAMEB were developed in order to improve SLM anti-fibrotic activity at a lower therapeutical dose of 50 mg/kg, by increasing their potential solubilization and to prevent their metabolic degradation within the GIT after oral administration, [
59
].
Other types of molecular complexes capable to enhance the bioavailability of the active constituents of silymarin are represented by phytophospholipid complexes known as phytosomes. The phytosome unit is a molecular complex between phospholipids and standardized polyphenolic constituents in a 1:1 or 2:1 molar ratios, whose various aspects such as interactions, structures, characterization and increased bioavailability can be found elsewhere [
60
]. According to several studies, SIL-phytosome proved to be more bioavailable with enhanced therapeutic activities compared to the purified molecular extracts, though most of formulations have been focused on oral and topical drug administration routes [
61
,
62
]. Besides, mixtures of phospholipid and bile salts forming PC-BS mixed micelles, were found to be good nanocarrier candidates to encapsulate SIL with high loading capacity, due to their physiological compatibility and solubilizing capacity. Yu et al. [
63
] prepared phospholipidic micelles mixed with BS (SPMM) to solubilize SIL in their inner hydrophobic cores. From pseudo-ternary phase diagram investigations, an optimum micellar formulation was capable to solubilize the drug up to 10 mg/mL, which was also found to double in the presence of PVP [
64
]. An analogous nanovehicle for the water-insoluble SIL purposely designed for parenteral application was proposed by Duan et al. [
65
], who first prepared a SIL-PPC equimolar complex by TFD method, which was then dissolved in anhydrous ethanol together with PPC and SDC at various molar ratios. After evaporation of the organic phase, the mixed micelles loaded with SIL were reconstituted by adding double distilled water. The optimal formulation led to a SIL loading efficiency of 14.43%, which corresponded to a drug solubility in water of 10.14 ± 0.36 mg/mL.
3.3. Lipid-based Formulations
A widespread formulation strategy exploits lipid-based colloidal vehicles as winning option for the delivery of SIL penalized by the poor aqueous solubility. Lipid-based formulations (incorporation of the active lipophilic component into inert lipid vehicles) are used to improve the oral bioavailability of poorly water-soluble drug compounds, which include micro- or nanoemulsions, oils, self-emulsifying formulations, surfactant dispersions, proliposomes and liposomes, solid lipid nanoparticles and lipid nanocarriers, etc. These lipid formulations can be broadly divided into two groups, namely, liquid oil-in-water (O/W) emulsions (LEs) and solid lipid nanoparticles (SLNs). The LE systems could be lipid solutions, emulsions, microemulsions and self-(nano-/micro-) emulsifying drug delivery systems. SLNs are novel lipid-based formulations which are constituted exclusively of biodegradable lipids such as highly purified triglycerides, monoglycerides, hard fats, complex glyceride mixtures or even waxes, which are solid at physiological temperature.
3.3.1. Micro- and NanoEmulsions
3.3.3. Solid-Lipid Nanoparticles (SLNs), Nanostructured Lipid Carriers (NLCs)
3.4. Polymer-based Nanocarriers
In literature exists a variety of solutions designed by researchers to effectively encapsulate SIL in biocompatible and biodegradable polymeric nanosystems such as polymeric micelles, composites and solid nanodispersions [
117
]. Altogether they represent a very efficient strategy by which a poorly water-soluble drug can be dispersed into an inert hydrophilic polymer matrix. As the polymeric erosion progresses, the loaded drug is released in the form of very fine particles for rapid dissolution.
3.4.1. Inclusion in Polymeric Matrices
3.4.2. Dendrimers and Polymeric NPs
One of the open question is the mechanism whereby PAMAM dendrimers increase the small intestinal absorption of the drug. Probably more than one mechanism, such as the effect of paracellular transport of drug-dendrimer complexes through the epithelium, improved contact with the epithelium itself and higher absorption through the endocytosis process, could contribute to the greater oral bioavailability of SIL vehicled by PAMAM dendrimers.
The weight ratio of SLM:PLGA had a significant effect on the overall entrapment, especially for the most hydrophilic compound among all the components (TXF). After an initial screening of experimental variables, it was found that the EE of the relatively more hydrophilic components TXF, SILcr and SILdi was always much lower than those of SIL and isoSIL. The optimized conditions to prepare PLGA NPs with the ESE method, enabling the synchronous encapsulation of all the active compounds, were observed in correspondence of an increase of both ionic strength and pH, and PVA aqueous solutions saturated with SLM.
Both in vitro and in vivo tests proved the potentially beneficial use of the developed SLM NP formulation in the treatment of cirrhosis and fibrosis diseases.
The liver protection activity was ascertained in a model of induced hepatotoxicity in rats, by detecting the reduction in levels of serum transaminase. Histopathological evaluation of liver tissues also confirmed the enhanced hepatoprotection upon oral administration of PES-SLM-PUL NPs.
3.5. Nanostructured Materials Based on Inorganic Compounds
4. Conclusions and Outlook
The primary reasons for poor silymarin bioavailability are elevated metabolism, inefficient intestinal absorption, low aqueous solubility, and rapid excretion in bile and urine. These factors necessitate the incorporation of silymarin into a form that can augment its bioavailability. Therefore, silymarin solubilization is fundamental to obtain an optimal and efficient bioavailability and consequently the formulation strategies designed to improve its solubility are of crucial importance. The reviewed studies reveal that increasingly advanced and performing silymarin-based formulations has logically followed step by step the evolution of the nanotechnologies and nanosystems designed to improve the delivery of poorly water-insoluble drugs and active principle ingredients. Current solubilization approaches highlight, for example, the importance and effectiveness of amorphous solid dispersions and lipid-based drug delivery systems, as well as the use of supersaturated solutions. However, most of the formulation preparations suffer some weaknesses such as very complex processes and lack of reproducibility, which are difficult to translate to industrial production. Besides, the drug loading capacity usually is very low and the preparations are unstable during storage. There is still a long way before they come to market. In future, some advanced type of formulation approaches such as emulsomes, mesoporous silica nanoparticles, dendrimers and carbon nanotubes could be successfully utilized for bioavailability enhancement and targeting of silymarin to hepatocytes.
In
Table 1
the types of formulations reviewed in the previous sections have been systematically classified and linked to their respective methods of preparation, selected characteristic and related bibliographic sources. We hope that this study could represent a useful reference for a broad and updated overview on the most efficient and relevant nanotechnologies aimed ultimately at improving the therapeutic efficiency of silymarin.
Author Contributions
Both the authors contributed substantially to the review.
Funding
The APC was funded by the Molise Region (D.D. n. 149, 14/07/2016).
Conflicts of Interest
The authors declare no conflict of interest.
Abbreviations
AUC
area under the plasma drug concentration-t curve
β-CD
β-cyclodextrin
Brij 78 or Brij S20
polyoxyethylene 20 stearyl ether
BS
Bile Salts
Cmax
maximum plasma drug concentration
CA
Caprylic Acid
Capryol 90
propylene glycol monocaprylate
CHOL
cholesterol
CMCHS
carboxymethylchitosan
CP
cetyl palmitate
Cremophor® EL
polyoxy-35-castor oil
Cremophor® RH40
polyoxyl 40 hydrogenated castor oil
DCP
dicetylphosphate
DDs
Drug Delivery Systems
D-GaIN
D-galactosamine
DON
Deoxynivalenol
DPPC
DiPalmitoylPhosphatidylCholine
DSPE
DiStearoylPhosphatidylEthanolamine
EE
Entrapment Efficiency
EES
Emulsification Evaporation Solidification
ESD
Emulsification/Solvent Diffusion
ESE
Emulsification/Solvent Evaporation
EVO
extra virgin olive
GA
glycyrrhizic acid
GDS
GlycerylDiStearate
Geleol®
mono-, di- and triesters of palmitic and stearic acids
GIT
gastrointestinal tract
GMO
GlycerylMonoOleate
GMS
GlycerylMonoStearate
HCO-X®
PEG-X Hydrogenated Castor Oil, (X = 40, 50)
HP-β-CD
2-hydroxypropyl-β-cyclodextrin
HPH
High Pressure Homogenization
HPMC (E50LV)
HydroxyPropyl MethylCellulose
HSPC
Soya Hydrogenated L-α-PhosphatidylCholine
i.p.
intraperitoneal
IPM (Estol)
isopropyl myristate
isoSIL
isosilybin
i.v.
intravenous
Labrafac® CC
Medium Chain Triglycerides (MCT)
Labrafil®
transesterified ethoxylated vegetable oils
Labrasol®
caprylocaproyl polyoxylglycerides (macrogolglycerides)
MCT
Medium chain triglycerides
NaCMC
Sodium CarboxyMethylCellulose
NAFLD
NonAlcoholic Fatty Liver Disease
NLCs
Nanostructured Lipid Carriers
NPs
nanoparticles
OA
oleic acid
P188
Poloxamer 188
P407
Poloxamer 407
PAMAM
polyamidoamine
PC
L-α-PhosphatidylCholine
PCL
poly-ε-caprolactone
PDI
polydispersity index
PEG
polyethyleneglycol
PGA
poly-γ-glutamic acid
PLGA
poly(

d

,

l

-lactic-co-glycolic acid)
PPC
Polyene PhosphatidylCholine
Precirol® ATO 5
Glyceryl distearate/palmitostearate
PVA
Polyvinyl alcohol
PVP
polyvinylpyrrolidone
RAMEB
randomly methylated-β-cyclodextrin
RPE
reverse phase evaporation
SA
stearic acid
SC
Sodium Cholate
SCF-CO2
SuperCritical Fluid of carbon dioxide
SDC
Sodium DeoxyCholate
SEDS
Solution-Enhanced Dispersion Supercritical fluids
SEDDS
Self Emulsifying Drug Delivery System
Sefsol® 218
propylene glycol monocaprylic ester
SGC
Sodium GlycoCholate
SGF/SIF
simulated gastric fluid (pH 1.2)/simulated intestinal fluid (pH 7.4)
SIL
Silybin or silybinin
SILcr
silycristin
SILdi
silydianin
Sito-G
β-sitosterol β-

d

-glucoside
SLM
silymarin extract
SLNs
Solid Lipid Nanoparticles
SLS
Sodium Lauryl Sulfate
Solutol® HS 15
PEG (15)-hydroxystearate
SPC
Soya L-α-PhosphatidylCholine
SPG
Shirasu Porous Glass membrane emulsification
SPMM
Na cholate/phospholipid mixed micelles
STC
Sodium TauroCholate
SUV
small unilamellar vesicles
TFD
Thin-Film Dispersion
TNF-α
Tumour Necrosis Factor-α
TPGS
D-α-Tocopheryl PEG 1000 Succinate
TPP
TriPolyPhosphate
Transcutol®
diethylene glycol monoethyl ether
Triacetin
glycerol triacetate
Tween 20
polyoxyethylene sorbitan monolaurate (polysorbate 20)
Tween 80
polyoxyethylene sorbitan monooleate (polysorbate 80)
TXF
taxifolin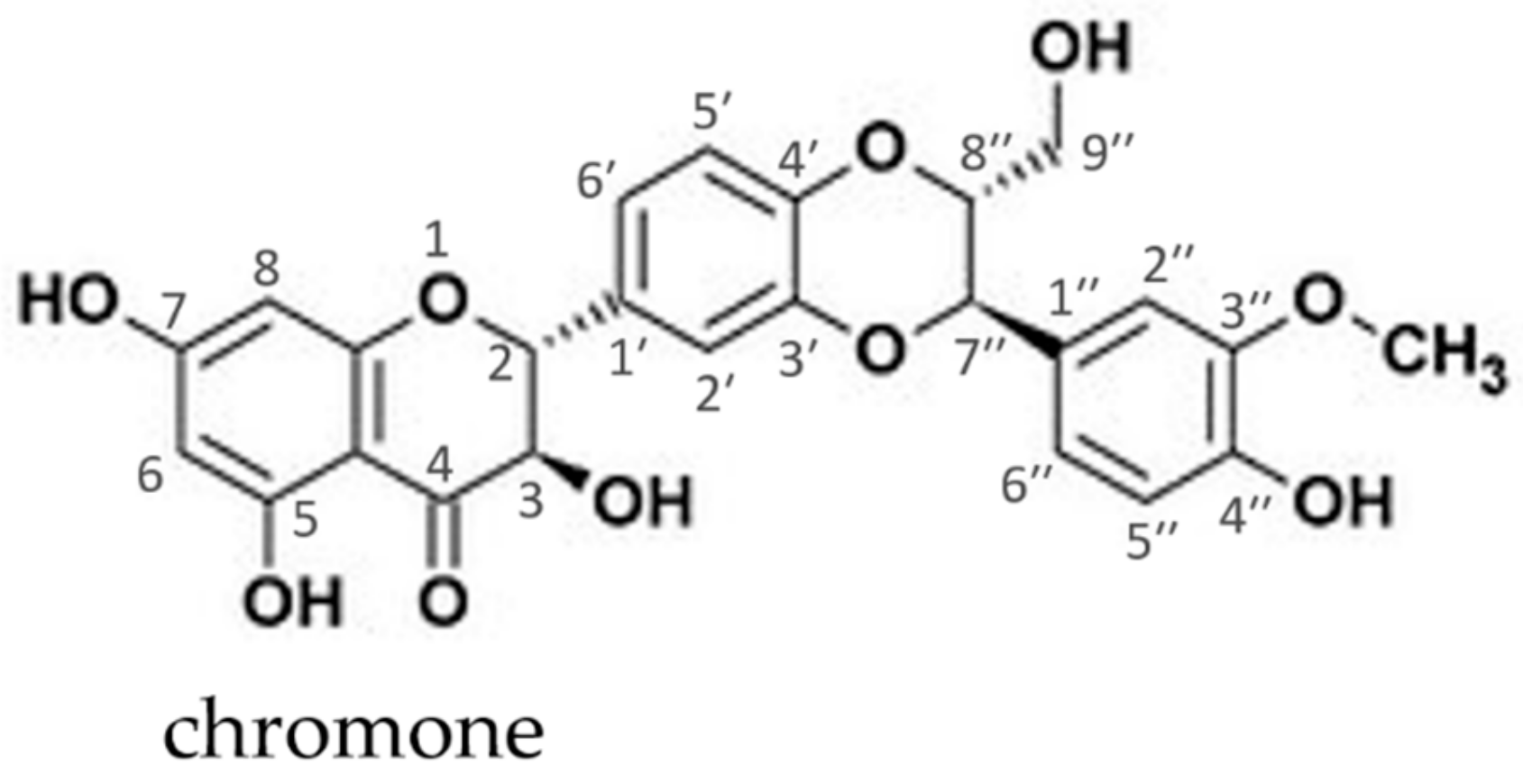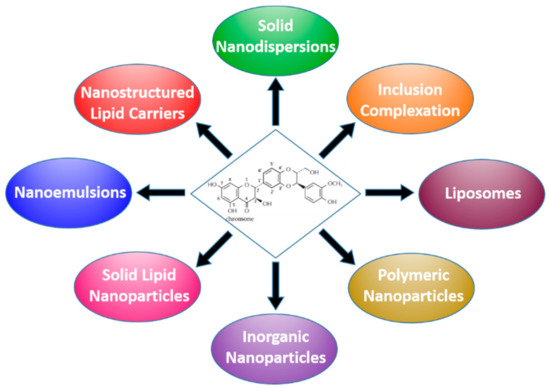 Figure 2. Relevant formulation strategies currently available to improve the bioavailability of silymarin.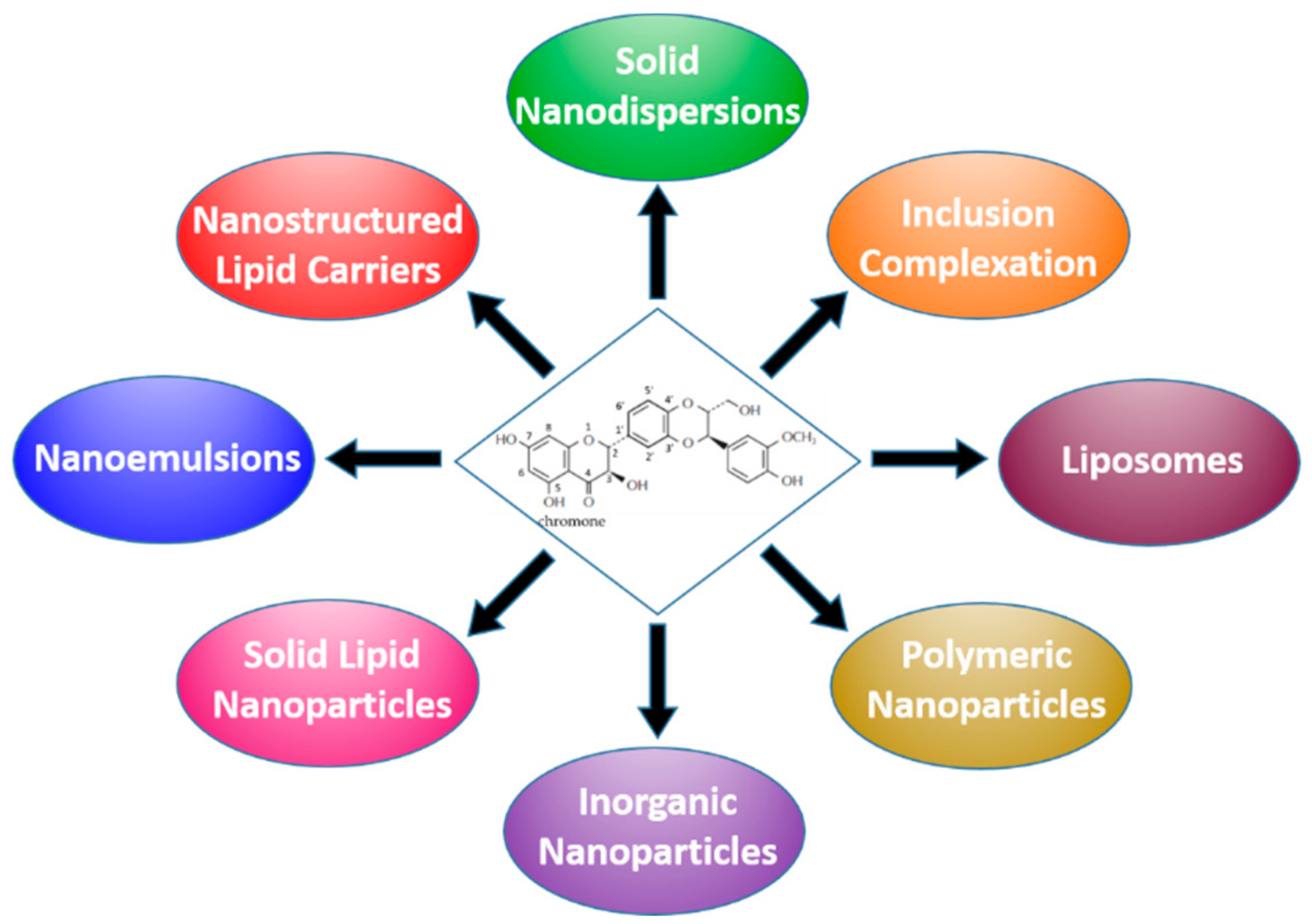 Type of Formulation
Method of Preparation
Results
References

Nanocrystals, nanosuspensions

ESD
Rod-shaped NPs
Zhang et al. [42]
ESD
NPs < 200 nm
Liu et al. [43]
HPH
NPs 637 and 132 nm
Whang et al. [44,46,53]
HPH
Pickering emulsion
Yi et al. [54]
Spray-drying
Dissolution studies
Hwang et al. [47]
Spray-drying
Microparticles
Sansone et al. [50]
Fluid-bed coating
Synchronized release
Wu et al. [48,49]
Microfluidics
NP size 26–101 nm
Cui et al. [51]
Antisolvent precip.
Dissolution studies
Sahibzada et al. [52]
SEDS
Dissolution studies
Yang et al. [55]

Inclusion complexes, phytosomes

Co-precipitation
Complex with β-CD
Ghosh et al. [57]
Freeze-drying
Complex with HP-CD
Kellici et al. [58]
Kneading
HP-β-CD, RAMEB
Gharbia et al. [59]
Solvent evaporation
Phospholipids
Yanyu et al. [61]
Solvent evaporation
Phospholipids
Duan et al. [65]
Mixed micelles
BS-phospholipids
Yu et al. [63]
Mixed micelles
BS-phospholipids
Zhu et al. [64]

Micro- and NanoEmulsions

Spontaneous emulsif.
Microemulsion
Panapisal et al. [66]
Low energy emulsif.
O/W emulsion
Abrol et al. [67]
Low energy emulsif.
O/W emulsion
Parveen et al. [30]
Low energy emulsif.
Nanoemulsion
Adhikari et al. [74]
Low energy emulsif.
Nanoemulsion
Calligaris et al. [76]
Low energy emulsif.
Nanoemulsion
Piazzini et al. [79]
Membrane emulsif.
Nanoemulsion
Yang et al. [75]
HPH
Nanoemulsion
Nagi et al. [77]
SEDDS
Water titration
Wu et al. [70]
SEDDS
Water titration
Woo et al. [71]
SEDDS
Water titration
Li et al. [72]
S-SEDDS
Supersaturated state
Wei et al. [73]

Liposomes

Ethanol injection
Drug EE 95%
Maheshwari et al. [82]
RPE
Drug EE 69%
El-Samaligy et al. [83,84]
TFD
Drug EE 55%
Kumar et al. [91]
RPE
Phytosome
Angelico et al. [92,93]
SEDS
Bile salt
Yang et al. [94]
TFD
Bile salt
Mohsen et al. [95]
PEGylated liposomes
TFD
Hepatic targeting
Elmowafy et al. [89]
PEGylated liposomes
TFD
Hepatic targeting
Ochi et al. [90]
Proliposomes
Film-deposition
Drug EE 93%
Xiao et al. [85]
Proliposomes
TFD-freeze drying
Drug EE 82%
Tong et al. [87,88]
Cubosomes
Melting/Congealing
Pluronic
Lian et al. [96]
Organogels
Mixed Solution
Lecithin/pluronic
Mady et al. [97]

Solid-Lipid Nanoparticles

TFD
Drug EE 99%
Xu et al. [102]
HPH
Lipolysis mechanism
Shangguan et al. [103]
Cold/hot HPH
Drug EE 87%
He et al. [104]
Hot HPH
NP size 165–200 nm
Cengiz et al. [105]
Hot HPH
SIL-conjugates
Ma et al. [108,109]
EES
Stealth SLNs
Zhang et al. [106]
EES
Drug EE 92%
Piazzini et al. [107]
Film hydration
SIL-emulsomes
Zhou et al. [110]

Nanostructured Lipid Carriers

ESE
NP size 230 nm
Jia et al. [111,112]
ESE
NP size 126 nm
Iqbal et al. [115]
ESE
NP size 225 nm
Chen et al. [116]
Hot HPH
Drug EE 87%
Wu et al. [113]
Emulsif./ultrasound
Drug EE 79%
Chaudhary et al. [114]
Inclusion in polymeric matrices
Co-precipitation
Dissolution studies
Sonali et al. [118]
Complexation
Chitosan NPs
Nguyen et al. [119]
ESE/freeze-drying
NP size 100 nm
Zhao et al. [120]
Nanoprecipitation
Drug EE 79%
Gohulkumar et al. [121]
Nanoprecipitation
Drug EE 89%
Younis et al. [122]
Nanoprecipitation
Drug EE 83%
El-Nahas et al. [123]
Solvent evaporation
Dissolution studies
Yousaf et al. [124]

Dendrimers and polymeric NPs

PAMAM dendrimers
Solubility studies
Huang et al. [126]
PEG-PAMAM
Solubility studies
Diaz et al. [127]
Polymeric micelles
Chitosan derivative
Sui et al. [128]
ESE
PLGA
El-Sherbiny [129]
ESE
PLGA
Snima et al. [130]
ESE
PLGA
Xie et al. [131]
ESE
PCL
Bonepally et al. [132]
Ionic gelation
Chitosan-TPP
Pooja et al. [133]
Nanoprecipitation
PE Sebacate NPs
Guhagarkar et al. [134]
Ultrasonication
Polysaccharide NPs
Ma et al. [135]
Ionic gelation
Chitosan/PGA
Lee et al. [136]
Ionic gelation
Inulin NPs
Abdel-Wahhab et al. [137]

Inorganic nanomaterials

Microemulsion

Mesoporous Si

NP

s

Cao et al. [139]
Ultrasonic corrosion
Porous Si NPs
Cao et al. [140,141]
Drug conjugation
Carbon NT
Tan et al. [143]
Precipitation
Calcium phosphate
Chen et al. [144]
Precipitation
Calcium phosphate
Zhu et al. [145]
Precipitation
PLGA-PEG-Fe3O4
Ebrahimnezhad et al. [146]
Coprecipitation
Chitosan-Fe3O4
Khalkhali et al. [148]
Emulsion-diffusion
PEG-PLGA-Au
Fazio et al. [149]

© 2019 by the authors. Licensee MDPI, Basel, Switzerland. This article is an open access article distributed under the terms and conditions of the Creative Commons Attribution (CC BY) license (http://creativecommons.org/licenses/by/4.0/).