Novel Uridine Glycoconjugates, Derivatives of 4-Aminophenyl 1-Thioglycosides, as Potential Antiviral Compounds
1
Department of Recombinant Vaccines, Intercollegiate Faculty of Biotechnology, University of Gdansk and Medical University of Gdansk, Abrahama 58, 80-307 Gdansk, Poland
2
Department of Organic Chemistry, Bioorganic Chemistry and Biotechnology, Faculty of Chemistry, Silesian University of Technology, Krzywoustego 4, 44-100 Gliwice, Poland
3
Biotechnology Center, Silesian University of Technology, Krzywoustego 8, 44-100 Gliwice, Poland
4
Functional Genomics Lab., Centre for Advanced Study, Department of Botany, University of Calcutta, 35, Ballygunge Circular Road, 700019 Kolkata, India
5
Department of Chemical Organic Technology and Petrochemistry, Faculty of Chemistry, Silesian University of Technology, Krzywoustego 4, 44-100 Gliwice, Poland
*
Authors to whom correspondence should be addressed.
Received: 14 May 2018 / Revised: 2 June 2018 / Accepted: 10 June 2018 / Published: 13 June 2018
Abstract
A novel series of uridine glycoconjugates, derivatives of 4-aminophenyl 1-thioglycosides, was designed and synthesized. All compounds were evaluated in vitro for their antiviral activity against hepatitis C virus (HCV) and classical swine fever virus (CSFV), two important human and animal viral pathogens for which new or improved therapeutic options are needed. The antiviral activity of all synthesized compounds was confirmed using pseudo-plaque reduction assays in which a significant arrest of CSFV and HCV growth was observed in the presence of these compounds. Two of the synthesized compounds,
9
and
12
, displayed a significant inhibitory effect on HCV and CSFV propagation with IC
50
values of 4.9 and 13.5 µM for HCV and 4.2 and 4 µM for CSFV, respectively, with low cytotoxicity. Using various infection and replication models, we have shown that both compounds were able to significantly reduce viral genome replication by up to 90% with IC
50
values in the low micromolar range. A structure activity analysis of the synthesized compounds showed that the high antiviral activity was attributed to the hydrophobicity of glycoconjugates and the introduction of elements capable to coordinate metal ions into the spacer connecting the sugar and uridine moiety, which can be useful in the development of new antiviral compounds in the future.
View Full-Text
►

▼

Figures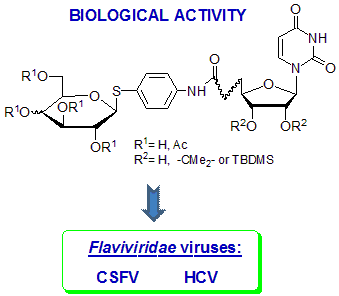 Graphical abstract
This is an open access article distributed under the
Creative Commons Attribution License
which permits unrestricted use, distribution, and reproduction in any medium, provided the original work is properly cited (CC BY 4.0).

Share & Cite This Article
MDPI and ACS Style
Krol, E.; Pastuch-Gawolek, G.; Chaubey, B.; Brzuska, G.; Erfurt, K.; Szewczyk, B. Novel Uridine Glycoconjugates, Derivatives of 4-Aminophenyl 1-Thioglycosides, as Potential Antiviral Compounds. Molecules 2018, 23, 1435.
Note that from the first issue of 2016, MDPI journals use article numbers instead of page numbers. See further details here.
Related Articles
Comments
[Return to top]