A Comparative Genomic Survey Provides Novel Insights into Molecular Evolution of
l

-Aromatic Amino Acid Decarboxylase in Vertebrates

1

Shenzhen Key Lab of Marine Genomics, Guangdong Provincial Key Lab of Molecular Breeding in Marine Economic Animals, BGI Academy of Marine Sciences, BGI Marine, BGI, Shenzhen 518083, China

2

BGI Education Center, University of Chinese Academy of Sciences, Shenzhen 518083, China

3

Laboratory of Aquatic Genomics, College of Life Sciences and Oceanography, Shenzhen University, Shenzhen 518060, China

*

Author to whom correspondence should be addressed.

†

These authors contributed equally to this work.

Received: 16 March 2018 / Revised: 10 April 2018 / Accepted: 13 April 2018 / Published: 16 April 2018
Abstract
Melatonin is a pleiotropic molecule with various important physiological roles in vertebrates.
l
-aromatic amino acid decarboxylase (AAAD) is the second enzyme for melatonin synthesis. By far, a clear-cut gene function of AAAD in the biosynthesis of melatonin has been unclear in vertebrates. Here, we provide novel insights into the evolution of AAAD based on 77 vertebrate genomes. According to our genome-wide alignments, we extracted a total of 151
aaad
nucleotide sequences. A phylogenetic tree was constructed on the basis of these sequences and corresponding protein alignments, indicating that tetrapods and diploid bony fish genomes contained one
aaad
gene and a new
aaad
-like gene, which formed a novel AAAD family. However, in tetraploid teleosts, there were two copies of the
aaad
gene due to whole genome duplication. A subsequent synteny analysis investigated 81
aaad
sequences and revealed their collinearity and systematic evolution. Interestingly, we discovered that platypus (
Ornithorhynchus anatinus)
, Atlantic cod (
Guadus morhua
), Mexican tetra (
Astyanax mexicanus
), and a
Sinocyclocheilus
cavefish (
S. anshuiensis
) have long evolutionary branches in the phylogenetic topology. We also performed pseudogene identification and selection pressure analysis; however, the results revealed a deletion of 37 amino acids in Atlantic cod and premature stop codons in the cave-restricted
S. anshuiensis
and
A. mexicanus
, suggesting weakening or disappearing rhythms in these cavefishes. Selective pressure analysis of
aaad
between platypus and other tetrapods showed that rates of nonsynonymous (
Ka
) and synonymous (
Ks
) substitutions were higher when comparing the platypus to other representative tetrapods, indicating that, in this semiaquatic mammal, the
aaad
gene experienced selection during the process of evolution. In summary, our current work provides novel insights into
aaad
genes in vertebrates from a genome-wide view.
View Full-Text
►

▼

Figures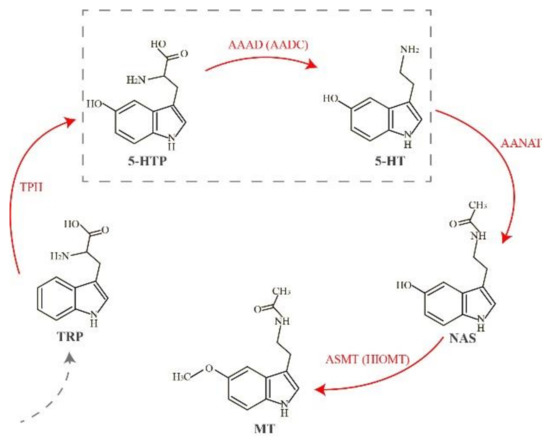 Figure 1
This is an open access article distributed under the
Creative Commons Attribution License
which permits unrestricted use, distribution, and reproduction in any medium, provided the original work is properly cited (CC BY 4.0).

Share & Cite This Article
MDPI and ACS Style
Li, Y.; Lv, Y.; Bian, C.; You, X.; Deng, L.; Shi, Q. A Comparative Genomic Survey Provides Novel Insights into Molecular Evolution of l-Aromatic Amino Acid Decarboxylase in Vertebrates. Molecules 2018, 23, 917.
Note that from the first issue of 2016, MDPI journals use article numbers instead of page numbers. See further details here.
Related Articles
Comments
[Return to top]