Sinularin Selectively Kills Breast Cancer Cells Showing G2/M Arrest, Apoptosis, and Oxidative DNA Damage
1
Institute of Biomedical Science, National Sun Yat-Sen University, Kaohsiung 80424, Taiwan
2
Department of Radiation Oncology, Faculty of Medicine, College of Medicine, Kaohsiung Medical University, Kaohsiung 80708, Taiwan
3
Department of Radiation Oncology, Kaohsiung Medical University Hospital, Kaohsiung 80708, Taiwan
4
Division of Breast Surgery and Department of Surgery, Kaohsiung Medical University Hospital, Kaohsiung 80708, Taiwan
5
Cancer Center, Kaohsiung Medical University Hospital, Kaohsiung Medical University, Kaohsiung 80708, Taiwan
6
Department of Marine Biotechnology and Resources, National Sun Yat-sen University, Kaohsiung 80424, Taiwan
7
Department of Nutrition and Health Sciences, School of Medical and Health Sciences, Fooyin University, Kaohsiung 83102, Taiwan
8
Institute of Clinical Medicine, Kaohsiung Medical University, Kaohsiung 80708, Taiwan
9
Kaohsiung Municipal Hsiao-Kang Hospital, Kaohsiung 81267, Taiwan
10
Doctoral Degree Program in Marine Biotechnology, National Sun Yat-sen University, Kaohsiung 80424, Taiwan
11
Department of Medical Research, China Medical University Hospital, China Medical University, Taichung 40402, Taiwan
12
Frontier Center for Ocean Science and Technology, National Sun Yat-sen University, Kaohsiung 80424, Taiwan
13
Department of Medical Research, Kaohsiung Medical University Hospital, Kaohsiung 80708, Taiwan
14
Institute of Medical Science and Technology, National Sun Yat-sen University, Kaohsiung 80424, Taiwan
15
Department of Biomedical Science and Environmental Biology, Kaohsiung Medical University, Kaohsiung 80708, Taiwan
†
These authors contributed equally to this work.
*
Authors to whom correspondence should be addressed.
Academic Editors: Paula B. Andrade and Patrícia Valentão
Received: 7 February 2018 / Revised: 5 April 2018 / Accepted: 6 April 2018 / Published: 8 April 2018
Abstract
The natural compound sinularin, isolated from marine soft corals, is antiproliferative against several cancers, but its possible selective killing effect has rarely been investigated. This study investigates the selective killing potential and mechanisms of sinularin-treated breast cancer cells. In 3-(4,5-dimethylthiazol-2-yl)-5-(3-carboxymethoxyphenyl)-2-(4-sulfophenyl)-2H- tetrazolium, inner salt (MTS) assay, sinularin dose-responsively decreased the cell viability of two breast cancer (SKBR3 and MDA-MB-231) cells, but showed less effect on breast normal (M10) cells after a 24 h treatment. According to 7-aminoactinomycin D (7AAD) flow cytometry, sinularin dose-responsively induced the G2/M cycle arrest of SKBR3 cells. Sinularin dose-responsively induced apoptosis on SKBR3 cells in terms of a flow cytometry-based annexin V/7AAD assay and pancaspase activity, as well as Western blotting for cleaved forms of poly(ADP-ribose) polymerase (PARP), caspases 3, 8, and 9. These caspases and PARP activations were suppressed by
N
-acetylcysteine (NAC) pretreatment. Moreover, sinularin dose-responsively induced oxidative stress and DNA damage according to flow cytometry analyses of reactive oxygen species (ROS), mitochondrial membrane potential (MitoMP), mitochondrial superoxide, and 8-oxo-2′-deoxyguanosine (8-oxodG)). In conclusion, sinularin induces selective killing, G2/M arrest, apoptosis, and oxidative DNA damage of breast cancer cells.
View Full-Text
►

▼

Figures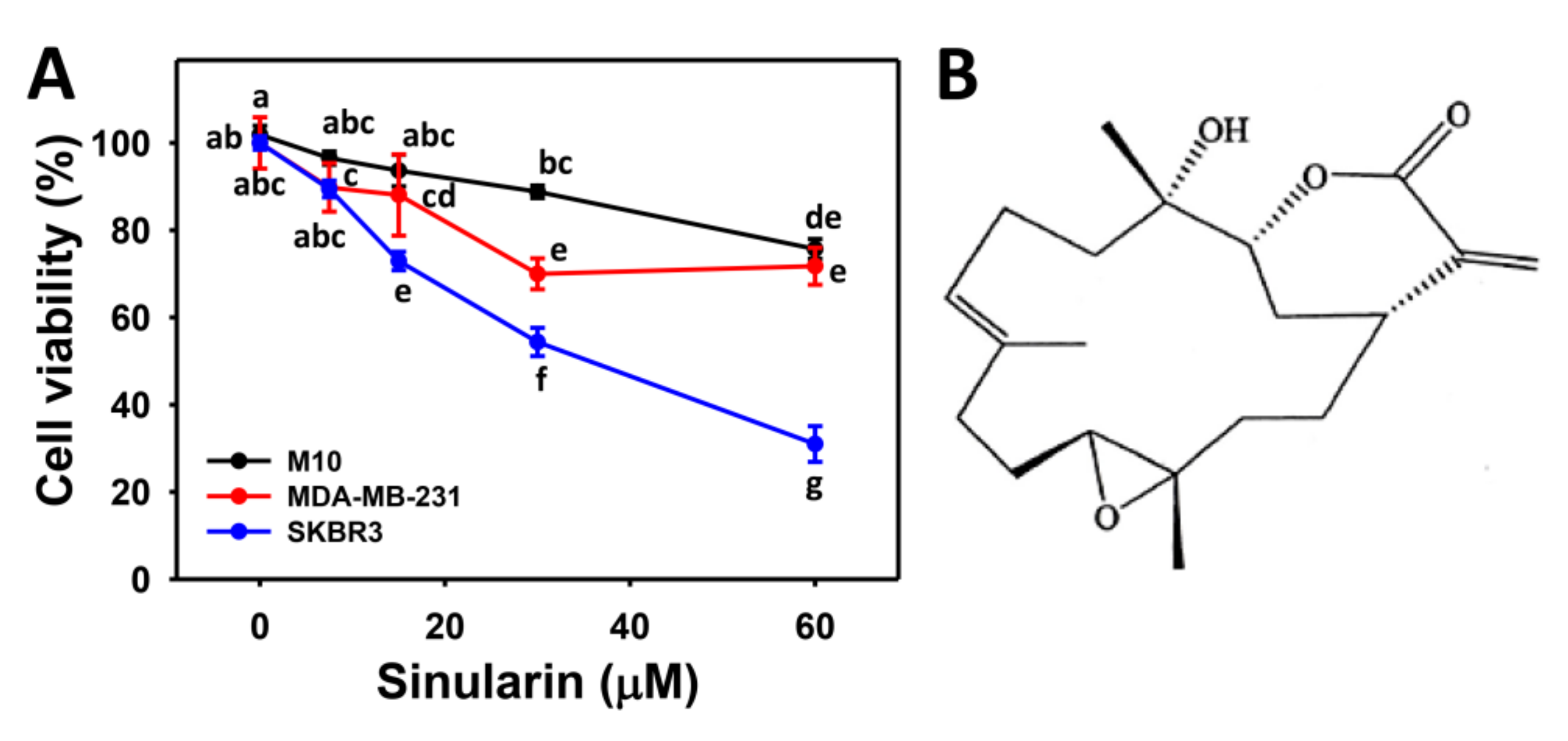 Figure 1
This is an open access article distributed under the
Creative Commons Attribution License
which permits unrestricted use, distribution, and reproduction in any medium, provided the original work is properly cited (CC BY 4.0).

Share & Cite This Article
MDPI and ACS Style
Huang, H.-W.; Tang, J.-Y.; Ou-Yang, F.; Wang, H.-R.; Guan, P.-Y.; Huang, C.-Y.; Chen, C.-Y.; Hou, M.-F.; Sheu, J.-H.; Chang, H.-W. Sinularin Selectively Kills Breast Cancer Cells Showing G2/M Arrest, Apoptosis, and Oxidative DNA Damage. Molecules 2018, 23, 849.
Note that from the first issue of 2016, MDPI journals use article numbers instead of page numbers. See further details here.
Related Articles
Comments
[Return to top]