Novel Semisynthetic Derivatives of Bile Acids as Effective Tyrosyl-DNA Phosphodiesterase 1 Inhibitors
1
N.N. Vorozhtsov Novosibirsk Institute of Organic Chemistry, SB RAS, acad. Lavrentjev ave. 9, Novosibirsk 630090, Russia
2
Novosibirsk Institute of Chemical Biology and Fundamental Medicine, SB RAS, acad. Lavrentjev ave. 8, Novosibirsk 630090, Russia
3
School of Chemical Sciences, University of Auckland, Auckland 1142, New Zealand
4
Novosibirsk State University, Pirogova str. 2, Novosibirsk 630090, Russia
*
Author to whom correspondence should be addressed.
Academic Editor: Derek J. McPhee
Received: 2 March 2018 / Revised: 14 March 2018 / Accepted: 16 March 2018 / Published: 17 March 2018
Abstract
An Important task in the treatment of oncological and neurodegenerative diseases is the search for new inhibitors of DNA repair system enzymes. Tyrosyl-DNA phosphodiesterase 1 (Tdp1) is one of the DNA repair system enzymes involved in the removal of DNA damages caused by topoisomerase I inhibitors. Thus, reducing the activity of Tdp1 can increase the effectiveness of currently used anticancer drugs. We describe here a new class of semisynthetic small molecule Tdp1 inhibitors based on the bile acid scaffold that were originally identified by virtual screening. The influence of functional groups of bile acids (hydroxy and acetoxy groups in the steroid framework and amide fragment in the side chain) on inhibitory activity was investigated. In vitro studies demonstrate the ability of the semisynthetic derivatives to effectively inhibit Tdp1 with IC
50
up to 0.29 µM. Furthermore, an excellent fit is realized for the ligands when docked into the active site of the Tdp1 enzyme.
View Full-Text
►

▼

Figures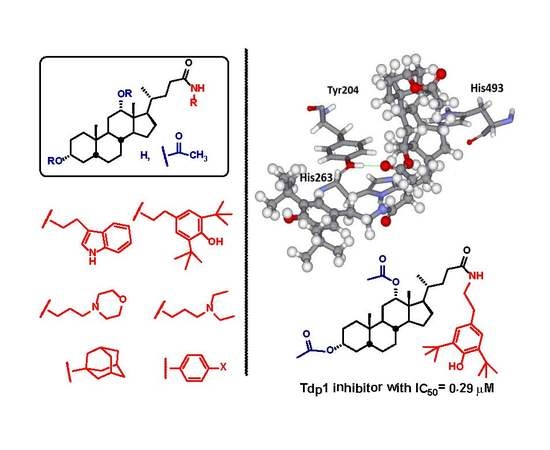 Graphical abstract
This is an open access article distributed under the
Creative Commons Attribution License
which permits unrestricted use, distribution, and reproduction in any medium, provided the original work is properly cited (CC BY 4.0).

Share & Cite This Article
MDPI and ACS Style
Salomatina, O.V.; Popadyuk, I.I.; Zakharenko, A.L.; Zakharova, O.D.; Fadeev, D.S.; Komarova, N.I.; Reynisson, J.; Arabshahi, H.J.; Chand, R.; Volcho, K.P.; Salakhutdinov, N.F.; Lavrik, O.I. Novel Semisynthetic Derivatives of Bile Acids as Effective Tyrosyl-DNA Phosphodiesterase 1 Inhibitors. Molecules 2018, 23, 679.
Note that from the first issue of 2016, MDPI journals use article numbers instead of page numbers. See further details here.
Related Articles
Comments
[Return to top]