Increasing Polarity in Tacrine and Huprine Derivatives: Potent Anticholinesterase Agents for the Treatment of Myasthenia Gravis
1
Laboratory of Pharmaceutical Chemistry (CSIC Associated Unit), Faculty of Pharmacy and Food Sciences, and Institute of Biomedicine (IBUB), University of Barcelona, Av. Joan XXIII 27-31, E-08028 Barcelona, Spain
2
Institut de Biologie Structurale, Université Grenoble Alpes, Centre National de la Recherche Scientifique (CNRS)-Commissariat à l'Énergie Atomique (CEA) (UMR 5075), F-38054 Grenoble, France
3
Large-Scale Structures Group, Institut Laue-Langevin, 71 Avenue des Martyrs, 38000 Grenoble, France
4
Laboratory COBRA (UMR 6014), Normandie Université, UNIROUEN, Institut National des Sciences Appliquées (INSA) Rouen, CNRS, 76000 Rouen, France
5
Department of Pharmacy and Biotechnology, Alma Mater Studiorum University of Bologna, Via Belmeloro 6, I-40126 Bologna, Italy
6
Department of Pharmacology, Therapeutics and Toxicology, Neuroscience Institute, Autonomous University of Barcelona, E-08193 Barcelona, Spain
7
Department of Neurobiology, Weizmann Institute of Science, 76100 Rehovot, Israel
†
These authors contributed equally to this study.
*
Authors to whom correspondence should be addressed.
Received: 9 February 2018 / Revised: 6 March 2018 / Accepted: 9 March 2018 / Published: 11 March 2018
Abstract
Symptomatic treatment of myasthenia gravis is based on the use of peripherally-acting acetylcholinesterase (AChE) inhibitors that, in some cases, must be discontinued due to the occurrence of a number of side-effects. Thus, new AChE inhibitors are being developed and investigated for their potential use against this disease. Here, we have explored two alternative approaches to get access to peripherally-acting AChE inhibitors as new agents against myasthenia gravis, by structural modification of the brain permeable anti-Alzheimer AChE inhibitors tacrine, 6-chlorotacrine, and huprine Y. Both quaternization upon methylation of the quinoline nitrogen atom, and tethering of a triazole ring, with, in some cases, the additional incorporation of a polyphenol-like moiety, result in more polar compounds with higher inhibitory activity against human AChE (up to 190-fold) and butyrylcholinesterase (up to 40-fold) than pyridostigmine, the standard drug for symptomatic treatment of myasthenia gravis. The novel compounds are furthermore devoid of brain permeability, thereby emerging as interesting leads against myasthenia gravis.
View Full-Text
►

▼

Figures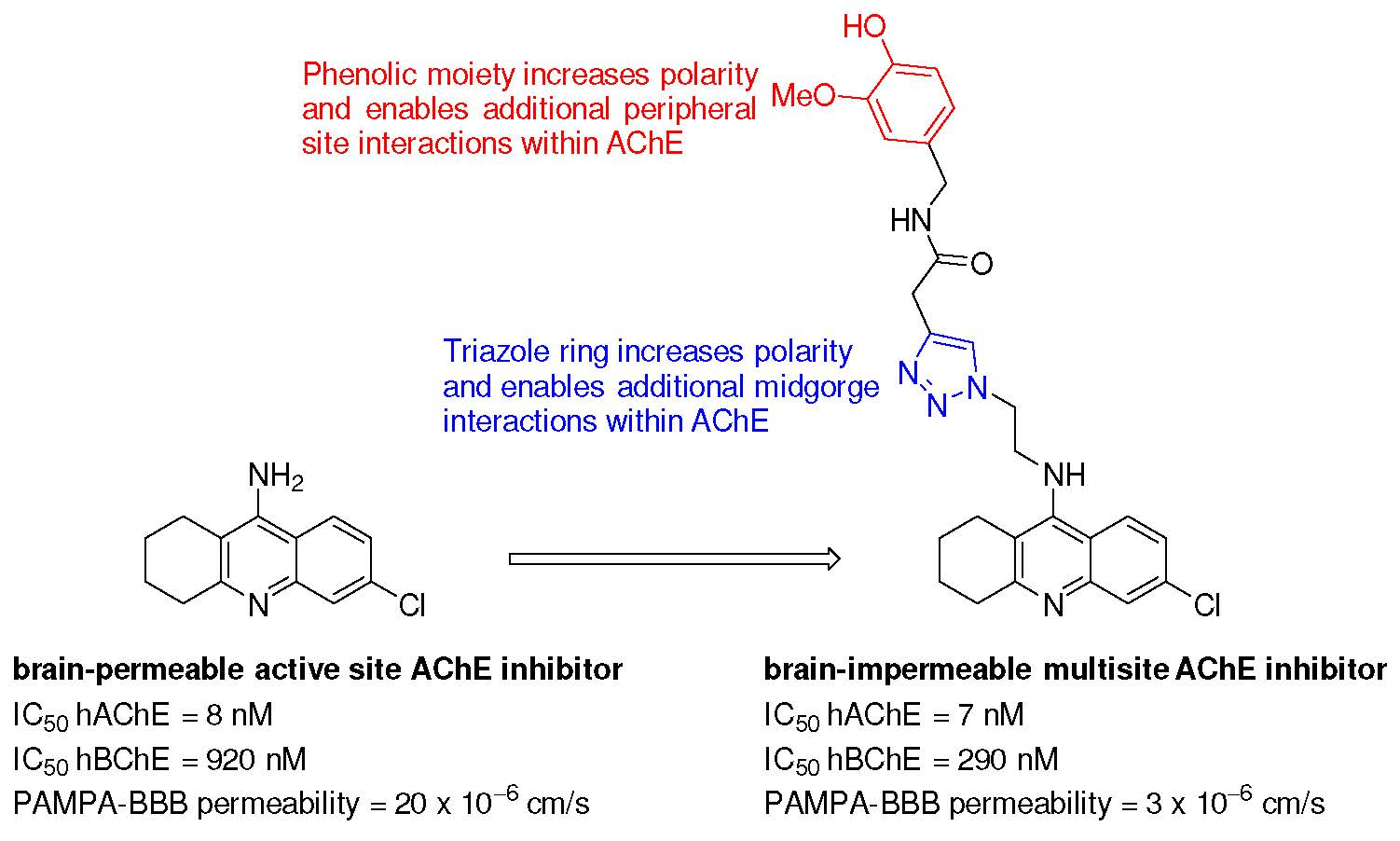 Graphical abstract
This is an open access article distributed under the
Creative Commons Attribution License
which permits unrestricted use, distribution, and reproduction in any medium, provided the original work is properly cited (CC BY 4.0).

Share & Cite This Article
MDPI and ACS Style
Galdeano, C.; Coquelle, N.; Cieslikiewicz-Bouet, M.; Bartolini, M.; Pérez, B.; Clos, M.V.; Silman, I.; Jean, L.; Colletier, J.-P.; Renard, P.-Y.; Muñoz-Torrero, D. Increasing Polarity in Tacrine and Huprine Derivatives: Potent Anticholinesterase Agents for the Treatment of Myasthenia Gravis. Molecules 2018, 23, 634.
Note that from the first issue of 2016, MDPI journals use article numbers instead of page numbers. See further details here.
Related Articles
Comments
[Return to top]