Docosahexaenoic Acid Helps to Lessen Extinction Memory in Rats
1
Department of Environmental Physiology, Shimane University Faculty of Medicine, Izumo, Shimane 693-8501, Japan
2
Department of Biochemistry & Molecular Biology, Jahangirnagar University, Savar, Dhaka 1342, Bangladesh
*
Author to whom correspondence should be addressed.
Received: 28 December 2017 / Revised: 6 February 2018 / Accepted: 10 February 2018 / Published: 18 February 2018
Abstract
Abstract:
Memory extinction is referred to as a learning process in which a conditioned response (CR) progressively reduces over time as an animal learns to uncouple a response from a stimulus. Extinction occurs when the rat is placed into a context without shock after training. Docosahexaenoic acid (DHA, C22:6, n-3) is implicated in memory formation in mammalian brains. In a two-way active shuttle-avoidance apparatus, we examined whether DHA affects the extinction memory and the expression of brain cognition-related proteins, including gastrin-releasing peptide receptor (GRPR), brain-derived neurotrophic factor receptor (BDNFR) tyrosine kinase receptor B (TrKB), and N-methyl-d-aspartate receptor (NMDAR) subunits NR2A and NR2B. Also, the protein levels of GRP, BDNF, postsynaptic density protein-95 (PSD-95), and vesicular acetylcholine transporter (VAChT), and the antioxidative potentials, in terms of lipid peroxide (LPO) and reactive oxygen species (ROS), were examined in the hippocampus. During the acquisition phase, the rats received a conditioned stimulus (CS-tone) paired with an unconditioned stimulus (UCS foot shock) for three consecutive days (Sessions S1, S2, and S3, each consisting of 30-trials) after 12 weeks of oral administration of DHA. After a three-day interval, the rats were re-subjected to two extinction sessions (S4, S5), each comprising 30 trials of CS alone. During the acquisition training in S1, the shock-related avoidance frequency (acquisition memory) was significantly higher in the DHA-administered rats compared with the control rats. The avoidance frequency, however, decreased with successive acquisition trainings in sessions S2 and S3. When the rats were subjected to the extinction sessions after a break for consolidation, the conditioned response (CR) was also significantly higher in the DHA-administered rats. Interestingly, the freezing responses (frequency and time) also significantly decreased in the DHA-administered rats, thus suggesting that a higher coping capacity was present during fear stress in the DHA-administered rats. DHA treatments increased the mRNA levels of GRPR, BDNF receptor TrKB, and NMDAR subunit NR2B. DHA also increased the protein levels of GRP, BDNF, PSD-95, and VAChT, and the antioxidative potentials in the hippocampus. These results suggest the usefulness of DHA for treating stress disorders.
View Full-Text
►

▼

Figures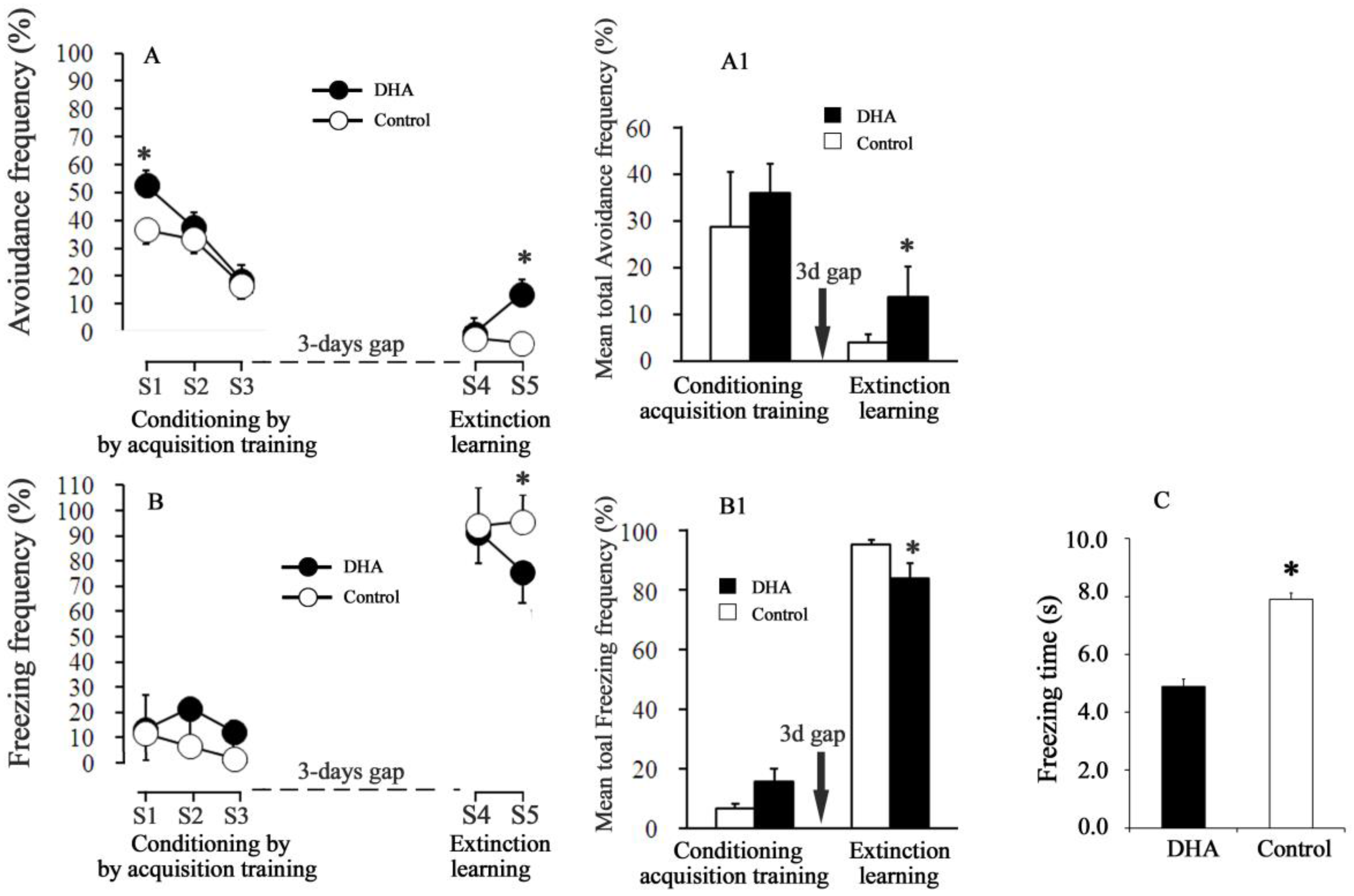 Figure 1
This is an open access article distributed under the
Creative Commons Attribution License
which permits unrestricted use, distribution, and reproduction in any medium, provided the original work is properly cited (CC BY 4.0).

Share & Cite This Article
MDPI and ACS Style
Hashimoto, M.; Hossain, S.; Katakura, M.; Mamun, A.A.; Shido, O. Docosahexaenoic Acid Helps to Lessen Extinction Memory in Rats. Molecules 2018, 23, 451.
Note that from the first issue of 2016, MDPI journals use article numbers instead of page numbers. See further details here.
Related Articles
Comments
[Return to top]