A Novel Synthetic Dihydroindeno[1,2-b] Indole Derivative (LS-2-3j) Reverses ABCB1- and ABCG2-Mediated Multidrug Resistance in Cancer Cells
1
School of Ocean, Shandong University, Weihai 264209, China
2
Department of Biomedical Engineering, Faculty of Electronic Information and Electrical Engineering, Dalian University of Technology, Dalian 116024, China
3
Research Center for the Control Engineering of Translational Precision Medicine, Dalian University of Technology, Dalian 116024, China
4
The Key Laboratory of Chemistry for Natural Product of Guizhou Province, Chinese Academy of Science, Guiyang 550002, China
*
Authors to whom correspondence should be addressed.
†
These authors contributed equally to this study.
Received: 10 November 2018 / Revised: 5 December 2018 / Accepted: 7 December 2018 / Published: 10 December 2018
Abstract
10-oxo-5-(3-(pyrrolidin-1-yl) propyl)-5,10-dihydroindeno [1,2-b] indol-9-yl propionate (LS-2-3j) is a new chemically synthesized indole compound and some related analogues are known to be inhibitors (such as alectinib and Ko143) of ATP-binding cassette (ABC) transporters, especially the ABC transporter subfamily B member 1 (ABCB1) and the ABC transporter subfamily G member 2 (ABCG2). This study aimed to evaluate the multidrug resistance (MDR) reversal effects and associated mechanisms of LS-2-3j in drug-resistant cancer cells. The inhibition of cell proliferation in tested agents was evaluated by the 3-(4,5-dimethylthiazol)-2,5-diphenyltetrazolium bromide (MTT) assay. Accumulation or efflux of chemotherapy drugs was analyzed by flow cytometry. The ATPase activity was measured using an ATPase activity assay kit. The mRNA transcripts and protein expression levels were detected by real-time PCR and Western blot, respectively. In this connection, LS-2-3j significantly enhanced the activity of chemotherapeutic drugs in MDR cells and could significantly increase the intracellular accumulation of doxorubicin (DOX) and mitoxantrone (MITX) by inhibiting the function of the efflux pumps in ABCB1- or ABCG2-overexpressing cells. Furthermore, reduced ATPase activity, mRNA transcription, and protein expression levels of ABCB1 and ABCG2 were observed in a concentration dependent manner in MDR cancer cells.
View Full-Text
►

▼

Figures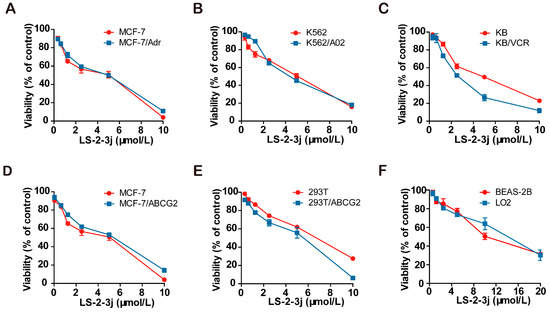 Figure 1
This is an open access article distributed under the
Creative Commons Attribution License
which permits unrestricted use, distribution, and reproduction in any medium, provided the original work is properly cited (CC BY 4.0).

Share & Cite This Article
MDPI and ACS Style
Guo, C.; Liu, F.; Qi, J.; Ma, J.; Lin, S.; Zhang, C.; Zhang, Q.; Zhang, H.; Lu, R.; Li, X. A Novel Synthetic Dihydroindeno[1,2-b] Indole Derivative (LS-2-3j) Reverses ABCB1- and ABCG2-Mediated Multidrug Resistance in Cancer Cells. Molecules 2018, 23, 3264.
Note that from the first issue of 2016, MDPI journals use article numbers instead of page numbers. See further details here.
Related Articles
Comments
[Return to top]