A Novel Lipopeptaibol Emericellipsin A with Antimicrobial and Antitumor Activity Produced by the Extremophilic Fungus
Emericellopsis alkalina
1
Shemyakin and Ovchinnikov Institute of Bioorganic Chemistry, RAS, ul. Miklukho-Maklaya, 16/10, Moscow 117997, Russia
2
Gause Institute of New Antibiotics, ul. Bolshaya Pirogovskaya, 11, Moscow 119021, Russia
3
Tyumen State University, 6 Volodarskogo str, Tyumen 625003, Russia
4
Moscow Institute of Physics and Technology, Institutskiy per., 9, Dolgoprudnyi 141701, Russia
5
Lomonosov Moscow State University, 1-12 Leninskie Gory, Moscow 119991, Russia
6
Moscow Government Health Department Scientific and Clinical Antituberculosis Center, ul. Stromynka, 10, Moscow 107014, Russia
7
Institute of Molecular Medicine, Advanced Cell Technologies Department, Institute for Regenerative Medicine, Sechenov First Moscow State Medical University, Trubetskaya St. 8, Bldg. 2, Moscow 119991, Russia
*
Authors to whom correspondence should be addressed.
Received: 2 October 2018 / Revised: 23 October 2018 / Accepted: 25 October 2018 / Published: 27 October 2018
Abstract
Soil fungi are known to contain a rich variety of defense metabolites that allow them to compete with other organisms (fungi, bacteria, nematodes, and insects) and help them occupy more preferential areas at the expense of effective antagonism. These compounds possess antibiotic activity towards a wide range of other microbes, particularly fungi that belong to different taxonomical units. These compounds include peptaibols, which are non-ribosomal synthesized polypeptides containing non-standard amino acid residues (alpha-aminoisobutyric acid mandatory) and some posttranslational modifications. We isolated a novel antibiotic peptide from the culture medium of
Emericellopsis alkalina
, an alkalophilic strain. This peptide, called emericellipsin A, exhibited a strong antifungal effect against the yeast
Candida albicans
, the mold fungus
Aspergillus niger
, and human pathogen clinical isolates. It also exhibited antimicrobial activity against some Gram-positive and Gram-negative bacteria. Additionally, emericellipsin A showed a significant cytotoxic effect and was highly active against Hep G2 and HeLa tumor cell lines. We used NMR spectroscopy to reveal that this peptaibol is nine amino acid residues long and contains non-standard amino acids. The mode of molecular action of emericellipsin A is most likely associated with its effects on the membranes of cells. Emericellipsin A is rather short peptaibol and could be useful for the development of antifungal, antibacterial, or anti-tumor remedies.
View Full-Text
►

▼

Figures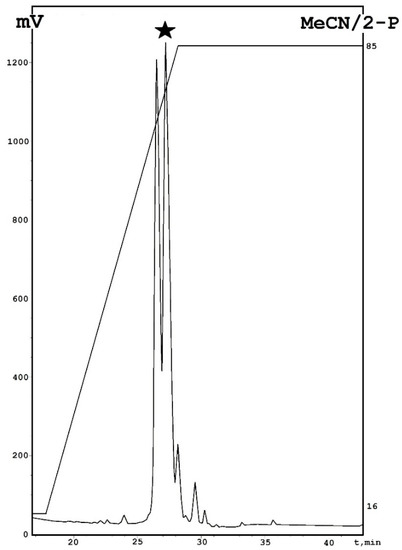 Figure 1
This is an open access article distributed under the
Creative Commons Attribution License
which permits unrestricted use, distribution, and reproduction in any medium, provided the original work is properly cited (CC BY 4.0).

Share & Cite This Article
MDPI and ACS Style
Rogozhin, E.A.; Sadykova, V.S.; Baranova, A.A.; Vasilchenko, A.S.; Lushpa, V.A.; Mineev, K.S.; Georgieva, M.L.; Kul'ko, A.B.; Krasheninnikov, M.E.; Lyundup, A.V.; Vasilchenko, A.V.; Andreev, Y.A. A Novel Lipopeptaibol Emericellipsin A with Antimicrobial and Antitumor Activity Produced by the Extremophilic Fungus Emericellopsis alkalina. Molecules 2018, 23, 2785.
Note that from the first issue of 2016, MDPI journals use article numbers instead of page numbers. See further details here.
Related Articles
Comments
[Return to top]