Melaleuca styphelioides

Sm. Polyphenols Modulate Interferon Gamma/Histamine-Induced Inflammation in Human NCTC 2544 Keratinocytes

1

Laboratoire Matériaux-Molécules et Applications, University of Carthage, IPEST, B.P. 51 2070, La Marsa, Tunisia

2

Faculte des Sciences de Bizerte, University of Carthage, Jarzouna, 7021, Bizerte, Tunisia

3

Department of Biomedical and Biotechnological Sciences, Section of Physiology, University of Catania, Via Santa Sofia, 97-95123 Catania, Italy

4

Istituto Zooprofilattico Sperimentale della Sicilia "A. Mirri", Via Gino Marinuzzi 3, 90129 Palermo, Italy

5

Department of Biomed & Biotech Sciences, School of Medicine, University of Catania, Via Santa Sofia 97, 95125 Catania, Italy

*

Author to whom correspondence should be addressed.

Received: 10 September 2018 / Revised: 28 September 2018 / Accepted: 29 September 2018 / Published: 2 October 2018
Abstract
Melaleuca styphelioides
, known as the prickly-leaf tea tree, contains a variety of bioactive compounds. The purposes of this study were to characterize the polyphenols extracted from
Melaleuca styphelioides
leaves and assess their potential antioxidant and anti-inflammatory effects. The polyphenol extracts were prepared by maceration with solvents of increasing polarity. The LC/MS-MS technique was used to identify and quantify the phenolic compounds. An assessment of the radical scavenging activity of all extracts was performed using 2,2-diphenyl-1-picrylhydrazyl (DPPH), 2,2′-azinobis-(3-ethylbenzothiazoline-6-sulphonate) (ABTS
+
), and ferric reducing antioxidant power (FRAP) assays. The anti-inflammatory activity was determined on interferon gamma (IFN-γ)/histamine (H)-stimulated human NCTC 2544 keratinocytes by Western blot and RT-PCR. Compared to other solvents, methanolic extract presented the highest level of phenolic contents. The most frequent phenolic compounds were quercetin, followed by gallic acid and ellagic acid. DPPH, ABTS
+
, and FRAP assays showed that methanolic extract exhibits strong concentration-dependent antioxidant activity. IFN-γ/H treatment of human NCTC 2544 keratinocytes induced the secretion of high levels of the pro-inflammatory mediator inter-cellular adhesion molecule-1 (ICAM-1), nitric oxide synthase (iNOS), cyclooxygenase-2 (COX-2), and nuclear factor kappa B (NF-κB), which were inhibited by extract. In conclusion, the extract of
Melaleuca styphelioides
leaves is rich in flavonoids, and presents antioxidant and anti-inflammatory proprieties. It can be proposed as a useful compound to treat inflammatory skin diseases.
View Full-Text
►

▼

Figures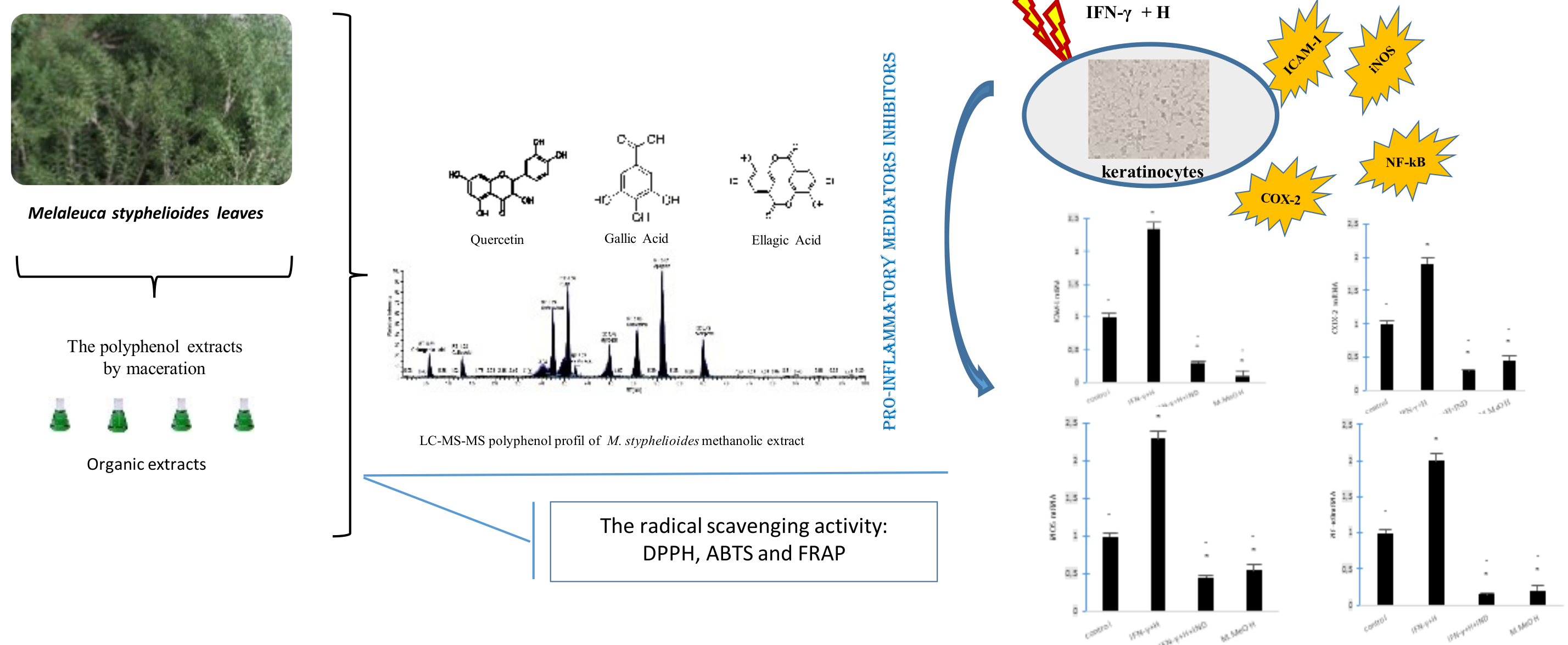 Graphical abstract
This is an open access article distributed under the
Creative Commons Attribution License
which permits unrestricted use, distribution, and reproduction in any medium, provided the original work is properly cited (CC BY 4.0).

Share & Cite This Article
MDPI and ACS Style
Albouchi, F.; Avola, R.; Dico, G.M.L.; Calabrese, V.; Graziano, A.C.E.; Abderrabba, M.; Cardile, V. Melaleuca styphelioides Sm. Polyphenols Modulate Interferon Gamma/Histamine-Induced Inflammation in Human NCTC 2544 Keratinocytes. Molecules 2018, 23, 2526.
Note that from the first issue of 2016, MDPI journals use article numbers instead of page numbers. See further details here.
Related Articles
Comments
[Return to top]