Open Access This article is
freely available
re-usable
Article
Structural Basis for the Substrate Inhibition of Proline Utilization A by Proline
1
Department of Biochemistry, University of Missouri, Columbia, MO 65211, USA
2
Department of Chemistry, University of Missouri, Columbia, MO 65211, USA
3
Department of Biochemistry, Redox Biology Center, University of Nebraska, Lincoln, NE 68588, USA
*
Author to whom correspondence should be addressed.
Received: 6 December 2017 / Accepted: 21 December 2017 / Published: 23 December 2017
Abstract
:
Proline utilization A (PutA) is a bifunctional flavoenzyme that catalyzes the two-step oxidation of
l
-proline to
l
-glutamate using spatially separated proline dehydrogenase (PRODH) and
l
-glutamate-γ-semialdehyde dehydrogenase (GSALDH) active sites. Substrate inhibition of the coupled PRODH-GSALDH reaction by proline is a common kinetic feature of PutAs, yet the structural basis for this phenomenon remains unknown. To understand the mechanism of substrate inhibition, we determined the 2.15 Å resolution crystal structure of
Bradyrhizobium japonicum
PutA complexed with proline. Proline was discovered in five locations remote from the PRODH active site. Most notably, strong electron density indicated that proline bound tightly to the GSAL binding site of the GSALDH active site. The pose and interactions of proline bound in this site are remarkably similar to those of the natural aldehyde substrate, GSAL, implying that proline inhibits the GSALDH reaction of PutA. Kinetic measurements show that proline is a competitive inhibitor of the PutA GSALDH reaction. Together, the structural and kinetic data show that substrate inhibition of the PutA coupled reaction is due to proline binding in the GSAL site.
Keywords:
flavoenzyme; proline dehydrogenase;
l
-glutamate-γ-semialdehyde dehydrogenase; substrate inhibition; X-ray crystallography
Acknowledgments
Research reported in this publication was supported by the NIGMS of the National Institutes of Health under award numbers R01GM065546 and R01GM061068. We thank Jay Nix for help with X-ray diffraction data collection. This research used resources of the Advanced Light Source, which is a DOE Office of Science User Facility under contract no. DE-AC02-05CH11231.
Author Contributions
All authors conceived and designed the experiments; T.A.P. and B.W.A. performed the experiments; all authors analyzed the data; D.A.K., D.F.B., and J.J.T. wrote the paper.
Conflicts of Interest
The authors declare no conflict of interest.
Sample Availability: Samples are not available from the authors.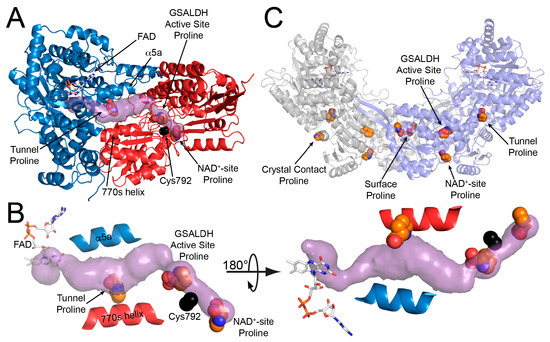 Figure 2. The crystal structure of BjPutA C792A. (A) The protomer of BjPutA C792A. The PRODH module is colored blue. The GSALDH module is colored red. The purple surface represents the substrate-channeling tunnel. For reference, the two α-helices that border the central section of the tunnel are noted (α5a, 770 s helix). (B) Close-up view of proline molecules bound in the GSALDH active site and the middle of the tunnel. (C) The dimer of BjPutA C792A. The two protomers are colored gray and slate. The 9 proline molecules bound to the dimer are shown in spheres.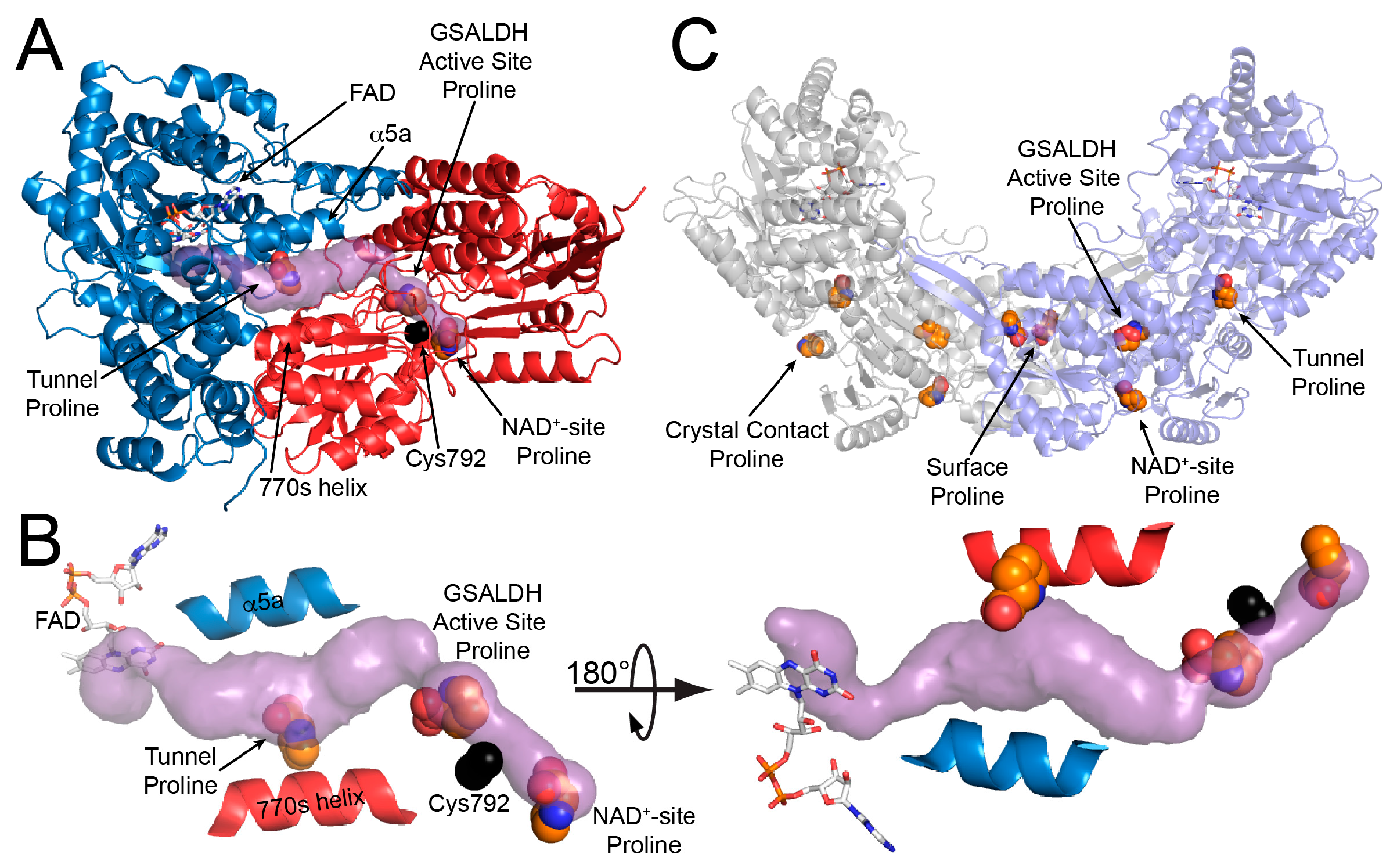 Figure 3.
Electron density evidence showing the FAD of BjPutA C792A is reduced. (
A
) The FAD of proline-soaked BjPutA C792A. The mesh represents a simulated annealing
F
o
–
F
c
omit map contoured at 3.0σ. The inset shows an edge-on view of the isoalloxazine. (
B
) The FAD of oxidized BjPutA (PDB ID 3HAZ).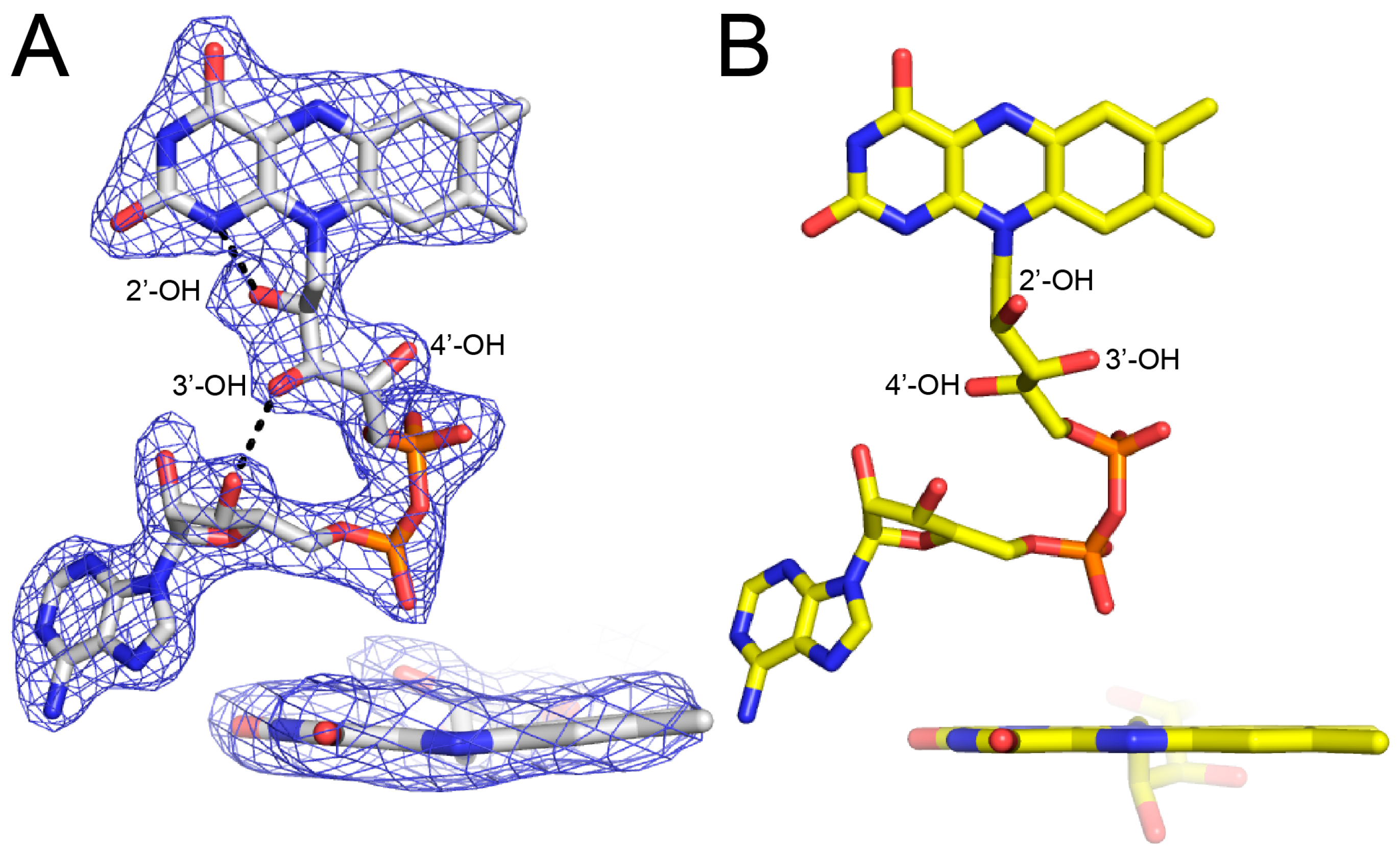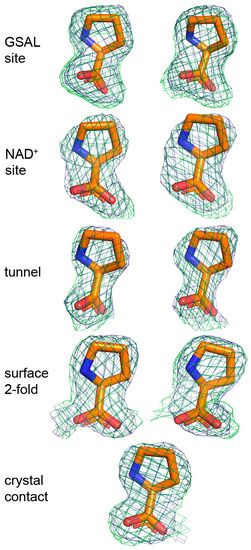 Figure 4.
Electron density of the 9 proline molecules bound to C792A. The green mesh represents a simulated annealing
F
o
–
F
c
omit map contoured at 2.5σ. The blue mesh represents the refined 2
F
o
–
F
c
map calculated from the final model, including proline ligands (1.0σ). The left and right sides of the figure show prolines bound to Chains A and B, respectively. Proline in the crystal contact does not have a non-crystallographic symmetry mate.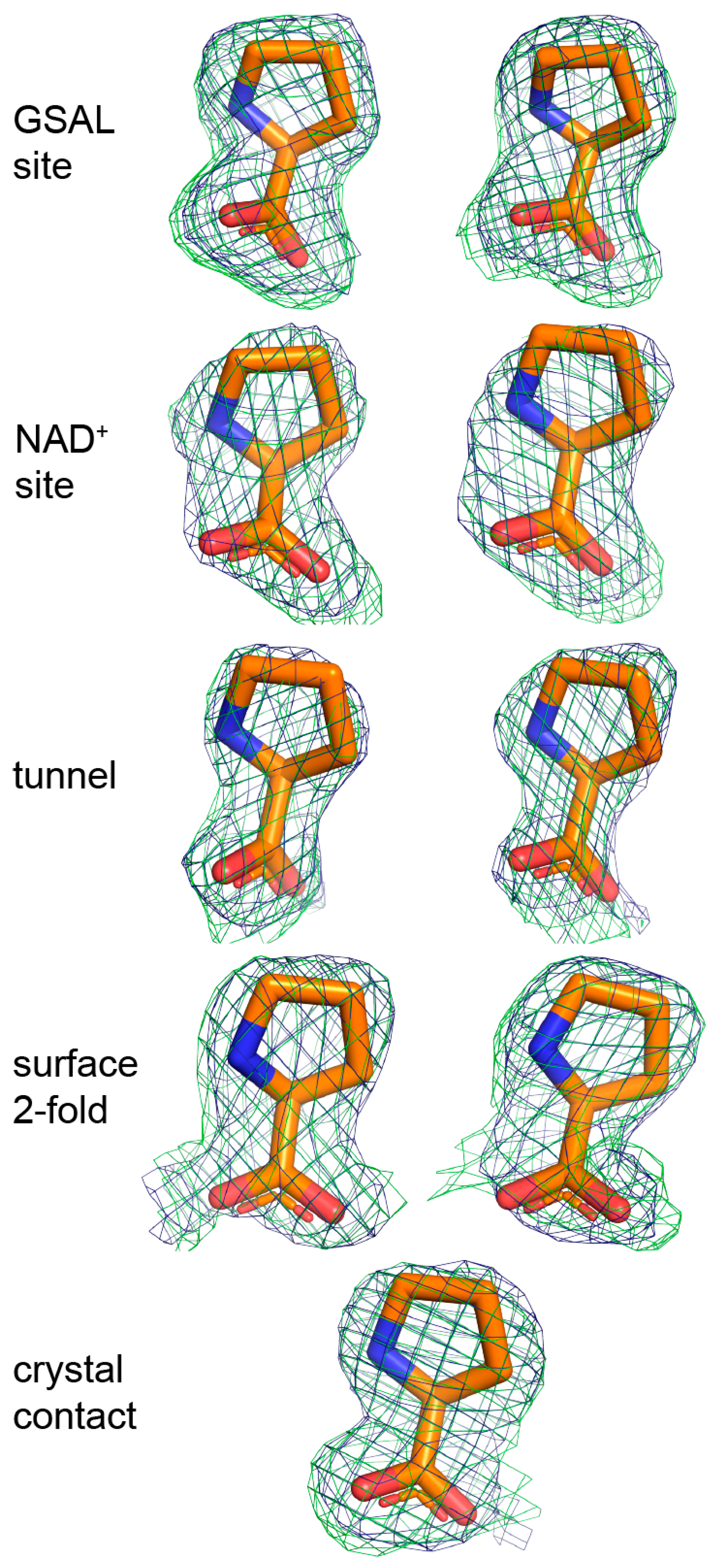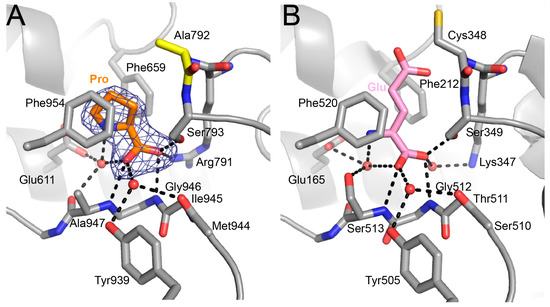 Figure 5.
Proline inhibits the GSAL site of the GSALDH module. (
A
) Electron density and interactions for proline bound in the GSAL site. The mesh represents a simulated annealing
F
o
–
F
c
omit map contoured at 3.0σ. (
B
) The active site of mouse GSALDH (ALDH4A1) complexed with the product glutamate (PDB ID 3V9K). Water molecules that mediate enzyme-ligand hydrogen bonds are represented by red spheres.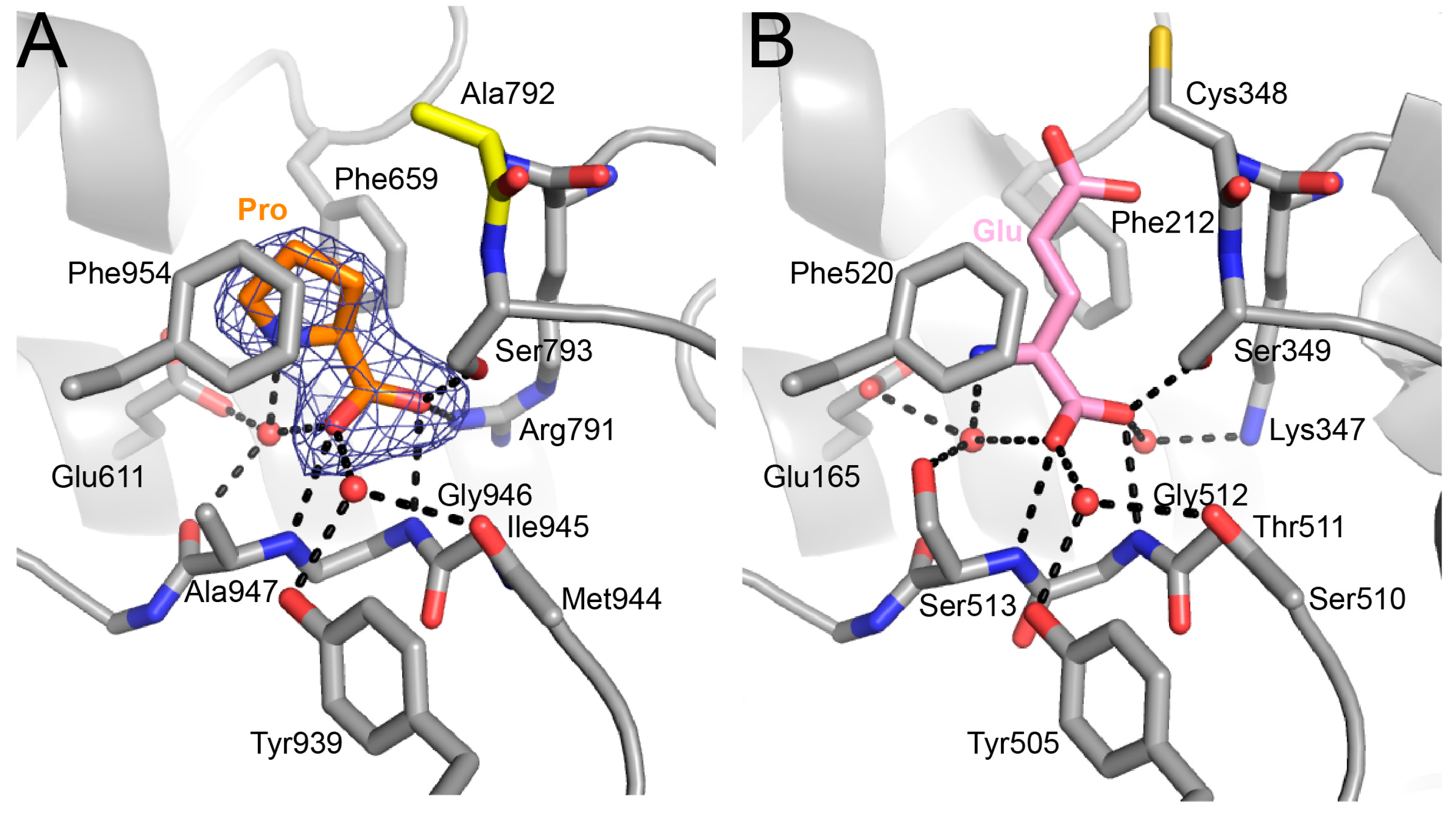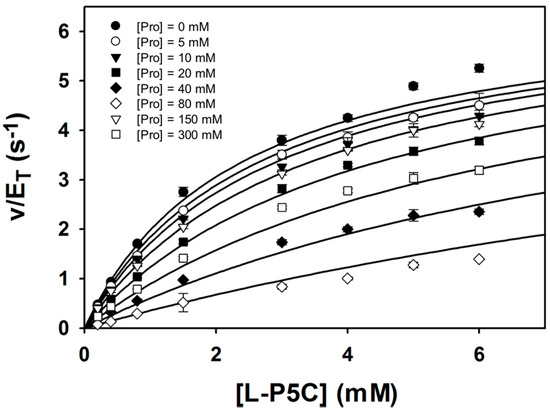 Figure 6.
Kinetic data showing that proline is a competitive inhibitor of the GSALDH activity of BjPutA. Initial velocity pattern for BjPutA mutant R456M (0.25 μM) as a function of P5C concentration at 8 different fixed proline concentrations. The curves represent a global fit of the data to a competitive inhibition model. Best fit parameters were
K
m
= 2.4 ± 0.1 mM,
k
cat
= 6.7 ± 0.1 s
−1
, and
K
i
= 46.3 ± 1.7 mM proline.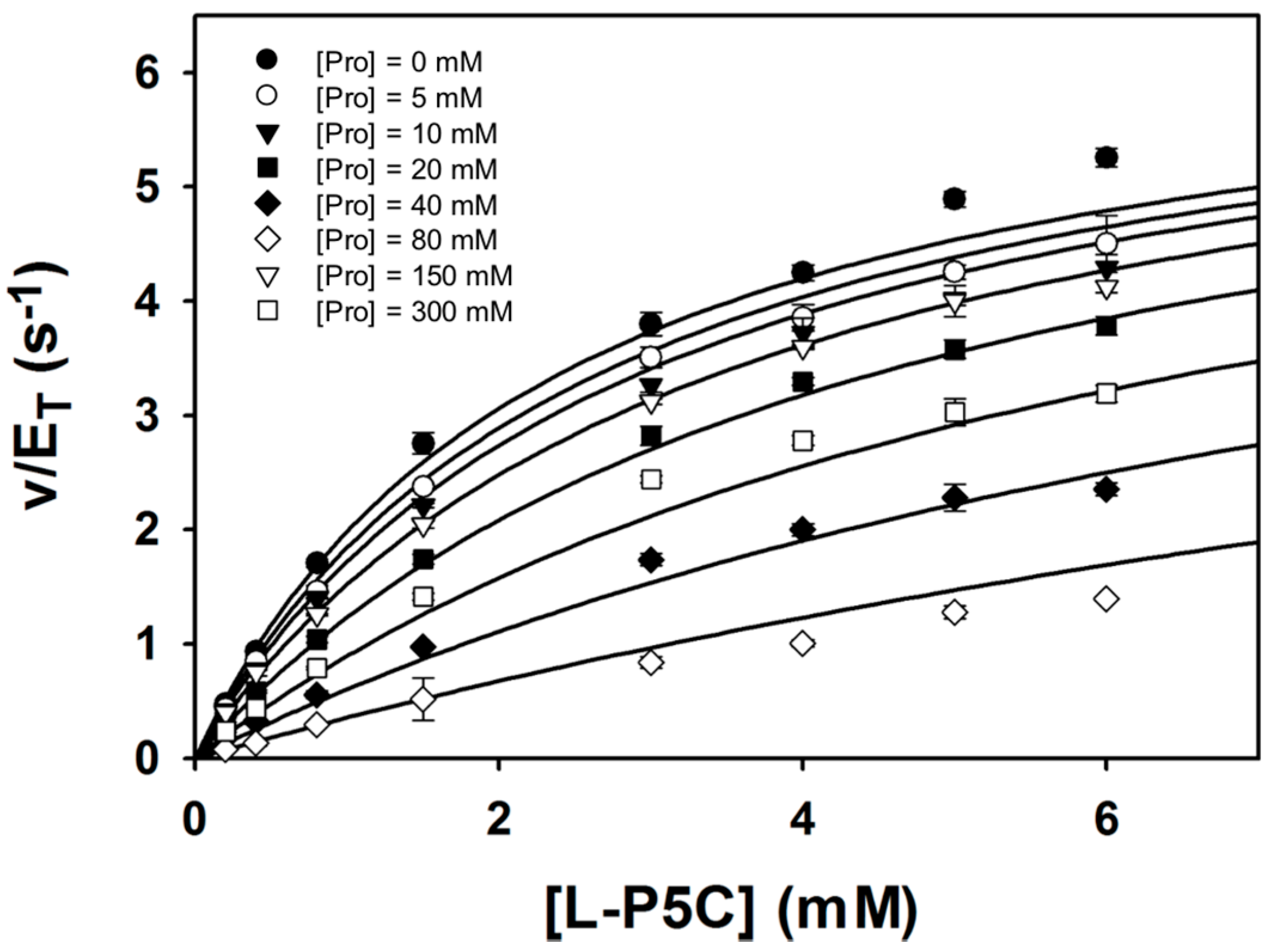 Table 1. Data collection and refinement statistics.
Space Group

C

2
Unit cell parameters (Å, °)

a

= 166.8


b

= 194.2


c

= 108.7


β

= 121.4
Wavelength
1.000
Resolution (Å)
47.02–2.15 (2.19–2.15)a
Observations
587,377 (21,732)
Unique reflections
158,884 (7,418)

R

merge(

I)

0.089 (0.787)

R

meas(

I

)
0.105 (0.975)

R

pim(

I

)
0.054 (0.563)
Mean

I/

σ
8.7 (1.7)
Mean

CC

1/2
0.996 (0.649)
Completeness (%)
99.5 (94.1)
Multiplicity
3.7 (2.9)
No. protein residues
1949
No. of atoms
Protein
14540
FAD
106
Proline
72
Sulfate ions
70
Water
719

R

work
0.209 (0.320)

R

free b
0.239 (0.379)
RMSD bond lengths (Å)
0.007
RMSD bond angles (°)
0.890
Ramachandran plot c
Favored (%)
98.39
Outliers (%)
0.05
Clashscore (PR) c
2.69 (99%)
MolProbity score (PR) c
1.31 (99%)
Average B-factor (Å2)
Protein
39.6
FAD
32.9
Proline
48.1
Sulfate ions
79.4
Water
37.3
Coordinate error (Å) d
0.28
PDB ID
6BSN
a Values for the outer resolution shell of data are given in parentheses. b 5% test set. c From MolProbity. The percentile ranks (PR) for Clashscore and MolProbity score are given in parentheses. d Maximum likelihood-based coordinate error estimate reported by phenix.refine.
Table 2. Refined B-factors and occupancies of proline ligands.
Site

B

-Factor (Å2)
Occupancy
Hydrogen Bonds to the Protein
GSAL site
35.8
1.00
4
GSAL site
35.3
1.00
4
NAD+ site
44.1
0.89
1
NAD+ site
55.8
0.95
1
Middle of the tunnel
54.6
0.89
0
Middle of the tunnel
61.5
0.90
0
Surface, near the dimer 2-fold axis
47.6
0.89
3
Surface, near the dimer 2-fold axis
49.8
0.92
3
Crystal contact
48.1
0.95
1

© 2017 by the authors. Licensee MDPI, Basel, Switzerland. This article is an open access article distributed under the terms and conditions of the Creative Commons Attribution (CC BY) license (http://creativecommons.org/licenses/by/4.0/).