Open Access This article is
freely available
re-usable
Review
Recent Advances in Conotoxin Classification by Using Machine Learning Methods
1
Key Laboratory for Neuro-Information of Ministry of Education, School of Life Science and Technology, Center for Informational Biology, University of Electronic Science and Technology of China, Chengdu 610054, China
2
Development and Planning Department, Inner Mongolia University, Hohhot 010021, China
3
College of Computer and Information Engineering, Xiamen University of Technology, Xiamen 361024, China
4
Department of Physics, School of Sciences, and Center for Genomics and Computational Biology, North China University of Science and Technology, Tangshan 063000, China
5
Department of Pathophysiology, Southwest Medical University, Luzhou 646000, China
*
Authors to whom correspondence should be addressed.
Received: 17 May 2017 / Accepted: 19 June 2017 / Published: 25 June 2017
Abstract
:
Conotoxins are disulfide-rich small peptides, which are invaluable peptides that target ion channel and neuronal receptors. Conotoxins have been demonstrated as potent pharmaceuticals in the treatment of a series of diseases, such as Alzheimer's disease, Parkinson's disease, and epilepsy. In addition, conotoxins are also ideal molecular templates for the development of new drug lead compounds and play important roles in neurobiological research as well. Thus, the accurate identification of conotoxin types will provide key clues for the biological research and clinical medicine. Generally, conotoxin types are confirmed when their sequence, structure, and function are experimentally validated. However, it is time-consuming and costly to acquire the structure and function information by using biochemical experiments. Therefore, it is important to develop computational tools for efficiently and effectively recognizing conotoxin types based on sequence information. In this work, we reviewed the current progress in computational identification of conotoxins in the following aspects: (i) construction of benchmark dataset; (ii) strategies for extracting sequence features; (iii) feature selection techniques; (iv) machine learning methods for classifying conotoxins; (v) the results obtained by these methods and the published tools; and (vi) future perspectives on conotoxin classification. The paper provides the basis for in-depth study of conotoxins and drug therapy research.
Keywords:
conotoxin; superfamily; ion channel; machine learning method
1. Introduction
In this review, we summarized recent advances in conotoxin classification by using machine learning methods in the following aspects: (i) benchmark dataset construction; (ii) feature extraction method; (iii) feature selection technique; (iv) classification algorithms; (v) prediction accuracy and web servers establishment; and (vi) prospect of conotoxin prediction with machine learning methods.
2. Benchmark Datasets
2.1. Published Database Resources
Constructing a high quality and reliable benchmark dataset is critical for the protein attribute predictor. Both general databases and special databases play a key role in the construction of bioinformatics benchmark [
46
,
47
,
48
,
49
]. The general databases include the protein knowledgebase (UniProtKB:
http://www.uniprot.org
) [
50
], the protein structure data bank (PDB:
http://www.rcsb.org/pdb/home/home.do
) [
51
], and the protein database provided by the National Center for Biotechnology information (NCBI) [
52
]. Researchers used to collect the data from these molecular biology databases.
For the convenience of users, some special databases were constructed. Here, we mainly introduced the ConoServer (
http://www.conoserver.org/
), which was a specific database for conotoxins [
53
,
54
]. The database collected various kinds of information of conotoxins from SwissProt, GenBank, Protein Data Bank and literatures, including peptide sequences, chemical modifications, and their ability to block the ion channels. At present, the ConoServer has managed 2838 nucleic sequences (from 83
Conus
species), 6255 protein sequences (from 109
Conus
species) and 176 3D structures (from 35
Conus
species) until 16 April 2017, provides a convenient overview of current knowledge on conopeptides and furnishes sequence/structure/activity relationships information, which is of particular interest for drug design research.
2.2. Benchmark Dataset Construction
Although the ConoServer contains much information, for the purpose of conotoxin prediction, it is necessary to construct a new benchmark dataset that can be handled by machine learning methods. Generally, a high quality benchmark dataset is constructed in the four following steps. In step 1, samples of conotoxin peptide are acquired from a database with some relevant key words. In step 2, only those proteins with clear functional annotations based on experimental evidence are included. In step 3, the proteins with the annotation information of "immature", "invalid", and "fragment" are excluded. In step 4, redundancy and homology bias are reduced by using the program CD-HIT [
55
] which has been widely used for clustering and comparing protein or nucleotide sequences.
Based on the strict steps above, some high-quality datasets have been constructed for conotoxin superfamilies. Some superfamilies with relatively less members were not considered in some studies [
24
,
32
]. The first benchmark dataset of superfamily was called S1, which included 116 mature conotoxin sequences including A (25 entries), M (13 entries), O (61 entries) and T (17 entries) superfamilies [
24
]. At the same time, they also built a negative dataset containing 60 short peptide sequences that did not belong to any of the four superfamilies (A, M, O or T). The second benchmark dataset S2 contains 261 entries consisting of four superfamilies: A (63 samples), M (48 samples), O (95 samples) and T (55 samples) obtained from the SwissProt [
33
]. In addition, Lath et al. collected 964 sequences from ConoServer [
37
]. Koua et al. also acquired 933 samples and 967 samples from Conoserver [
38
,
39
].
The benchmark dataset of ion channel-targeted conotoxins was also constructed based on the Uniprot. The function type of conotoxins was obtained by searching Gene Ontology. The first benchmark dataset I1 established by Yuan et al. included 112 sequences (24 K-conotoxins, 43 Na-conotoxins, and 45 Ca-conotoxins) [
41
]. Ding et al. [
42
], Wu et al. [
44
] and Wang et al. [
45
] also established their models based on this dataset. In addition, Zhang et al. built a new dataset called I2 containing 145 samples (26 K-conotoxins, 49 Na-conotoxins and 70 Ca-conotoxins) [
43
]. The benchmark datasets are provided in
Table 1
.
3. Conotoxin Sample Description Methods
In the process of protein classification with machine learning methods, the second step is to represent protein samples. Two strategies may be adopted: the continuous model and the discrete model. In the continuous model, the BLAST or FASTA programs are used to search homology. For a highly similar sequence (sequence identity ≥40%) in the searching dataset, its predictive results are always good. Thus, the similarity-based method is straightforward and intuitive. However, if a query protein has no similar sequence in the training dataset, these methods cannot work. Therefore, various discrete models were recommended [
24
,
32
,
33
,
34
,
35
,
36
,
41
,
42
,
43
,
44
,
45
,
56
]. The way to formulate conotoxin samples with discrete models is provided below.
3.1. Amino Acid Compositions and Dipeptide Compositions
The amino acid compositions (AAC) and dipeptide compositions are the most widely used features to formulate the protein samples, and can be formulated as:
where (
i
= 1,2,... , 20) and (
i
= 1, 2,..., 400) are, respectively, the absolute occurrence frequencies of 20 native amino acids and 400 dipeptides, which, respectively, describe the sequence composition and neighborhood information of residues.
Based on the two kinds of parameters above, Lin et al. [
32
] developed a method to predict conotoxin superfamilies by combining the increment of diversity with modified Mahalanobis discriminant. Recently, the 400 dipeptide compositions were also used to represent a conotoxin sequence by Wang et al. [
45
].
3.2. Pseudo Amino Acid Composition
3.3. Hybrid Features
Instead of using a single discrete model, different features were used to describe conotoxin samples. Recently, the 246 physicochemical properties of residues obtained from APDbase [
60
] were used to formulate protein samples [
33
,
36
]:
By using the maximal overlap discrete wavelet transform (MODWT) to construct the eigenvectors [
61
], a conotoxin sample can thus be represented by a 1230-dimensional feature vector ((1 + 1 + 3) × 246 = 1230):
In addition, three characteristics were also incorporated in their model: 20D features of evolutionary information, 3D secondary structural (SS) information, and 20D AAC. Therefore, the final feature set to formulate conotoxin sample was a (1230 + 20 + 3 + 20)1273D vector.
Compared with the above two methods, the method combines with several models to represent protein samples. Thus, the bias caused by a single discrete model can be significantly reduced.
4. Feature Selection Techniques
Feature selection is important in pattern recognition for the insight gained from determining relevant modeling variables. By feature selection, generalization ability of prediction model will improve, information redundancy or noise will be excluded; and the dimension disaster will be resolved [
62
]. It can significantly increase the comprehensibility of classifier models and often build a better model [
63
]. The ultimate goal of feature selection is to find the best feature subset that can produce the maximum accuracy and to establish a robust prediction model. Currently, many feature selection techniques have been developed to optimize a feature set, such as principal component analysis (PCA) [
64
], minimal-redundancy-maximal-relevance (mRMR) [
65
], maximum-relevancy-maximum-distance (MRMD) [
66
], diffusion maps [
36
] and the analysis of variance (ANOVA) [
67
]. The following feature selection techniques have been used in conotoxin prediction.
5. Prediction Algorithms
The four key steps for conotoxin classification are to select a highly efficient and powerful machine learning method to make a predictive decision. In the prediction, the classification function or classification model was constructed with a machine learning method for predicting the input conotoxin to a given category.
6. Prediction Accuracy
In this section, we listed the commonly-used metrics for the performance evaluation of proposed models and introduced the published results.
6.1. Commonly-Used Evaluation Metrics
A jackknife test can yield a unique result for a given benchmark dataset and has been wildly applied in various predictions [
109
,
110
]. A set of metrics, namely, sensitivity (
Sn
), average accuracy (
AA
) (or called average sensitivity) and overall accuracy (
OA
) are commonly used to quantitatively estimate the accuracy of the models and respectively calculated as:
where
TP
,
FP
,
TN
, and
FN
, respectively, denote the number of true positives, false positives, true negatives, and false negatives; is the type of samples.
The receiver operating characteristic (ROC) curve [
111
] shows the predictive capability. The ROC curve can also present the model behavior of the true positive rate (sensitivity) against the false positive rate (1-specificity) in a visual way. The area under the ROC (auROC) is calculated to quantitatively and objectively measure the performance of the proposed method. A perfect classifier gives auROC = 1 and the random performance gives auROC = 0.5.
7. Conclusions
Conotoxins have a wide application prospect in the fields of neuroscience development and neuroscience research and play different physiological functions and therapeutic potentials. Accurate identification of conotoxin types will provide vital clues in revealing the physiological mechanism and pharmacological therapeutic of conotoxins. It is necessary to develop computational tools for both basic research and drug development, particularly for in-depth investigation into the mechanisms of conotoxins and the development of new drugs to treat chronic pain, epilepsy, spasticity, and cardiovascular diseases.
Similarly, the computational-based methods can be also applied to other disulfide-rich venom peptides that target the same ion channels and receptors as conotoxins and show similar pharmacological, biochemical and structural properties, such as spider venoms, centipede or snake venoms.
Although encouraging results have been obtained in conotoxin superfamily and ion channel-target type prediction, further improvements should be made. At first, the prediction accuracy should be further improved. Different types of PseAAC can be applied in the field to formulate conotoxin samples for improving the accuracy. A PSSM (position-specific scoring matrix) produced by similarity search can also be used as an important feature in prediction. Moreover, different feature selection techniques, such as minimal-redundancy-maximal-relevance (mRMR) and principal component analysis (PCA), can also be used to reduce the feature dimension and extract key features. Furthermore, with machine learning approaches, more methods such as deep learning, deep forest, and random forest can also be used to obtain higher accuracies. In addition to superfamily and target type prediction, the signal peptide cleavage sites, the position of two disulfide bonds, and the transition from
L
to
D
-residues are also required to be computationally identified by using machine learning methods. We hope that more and more scholars devote themselves to this field.
Acknowledgments
This work was supported by the Applied Basic Research Program of Sichuan Province (Nos. 2015JY0100 and LZ-LY-45), the Fundamental Research Funds for the Central Universities of China (Nos. ZYGX2015J144; ZYGX2015Z006; ZYGX2016J118; ZYGX2016J125; ZYGX2016J126), the Program for the Top Young Innovative Talents of Higher Learning Institutions of Hebei Province (No. BJ2014028), the Outstanding Youth Foundation of North China University of Science and Technology (No. JP201502), the China Postdoctoral Science Foundation (No. 2015M582533) and the Scientific Research Foundation of the Education Department of Sichuan Province (11ZB122).
Author Contributions
H.L., W.C. and H.T. conceived and designed the experiments; F.Y.D. performed the experiments; F.Y.D, H.Y. and Z.D.S. analyzed the data; W.Y., Y.W. and H.D. contributed reagents/materials/analysis tools; F.Y.D., H.Y., Z.D.S., W.C. and H.L. wrote the paper.
Conflicts of Interest
The authors declare no conflict of interest.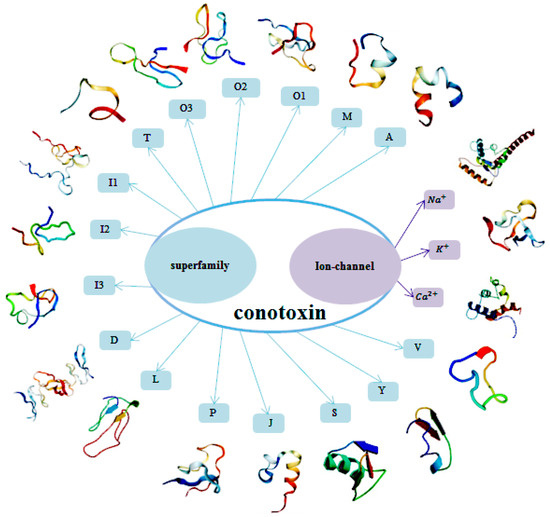 Figure 1. A structural schematic illustration to show the classification of conotoxins in superfamily and ion channel-target. Sixteen major conotoxin superfamilies are A, D, I1, I2, I3, J, L, M, O1, O2, O3, P, S, T, V, and Y. They are also categorized into calcium channel-targeted, sodium channel-targeted, and potassium channel-targeted conotoxins according to their functions.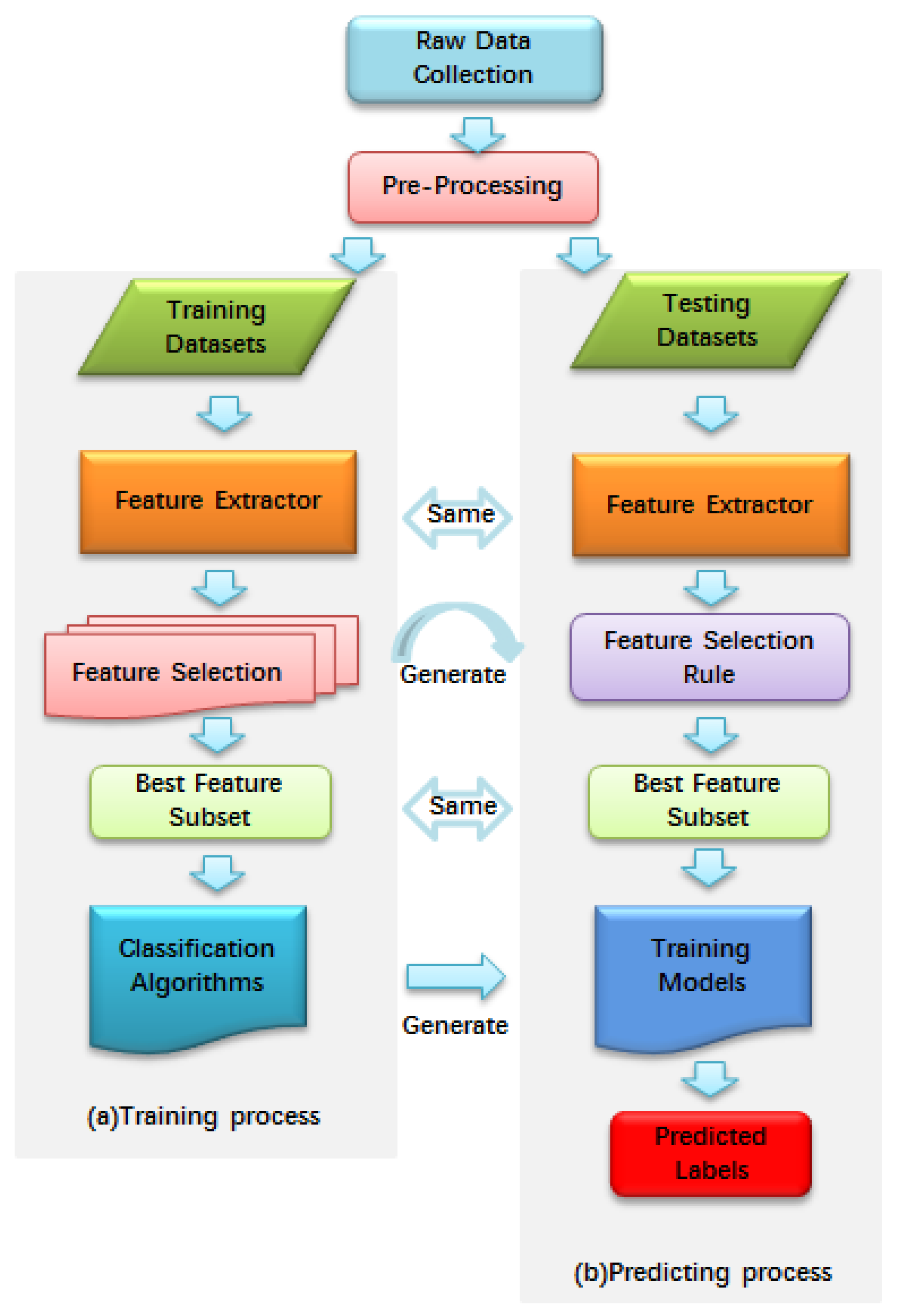 Table 1. The benchmark datasets of conotoxin superfamily and ion channel-targeted conotoxin.
Superfamily
Total Number
Reference
A
M
O
T
S1
25
13
16
17
116
[24,32,34,35]
S2
63
48
95
55
216
[33,36]
Type of Ion Channel
Total Number
Reference
K-Conotoxin
Na-Conotoxin
Ca-Conotoxin
I1
24
43
45
112
[41,42,44,45]
I2
26
49
70
145
[43]

Table 2. A list of published results for conotoxin superfamilies and ion channel-targeted conotoxin classifications.
Table 2. A list of published results for conotoxin superfamilies and ion channel-targeted conotoxin classifications.
Superfamily Prediction
Reference
Dataset
Methods
A
M
O
T
AA
OA
S1
Multi-class SVMs
0.840
0.923
0.869
0.941
0.893
0.881
[24]
IDQD
0.960
0.923
0.820
0.940
0.911
0.883
[32]
SVM-Freescore
0.960
0.984
0.984
1
0.982
0.974
[34]
Toxin-AAM
0.957
0.966
0.891
0.966
0.945
0.966
[35]
S2
PredCFS
0.960
0.984
0.984
1
0.982
0.903
[33]
dHKNN
0.957
0.966
0.891
0.966
0.945
0.919
[36]
Type of Ion Channel-Targeted Prediction
Reference
Dataset
Methods
K-Conotoxin
Na-Conotoxin
Ca-Conotoxin
AA
OA
I1
RBF network
0.917
0.884
0.889
0.897
0.893
[41]
iCTX-Type
0.833
0.978
0.898
0.903
0.911
[42]
Fscore-SVM
0.917
0.953
0.953
0.942
0.946
[44]
AVC-SVM
0.931
0.942
0.892
0.922
0.920
[45]
I2
ICTCPred
1
0.919
1
0.973
0.957
[43]
© 2017 by the authors. Licensee MDPI, Basel, Switzerland. This article is an open access article distributed under the terms and conditions of the Creative Commons Attribution (CC BY) license (http://creativecommons.org/licenses/by/4.0/).