Open Access This article is
freely available
re-usable
Article
One-Step Synthesis of Silver Nanoparticles on Polydopamine-Coated Sericin/Polyvinyl Alcohol Composite Films for Potential Antimicrobial Applications
1
College of Biotechnology, Southwest University, Beibei, Chongqing 400715, China
2
State Key Laboratory of Silkworm Genome Biology, Southwest University, Beibei, Chongqing 400715, China
3
College of Pharmaceutical Sciences, Southwest University, Beibei, Chongqing 400715, China
*
Author to whom correspondence should be addressed.
Academic Editor: Derek J. McPhee
Received: 25 March 2017 / Accepted: 27 April 2017 / Published: 30 April 2017
Abstract
:
Silk sericin has great potential as a biomaterial for biomedical applications due to its good hydrophilicity, reactivity, and biodegradability. To develop multifunctional sericin materials for potential antibacterial application, a one-step synthesis method for preparing silver nanoparticles (AgNPs) modified on polydopamine-coated sericin/polyvinyl alcohol (PVA) composite films was developed. Polydopamine (PDA) acted as both metal ion chelating and reducing agent to synthesize AgNPs in situ on the sericin/PVA composite film. Scanning electron microscopy and energy dispersive spectroscopy analysis revealed that polydopamine could effectively facilitate the high-density growth of AgNPs as a 3-D matrix. X-ray diffractometry studies suggested the synthesized AgNPs formed good face-centered cubic crystalline structures. Contact angle measurement and mechanical test indicated AgNPs modified PDA-sericin/PVA composite film had good hydrophilicity and mechanical property. The bacterial growth curve and inhibition zone assays showed the AgNPs modified PDA-sericin/PVA composite film had long-term antibacterial activities. This work develops a new method for the preparation of AgNPs modified PDA-sericin/PVA film with good hydrophilicity, mechanical performance and antibacterial activities for the potential antimicrobial application in biomedicine.
Keywords:
sericin; polyvinyl alcohol; polydopamine; silver nanoparticles; one-step synthesis; antibacterial activity
2. Results and Discussion
3. Materials and Methods
3.1. Materials
Silkworm cocoons were supplied by the State Key Laboratory of Silkworm Genome Biology, Southwest University (Beibei, Chongqing, China). Dopamine hydrochloride and silver nitrate (AgNO3, AR, 99.99%) were purchased from Aladdin Corp. (Shanghai, China). Tris(hydroxymethyl)aminomethane (Tris) and hydrochloric acid (HCl) were purchased from Sangon Biotech (Shanghai, China). MiliQ water made by a MilliQ water purification system (Millipore, Billerica, MA, USA) was used in the experiments.
3.2. Preparation of AgNPs Modified PDA-SS/PVA Composite Film
Sericin was extracted from silk cocoons according to a previously reported procedure with minor modifications [
62
]. PVA was dissolved under a constant stirring speed at 80°C until it was fully dissolved to a final concentration of 5% (
w
/
t
). Then 4% (
w
/
t
) sericin solution and 5% (
w
/
t
) PVA solution were mixed together with a 1:1 ratio at 60°C for at least 30 min, and then frozen under −20 °C and thawed at room temperature for four cycles to form a SS/PVA hydrogel. The hydrogel became SS/PVA blend film upon drying. Dopamine powder was dissolved in Tris-HCl buffer to formulate different concentrations (0.5, 1.0, 2.0, 3.0 and 5.0 mg/mL), and then adjusted to pH 8.5. SS/PVA films were immersed directly into the freshly prepared dopamine solutions for 12 h with continuously magnetic stirring at 37 °C. Then the PDA coated SS/PVA films were taken out and rinsed with MiliQ water until the washing water became clear. Furthermore, the prepared films were dried at room temperature and then soaked in 30 mM AgNO
3
at room temperature for 12 h. Finally, the AgNPs modified PDA-SS/PVA composite films were produced after repeated washing and drying at room temperature.
3.3. Materials Characterization
The morphologies of PDA-SS/PVA film and AgNPs modified PDA-SS/PVA film were imaged on a JCM-5000 SEM instrument (JEOL, Tokyo, Japan). At the same time, energy-dispersive X-ray spectroscopy (EDS) (INCA X-Max 250, Oxford, England) were collected to analyze the chemical elements in these samples. The modified and unmodified AgNPs SS/PVA films were measured on an X'Pert Powder XRD with a 2θ range of 10° to 80° (PANalytical, Almelo, The Netherlands). FT-IR measurements were performed in the wavenumber of 4000–800 cm−1 with 2 cm−1 resolution on a Nicolet iz10 FT-IR spectrometer (ThermoFisher Scientific Corp, Waltham, MA, USA).
3.4. Wettability Measurement
The wettabilities of the samples were measured via sessile drop contact angle measurements on a KRÜSSDSA100 contact angle system (Krüss, Hamburg, Germany) at room temperature. A sample was examined in five different positions. A water droplet of 4 μL was dropped on the surface of the sample, and then the contact angle was measured.
3.5. Water Uptake Ability
The swelling property of the composite film in water was investigated by the gravimetric method developed by Mandal et al. [
63
] with a minor modification. The dried composite films were weighed as
W1
and immersed into 10 mL water at 37 °C. At various time intervals, the films were taken out, and extra water on the surface of the films was carefully removed with filter paper, then weighed as
W2
immediately. The swelling ratio (
S
) was calculated according to the following equation:
S
(%) = (
W
2
−
W
1
) × 100%/
W1
At least three repeats were performed for each film under the same condition and the average value was used to evaluate the swellability of the prepared films.
3.6. Mechanical Analysis
The mechanical property of composite film was measured on an AG-Xplus universal testing machine (Shimadzu, Kyoto, Japan) equipped with a 1000-N load cell at a crosshead speed of 3 mm/min. Each composite film was tested with a dimension of 4 cm × 1 cm (length × width). The thickness of the composite film was determined by SEM. The raw data were transformed into true stress (σ) and strain (ε) to plot the stress–strain curves [
64
].
3.7. Inhibition Zone Assay
The inhibition zone assay was performed according to the method described by Schillinger and Lucke [
65
].
E. coli
and
S. aureus
were inoculated into 100 mL LB medium (pH 7.4) at 37 °C under a constant shaking speed of 220 rpm. Bacteria at lag phase were applied to agar medium plates in the presence of circular AgNPs modified or unmodified sericin composite films (d = 1.50 cm). After incubation at 37 °C overnight, the antibacterial activities of the samples were evaluated according to the diameters of bacterial inhibition zones.
3.8. Growth Curve Assay
The bacterial growth curve assay was carried out according to Pal's protocol [
66
]. Bacteria at lag phase were inoculated into 10 mL LB medium (pH 7.4) and cultured under a constant shaking speed of 220 rpm at 37 °C in the presence of AgNPs modified or unmodified SS/PVA blend films (1 cm × 1 cm). About 0.5 mL bacterial suspensions were collected at different time intervals to measure the optical density of bacteria at 600 nm (OD
600
). All growth curve tests were made in triplicate to ensure the reproducibility of the tests.
3.9. Long-Term Antimicrobial Stability Test
For long-term antimicrobial stability test, AgNPs-modified PDA-SS/PVA films (1 cm × 1 cm) were immersed in PBS buffer with different pH (5, 7.4 or 9) for 24 h, respectively. SS/PVA blend film treated with bacterial was set as a positive control. At various time intervals, the antimicrobial activity test was performed against
S. aureus
and
E. coli
using the previously described method.
3.10. Mass Loss Test
The AgNPs-modified sericin composite films (3 cm × 3 cm) were soaked into PBS with different pH values (4, 7.4, 10) at 37 °C. PBS was replaced daily. At given time points, the films were taken out, washed, lyophilized, and weighed. The mass loss ratio was calculated as the difference between the initial and following dry masses at indicated times divided by the initial dry mass.
3.11. Statistics
All experiments were performed in triplicate, and data were presented as the means ± SD. The statistical significance was determined by paired and unpaired Student's
t
-tests together with ANOVA (*
p
< 0.05, **
p
< 0.01).
4. Conclusions
In this study, we have developed a one-step method to prepare AgNPs-PDA-SS/PVA film without the introduction of additional reduction reagents. High-density AgNPs are synthesized on the surface of SS/PVA film via the adsorption and direct reduction of PDA. The synthesized AgNPs are evenly distributed and have good crystallinity. The PDA coating and AgNPs modification do not alter the structure of the SS/PVA film. The prepared AgNPs-PDA-SS/PVA film has good hydrophilicity, hygroscopicity, and mechanical performance. More importantly, it has a long-term stable antibacterial activity against both Gram-negative and Gram-positive bacteria. In addition, the film has good stability and is environmentally friendly. This film with various excellent performances is expected to be useful in biomaterial applications such as wound dressings. Furthermore, a simple procedure is proposed to introduce dopamine coating on film preparations, which will facilitate the fabrication of more dopamine-containing compound films or nanofilms, which may be a productive research area in the future.
Acknowledgments
This work was supported by State Key Program of National Natural Science of China (No. 31530071), National Natural Science Foundation of China (No. 31572465, 31402139), Chongqing Research Program of Basic Research and Frontier Technology (cstc2015jcyjA00040, cstc2015jcyjBX0035), Fundamental Research Funds for the Central Universities (No. XDJK2013A019), Graduate Research and Innovation Project of Chongqing (No. CYS16074), Open Project Program of Chongqing Engineering and Technology Research Center for Novel Silk Materials (silkgczx2016003), Start-up Grant from Southwest University (SWU112111) and Chongqing Eyas Program for Young Creative Talents (CY160205).
Author Contributions
Rui Cai conceived, designed and performed the experiments, and wrote the initial manuscript draft; Rui Cai and Gang Tao analyzed the data and revised the manuscript draft; Wenchao Jiang and Kai Song assisted the experiments; Hua Zuo and Huawei He assisted the format of manuscript draft; Yejing Wang supervised the research and revised the manuscript.
Conflicts of Interest
The authors declare that they have no competing interests, including specific financial interests and relationships and affiliations relevant to the subject of this manuscript.
Samples of the silk cocoons are available from the authors.
Figure 1. The flow diagram illustrates the preparation and antimicrobial analysis of AgNPs-PDA-SS/PVA composite film.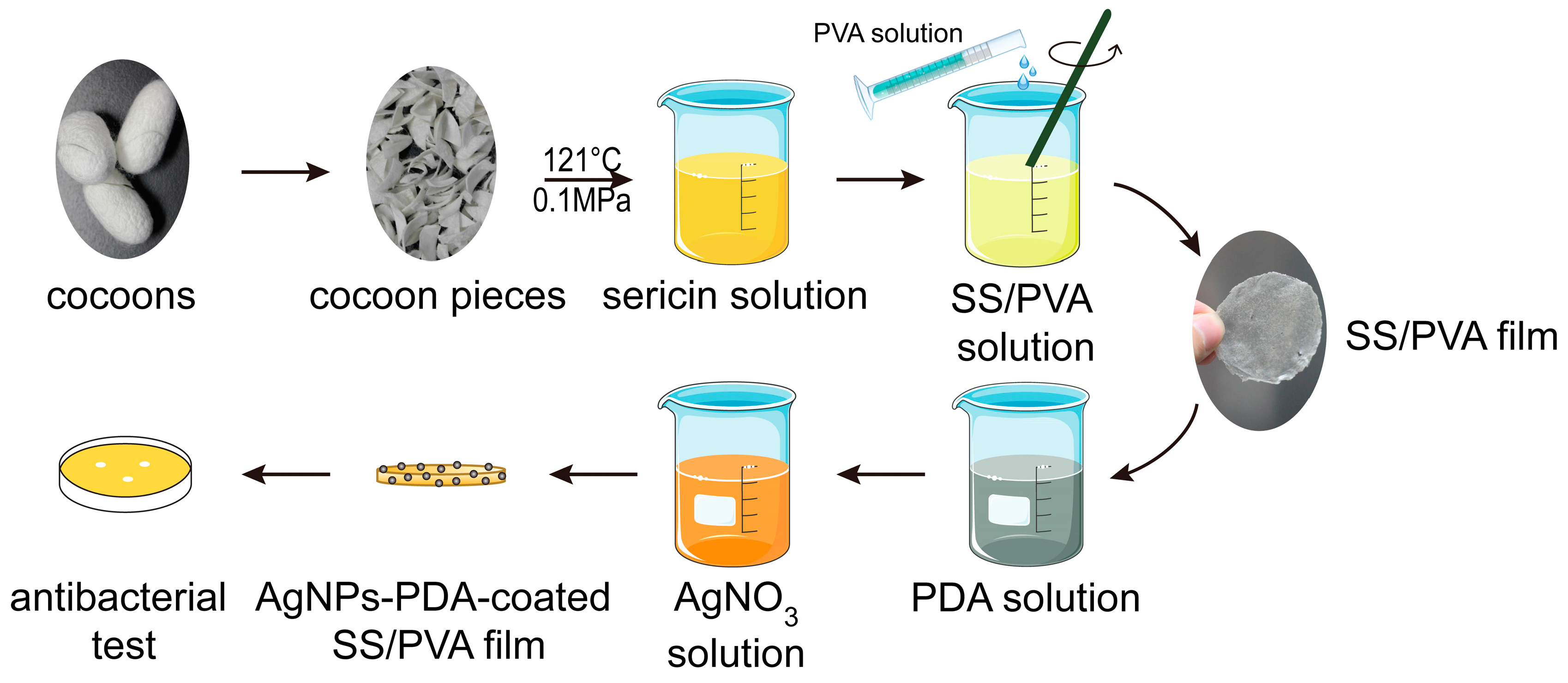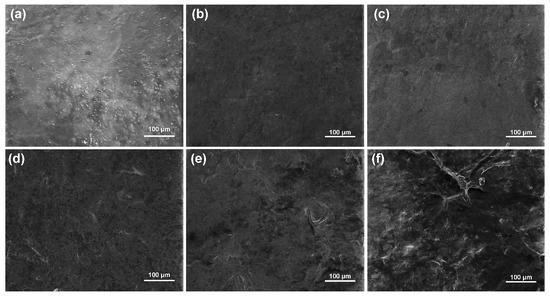 Figure 2. SEM images of SS/PVA film (a) and PDA-coated SS/PVA films prepared with dopamine concentration of 0.5 (b), 1.0 (c), 2.0 (d), 3.0 (e) and 5.0 mg/mL (f), respectively.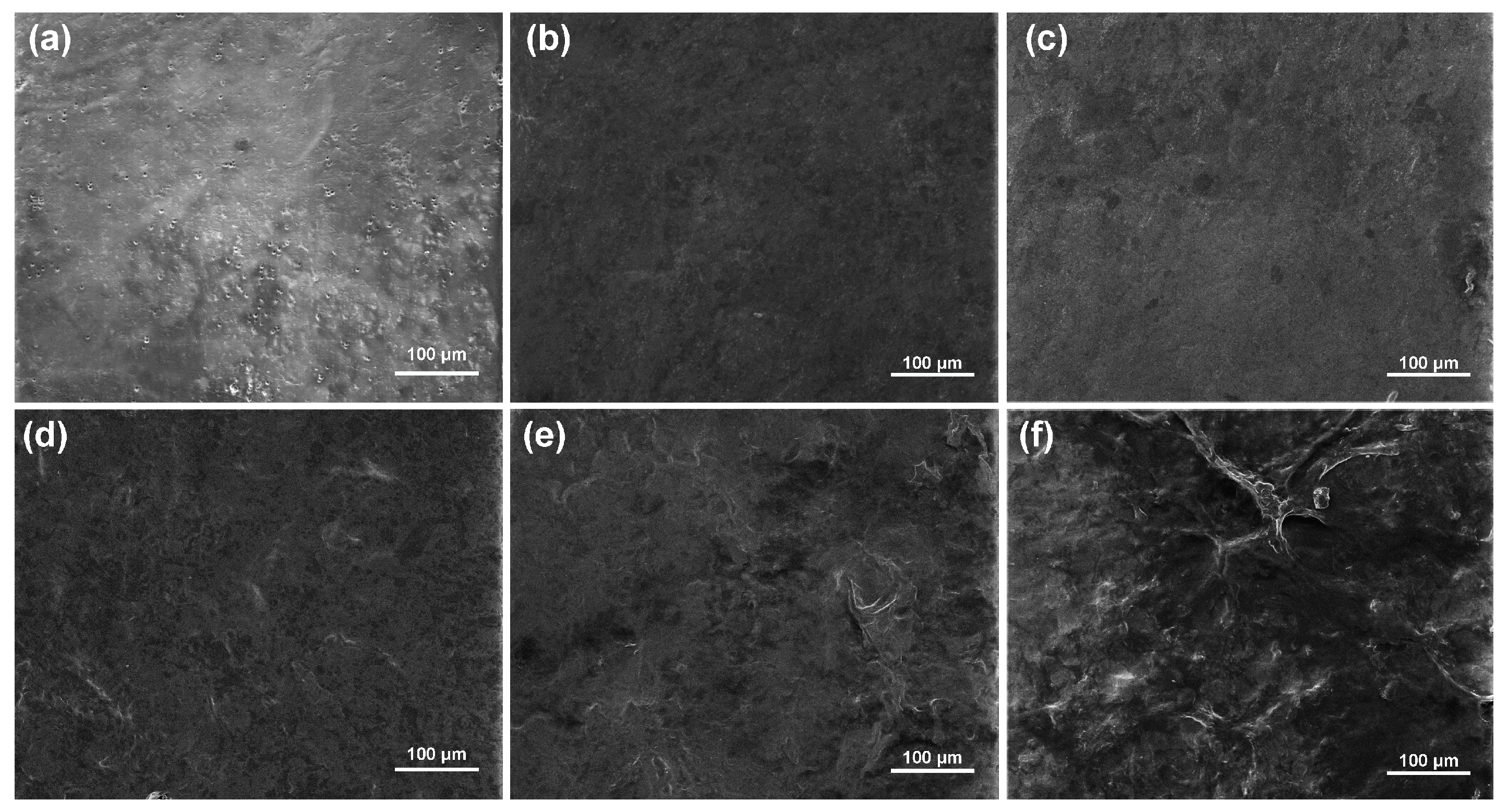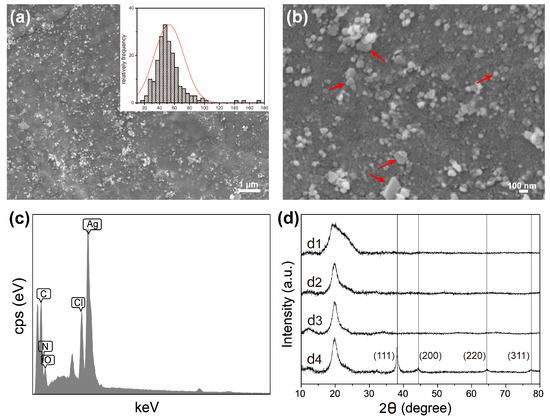 Figure 3. Field emission scanning electron microscope images of AgNPs-modified PDA-SS/PVA film (a) and (b). Inset in (a), particle size distribution of AgNPs. The red arrows in (b) indicated the different morphologies of the synthesized AgNPs. (c) EDS spectrum of a selected area of AgNPs-PDA-SS/PVA film. (d) XRD patterns of pure sericin (d1), SS/PVA film (d2), PDA-SS/PVA film (d3) and AgNPs modified PDA-SS/PVA film (d4).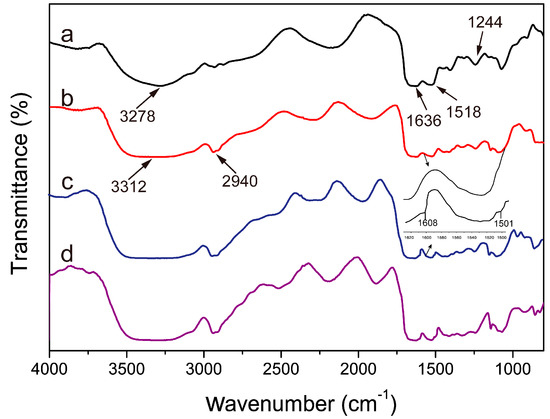 Figure 4. FT-IR spectra of pure sericin (a), SS/PVA composite film (b), PDA-SS/PVA composite film (c) and AgNPs-modified PDA-SS/PVA composite film (d).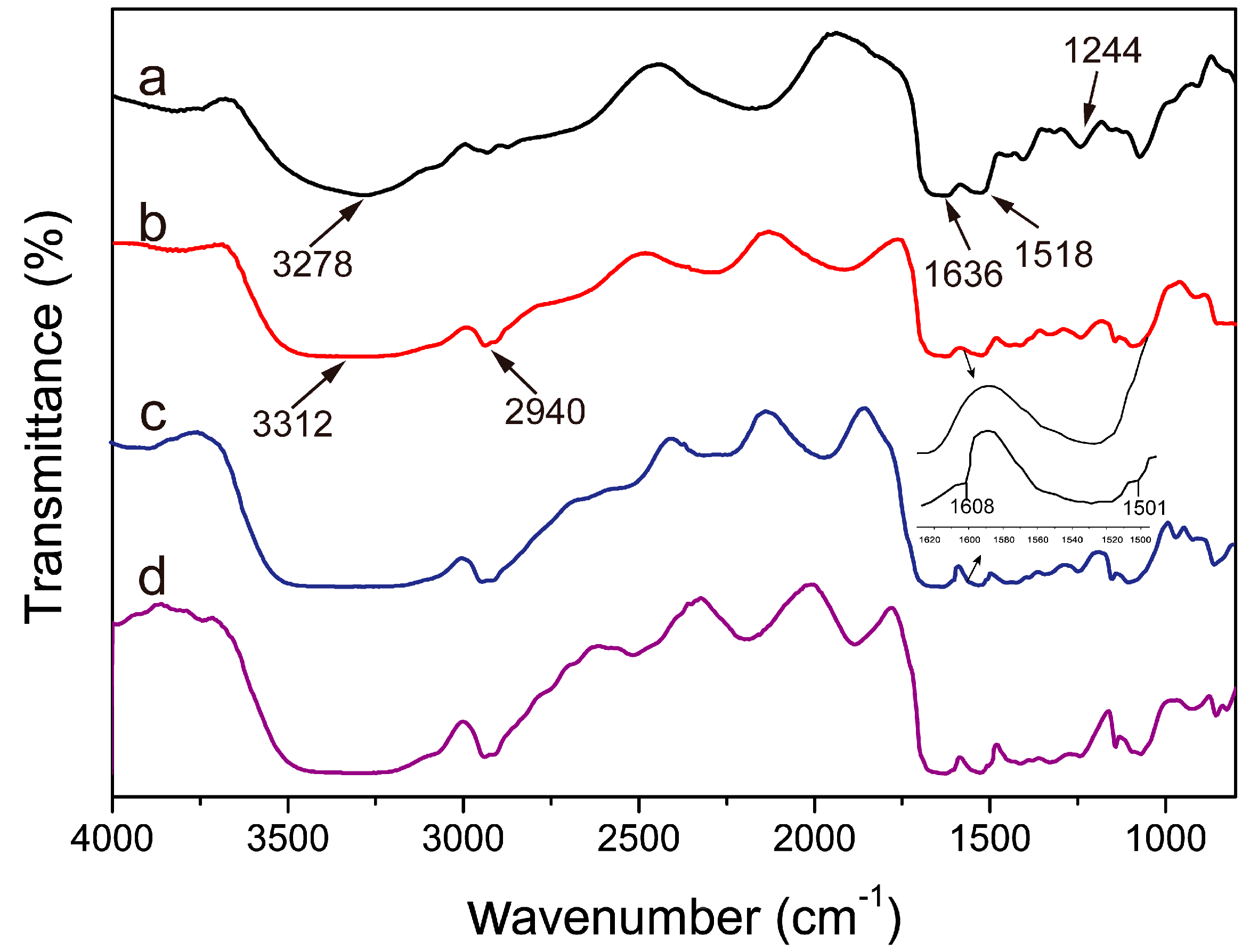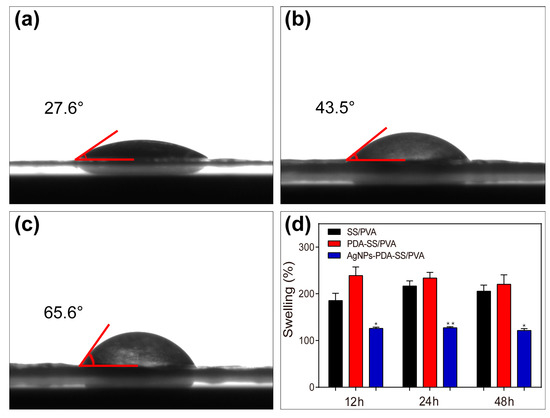 Figure 5.
Water contact angles of SS/PVA (
a
), PDA-SS/PVA (
b
), and AgNPs-PDA-SS/PVA (
c
). Swelling ratio of these films (
d
) (n = 3 per group; * indicates significant differences compared with SS/PVA film at
p
< 0.05, ** indicates significant differences compared with SS/PVA film at
p
< 0.01).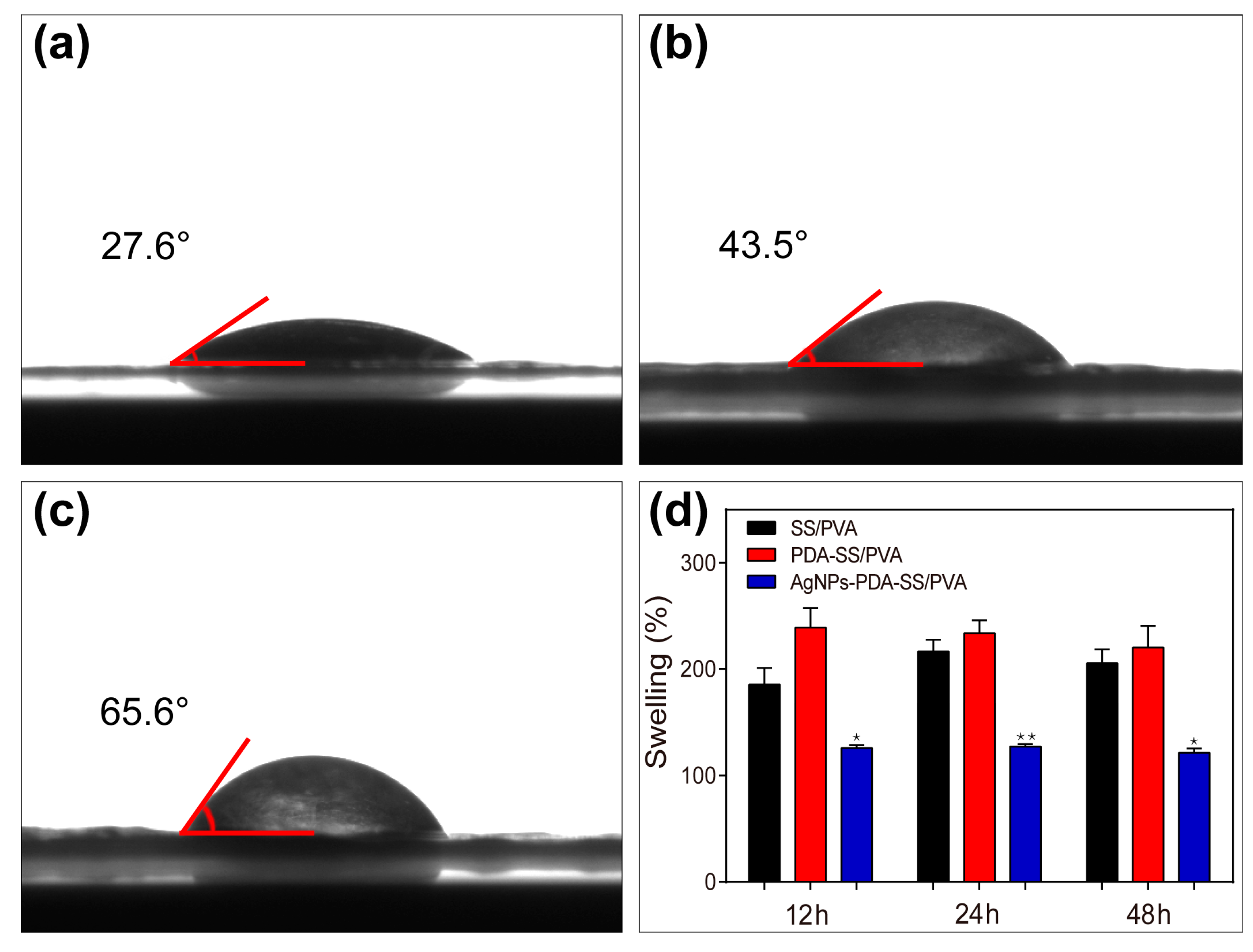 Figure 6.
Mechanical properties of the films: (
a
) tensile strength and (
b
) elongation at break (n = 3 per group; * indicates
p
< 0.05).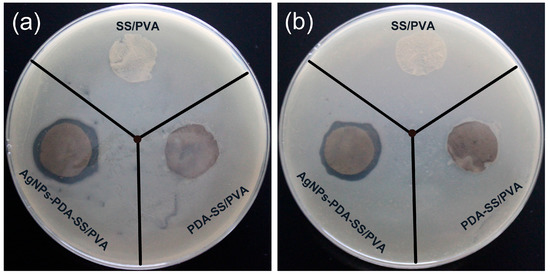 Figure 7.
Inhibition zone assays of SS/PVA, PDA-SS/PVA, AgNPs-PDA-SS/PVA against
E. coli
(
a
) and
S. aureus
(
b
).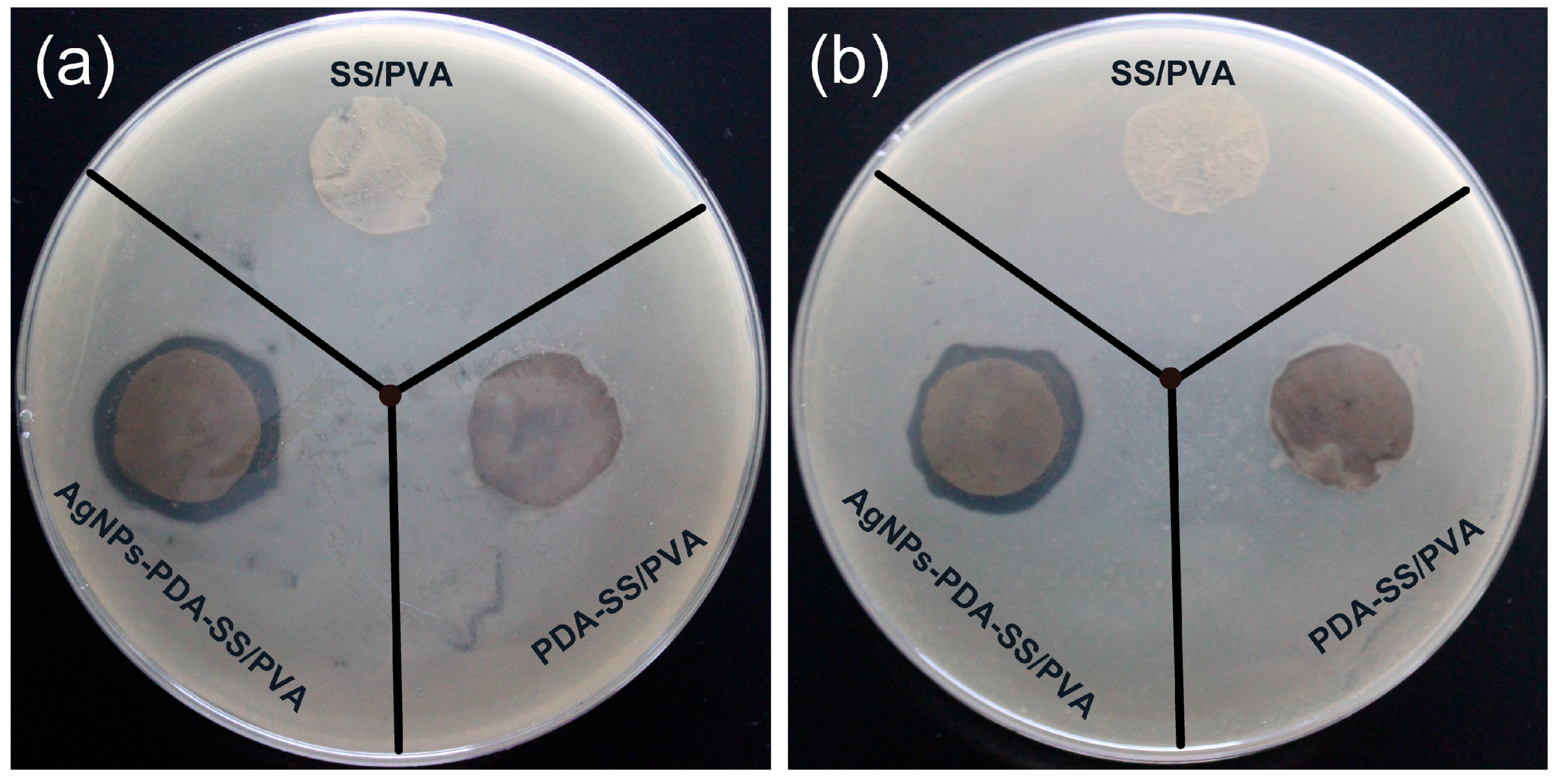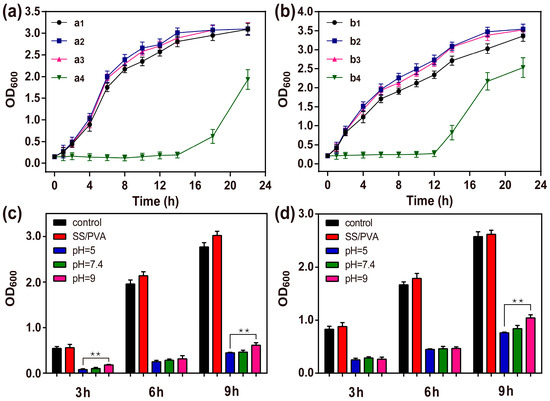 Figure 8.
Growth curves of
E. coli
(
a
) and
S. aureus
(
b
). Bacteria without treatment (a1, b1); Bacteria treated with SS/PVA films (a2, b2), PDA-SS/PVA films (a3, b3) and AgNPs-PDA-SS/PVA films (a4, b4). Long-term bactericidal activity against
E. coli
(
c
) and
S. aureus
(
d
) (n = 3 per group; ** indicates
p
< 0.01).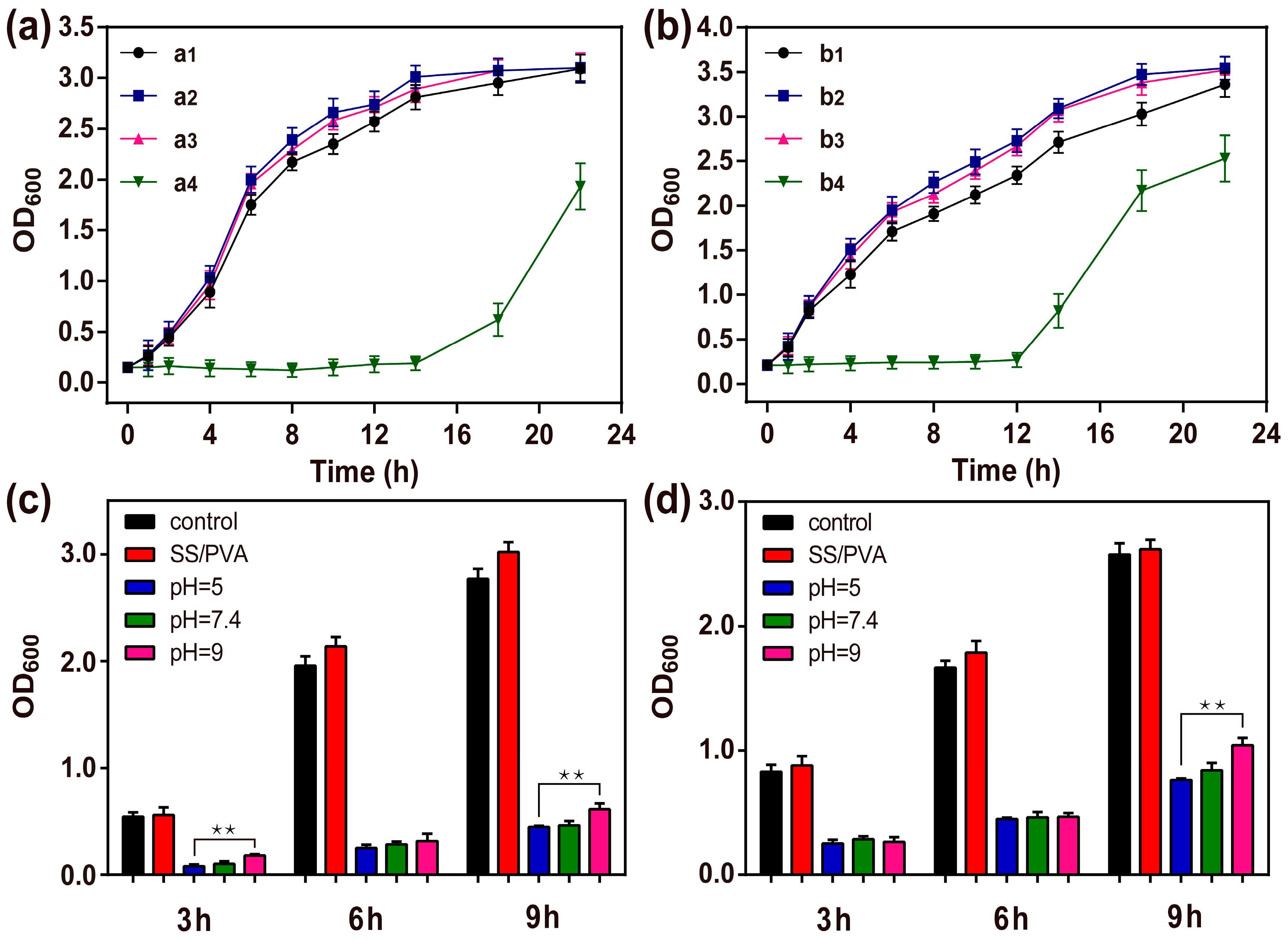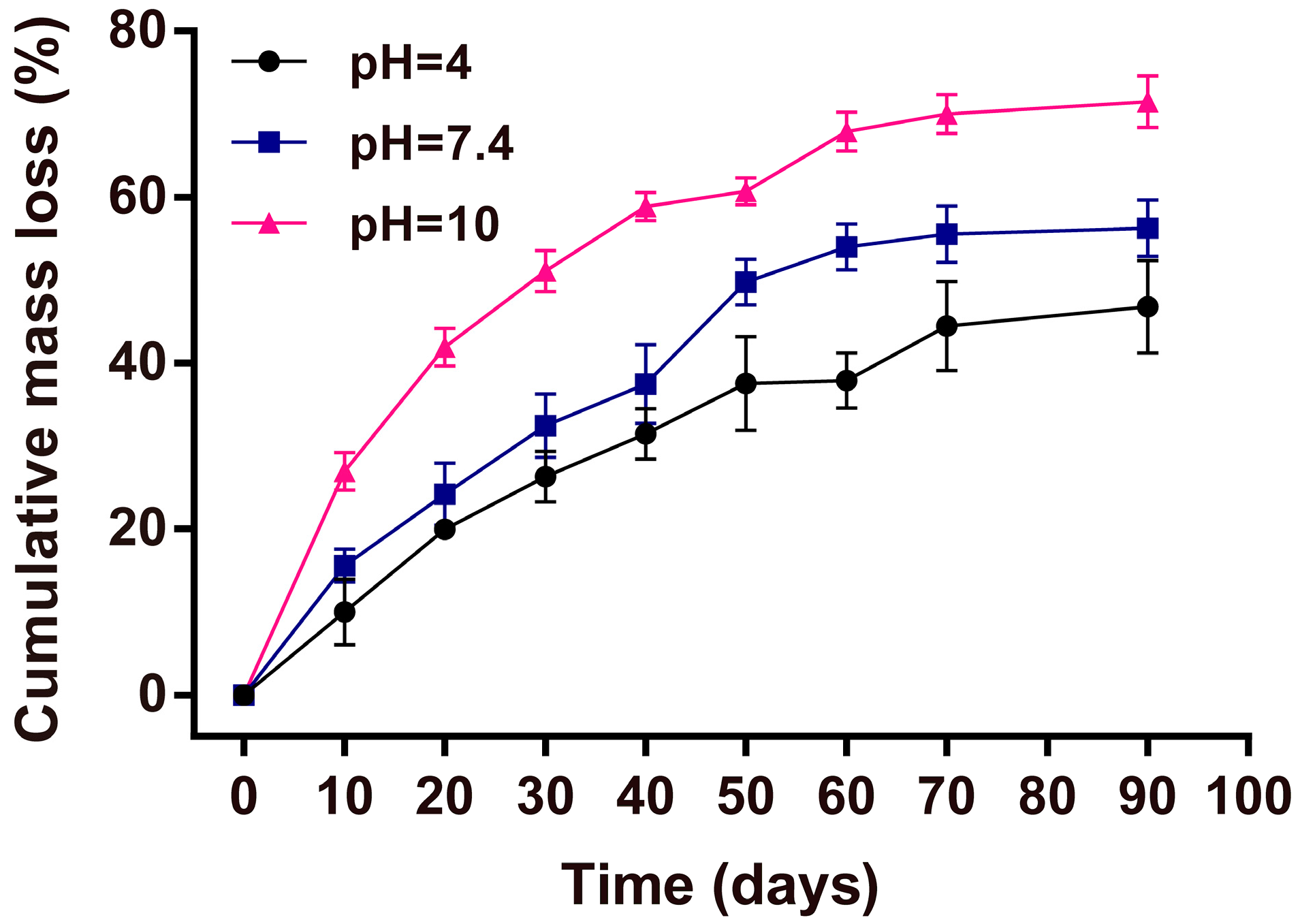 Table 1.
Diameters of inhibition zones of PDA-SS/PVA film and AgNPs-PDA-SS/PVA film against
E. coli
and
S. aureus
.
| Bacteria | Control (cm) | PDA-SS/PVA (cm) | AgNPs-PDA-SS/PVA (cm) |
| --- | --- | --- | --- |
| E. coil | 1.55 ± 0.10 | 1.65 ± 0.11 | 2.03 ± 0.08 |
| S. aureus | 1.55 ± 0.15 | 1.62 ± 0.06 | 1.86 ± 0.06 |

© 2017 by the authors. Licensee MDPI, Basel, Switzerland. This article is an open access article distributed under the terms and conditions of the Creative Commons Attribution (CC BY) license (http://creativecommons.org/licenses/by/4.0/).