Chroman-4-One Derivatives Targeting Pteridine Reductase 1 and Showing Anti-Parasitic Activity
1
Department of Biotechnology, Chemistry and Pharmacy, University of Siena, 53100 Siena, Italy
2
Department of Life Sciences, University of Modena and Reggio Emilia, Via Campi 103, 41125 Modena, Italy
3
Institute for Molecular and Cell Biology, 4150-180 Porto, Portugal and Instituto de Investigação e Inovação em Saúde, Universidade do Porto and Institute for Molecular and Cell Biology, 4150-180 Porto, Portugal
4
Laboratório Nacional de Biociências (LNBio), Centro Nacional de Pesquisa em Energia e Materiais (CNPEM), Campinas SP13083-100, Brazil
5
GARDE, Instituto Butantan, São Paulo SP05503-900, Brazil
6
Fraunhofer Institute for Molecular Biology and Applied Ecology Screening Port, D-22525 Hamburg, Germany
7
Molecular and Cellular Modeling Group, Heidelberg Institute for Theoretical Studies, 69118 Heidelberg, Germany
8
Center for Molecular Biology (ZMBH), DKFZ-ZMBH Alliance, Heidelberg University, 69120 Heidelberg, Germany
9
Interdisciplinary Center for Scientific Computing (IWR), Heidelberg University, 69120 Heidelberg, Germany
10
Magnetic Resonance Center CERM, University of Florence, 50019 Sesto Fiorentino (FI), Italy
*
Authors to whom correspondence should be addressed.
Academic Editor: Thomas J. Schmidt
Received: 7 February 2017 / Revised: 1 March 2017 / Accepted: 3 March 2017 / Published: 8 March 2017
Abstract
Flavonoids have previously been identified as antiparasitic agents and pteridine reductase 1 (PTR1) inhibitors. Herein, we focus our attention on the chroman-4-one scaffold. Three chroman-4-one analogues (
1
–
3
) of previously published chromen-4-one derivatives were synthesized and biologically evaluated against parasitic enzymes (
Trypanosoma brucei
PTR1–
Tb
PTR1 and
Leishmania major–Lm
PTR1) and parasites (
Trypanosoma brucei
and
Leishmania infantum
). A crystal structure of
Tb
PTR1 in complex with compound
1
and the first crystal structures of
Lm
PTR1-flavanone complexes (compounds
1
and
3
) were solved. The inhibitory activity of the chroman-4-one and chromen-4-one derivatives was explained by comparison of observed and predicted binding modes of the compounds. Compound
1
showed activity both against the targeted enzymes and the parasites with a selectivity index greater than 7 and a low toxicity. Our results provide a basis for further scaffold optimization and structure-based drug design aimed at the identification of potent anti-trypanosomatidic compounds targeting multiple PTR1 variants.
View Full-Text
►

▼

Figures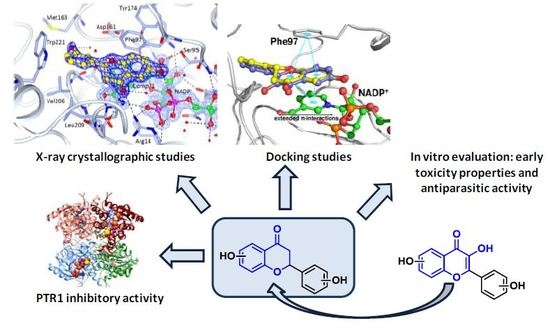 Graphical abstract
This is an open access article distributed under the
Creative Commons Attribution License
which permits unrestricted use, distribution, and reproduction in any medium, provided the original work is properly cited (CC BY 4.0).

Share & Cite This Article
MDPI and ACS Style
Di Pisa, F.; Landi, G.; Dello Iacono, L.; Pozzi, C.; Borsari, C.; Ferrari, S.; Santucci, M.; Santarem, N.; Cordeiro-da-Silva, A.; Moraes, C.B.; Alcantara, L.M.; Fontana, V.; Freitas-Junior, L.H.; Gul, S.; Kuzikov, M.; Behrens, B.; Pöhner, I.; Wade, R.C.; Costi, M.P.; Mangani, S. Chroman-4-One Derivatives Targeting Pteridine Reductase 1 and Showing Anti-Parasitic Activity. Molecules 2017, 22, 426.
Note that from the first issue of 2016, MDPI journals use article numbers instead of page numbers. See further details here.
Related Articles
Comments
[Return to top]