A Computational Investigation of the Substituent Effects on Geometric, Electronic, and Optical Properties of Siloles and 1,4-Disilacyclohexa-2,5-dienes
1
Department of Chemistry–Ångström Laboratory, Uppsala University, Box 523, 75120 Uppsala, Sweden
2
Department of Chemistry–BMC, Uppsala University, Box 576, 75123 Uppsala, Sweden
3
Nanotechnology and Functional Materials, Department of Engineering Sciences, Uppsala University, Box 534, 75121 Uppsala, Sweden
*
Author to whom correspondence should be addressed.
Academic Editor: Mitsuo Kira
Received: 17 January 2017 / Revised: 16 February 2017 / Accepted: 20 February 2017 / Published: 28 February 2017
Abstract
Thirty two differently substituted siloles
1a
–
1p
and 1,4-disilacyclohexa-2,5-dienes
2a
–
2p
were investigated by quantum chemical calculations using the PBE0 hybrid density functional theory (DFT) method. The substituents included σ-electron donating and withdrawing, as well as π-electron donating and withdrawing groups, and their effects when placed at the Si atom(s) or at the C atoms were examined. Focus was placed on geometries, frontier orbital energies and the energies of the first allowed electronic excitations. We analyzed the variation in energies between the orbitals which correspond to HOMO and LUMO for the two parent species, here represented as Δε
HL
, motivated by the fact that the first allowed transitions involve excitation between these orbitals. Even though Δε
HL
and the excitation energies are lower for siloles than for 1,4-disilacyclohexa-2,5-dienes the latter display significantly larger variations with substitution. The Δε
HL
of the siloles vary within 4.57–5.35 eV (ΔΔε
HL
= 0.78 eV) while for the 1,4-disilacyclohexa-2,5-dienes the range is 5.49–7.15 eV (ΔΔε
HL
= 1.66 eV). The excitation energy of the first allowed transitions display a moderate variation for siloles (3.60–4.41 eV) whereas the variation for 1,4-disilacyclohexa-2,5-dienes is nearly doubled (4.69–6.21 eV). Cyclobutadisiloles combine the characteristics of siloles and 1,4-disilacyclohexa-2,5-diene by having even lower excitation energies than siloles yet also extensive variation in excitation energies to substitution of 1,4-disilacyclohexa-2,5-dienes (3.47–4.77 eV, variation of 1.30 eV).
View Full-Text
►

▼

Figures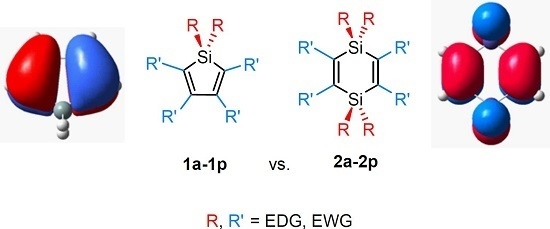 Graphical abstract
This is an open access article distributed under the
Creative Commons Attribution License
which permits unrestricted use, distribution, and reproduction in any medium, provided the original work is properly cited (CC BY 4.0).

Share & Cite This Article
MDPI and ACS Style
Denisova, A.V.; Tibbelin, J.; Emanuelsson, R.; Ottosson, H. A Computational Investigation of the Substituent Effects on Geometric, Electronic, and Optical Properties of Siloles and 1,4-Disilacyclohexa-2,5-dienes. Molecules 2017, 22, 370.
Note that from the first issue of 2016, MDPI journals use article numbers instead of page numbers. See further details here.
Related Articles
Comments
[Return to top]