Characterization, Molecular Docking, and In Vitro Dissolution Studies of Solid Dispersions of 20(
S

)-Protopanaxadiol

1

Experiment Center for Teaching and Learning, Shanghai University of Traditional Chinese Medicine, Shanghai 201203, China

2

School of Pharmacy, Shanghai University of Traditional Chinese Medicine, Shanghai 201203, China

3

Zhejiang BioAsia Institute of Life Science, No.1938 Xinqun Road, Economic and Technical Development Zone, Pinghu 314200, Zhejiang, China

4

Division of Life Science and Center for Chinese Medicine, The Hong Kong University of Science and Technology, Hong Kong, China

5

Center for Drug Delivery Systems, Shanghai Institute of Materia Medica, Chinese Academy of Sciences, Shanghai 201203, China

6

Experiment Center for Science and Technology, Shanghai University of Traditional Chinese Medicine, Shanghai 201203, China

†

These authors contributed equally to this work.

*

Authors to whom correspondence should be addressed.

Academic Editor: Anusha Chaparala

Received: 14 November 2016 / Revised: 23 January 2017 / Accepted: 6 February 2017 / Published: 11 February 2017
Abstract
In this study, we prepared solid dispersions (SDs) of 20(
S
)-protopanaxadiol (PPD) using a melting-solvent method with different polymers, in order to improve the solubility and dissolution performance of drugs with poor water solubility. The SDs were characterized via differential scanning calorimetry (DSC), powder X-ray diffraction (PXRD), Fourier transform infrared spectroscopy (FTIR), nuclear magnetic resonance (NMR), and molecular docking and dynamics study. DSC and PXRD results indicated that PPD crystallinity in SDs was significantly reduced, and that the majority of PPD is amorphous. No interaction was observed between PPD and polymers on FTIR and NMR spectra. Molecular docking and dynamic calculations indicated that the PPD molecule localized to the interpolated charged surface, rather than within the amorphous polymer chain network, which might help prevent PPD crystallization, consequently enhancing the PPD dispersion in polymers. An in vitro dissolution study revealed that the SDs considerably improved the PPD dissolution performance in distilled water containing 0.35% Tween-80 (T-80). Furthermore, among three PPD-SDs formulations, Poloxamer188 (F68) was the most effective in improving the PPD solubility and was even superior to the mixed polymers. Therefore, the SD prepared with F68 as a hydrophilic polymer carrier might be a promising strategy for improving solubility and in vitro dissolution performance. F68-based SD, containing PPD with a melting-solvent preparation method, can be used as a promising, nontoxic, quick-release, and effective intermediate for other pharmaceutical formulations, in order to achieve a more effective drug delivery.
View Full-Text
►

▼

Figures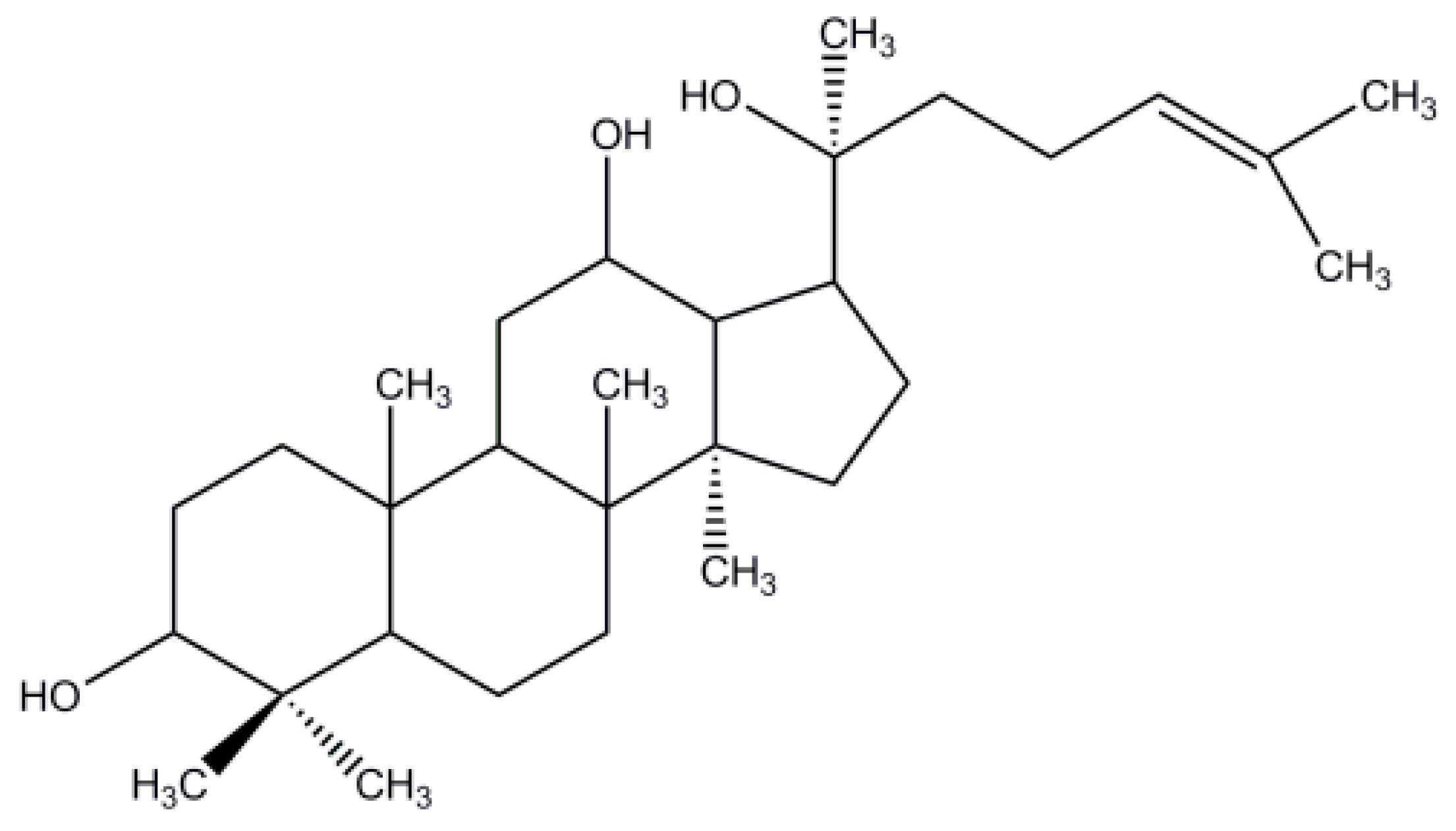 Figure 1
This is an open access article distributed under the
Creative Commons Attribution License
which permits unrestricted use, distribution, and reproduction in any medium, provided the original work is properly cited (CC BY 4.0).

Share & Cite This Article
MDPI and ACS Style
Zhang, Q.; Pu, Y.; Wang, B.; Wang, Y.; Dong, T.T.; Guo, T.; Zhang, T.; Cai, Z. Characterization, Molecular Docking, and In Vitro Dissolution Studies of Solid Dispersions of 20(S)-Protopanaxadiol. Molecules 2017, 22, 274.
Note that from the first issue of 2016, MDPI journals use article numbers instead of page numbers. See further details here.
Related Articles
Comments
[Return to top]