Regulation of T Cell Activation and Differentiation by Extracellular Vesicles and Their Pathogenic Role in Systemic Lupus Erythematosus and Multiple Sclerosis
Department of Life Sciences, University of Siena, Via Aldo Moro, 2 53100, Siena, Italy
*
Author to whom correspondence should be addressed.
Received: 29 November 2016 / Accepted: 30 January 2017 / Published: 2 February 2017
Abstract
How autoreactive tissue-infiltrated effector T cells are induced and sustained in autoimmune disease, usually dominated by the Th1 and Th17 subsets, is still largely unknown. In organ-specific autoimmunity, self-reactive T cells initially activated by dendritic cells (DCs) in the lymph nodes migrate and infiltrate into the target tissues where their reactivation by peripheral tissue antigen is a prerequisite for effector cytokine production and tissue destruction. The target tissue microenvironment, as well as the local microenvironment at the immune synapse formed by T cells that encounter cognate antigen presenting cells (APCs) shave recently emerged as critical factors in shaping the differentiation and function of self-reactive effector T cells, providing the signals required for their activation in the form of the self-antigen and cytokine milieu. Moreover, depending on the specific microenvironment, self-reactive effector T cells have the ability to change their phenotype, especially Th17 and regulatory T (Treg) cells, which are characterized by the highest instability. In this context, cell-derived extracellular vesicles, i.e., vesicles carrying cytosolic proteins and nucleic acids protected by a phospholipid bilayer, as well as membrane-associated proteins, with the ability to spread throughout the body by means of biological fluids, are emerging as key mediators in intercellular communications and in the modulation of the microenvironment. In this review, we will discuss recent findings implicating extracellular vesicles (EVs) at different steps of CD4+ T cell differentiation to specific effectors, with a focus on the Th17/Treg balance and its alterations in systemic lupus erythematosus and multiple sclerosis.
View Full-Text
►

▼

Figures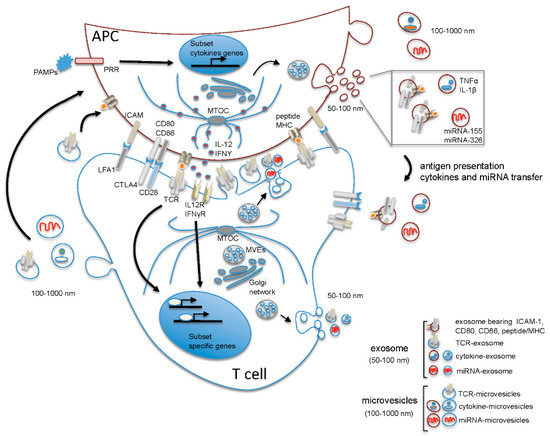 Figure 1
This is an open access article distributed under the
Creative Commons Attribution License
which permits unrestricted use, distribution, and reproduction in any medium, provided the original work is properly cited (CC BY 4.0).

Share & Cite This Article
MDPI and ACS Style
Ulivieri, C.; Baldari, C.T. Regulation of T Cell Activation and Differentiation by Extracellular Vesicles and Their Pathogenic Role in Systemic Lupus Erythematosus and Multiple Sclerosis. Molecules 2017, 22, 225.
Note that from the first issue of 2016, MDPI journals use article numbers instead of page numbers. See further details here.
Related Articles
Comments
[Return to top]