Open Access This article is
freely available
re-usable
Review
Evolution of Complex Target SELEX to Identify Aptamers against Mammalian Cell-Surface Antigens
1
Department of Chemistry, Lehman College, The City University of New York, 250 Bedford Park Blvd. West, Bronx, NY 10468, USA
2
Ph.D. Programs in Chemistry and Biochemistry, CUNY Graduate Center 365 Fifth Avenue, New York, NY 10016, USA
3
Ph.D. Program in Molecular, Cellular and Developmental Biology, CUNY Graduate Center 365 Fifth Avenue, New York, NY 10016, USA
Received: 20 December 2016 / Accepted: 24 January 2017 / Published: 30 January 2017
Abstract
:
The demand has increased for sophisticated molecular tools with improved detection limits. Such molecules should be simple in structure, yet stable enough for clinical applications. Nucleic acid aptamers (NAAs) represent a class of molecules able to meet this demand. In particular, aptamers, a class of small nucleic acid ligands that are composed of single-stranded modified/unmodified RNA/DNA molecules, can be evolved from a complex library using Systematic Evolution of Ligands by EXponential enrichment (SELEX) against almost any molecule. Since its introduction in 1990, in stages, SELEX technology has itself undergone several modifications, improving selection and broadening the repertoire of targets. This review summarizes these milestones that have pushed the field forward, allowing researchers to generate aptamers that can potentially be applied as therapeutic and diagnostic agents.
Keywords:
SELEX; nucleic acid aptamers; cell-surface markers
2. Complex Target SELEX
Successful selection of high-affinity aptamers depends on consistent, unperturbed presentation of the targeting epitope [
37
]. Therefore, during the SELEX process, it is necessary to maintain a uniform, folded state of the desired protein to successfully obtain high-affinity aptamers. Morris et al. identified this problem and developed a variant of the original SELEX called complex target SELEX, which particularly addresses the target [
38
]. For the first time, these authors demonstrated that human red blood cell membrane preparations (RBC ghosts) can be used in place of purified membrane proteins as long as the potential target(s) on RBC remained unchanged during the in vitro selection process [
38
]. Based on these results, it was postulated that the epitope remained unchanged, either by mis-folding or other unknown salt effects, thereby facilitating selective identification of aptamers against RBC membranes [
38
]. A similar approach was utilized for the original SELEX with 25 rounds using nitrocellulose filter binding as the method of separating high- from low-affinity binders. The approach carried out by Morris et al. led to the discovery of 41 sequences, which could be categorized into six distinct families based on common motifs among the sequences [
38
]. The truncated motifs modified with photo-crosslinking functional groups, followed by SDS-PAGE, and distinctly identified protein complexes specifically cross-linked to aptamers identified by complex target SELEX. This was the first study to demonstrate that (1) aptamers against multiple targets could be identified utilizing multi-epitope membrane preparations; (2) the SELEX library is sufficiently diverse to allow competition between potential aptamer ligands towards one target; (3) multiple aptamers could be selected towards multiple targets. The authors reported that the aptamers selected by complex target SELEX bind to proteins based on gel-electrophoresis analysis, but the authors did not identify the protein.
3. Crossover- or (Hybrid)-SELEX
To enhance the selection efficiency and avoid generating aptamers against potential co-receptors of the biomarker of interest was introduced through a variant of SELEX termed hybrid- or crossover-SELEX [
39
]. This approach is especially useful in generating NAAs against known biomarkers. Demonstrated by multiple groups, crossover-SELEX first enriches an aptamer pool against a whole cell expressing the target of interest, followed by further enrichment of the aptamers against the recombinant purified biomarker [
40
]. Using this method, an RNA aptamer against Tenascin C (TN-C), a glycoprotein that, in humans, is encoded by the
TNC
gene and is over-expressed on U251 glioblastoma cells, was identified [
39
]. A reverse crossover-SELEX was later employed to identify anti-Transferrin aptamers [
41
].
4. Tumor Cell SELEX
Later, Daniels et al. demonstrated that aptamers could be generated against antigens presented by a monolayer of tumor cells [
42
]. To accomplish this, a glioblastoma cell line, U251, was used as the target for a SELEX library of single-stranded DNA (ssDNA). It was shown that whole cells could be utilized as targets in SELEX experiments. With the objective of a priori identification of biologically important targets and the potential development of aptamers with in vivo targeting ability, the authors further demonstrated that an ssDNA pool could be evolved with 21 iterative rounds against a monolayer of glioblastoma cells. One aptamer identified during the selection, termed GBI-10, represented 10% of the sequences among sequences obtained by sequenced SELEX pool. Next, GBI-10 was used as a capturing agent and affinity purification was utilized to identify the target of the aptamer. The identified target of GBI-10 is Tenascin C, which is a hexameric protein expressed extracellularly in the tumor matrix. However, since the selection was performed at 4 °C, the identified aptamers did not recognize the target at physiological conditions.
By utilizing mono-layered tumor cells as the target, tumor cell SELEX demonstrated that aptamers could be generated against distinct known epitopes expressed on U251 cells. This study also demonstrated the use of affinity pull-down assays, followed by mass spectrometry to identify the aptamer's target. The key significance of this method is the demonstration that NAAs can be developed against surface markers in their native state, which is a particularly important feature, given that these trans-membrane proteins could face the possibility of mis-folding in a purified form.
These examples show the ability of SELEX to identify aptamers against cell-surface proteins utilizing whole cells, thereby opening the path toward developing more sophisticated selection approaches.
5. Live Cell-SELEX Utilizing Flow Cytometry for Biomarker Discovery
6. Cell-Internalizing SELEX
By modifying live cell-SELEX to allow the isolation of aptamers with internalization capability, cell-internalizing SELEX was introduced [
62
]. One of the key features of this method is the ability to isolate ssRNA sequences exclusively based on their capacity to bind the cell-surface target and their ability to rapidly internalize the cell in physiological conditions (
Figure 3
). Thus, this approach effectively eliminates aptamers that lack internalizing ability and aptamers that only slowly internalize into the cells, while favoring those that rapidly internalize as they bind their cognate receptor targets. Using a derived cell line over-expressing Her2, a transmembrane receptor over-expressed in breast cancer, as the positive cell line, and a cell line not expressing Her2, Theil et al. identified a panel of aptamers against Her2 [
62
]. This method also utilized a stringent salt wash step to rule out the possibility of aptamers remaining on the surface. Interestingly, three aptamers identified in this study were shown to have affinity towards recombinant purified Her2.
Although cell-internalizing SELEX demonstrated that aptamers could be isolated based on their internalization ability, it is possible that some of those aptamers will be lost due to the complexity of the method itself. The requirement of engineering a cell line with the desired over-expressed receptor and a cell line without the same receptor for the negative control makes this approach laborious and limited. These issues were addressed in a recently reported variant of cell-internalizing SELEX described by Laboni et al. [
63
]. Using nuclease-resistant 2′-fluoro-pyrimidines, an aptamer library was first used for differential cell-SELEX to enrich the aptamer population toward the glioma-specific cell line U87MG. After 13 rounds of differential cell–SELEX, aptamers with internalizing capacity were isolated. The target of the dominant aptamer, GL56, as identified utilizing pull-down assay, appeared to bind to the insulin receptor.
While these methods introduced alternative avenues to select aptamers based on the goal of target identification, each approach has its own limitations. For example, cell-internalizing SELEX requires the generation of two cloned cell lines, one that over-expresses the target and one that does not. Moreover, the internalization of aptamers and isolation of aptamers, once they have been internalized, is a complex and laborious process. Hybrid-SELEX requires over-expression and purification of surface proteins, and it is possible that aptamers bound to multiple receptors at the "cross-over stage" will be lost. Finally, aptamers generated using live cell–SELEX need post-SELEX manipulation of the whole cell to identify the target protein. Difficulties associated in identification of target proteins of the aptamers identified using live cell–SELEX have limited the potential application of these aptamers in developing therapeutics or diagnostics.
7. Ligand-Guided Selection (LIGS)
When selecting aptamers against surface markers, it is important to use a target closer to its native conformation [
64
,
65
]. Recently, another variant of live cell-SELEX, termed ligand-guided selection, or LIGS, was introduced to identify aptamers against known surface proteins (
Figure 4
). Two initial reports focused on selecting aptamers against two dominant markers on lymphoma and leukemia cells. This method addresses some of the challenges associated with established SELEX methods against cell-surface proteins. For example, LIGS identifies highly selective aptamers against a predetermined epitope expressed on the cell surface at its native expression levels. Interrupting the selection and enrichment process, LIGS introduces a strong, highly bivalent binder, such as a monoclonal antibody (mAb), which interacts with its cognate epitope to outcompete and replace specific aptamers from an enriched SELEX pool.
Thus, the first advantage lies in a ligand having the capacity to initiate a conformational switch resulting in destabilization of the aptamer-protein complex, in turn allowing the elution of specific aptamers. For example, most growth factor receptors respond to the binding of growth factor, which triggers the conformational switch, but small molecules and ions can also trigger the conformational switch on cell-surface markers. This conformational switching of the target protein can effectively be utilized as an avenue to selectively elute specific aptamers. The second advantage lies in the combinatorial nature of the SELEX libraries. For example, at any given concentration of a SELEX pool, the individual aptamer concentration towards a specific cell-surface target is substantially low. Thus, the introduction of the pre-existing ligand above its dissociation constant towards the same surface target most likely out-competes the aptamers from this pool. Combining these two key advantages, LIGS allows the selection of aptamers against a surface marker without requiring pre- or post-SELEX sample manipulations to identify aptamer targets. The simplicity of selective elution could also be utilized to identify aptamers using primary cell samples. Utilizing LIGS, aptamers were identified against membrane IgM expressed on B-cell lymphoma and CD3 expressed in T cell leukemia. Selective elution using a secondary ligand against the same target expands the capabilities of live cell-SELEX. One of the challenges of LIGS, however, is its limited use in biomarker discovery since the method is confined to selecting aptamers from known surface markers with known high-affinity secondary ligands towards the same ligand.
8. Conclusions
Two key avenues characterize the most recent progress in the development of NAAs, one being the introduction of modified nucleic acids to enhance the structural diversity and, hence, the affinity of selected aptamers, and the other being the introduction of SELEX methods tailored towards a specific application to select aptamers [
66
]. Significant progress has been made in developing modified NAs. For example, Slow Off-rate Modified Aptamer (SOMAmer) protein-binding reagents combine the properties of the structural diversity of amino acids to generate high-affinity modified nucleic acid aptamers [
67
]. Next-generation aptamers, or X-aptamers (XAs), have been developed by either random or direct modification, particularly of the 5-position of certain uridines on a monothophosphate backbone of an aptamer. The approach uses chemical linkers that allow additional modification of nucleic acid bases with "X-ligands", to enhance the structural diversity [
68
]. Next, the method utilizes the X-aptamer library conjugated to polystyrene beads, generating one-bead-one-sequence, to select X-aptamers with high affinity against a number of targets. In another example, click chemistry was used to attach azide sugars to an unnatural alkyne-containing uridine derivative, followed by successful incorporation into SELEX from which glycosylated DNA aptamers were evolved. Using this method, aptamers binding to the neutralizing HIV antibody 2G12 were identified [
69
,
70
]. Utilizing a similar but extended approach termed click-SELEX, aptamers against Cycle 3-GFP (Green Fluorescence Protein) were generated [
71
]. These examples show the potential application of modified aptamers against cell-surface targets with the aim of developing therapeutic or diagnostic tools. The enhancement of structural diversity is important in strengthening affinity and, hence, specificity towards the target. However, despite success in diversifying the library, the identification of the specific aptamers against respective targets heavily relies on the screening technology. Therefore, it is essential to improve both the screening technology of SELEX and the diversity of SELEX libraries in order to address current challenges and push the field of aptamer development forward.
With each milestone in the advancement of SELEX technology, this review summarizes how the NAA field is rapidly evolving. In particular, significant progress has been made in pushing aptamer selection technology toward generating aptamers against targets in their native state. Progress has also been made in sequencing technologies, such as next-generation sequencing (NGS), and engineered polymerases are utilized in PCR. Application of such improved technologies enables researchers in the field to explore the potential of SELEX and the combinatorial library, which is the basis of selection. Implementing flow cytometry has made it possible to detect the enrichment of SELEX pools using cells under conditions identical to those at the in vitro step, allowing the generation of high-affinity aptamers. Finally, the recently introduced LIGS technology allows the identification of aptamers against a known surface target utilizing a competing secondary ligand against the same target. With all these improvements, the future of NAA research will see considerable momentum toward translational applications.
Acknowledgments
The author gratefully acknowledges funding from the NIGMS (grant 5SC3GM105578-04) grant, the Lauri Strauss Leukemia Foundation and the NSF CBET (grant 40F68-02).
Conflicts of Interest
The author declares no conflict of interest.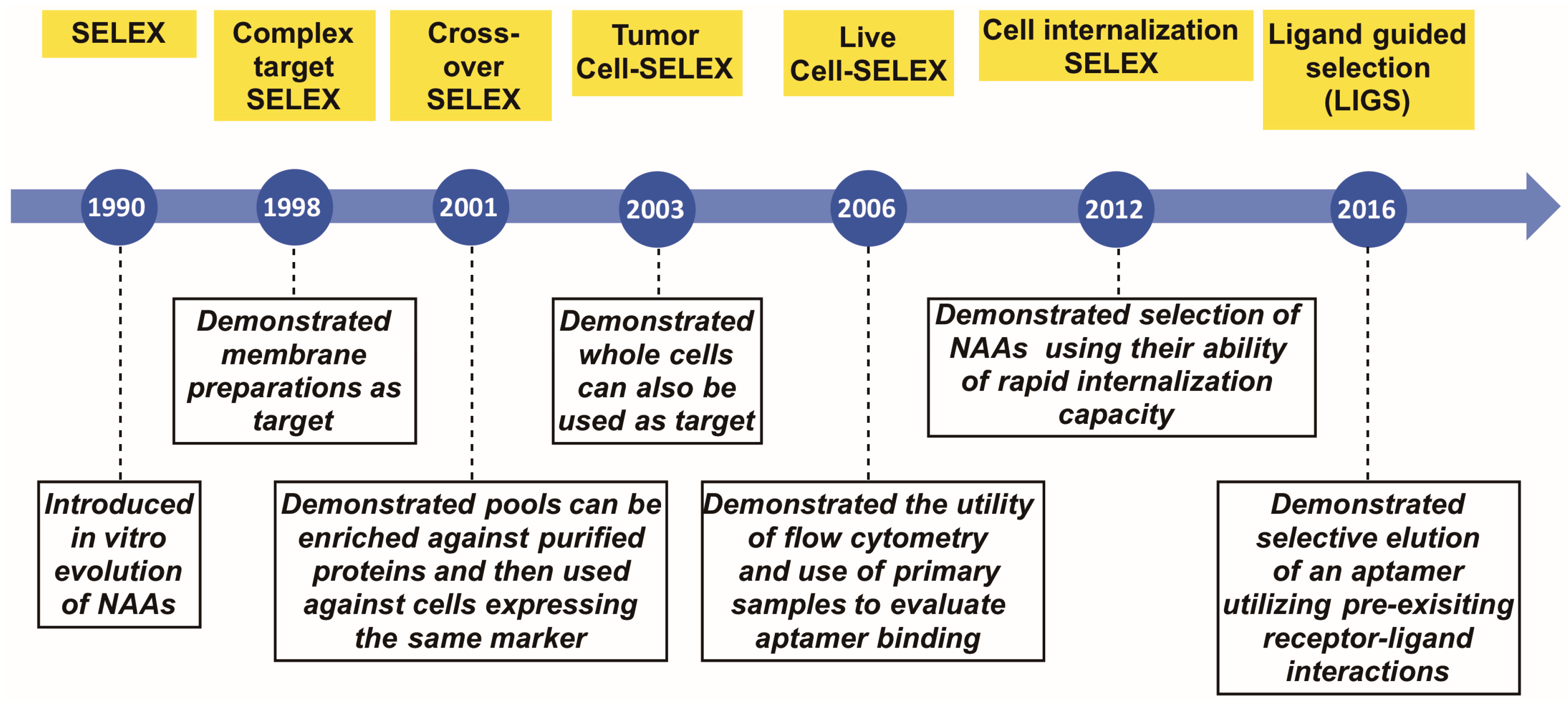 Figure 2. Outline of cell-SELEX with negative screening to increase selection pressure. The ability to detect enrichment of the SELEX pool using flow cytometry without altering the conditions used in the selection step enhanced the relevance of aptamers as diagnostic agents for hematopoietic diseases.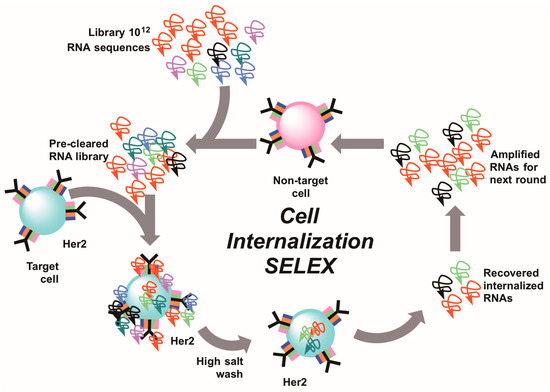 Figure 3. Schematic of cell-internalization SELEX. Cell-internalization SELEX was designed to isolate ssRNA sequences exclusively based on their capacity to bind the cell-surface target and their ability to rapidly internalize the cell in physiological conditions, while effectively eliminating aptamers that lack internalizing ability and aptamers that only slowly internalize into the cells.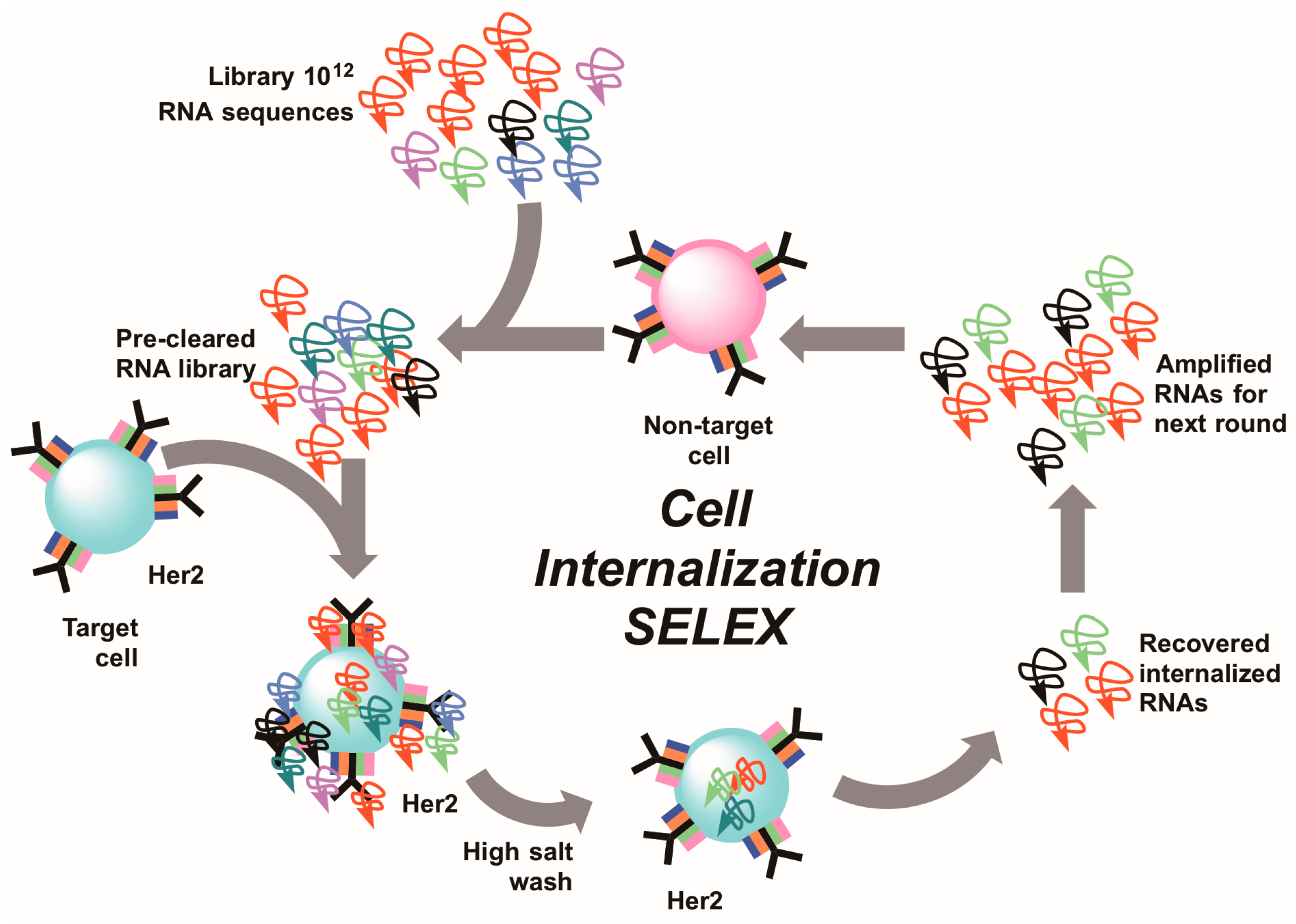 Figure 4. Schematic of ligand-guided selection. This approach effectively utilizes secondary ligands to selectively elute specific aptamers against a known surface marker.

© 2017 by the author. Licensee MDPI, Basel, Switzerland. This article is an open access article distributed under the terms and conditions of the Creative Commons Attribution (CC BY) license ( http://creativecommons.org/licenses/by/4.0/).