Access to New Cytotoxic Quinone-Amino Acid Conjugates Linked through A Vinylic Spacer from 2-Acylnaphthoquinones and Methyl 3-Aminocrotonate
1
Instituto de Ciencias Exactas y Naturales (ICEN), Universidad Arturo Prat Casilla 121, Iquique 1100000, Chile
2
Química y Farmacia, Facultad de Ciencias de la Salud, Universidad Arturo Prat, Casilla 121, Iquique 1100000, Chile
3
Facultad de Química, Pontificia Universidad Católica de Chile, Casilla 306, Santiago 6094411, Chile
4
Facultad de Ciencias de la Salud, Universidad de Talca, Talca 3460000, Chile
*
Authors to whom correspondence should be addressed.
Received: 28 November 2017 / Revised: 16 December 2017 / Accepted: 19 December 2017 / Published: 20 December 2017
Abstract
The reaction of 2-acetyl- and 2-benzoyl-1,4-naphthoquinone with (
Z
)-methyl 3-(hydroxymethyl)aminocrotonate proceeds through a formal [3+3] process to yield the corresponding 1,2-dihydrobenzisoquinolinequinones in 63% and 72% yield, respectively. The reactions of 2-acyl-1,4-naphthoquinone with enaminones, derived from diverse
l
- and
d
-amino acid methyl esters, produced the corresponding naphthoquinone amino acids conjugates bonded through a vinyl spacer in the yields range 40–71%. The presence of not-separable isomers of the naphthoquinone amino acids conjugates in the
1
H- and
13
C-NMR spectra is explained by the existence of conformational isomers generated by hindered rotation of the substituent bonded to the quinone double bond. These new naphthoquinone amino acids conjugates were screened in vitro on normal and cancer cell lines and showed moderate cytotoxic activities.
View Full-Text
►

▼

Figures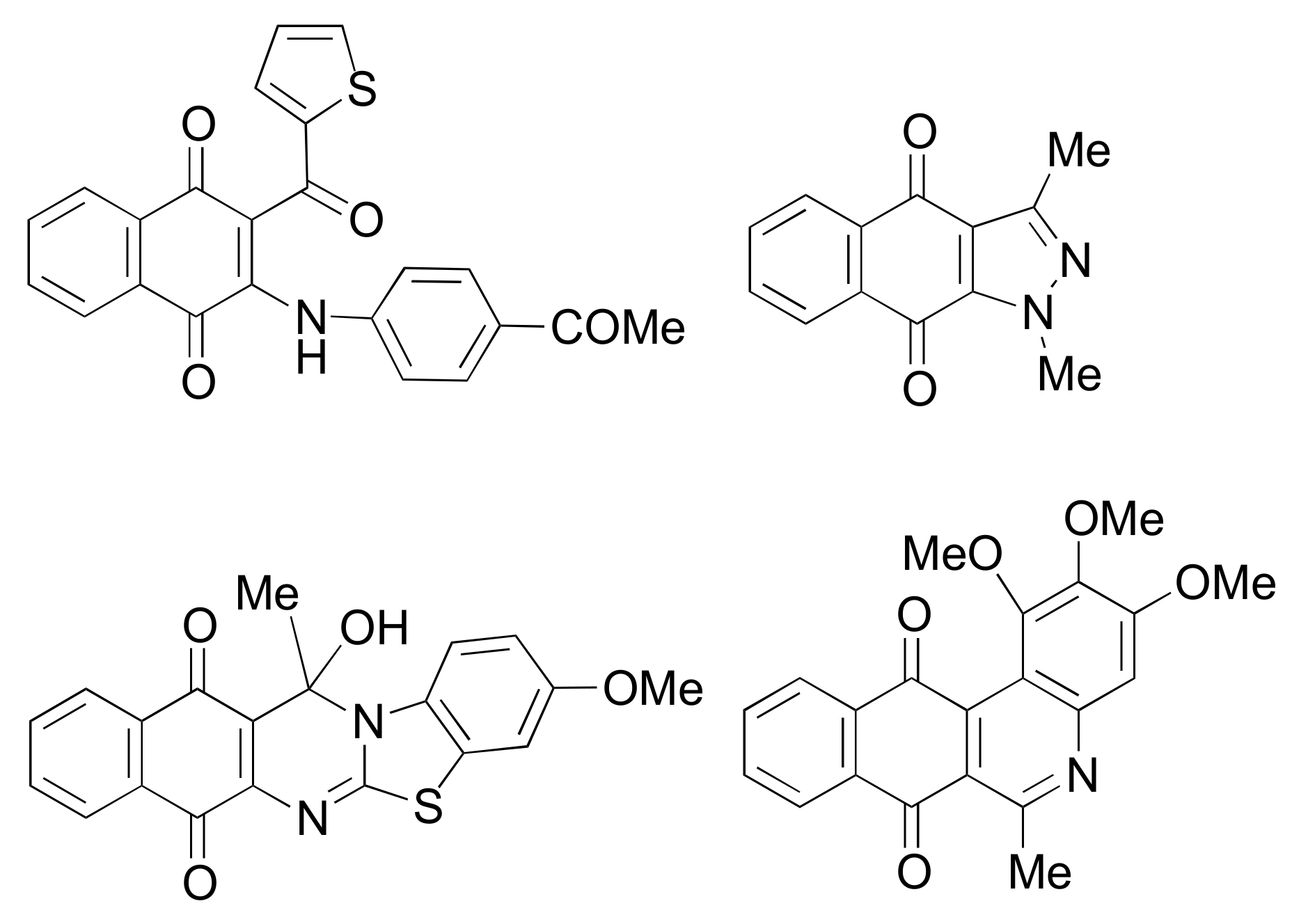 Figure 1
This is an open access article distributed under the
Creative Commons Attribution License
which permits unrestricted use, distribution, and reproduction in any medium, provided the original work is properly cited (CC BY 4.0).

Share & Cite This Article
MDPI and ACS Style
Valderrama, J.A.; Garrido, J.; Delgado, V.; Benites, J.; Theoduloz, C. Access to New Cytotoxic Quinone-Amino Acid Conjugates Linked through A Vinylic Spacer from 2-Acylnaphthoquinones and Methyl 3-Aminocrotonate. Molecules 2017, 22, 2281.
Note that from the first issue of 2016, MDPI journals use article numbers instead of page numbers. See further details here.
Related Articles
Comments
[Return to top]