AetMYC1

, the Candidate Gene Controlling the Red Coleoptile Trait in

Aegilops tauschii

Coss. Accession As77

1

Qinghai Provincial Key Laboratory of Crop Molecular Breeding, Xining 810008, China

2

State Key Laboratory of Plateau Ecology and Agriculture, Qinghai University, Qinghai, Xining 800010, China

3

Northwest Institute of Plateau Biology, University of Chinese Academy of Sciences, Beijing 100049, China

4

Key Laboratory of Adaptation and Evolution of Plateau Biota, Northwest Institute of Plateau Biology, Chinese Academy of Sciences, Xining 810008, China

†

These authors contributed equally to this paper.

*

Authors to whom correspondence should be addressed.

Received: 21 November 2017 / Revised: 14 December 2017 / Accepted: 15 December 2017 / Published: 18 December 2017
Abstract
The red coleoptile trait can help monocotyledonous plants withstand stresses, and key genes responsible for the trait have been isolated from
Triticum aestivum
,
Triticum urartu
, and
Triticum monococcum
, but no corresponding research has been reported for
Aegilops tauschii
. In this research, transcriptome analysis was performed to isolate the candidate gene controlling the white coleoptile trait in
Ae. tauschii
. There were 5348 upregulated, differentially-expressed genes (DEGs) and 4761 downregulated DEGs in red coleoptile vs. white coleoptile plants. Among these DEGs, 12 structural genes and two transcription factors involved in anthocyanin biosynthesis were identified. The majority of structural genes showed lower transcript abundance in the white coleoptile of accession 'As77' than in the red coleoptile of accession 'As60', which implied that transcription factors related to anthocyanin biosynthesis could be the candidate genes. The
MYB
and
MYC
transcription factors
AetMYB7D
and
AetMYC1
were both isolated from
Ae. tauschii
accessions 'As60' and 'As77', and their transcript levels analyzed. The coding sequence and transcript level of
AetMYB7D
showed no difference between 'As60' and 'As77'.
AetMYC1p
encoded a 567-amino acid polypeptide in 'As60' containing the entire characteristic domains, bHLH-MYC_N, HLH, and ACT-like, belonging to the gene family involved in regulating anthocyanin biosynthesis.
AetMYC1w
encoded a 436-amino acid polypeptide in 'As77' without the ACT-like domain because a single nucleotide mutation at 1310 bp caused premature termination. Transient expression of
AetMYC1p
induced anthocyanin biosynthesis in 'As77' with the co-expression of
AetMYB7D
, while
AetMYC1w
could not cause induced anthocyanin biosynthesis under the same circumstances. Moreover, the transcript abundance of
AetMYC1w
was lower than that of
AetMYC1p
.
AetMYC1
appears to be the candidate gene controlling the white coleoptile trait in
Ae. tauschii
, which can be used for potential biotech applications, such as producing new synthetic hexaploid wheat lines with different coleoptile colors.
View Full-Text
►

▼

Figures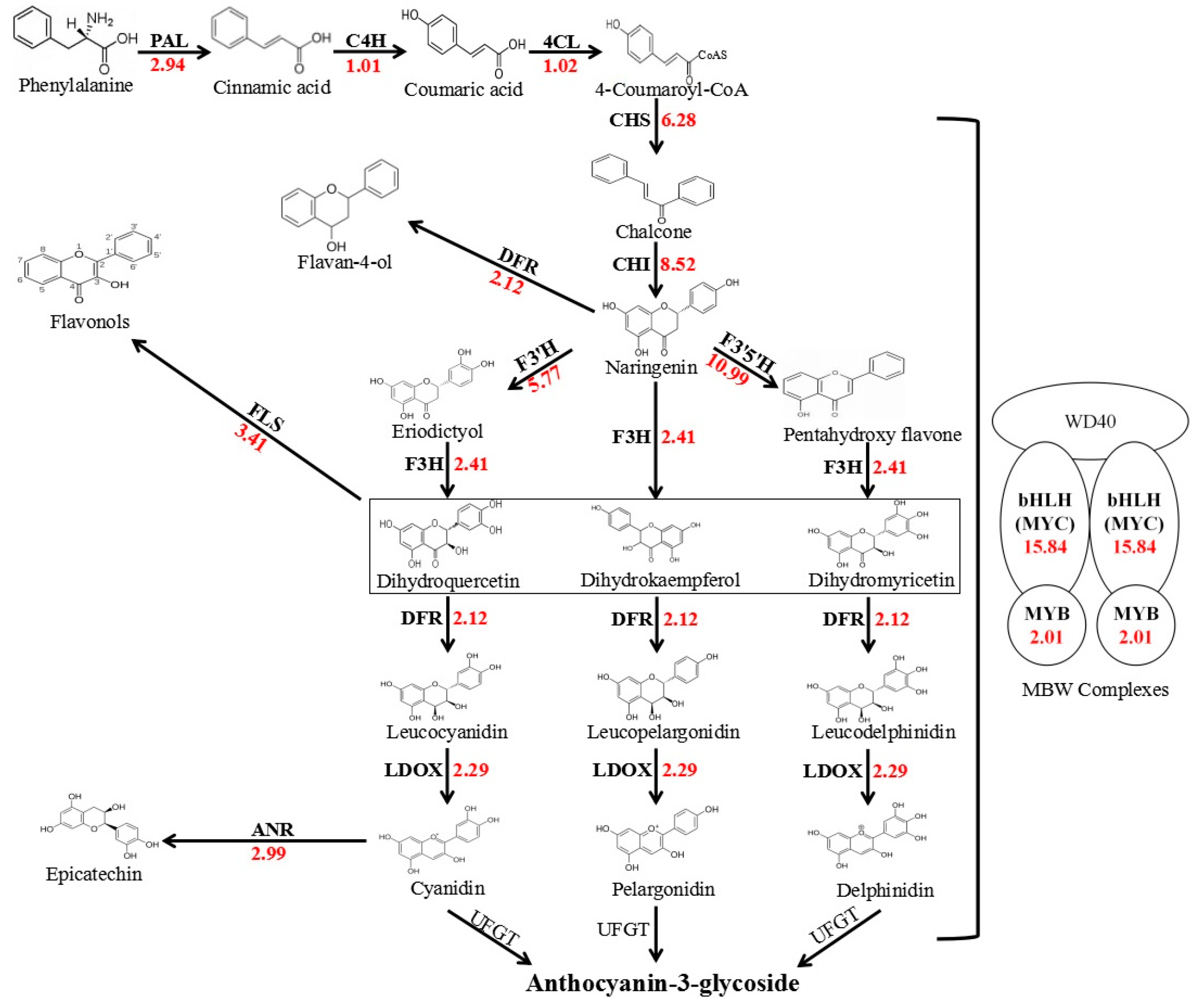 Figure 1
This is an open access article distributed under the
Creative Commons Attribution License
which permits unrestricted use, distribution, and reproduction in any medium, provided the original work is properly cited (CC BY 4.0).

Share & Cite This Article
MDPI and ACS Style
Cao, D.; Ye, G.; Zong, Y.; Zhang, B.; Chen, W.; Liu, B.; Zhang, H. AetMYC1, the Candidate Gene Controlling the Red Coleoptile Trait in Aegilops tauschii Coss. Accession As77. Molecules 2017, 22, 2259.
Note that from the first issue of 2016, MDPI journals use article numbers instead of page numbers. See further details here.
Related Articles
Comments
[Return to top]