Microemulsion and Sol-Gel Synthesized ZrO2-MgO Catalysts for the Liquid-Phase Dehydration of Xylose to Furfural
Department of Organic Chemistry, Institute for Research in Fine Chemistry and Nanochemistry, IUIQFN, Universidad de Córdoba, Campus de Rabanales, Marie Curie Building, E-14014 Córdoba, Spain
*
Author to whom correspondence should be addressed.
Received: 31 October 2017 / Revised: 4 December 2017 / Accepted: 12 December 2017 / Published: 18 December 2017
Abstract
Two series of catalysts were prepared by sol-gel and microemulsion synthetic procedure (SG and ME, respectively). Each series includes both pure Mg and Zr solids as well as Mg-Zr mixed solids with 25%, 50% and 75% nominal Zr content. The whole set of catalysts was characterized from thermal, structural and surface chemical points of view and subsequently applied to the liquid-phase xylose dehydration to furfural. Reactions were carried out in either a high-pressure autoclave or in an atmospheric pressure multi-reactor under a biphasic (organic/water) reaction mixture. Butan-2-ol and toluene were essayed as organic solvents. Catalysts prepared by microemulsion retained part of the surfactant used in the synthetic procedure, mainly associated with the Zr part of the solid. The MgZr-SG solid presented the highest surface acidity while the Mg3Zr-SG one exhibited the highest surface basicity among mixed systems. Xylose dehydration in the high-pressure system and with toluene/water solvent mixture led to the highest furfural yield. Moreover, the yield of furfural increases with the Zr content of the catalyst. Therefore, the catalysts constituted of pure ZrO
2
(especially Zr-SG) are the most suitable to carry out the process under study although MgZr mixed solids could be also suitable for overall processes with additional reaction steps.
View Full-Text
►

▼

Figures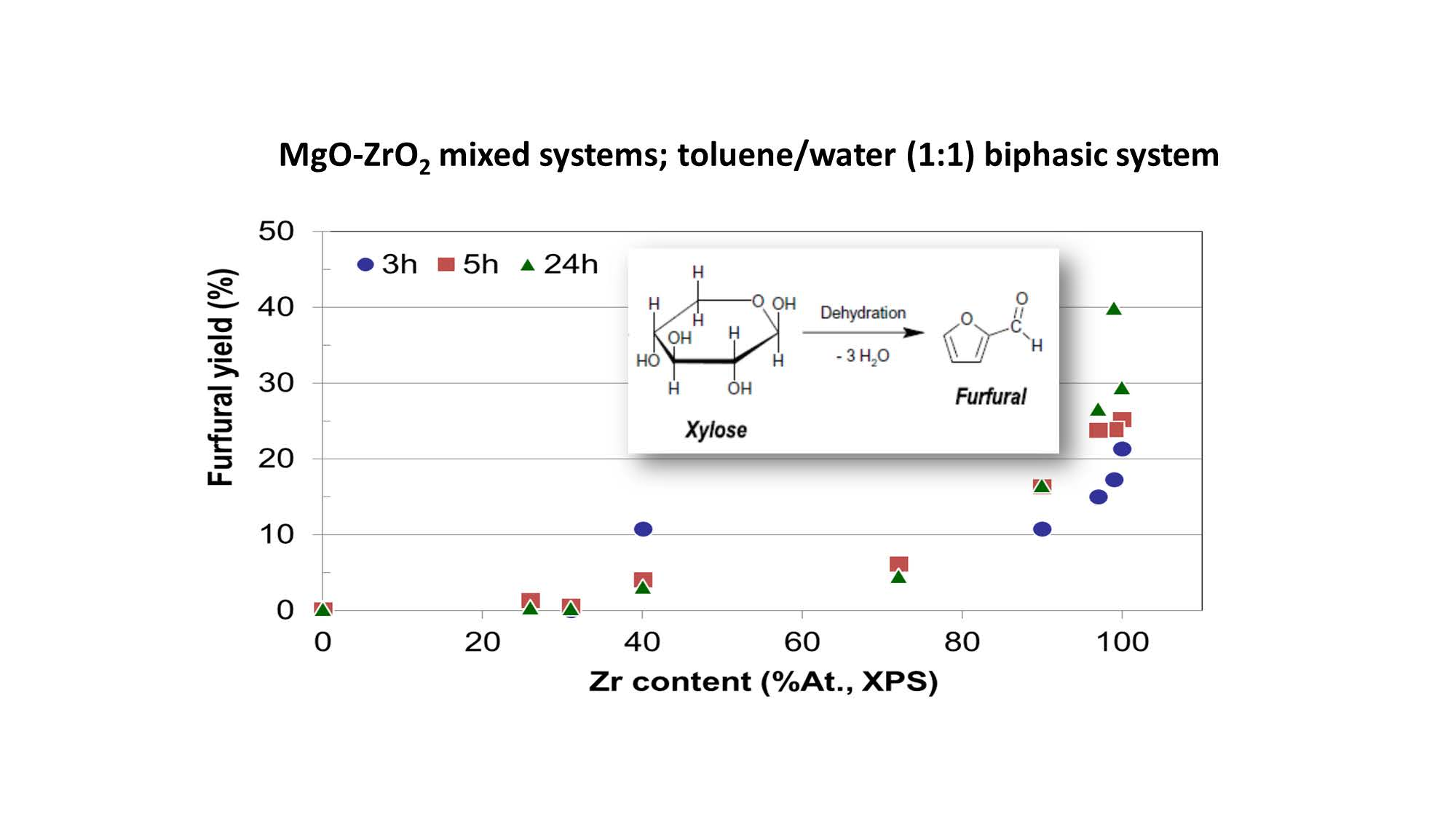 Graphical abstract
This is an open access article distributed under the
Creative Commons Attribution License
which permits unrestricted use, distribution, and reproduction in any medium, provided the original work is properly cited (CC BY 4.0).

Share & Cite This Article
MDPI and ACS Style
Parejas, A.; Montes, V.; Hidalgo-Carrillo, J.; Sánchez-López, E.; Marinas, A.; Urbano, F.J. Microemulsion and Sol-Gel Synthesized ZrO2-MgO Catalysts for the Liquid-Phase Dehydration of Xylose to Furfural. Molecules 2017, 22, 2257.
Note that from the first issue of 2016, MDPI journals use article numbers instead of page numbers. See further details here.
Related Articles
Comments
[Return to top]