Open Access This article is
freely available
re-usable
Review
An Overview of
l
-Amino Acid Oxidase Functions from Bacteria to Mammals: Focus on the Immunoregulatory Phenylalanine Oxidase IL4I1
1
The Mondor Institute of Biomedical Research (IMRB), INSERM U955, Team 09, F-94010 Créteil CEDEX, France
2
Faculty of Medicine, Paris Est University, F-94010 Créteil CEDEX, France
3
Biological Resources Platform, Henri Mondor Hospital, AP-HP, F-94010 Créteil, France
4
Department of Hematology-Immunology, Henri Mondor Hospital, AP-HP, F-94010 Créteil, France
*
Authors to whom correspondence should be addressed.
Received: 7 November 2017 / Accepted: 29 November 2017 / Published: 5 December 2017
Abstract
:
l
-amino acid oxidases are flavin adenine dinucleotide-dependent enzymes present in all major kingdom of life, from bacteria to mammals. They participate in defense mechanisms by limiting the growth of most bacteria and parasites. A few mammalian LAAOs have been described, of which the enzyme "interleukin-4 induced gene 1" (IL4I1) is the best characterized. IL4I1 mainly oxidizes
l
-phenylalanine. It is a secreted enzyme physiologically produced by antigen presenting cells of the myeloid and B cell lineages and T helper type (Th) 17 cells. Important roles of IL4I1 in the fine control of the adaptive immune response in mice and humans have emerged during the last few years. Indeed, IL4I1 inhibits T cell proliferation and cytokine production and facilitates naïve CD4
+
T-cell differentiation into regulatory T cells in vitro by limiting the capacity of T lymphocytes to respond to clonal receptor stimulation. It may also play a role in controlling the germinal center reaction for antibody production and limiting Th1 and Th17 responses. IL4I1 is expressed in tumor-associated macrophages of most human cancers and in some tumor cell types. Such expression, associated with its capacity to facilitate tumor growth by inhibiting the anti-tumor T-cell response, makes IL4I1 a new potential druggable target in the field of immunomodulation in cancer.
Keywords:
IL4I1; immunosuppression;
l
-amino acid oxidase
1. Introduction
The first evidence that natural amino acids are oxidized was presented in 1910 in a perfusion model [
1
]. The enzymatic stereospecific deamination of
l
-amino acids was subsequently observed in rat kidney and liver [
1
].
l
-amino acid oxidases (LAAOs) are present in small or undetectable quantities in tissues of other mammals, suggesting that they do not play an important role in amino acid metabolism in this class. Similar enzymes have since been described in a wide variety of organisms, from bacteria to vertebrates, with LAAO from snake venoms receiving particular attention [
2
]. Vertebrate, fungal, and gastropod LAAOs belong to distinct phylogenetic groups, whereas bacterial LAAOs do not constitute a discrete group, but present phylogenetic relationships to LAAOs of other species and
d
-amino acid oxidases (DAAOs) [
3
]. In contrast to snake venom LAAOs, mammalian LAAOs remain poorly explored. In the last ten years, some of the functions of the mammalian phenylalanine oxidase IL4I1 have been deciphered and point to its role in the regulation of the adaptive immune response.
2. LAAO Structure and Reaction
3. LAAO Expression and Functions
4. Mammalian LAAOs
Although initially described in mammalian liver and kidney, a few reports have described LAAOs in other tissues in this class of animals. LAAOs have been found in measurable quantities in four compartments in mammals: spermatozoa of various species [
47
,
48
,
49
], brain [
50
,
51
], milk [
52
], and the immune system [
53
]. The sperm enzyme has a preference for aromatic amino acids and arginine. This LAAO is found in the head of the spermatozoa and is released in preparations with high sperm mortality, where it has been shown to limit sperm motility [
47
]. Two types of LAAO have been described in brain: a lysine oxidase, which is involved in the pipecolic acid pathway [
50
], and isoform 2 of Interleukin 4-induced gene 1 (IL4I1) [
51
] (see IL4I1 an LAAO implicated in immune regulation). Milk LAAO has a large spectrum of amino acid substrates and its mRNA is strongly induced at the late stage of pregnancy and during lactation in mice [
52
]. Mice deficient for the production of milk LAAO in the mammary gland have a lower capacity to control infection than WT mice when injected with
Staphylococcus aureus
, showing both more severe clinical manifestations and increased mortality. This shows an anti-bacterial function of the milk enzyme, which might be of varying importance, depending on the species, as the level of LAAO in cow's milk is lower than that of mice. Nevertheless, the increase of cow LAAO mRNA during mastitis suggests that the anti-bacterial function is preserved [
54
]. Apart from their anti-infectious functions, mammalian LAAOs may have evolved to become a component of the immune system where they regulate specific immune functions, as exemplified by IL4I1 [
55
].
5. IL4I1, an LAAO Implicated in Immune Regulation
6. Conclusions
LAAO represents a family of enzymes expressed in all major kingdoms of life from prokaryotes to vertebrates. Their biological functions remain only partially characterized. One established function is their role in anti-infectious defense. Direct toxic effects on microorganisms may have evolved to become regulatory functions of the adaptive immune response in higher vertebrates, including humans. IL4I1 is the best characterized mammalian LAAO and displays such immunoregulatory functions. Manipulating IL4I1 in vivo opens new avenues in the control of pathological inflammatory responses. For example, the chemical inhibition of IL4I1 activity may represent a new adjuvant strategy for the treatment of cancer by restoring specific anti-tumor immune responses.
Acknowledgments
The English in the manuscript has been examined by a native English speaker from the scientific editing and translation company, Alex Edelman & Associates. Recent work on IL4I1 was supported by recurrent INSERM funding, the grant N. DEQ20160334875 "Equipe FRM 2016" of the Fondation de la Recherche Médicale, and support from the Groupement des Entreprises Françaises dans la LUtte contre le Cancer (GEFLUC Ile de France).
Conflicts of Interest
The authors declare no commercial or financial conflict of interest.
Abbreviations
LAAOs

l

-amino acid oxidases
DAAOs

d

-amino acid oxidases
FAD
Flavin Adenine Dinucleotide
FMN
Flavin Mononucleotide
FoxP3
Forkhead box P3
IFN
Interferon
IL
Interleukin
IL4I1
Interleukin-4 Induced gene 1
NFκB
Nuclear factor-kappa B
RORγT
Retinoic acid receptor-related orphan receptor gamma
STAT
Signal Transducers and Activators of Transcription
Th
T helper
TNF
Tumor necrosis factor
Sample Availability: Samples of the compounds are not available from the authors.

Figure 1. Reaction catabolized by

l

-aminoacid oxidases

. Schematic representation of the reaction catabolized by LAAOs. R = amino acid specific group.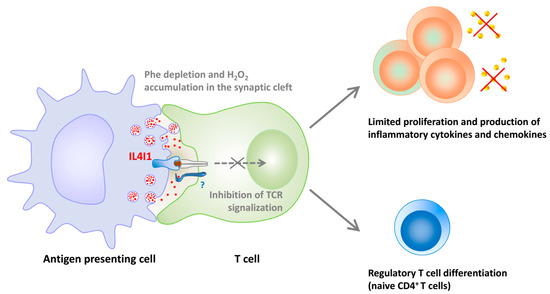 Figure 2. Regulation of T cell proliferation, functions, and differentiation by IL4I1. IL4I1 is released in the synaptic cleft from granules accumulated in mature antigen presenting cells. The enzyme binds to the surface of T cells and blocks signaling downstream of the T cell receptor (TCR). The diminished T cell activation leads to impaired proliferation and capacity to produce Th1 cytokines and proinflammatory chemokines. Moreover, naïve CD4+ T cells exposed to IL4I1 preferentially differentiate into regulatory T cells if not stimulated by strong cytokine signals. Inhibition of effector T cell activation and increased differentiation of regulatory T cells result in a state of immunosuppression.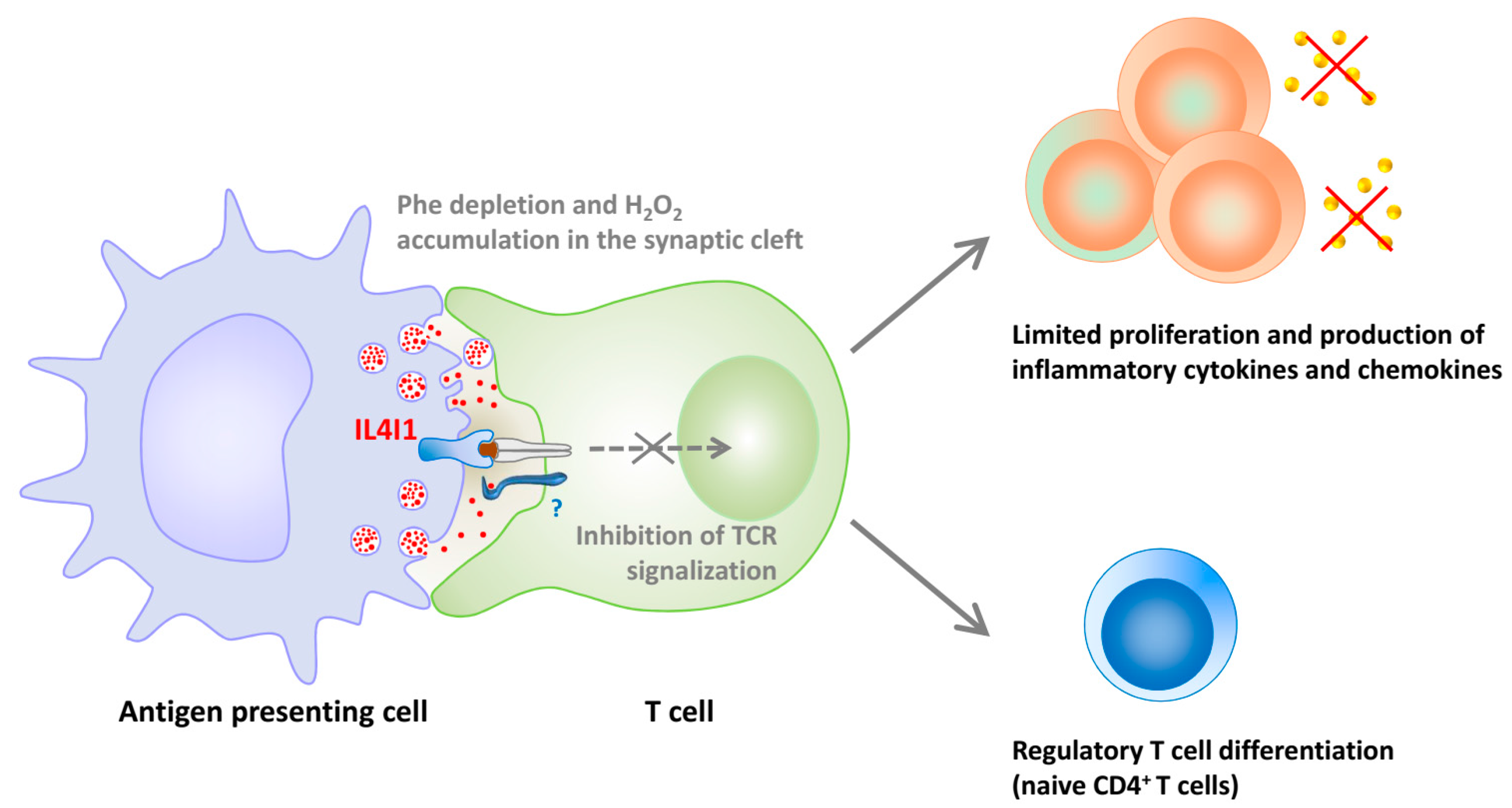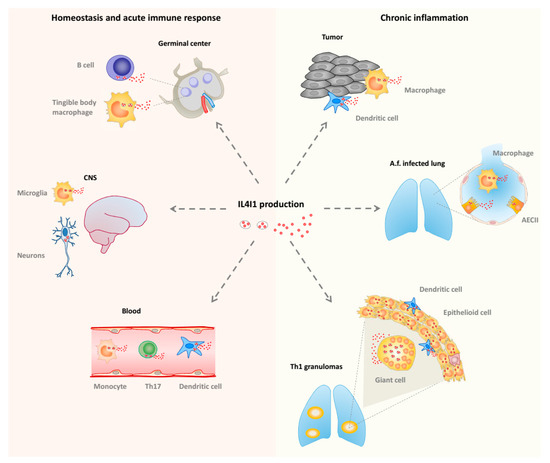 Figure 3.
IL4I1 production in vivo
.
Left
: homeostatic conditions and acute immune response. IL4I1 is detected in secondary lymphoid organs, particularly in germinal center B cells and tingible body macrophages during the development of the T-cell-dependent antibody response. The isoform 2 of IL4I1 is present in rare cells of the central nervous system (CNS). In the blood, IL4I1 is naturally produced by monocytes, dendritic cells, and T helper type 17 (Th17) cells.
Right
: chronic inflammatory conditions. IL4I1 is detected in Th1 inflammatory lesions including sarcoidosis and tuberculosis granuloma. A high density of IL4I1 granules is present in dendritic cells and macrophage-derived epithelioid and giant multinucleated cells. In the lung of
Aspergillus fumigatus
(Af)-infected individuals, IL4I1 is also produced by type II alveolar epithelial cells (AECII). In tumors, IL4I1 is secreted by infiltrating dendritic cells and macrophages, regardless of the tumor type. IL4I1 is also expressed by some tumor cell types, such as germinal center derived B-cell lymphoma (not depicted).

© 2017 by the authors. Licensee MDPI, Basel, Switzerland. This article is an open access article distributed under the terms and conditions of the Creative Commons Attribution (CC BY) license (http://creativecommons.org/licenses/by/4.0/).