Rational Engineering of a Flavoprotein Oxidase for Improved Direct Oxidation of Alcohols to Carboxylic Acids
1
Department of Chemistry, University of Graz, Heinrichstrasse 28, A-8010 Graz, Austria
2
Austrian Centre of Industrial Biotechnology, ACIB GmbH c/o Department of Chemistry, University of Graz, Heinrichstrasse 28, A-8010 Graz, Austria
3
Molecular Enzymology Group, Groningen Biomolecular Sciences and Biotechnology Institute, University of Groningen, Nijenborgh 4, 9747 AG Groningen, The Netherlands
*
Author to whom correspondence should be addressed.
Received: 21 November 2017 / Revised: 6 December 2017 / Accepted: 8 December 2017 / Published: 12 December 2017
Abstract
The oxidation of alcohols to the corresponding carbonyl or carboxyl compounds represents a convenient strategy for the selective introduction of electrophilic carbon centres into carbohydrate-based starting materials. The O
2
-dependent oxidation of
prim
-alcohols by flavin-containing alcohol oxidases often yields mixtures of aldehyde and carboxylic acid, which is due to "over-oxidation" of the aldehyde hydrate intermediate. In order to directly convert alcohols into carboxylic acids, rational engineering of 5-(hydroxymethyl)furfural oxidase was performed. In an attempt to improve the binding of the aldehyde hydrate in the active site to boost aldehyde-oxidase activity, two active-site residues were exchanged for hydrogen-bond-donating and -accepting amino acids. Enhanced over-oxidation was demonstrated and Michaelis–Menten kinetics were performed to corroborate these findings.
View Full-Text
►

▼

Figures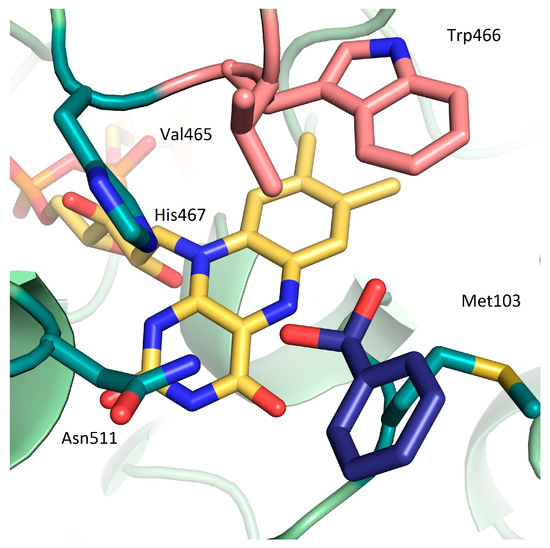 Figure 1
This is an open access article distributed under the
Creative Commons Attribution License
which permits unrestricted use, distribution, and reproduction in any medium, provided the original work is properly cited (CC BY 4.0).

Share & Cite This Article
MDPI and ACS Style
Pickl, M.; Winkler, C.K.; Glueck, S.M.; Fraaije, M.W.; Faber, K. Rational Engineering of a Flavoprotein Oxidase for Improved Direct Oxidation of Alcohols to Carboxylic Acids. Molecules 2017, 22, 2205.
Note that from the first issue of 2016, MDPI journals use article numbers instead of page numbers. See further details here.
Related Articles
Comments
[Return to top]