Open Access This article is
freely available
re-usable
Article
Functional Characterization of a Hydroxyacid/Alcohol Hydroxycinnamoyl Transferase Produced by the Liverwort
Marchantia emarginata
Key Laboratory of Chemical Biology of Natural Products, Ministry of Education, School of Pharmaceutical Sciences, Shandong University, Jinan 250012, China
*
Author to whom correspondence should be addressed.
Received: 25 September 2017 / Accepted: 26 October 2017 / Published: 31 October 2017
Abstract
:
The aerial organs of most terrestrial plants are covered by a hydrophobic protective cuticle. The main constituent of the cuticle is the lipid polyester cutin, which is composed of aliphatic and aromatic domains. The aliphatic component is a polyester between fatty acid/alcohol and hydroxycinnamoyl acid. The BAHD/HxxxD family enzymes are central to the synthesis of these polyesters. The nature of this class of enzymes in bryophytes has not been explored to date. Here, a gene encoding a fatty ω-hydroxyacid/fatty alcohol hydroxycinnamoyl transferase (HFT) has been isolated from the liverwort
Marchantia emarginata
and has been functionally characterized. Experiments based on recombinant protein showed that the enzyme uses ω-hydroxy fatty acids or primary alcohols as its acyl acceptor and various hydroxycinnamoyl-CoAs—preferentially feruloyl-CoA and caffeoyl-CoA—as acyl donors at least in vitro. The transient expression of a
MeHFT-GFP
fusion transgene in the
Nicotiana benthamiana
leaf demonstrated that MeHFT is directed to the cytoplasm, suggesting that the feruloylation of cutin monomers takes place there.
Keywords:
ferulate esters; BAHD; acyltransferase; cutin; bryophytes
2. Results and Discussion
2.1. Gene Isolation and Sequence Analysis
On the basis of the Swissprot in silico annotation of the
M. emarginata
transcriptome (SRP078649)
,
a sequence encoding a putative HFT was identified and given the designation
MeHFT
. The sequence's length was 1413 nt and its predicted product a 470 residue protein of molecular mass 51.93 kDa and pI 4.91. The predicted polypeptide's sequence shared, respectively, 50.6%, 48.2%, 42.3%, 44.3% and 49.5% identity with those of PtFHT (JX515962: [
26
]), AtHHT1/ASFT (AT5G41040: [
20
,
21
]), AtDCF (AT3G48720: [
25
]), AtFACT (AT5G63560: [
34
]) and StFHT (ACS70946: [
24
]). Sequence alignments confirmed that each these proteins harbored the HxxxD and DFGWG motifs (
Figure 1
). A phylogenetic analysis (
Figure 2
) of the
M. emarginata
sequence suggested the existence of two distinct clades: the first grouped PtFHT1, StFHT, AtHHT1/ASFT, AtFACT and AtDCF, while the second grouped DcHCBT, NtHQT, AsHHT, AtHCT and NtHCT. The MeHFT sequence was related to the former clade; its peripheral position suggested that its function may involve the formation of polyester aromatics. Finding this gene is such a basal land plant implies that it likely represents an ancestral sequence of homologs present in vascular plants.
2.2. Functional Analysis
The molecular mass of the recombinant MeHFT protein, as estimated from its migration through an SDS polyacrylamide gel was ~71 kDa (including the 20.4 kDa His-tag) (
Figure 3
), which is in line with that of most BAHD acyltransferases. The experiments run to test its ability to accept a range of thioester donors (
p
-coumaroyl CoA, caffeoyl CoA and feruloyl CoA) and acyl acceptors (16-hydroxypalmitic acid, hexadecanoic acid and a range of primary alcohols [C6, C7, C10, C12, C14, C16, C20, C22]) showed that when recombinant MeHFT was provided with feruloyl CoA and 1-dodecanol, a single prominent HPLC peak was observed (
Figure 4
A). MS/MS analysis of this reaction product revealed it to be a molecular ion [M+H]
+
with an
m/z
of 363.3, consistent with it being a complex of ferulate with C12 (
Figure 4
B). The presence of an additional fragment with an
m/z
of 177.1 implied the presence of a feruloyl moiety in the reaction product. No products were generated from a control reaction run with the protein obtained from the culture of
E. coli
carrying an empty pET32a plasmid (
Figure 4
A). When C10 was provided as the acyl acceptor, the activity of the recombinant MeHFT provided with caffeoyl CoA as a substrate was only ~38% of that recorded when feruloyl CoA was provided and ~43% when using
p
-coumaroyl CoA (
Table 1
). The data implied that the preferred acyl donor of MeHFT was feruloyl CoA. With feruloyl-CoA as the acyl donor, a comparison of 15 aliphatic substrates as potential acyl acceptors (
Table 1
) showed that 1-decanol, 1-dodecanol and 1-tetradecanol were similarly effective as acceptors. The recombinant enzyme showed a level of activity when provided with the short-to-mid-chain fatty alcohols (C6, C7, C10, C12, C14) but none when provided with the long chain fatty alcohols (C20, C22).
Experiments designed to identify the optimal reaction conditions for recombinant MeHFT showed that the enzyme preferred a temperature of 40 °C and a pH of 7.5. At this temperature and pH optimum, recombinant MeHFT, when provided with ~0.1 mM feruloyl-CoA as the acyl donor, was associated with comparable K
cat
/K
m
ratios in the presence of 1-decanol (3181 M
−1
s
−1
) and 1-dodecanol (3015 M
−1
s
−1
) (
Table 1
). When provided with 0.1 mM 1-decanol and feruloyl-CoA the K
cat
/K
m
rose to 3928 M
−1
s
−1
, a value comparable to that achieved by HFTs isolated from higher plants [
26
]. These measurements suggested that, in the presence of a non-limiting supply of CoA thioester, MeHFT is effective in catalyzing transferuloylation on aliphatic monomers, at least in vitro. Just as is the case with AtFACT, MeHFT recognized feruloyl-CoA, caffeoyl-CoA and
p
-coumaroyl-CoA as an acyl donor, although its preference was for feruloyl-CoA, while that of AtFACT was for caffeoyl-CoA [
31
]. The substrate preferences of AtHHT1/ASFT, StHFT and PtHFT are the same as that of MeHFT.
2.3. The Subcellular Localization of MeHFT
The pattern of expression of the p
35S::MeHFT-GFP
trangene in the
N. benthamiana
leaf is shown in
Figure 5
. The clear result was that the translation product was deposited in the cytoplasm.
4. Conclusions
This represents the first report of the in vitro functionality of a bryophyte HFT. The identification of a member of the BAHD family in as basal a land plant as the liverwort
M. emarginata
may reveal new insights into the diversity of acyltransferases.
Acknowledgments
We are grateful for the support of the National Natural Science Foundation of China (No. 31370330).
Author Contributions
AXC designed the experiments. PPW, HL and SG performed the experiments. PPW and AXC analyzed the data and wrote the paper. All the authors analyzed the results and edited and approved the final version of the paper.
Conflicts of Interest
The authors declare no conflict of interest.
Sample Availability: Not available.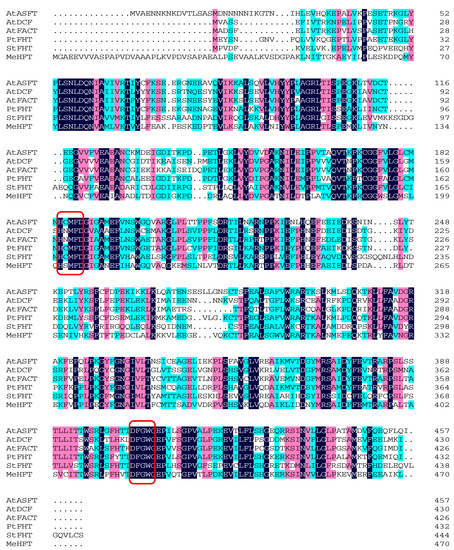 Figure 1.
Sequence alignment of MeHFT with PtFHT from
P. trichocarpa
(JX515962), StFHT from
S. tuberosum
(ACS70946), AtASFT (AT5G41040), AtDCF (AT3G48720) and AtFACT (AT5G63560) from
A. thaliana
. The conserved HxxxD and DFGWG motifs are indicated by red boxing.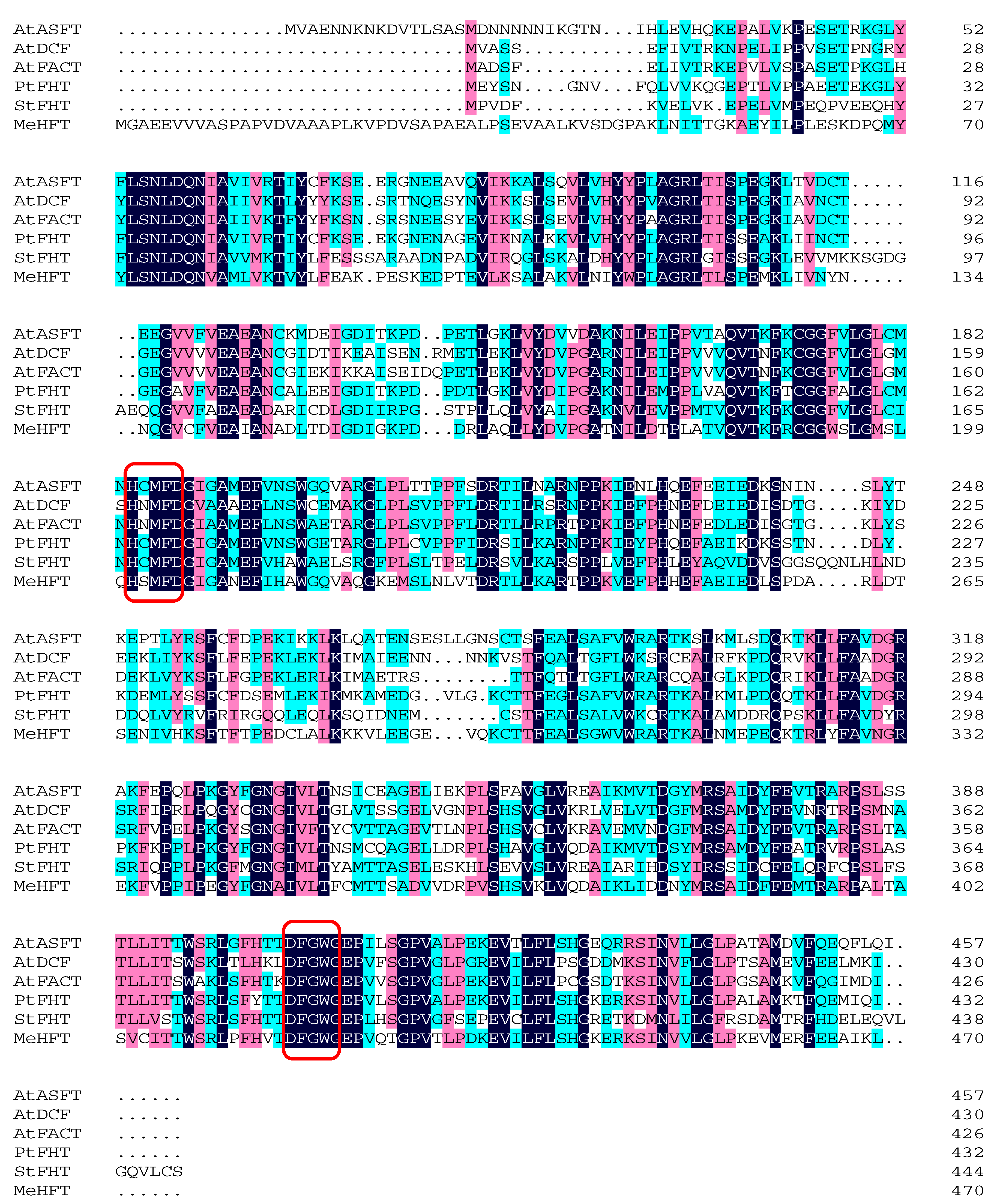 Figure 2.
A phylogenetic analysis of MeHFT. The Uniprot accession numbers of the proteins included in the analysis are:
Populus trichocarpa
FHT (JX515962),
Solanum tuberosum
FHT (ACS70946),
A. thaliana
ASFT (AT5G41040),
Dianthus caryophyllus
HCBT (CAB06430),
A. thaliana
DCF (AT3G48720),
A. thaliana
FACT (AT5G63560),
N. tabacum
HQT (CAE46932),
Avena sativa
HHT (BAC78633),
A. thaliana
HCT (AT5G48930),
N. tabacum
HCT (CAD47830).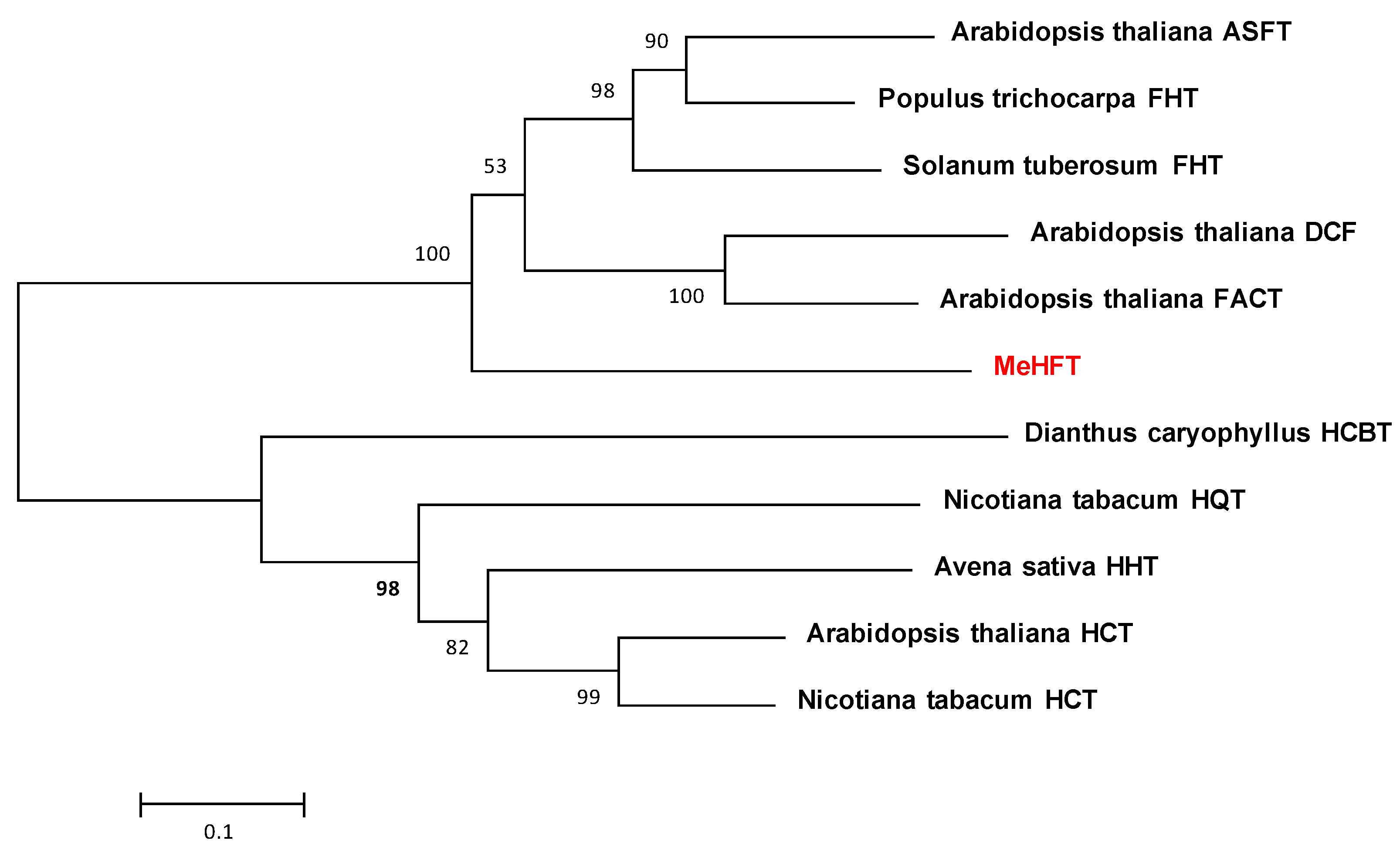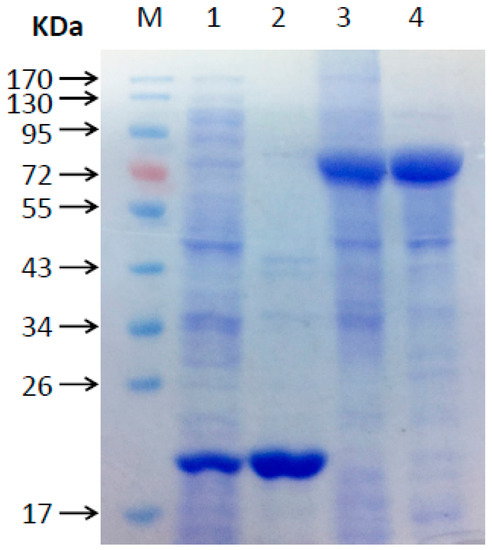 Figure 3.
SDS-PAGE separation of recombinant MeHFT. Lane M: molecular mass standards. Lane 1: culture medium from
E coli
cells harboring an empty pET32a vector control; lane 2: proteins purified from the culture medium used in lane 1; lane 3: culture medium from
E coli
cells harboring pET32a-MeHFT; lane 4: proteins purified from the culture medium used in lane 3.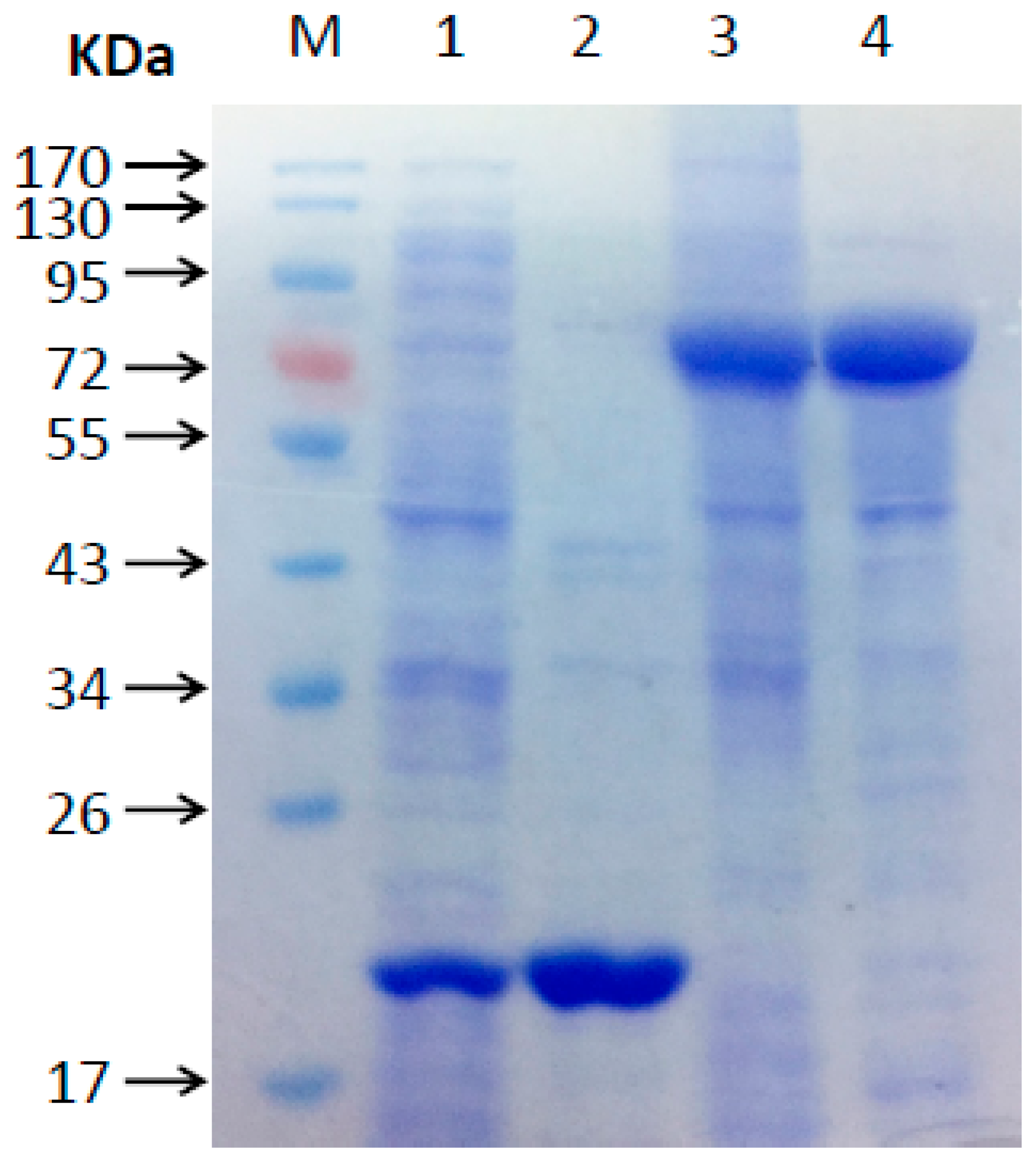 Figure 4. In vitro activity of MeHFT recombinant enzymes. (A) HPLC separation of the reaction products of recombinant MeHFT (the solid blue line) or the negative control (empty vector harboring cells) (the red dashed line) provided with feruloy-CoA and 1-dodecanol; (B) The MS/MS spectrum of the alky ferulate product from (A).


Figure 5.
Expression of the p
35S::MeHFT-GFP
transgene in a transiently transformed
N. benthamiana
leaf reveals the localization of MeHFT to the cytoplasm. The GFP signal appears green and the chlorophyll auto-fluorescence signal red.

Table 1. Activity and Kinetics of Recombinant MeHFT on Different Acyl Donors and Acceptors.
Chemicals
Specific Activity (%)
Km (μM)
Vmax (nmol mg−1 min−1)
Kcat (s−1)
Kcat/Km (M−1s−1)
Acyl donor
Feruloyl-CoA
100*
79.4 ± 10.86 a
83.23 ± 18.70 b
83.23 ± 18.70 a
290 ± 37.49 b
0.25263945 ± 0.015 a
0.250995 ± 0.032 b
3181 a
3015 b
p-Coumaroyl-CoA
38
Caffeoyl-CoA
43
Acyl acceptor
1-Hexanol
31
1-Heptanol
50
1-Decanol
100 *
65.5 ± 11.21
297.3 ± 21.04
0.25731315 ± 0.018
3928
1-Dodecanol
89
1-Tetradecanol
85
1-Hexadecanol
n.d.
16-Hydroxypalmitic acid
71
Palmitic acid
n.d.
1-Eicosanol
n.d.
1-Docosanol
n.d.
* Specific activity with feruloyl-CoA and 1-Decanol (102.34 ± 3.75 nmol mg−1 min−1) was taken to be 100%. n.d, not detectable. a Reactions were performed using feruloyl-CoA as the acyl donor and 1-Decanol as the acyl acceptor; b Reactions were performed using feruloyl-CoA as acyl donor and 1-Dodecanol as the acyl acceptor.
Table 2. The primers used in the present Investigation.

| Primer Name | Primer Sequences (5' to 3') |
| --- | --- |
| MeHFT-F | ATGGGCGCCGAGGAAGTG |
| MeHFT-R | CAGCAGGCAGACGGAATT |
| MeHFT-pet32a-F | CGAGCTCATGGGCGCCGAGGAAGTGGT |
| MeHFT-pet32a-R | CCCTCGAGTTACAGCTTGATAGCTTCTT |
| attB1-MeHFT-F | GGGGACAAGTTTGTACAAAAAAGCAGGCTTAACCATGGGCGCCGAGGAAGTGGT |
| attB2-MeHFT-R | GGGGACCACTTTGTACAAGAAAGCTGGGTCCAGCTTGATAGCTTCTTCGA |
© 2017 by the authors. Licensee MDPI, Basel, Switzerland. This article is an open access article distributed under the terms and conditions of the Creative Commons Attribution (CC BY) license (http://creativecommons.org/licenses/by/4.0/).