Open Access This article is
freely available
re-usable
Article
Preparation and Bioactivity Assessment of Chitosan-1-Acetic Acid-5-Flurouracil Conjugates as Cancer Prodrugs
1
Department of Chemistry, College of Science, Kirkuk University, Kirkuk 00964, Iraq
2
Department of Chemistry, College of Nursing, Kirkuk University, Kirkuk 00964, Iraq
*
Author to whom correspondence should be addressed.
Received: 22 August 2017 / Accepted: 25 September 2017 / Published: 8 November 2017
Abstract
:
5-fluorouracil (5-FU) is a specific anti-cancer agent that is generally used to treat gastrointestinal, colorectal, and breast cancer. In this work, chitosan (CS) was extracted from local fish scales using an established method. 5-FU was then converted to 1-acetic acid-5-fluorouracil (FUAC) and reacted with this CS to prepare chitosan-1-acetic acid-5-fluorouracil (CS-FUAC) conjugates as a colon-specific prodrug. All compounds were characterized by Proton nuclear magnetic resonance (1H-NMR), Fourier-transform infrared (FTIR), and UV-visible spectroscopy. The synthesized compound was subjected to a chemical stability study in phosphate buffer (0.2 M, pH 7.4) and in KCl/HCl buffer (0.2 M, pH 1.2) at different time intervals (0–240 min) and incubation at 37 °C. This revealed a significantly greater stability and a longer half-life for the CS-FUAC than for FUAC. Hemolytic activity results indicated a much lower toxicity for CS-FUAC than for 5-FU and supported consideration of CS-FUAC for further biological screening and application trials. The percentage of FUAC in the conjugates was determined by subjecting the prodrug to treatment in basic media to hydrolyze the amide bond, followed by absorbency measurements at 273 nm. The cytotoxicity studies of the conjugates were also evaluated on human colorectal cancer cell line (HT-29), which showed that the conjugates are more cytotoxic than the free drug. Therefore, CS-FUAC conjugates can be considered to represent potential colon-specific drug delivery agents, with minimal undesirable side effects, for colon cancer therapy.
Keywords:
chitosan; 5-fluorouracil; cancer; drug release; chitosan-1-acetic acid-fluorouracil; colonic cancer
2. Experimental
2.1. Materials and Methods
5-FU (≥99%), 1,1′-carbonyldiimidazole (CDI), sodium chlorite, potassium hydrogen carbonate (KHCO
3
), chloroacetic acid, sodium hydroxide, dimethylsulfoxide (DMSO), hydrochloric acid, and dialysis bags (
Mw
= 14,000) were purchased from Sigma-Aldrich Chemicals. Human colon carcinoma (HT-29) cell lines were collected from Kirkuk Health Directory (Kirkuk, Iraq) and cultured in Roswell Park Memorial Institute (RPMI 1640) medium supplemented with 1% penicillin-streptomycin and 10% Fetal bovine serum (FBS) under 5% CO
2
atmosphere at 37 °C. The normal colonic fibroblast (CCD-18Co), catalogue number (CRL-1459), were purchased from the American Type Culture Collection cells and maintained in Dulbecco's Modified Eagle's Medium (DMEM) medium supplemented with 10% HI-FBS and 1% PS. Cells were cultured in a 5% CO
2
in a humidified atmosphere at 37 °C. All chemicals used were of laboratory grade. FTIR spectra were recorded for the wave number range of 400–4000 cm
−1
on a Perkin Elmer FTIR 4200 spectrometer under dry conditions at room temperature.
1
H-NMR spectra were recorded using a Bruker Avance (500) spectrometer. UV-Visible analysis of the samples was carried out using a Perkin Elmer UV-Visible Spectrophotometer (Lamda-850) in the absorbance mode at wavelengths of 200–800 nm.
2.2. Extraction of Chitin and Chitosan from Fish Scales
Fish scales from the local fish market in Kirkuk City, Iraq were taken according to the published procedure [
20
]. Hydrogen chloride (HCL, 36.5 g/mol) 1% solution and Sodium hydroxide (NaOH, 40 g/mol) 0.5 N were prepared for demineralization and deproteinization receptivity.
2.3. Synthesis of CS-FUAC Conjugates
2.3.1. Preparation of 1-Acetic acid-5-Fluorouracil (FUAC)
FUAC was prepared as published in the literature [
21
], with some modifications. An aqueous solution of KOH (0.60 g, 10.6 mmol, 10 mL) was added to 5-FU (1 g, 5.2 mmol). The reaction mixture was stirred at 100 °C for 80 min. Then a solution of chloroacetic acid (84 mL, 0.5 g, 5.2 mmol) was added gradually in an oil bath at 60 °C and stirred for 6 h. The result was acidified by adding diluted HCl to reach pH = 2 and cooled to 4 °C for 12 h. The precipitate formed was collected by filtration and redissolved in a saturated solution of KHCO
3
. Again, the solution was acidifying by diluted HCl to reach pH = 2 to get the needle-like crystals of FUAC (0.82 g, 60% yield).
2.3.2. Preparation of CS-FUAC Conjugate
To a stirred solution of FUAC (0.376 g, 2 mmol) in 10 mL DMSO, (CDI) (0.652 g, 4 mmol) was added and the reaction mixture was stirred for 3 h to obtain 1-acetic acid-5-fluorouracilimidazoline. Then a solution of dissolved CS (0.264 g, 2 mmol) in aqueous glacial acetic acid (1%) was added. Triethylamine (TEA) 400 µL was added to the mixture and stirred at 60 °C for 20 h. The mixture was cooled and poured into a conical flask containing ethanol (100 mL). The precipitate was collected by filtration and washed with acetone 10 mL in a separation funnel to remove any remaining reactants and then the residue was dried in vacuum.
2.4. Chemical Structure Characterization
Structures of extracted CS, prepared FUAC and CS-FUAC conjugate were assessed by FT-IR spectroscopy. The ratio of 1:90 (
w
/
w
) from each compound and pre-dried KBr were mixed and compressed into a tablet. All the spectra were recorded in transmittance mode in the ranges of 4000–400 cm
−1
with 32 scans at room temperature. Also, a UV spectrophotometer was used to analyze the compounds synthesized. This study was carried out at 273 nm.
1
H- and
13
C-NMR spectra was recorded on Bruker Avance (500) spectrometer in DMSO-d6 and 1% CF
3
COOD/D
2
O solution operating at 500 MHz at room temperature.
2.5. The Percentage of Drug Content in the Conjugates
The FUAC content in the conjugates was measured by the basic hydrolysis of the amide bond between the CS and FUAC. A series of standard solutions of FUAC in 1 N NaOH solution were prepared and a calibration curve (1–5 mg/mL) was plotted. The absorbency was calculated at 273 nm. A solution of CS-FUAC conjugates was prepared by dissolving the compound in 1 N NaOH (1 mg/mL), and their absorbance was also recorded at 273 nm. The percentage of FUAC in conjugates was measured by comparison with the standard. The following equation was used to calculate the percent of drug loading:
2.6. The In Vitro Drug Release Test
The response of the drug release from the conjugates was tested at 37 °C and the physiological pH 7.4 [
22
]. For every test, 20 mg of CS-FUAC and 4 mL Phosphate buffered saline (PBS) (Na
2
HPO
4
-KH
2
PO
4
) were mixed and the mixture was sealed in a dialysis bag. 200 mL PBS was added to a test tube and the dialysis bag was placed in and incubated in a water bath at 37 °C, 4 mL release medium was taken at selected time intervals for UV absorption analysis at a wavelength of 273 nm. Then a fresh in vitro medium was added after each sampling. The release analysis was achieved in triplicates for each sample and the average was acquiring. The percentage FUAC release (%,
w
/
w
) was examined as a function of release time. In order to study the half-life of CS-FUAC, UV spectra of the aqueous solutions of this compound and FUAC were carried out and their λ
max
were recorded. According to the experimental conditions reported in [
23
], and since plotting log concentration against time resulted in a straight line, hydrolysis of the compound synthesized follows pseudo-first order kinetic and the experiential rate constant was measured from the slope of this plot. The degree of hydrolysis of the papered compounds were studied at different time intervals (0, 15, 30, 60,120 and 240 min); solution of (20 μg/mL) from the compound was taken in phosphate buffer (0.2 M, pH 7.4) and KCl/HCl buffer (0.2 M, pH 1.2) incubated at 37 °C. The half-life values were calculated from the pseudo-first order kinetic law.
2.7. In Vitro Cytotoxicity Study
The cytotoxicity study of the CS-FUAC conjugates and the free drug 5-FU against HT-29 cells was measured by MTT assay (3-(4,5-dimethylthiazol-2-yl)-2,5-diphenyltetrazolium bromide) [
24
]. A plate with 96-well was used and coated by approximately 4 × 10
3
cells then different concentrations (1–10 M) of CS-FUAC conjugates and 5-FU were added for 12, 24 and 48 h. At the end of the time points, the media was removed from each well and refilled with fresh media (DMEM) supplemented with 10 µL of MTT (concentration-600 µg/mL). The cells were then incubated at 37 °C for 3–4 h. The resultant dark-blueformazan crystals were then solubilized in DMSO and the corresponding absorbance at 574 nm was recorded for each well by Cytation 3 multimode plate reader (Biotek, VT, USA). The acquired absorbance values were represented as percentage viable cells with respect to untreated control cells by the following equation:
All experiments were carried out in triplicates and the results were plotted as mean ± SD.
2.8. Hemolytic Activity
The hemolytic study was carried out as the reported method for red blood cells (RBCs) suspension [
25
]. Blood from white rabbits was obtained and subjected to a centrifuge at 4000 rpm for 15 min, followed by the addition of a solution of normal saline (0.9% NaCl solution) to acquire the suspension (RBCs 2%). RBCs 2.0 mL dispersed in 8.0 mL normal saline solution as a negative control (making no hemolysis) and distilled water 8.0 mL was added to RBCs 2.0 mL as a positive control (making 100% hemolysis). A solution of FUAC and CS-FUAC concentration of 5, 1.8, 0.57, 0.2, 0.60 and 0.022 mmol/L, respectively, RBCs suspension, 2 mL and normal saline, 1 mL were incubated at 37 °C for 2 h, followed by centrifuge the result solution at 4000 rpm for 15 min. The supernatant was separated and the absorbance was calculated at 541 nm, the typical absorbance of hemoglobin (Hb) released from RBCs. Normal saline was used as a blank. The percentage of hemolysis was calculated by using the following equation:
where, (A samples) are the UV-absorption of each compound at 541 nm, (A negative control) and (A positive control) raises to the negative control and positive control at 541 nm, respectively.
3. Results and Discussion
4. Conclusions
In this research, CS-FUAC conjugates as probably colon-specific prodrugs were prepared using carbodiimide (CDI) as a chemical coupling agent. The conjugates prepared appeared to exhibit a higher stability in the basic condition. More significantly, conjugates prepared showed a higher half-life compared to the original drug. An in vitro cytotoxicity study clearly showed that these products are more active than the free drug. In Vitro cytotoxicity study clearly shows that these prodrugs conjugates are more active against human colorectal cancer cell lines (HT-29) compared to the free drug. Also, it was almost 2 times more cytotoxic on the colon cancer cells than on the normal cells. Based upon these results, it appears that CS-FUAC conjugates as prodrugs are potential candidates for colon-specific drug delivery. Further work to evaluate the biological effects of these molecules is under way.
Supplementary Materials
Supplementary Material are available online. Supplementary data includes synthetic procedures and the 1H-NMR and IR, data for synthesised compounds associated with this article can be found, in the online version.
Acknowledgments
M.O.M. wishes to thank the Ministry of Higher Education and Scientific Research, Iraq for the award of the grant and we acknowledge the department of biology, college of science, Kirkuk University, Iraq for their help to carrying out the biology test.
Author Contributions
M.O.M. contributed to the experimental design, performed most of the experiments, performed the chemical synthesis of the Chitosan conjugated and wrote the manuscript. K.S.H. supervised the experiments, analyzed the data and edited the manuscript. N.Q.H. performed all the biological experiments, designed and supervised the project.
Conflicts of Interest
The authors declare no conflict of interest.
Sample Availability: Samples of the compounds Chitosan and small amount from CS-FUAC are available from the authors.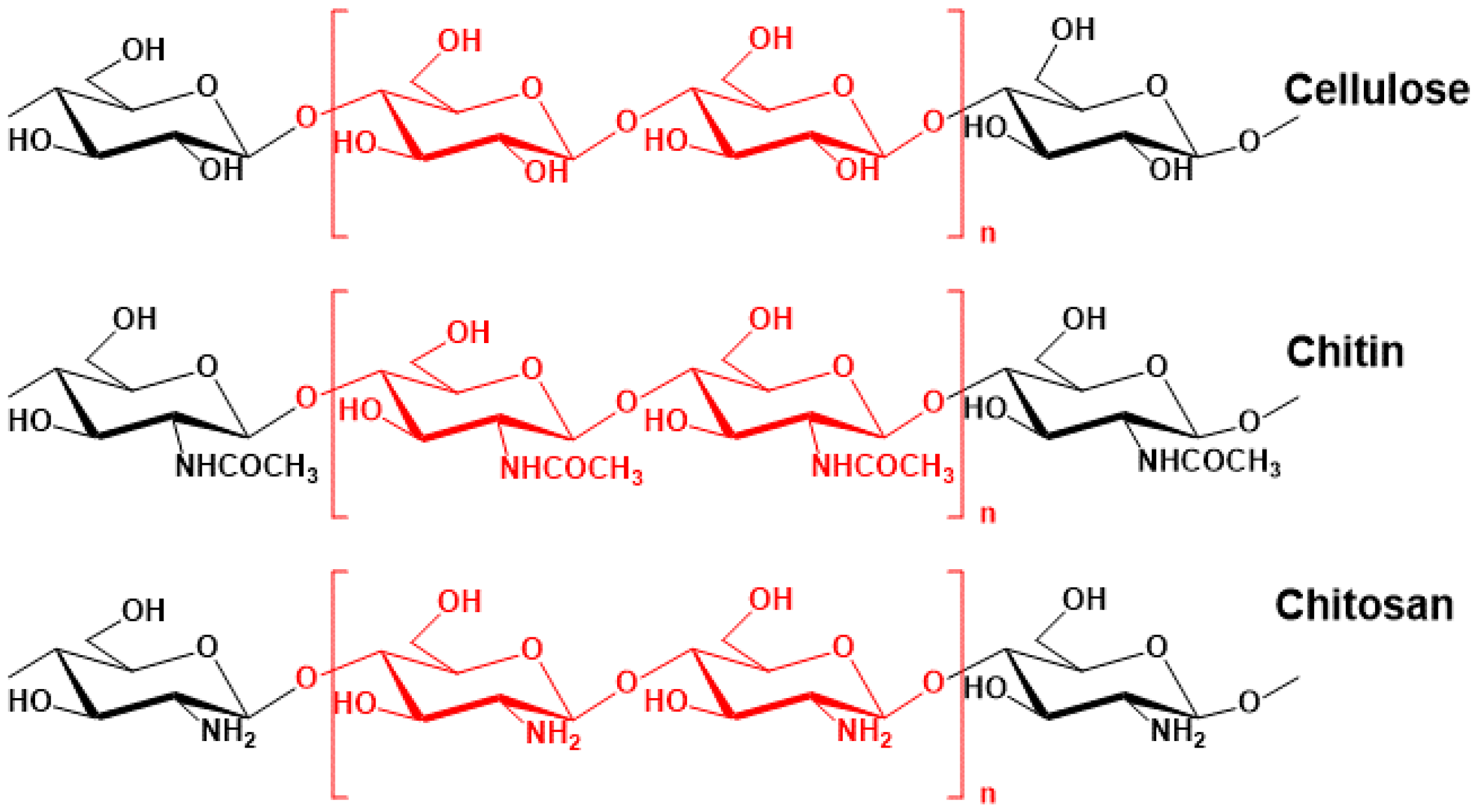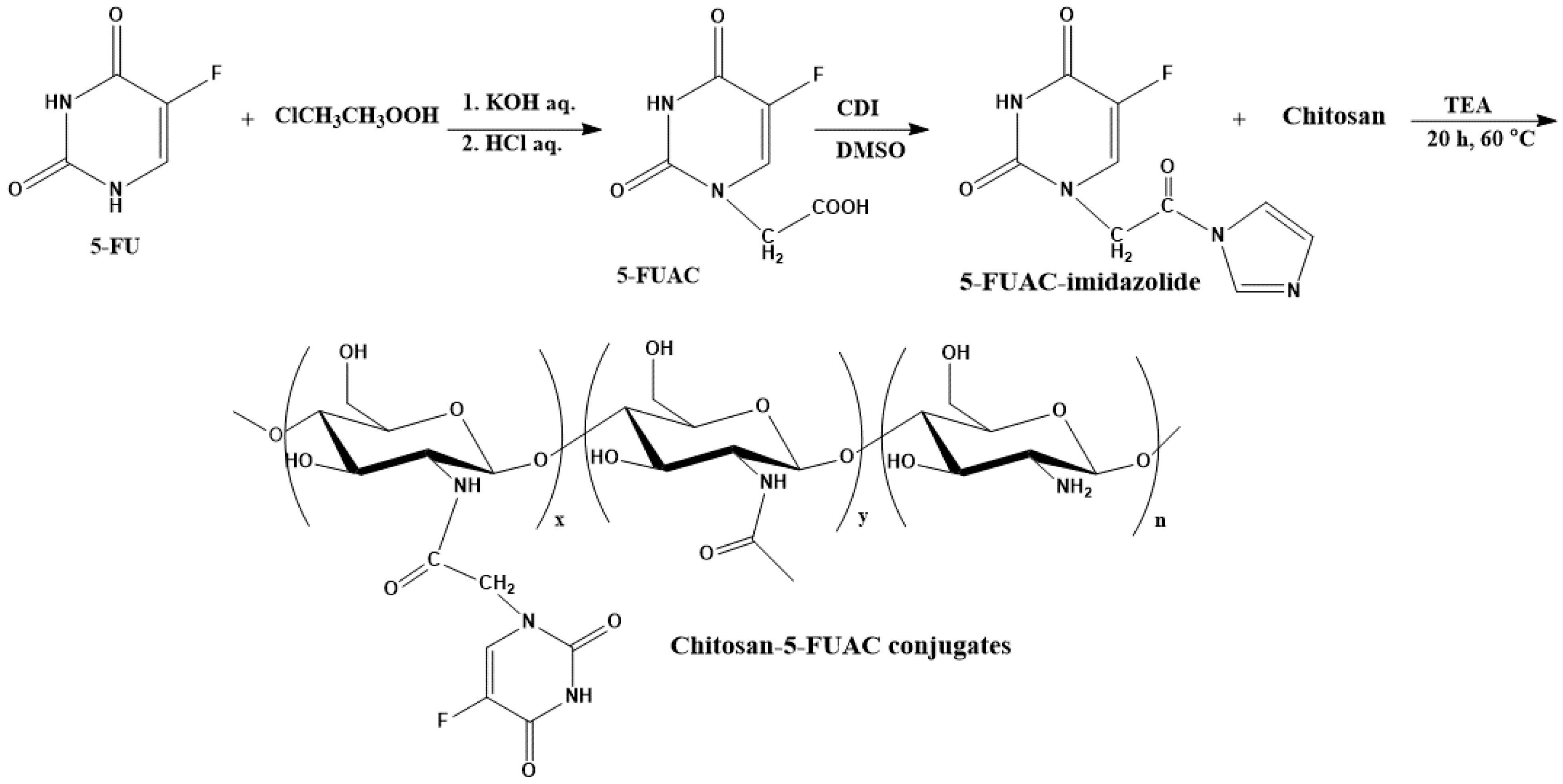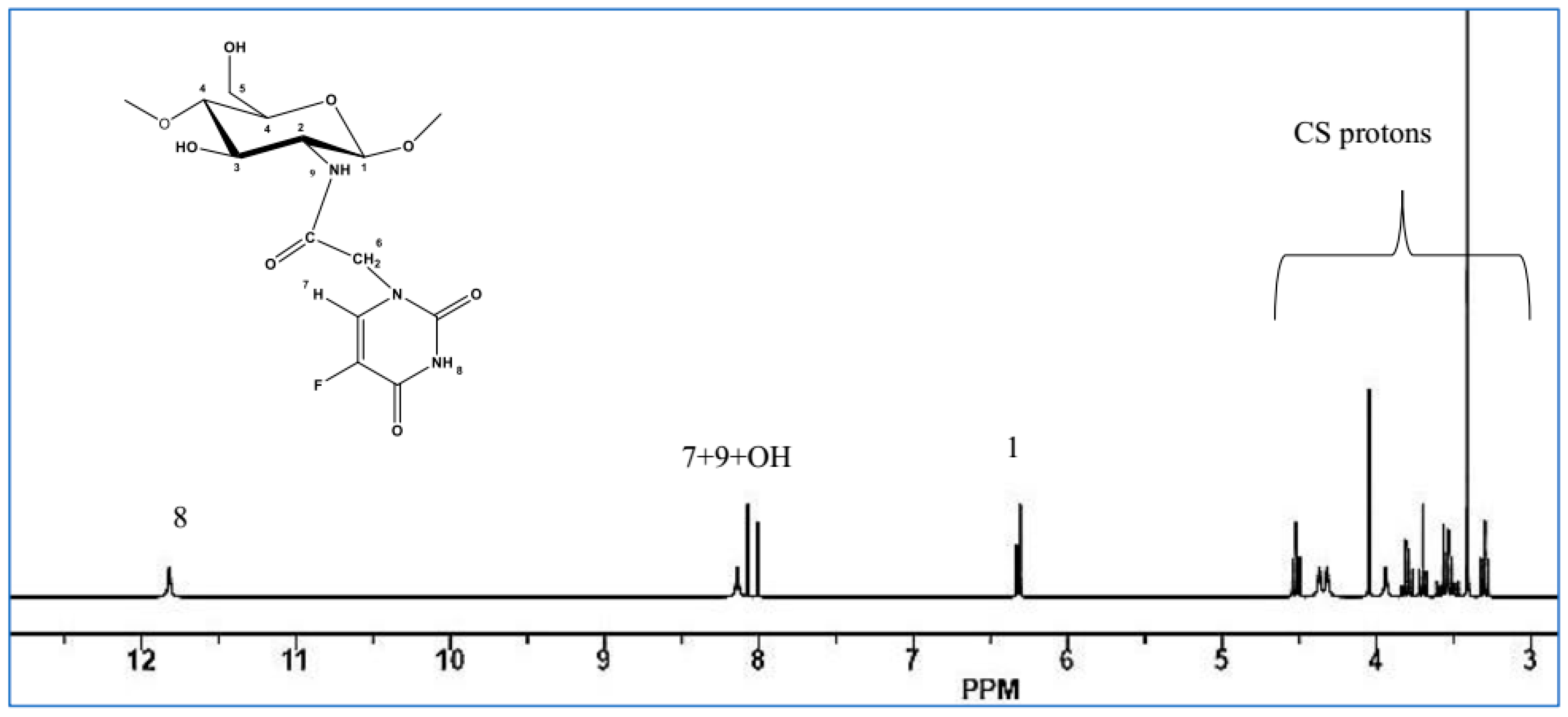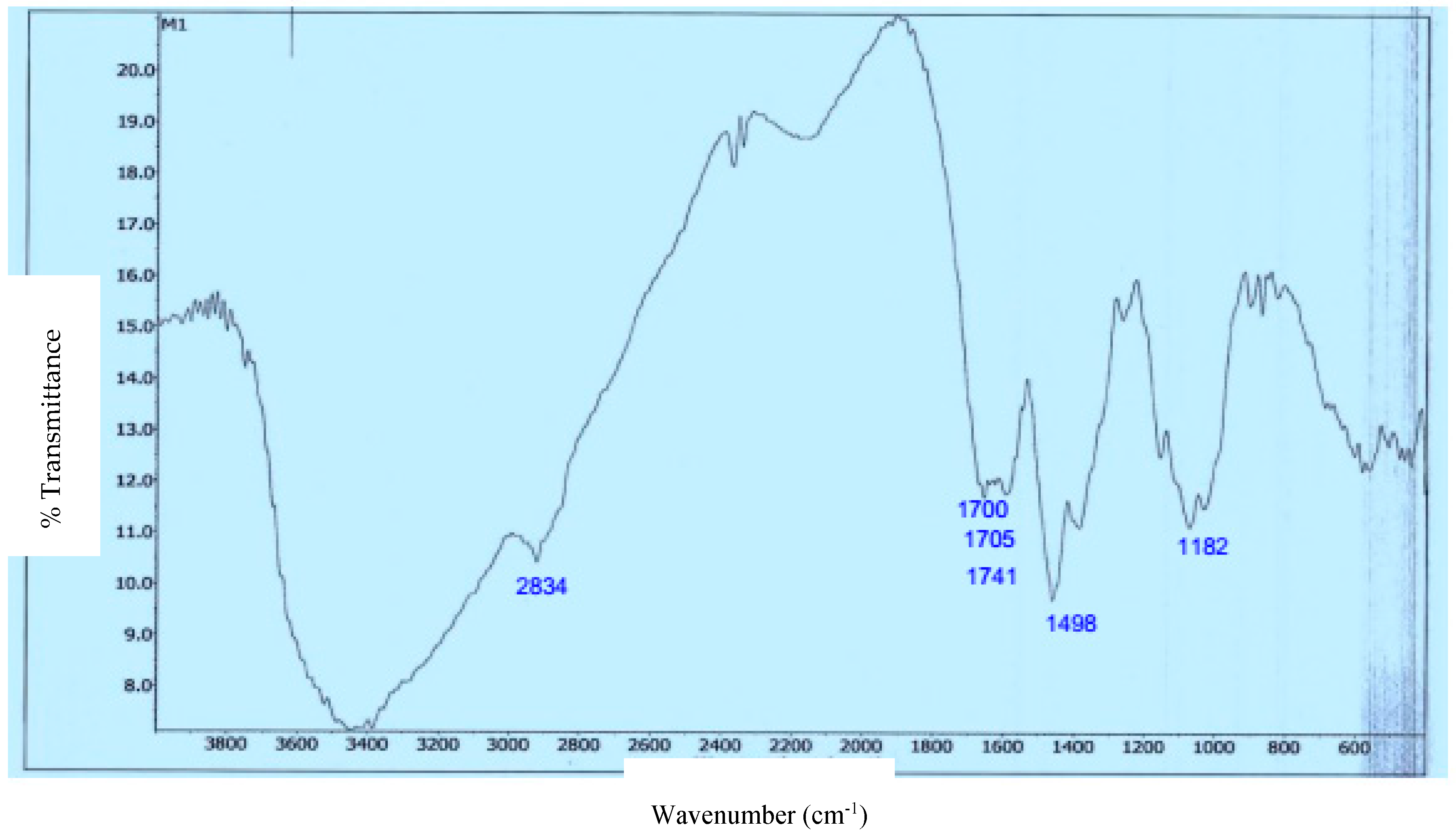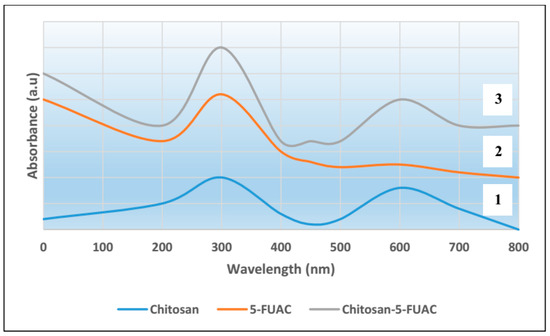 Figure 5. UV-vis spectra showing chitosan (CS) spectrum '1', 1-acetic acid-5-fluorouracil (FUAC) spectrum '2' and CS-FUAC conjugate spectrum '3'.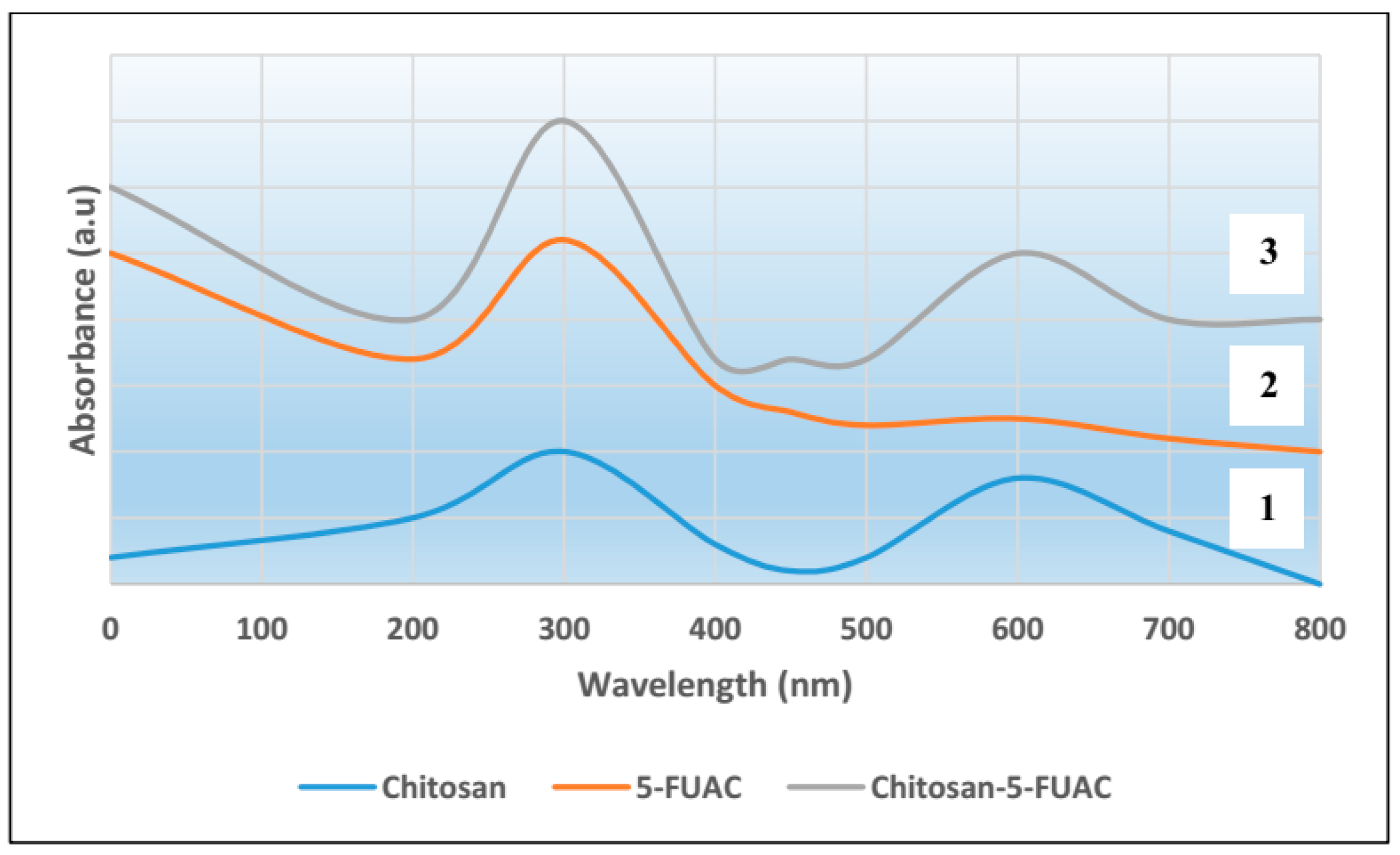 Figure 6. Stability test of CS-FUAC conjugates and free drug, 5-FU at (A) acidic pH 1.2, and (B) pH 7.4 buffer. All values are expressed as mean ± SD (n = 3).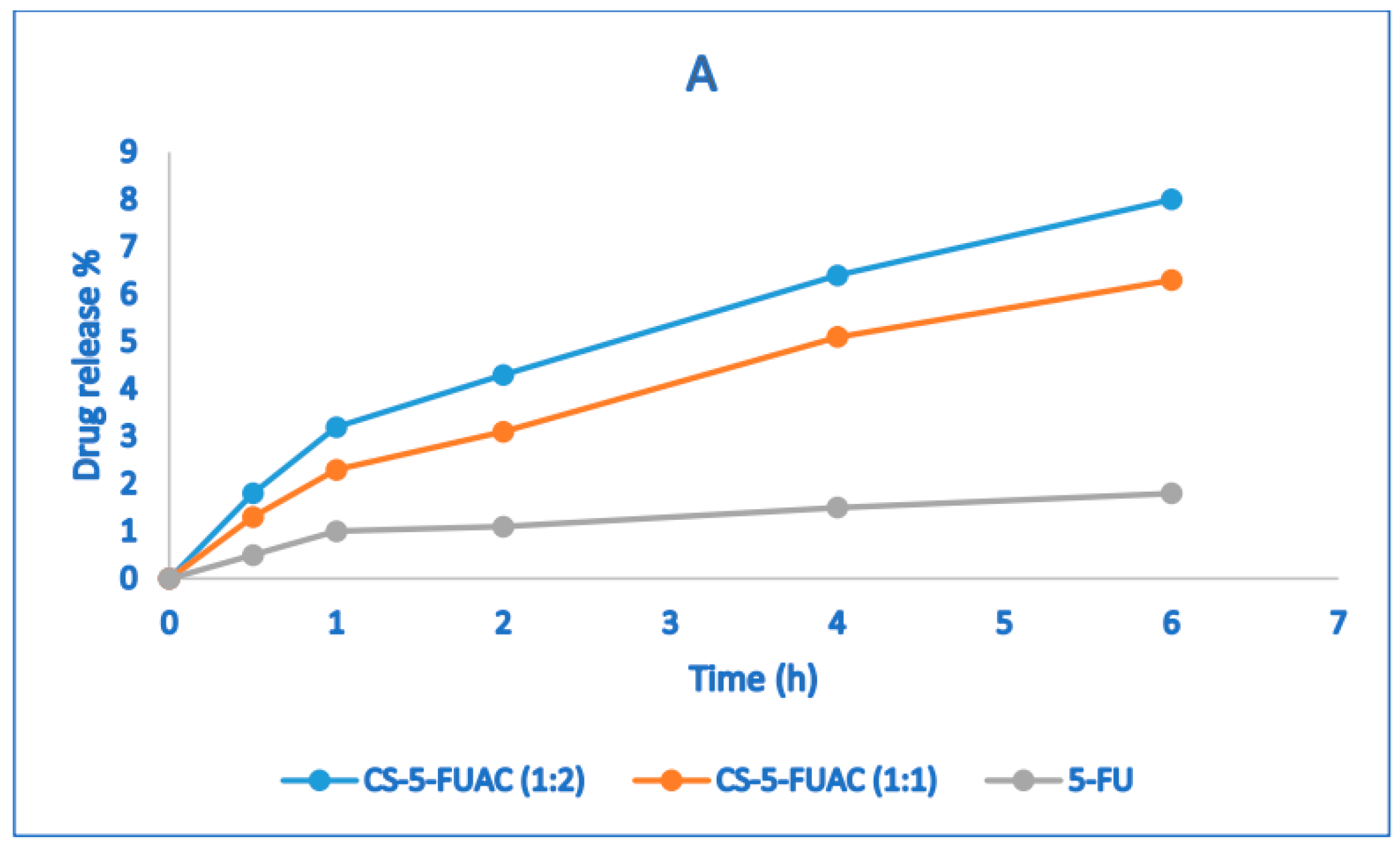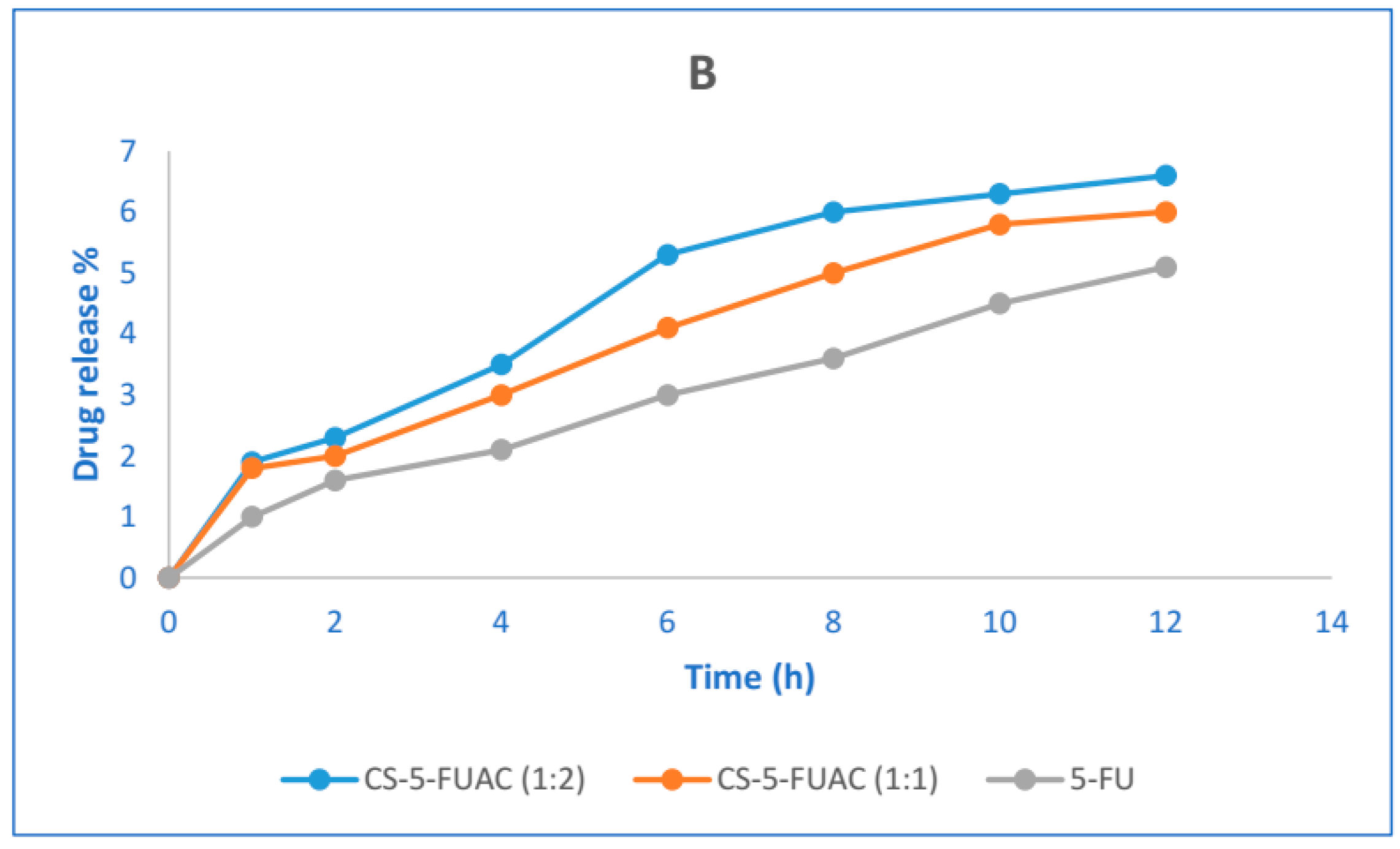 Figure 7. MTT viability assay of HT-29 cells treated with (0.5–7 μg/mL) of 5-FU and CS-FUAC conjugates, for 24 h (A); Dose response curves of the CS-5-FUAC on HT-29 and CCD-18Co cells in the concentration range 2.5–30 μg/mL (B). All values are expressed as mean ± SD (n = 3).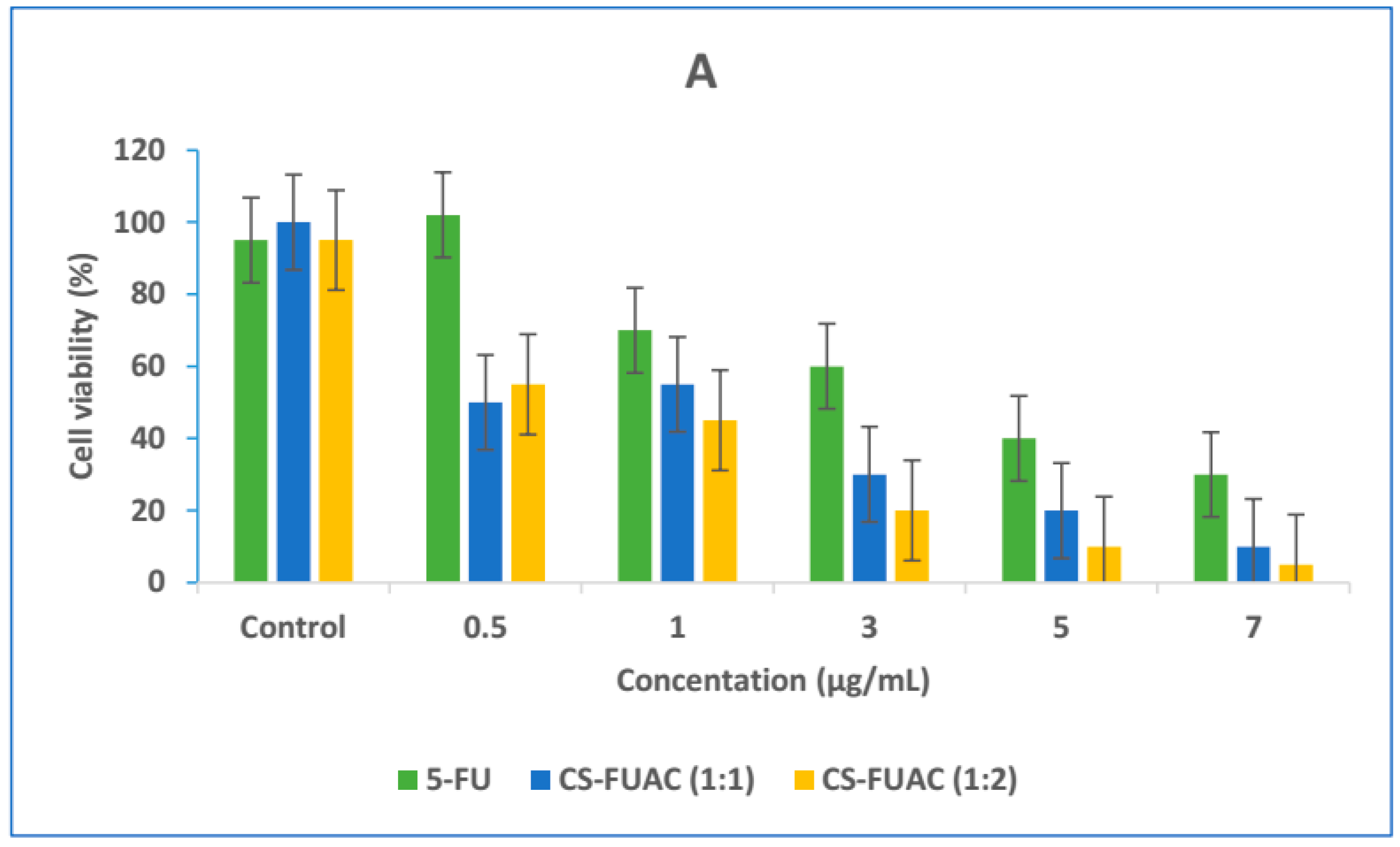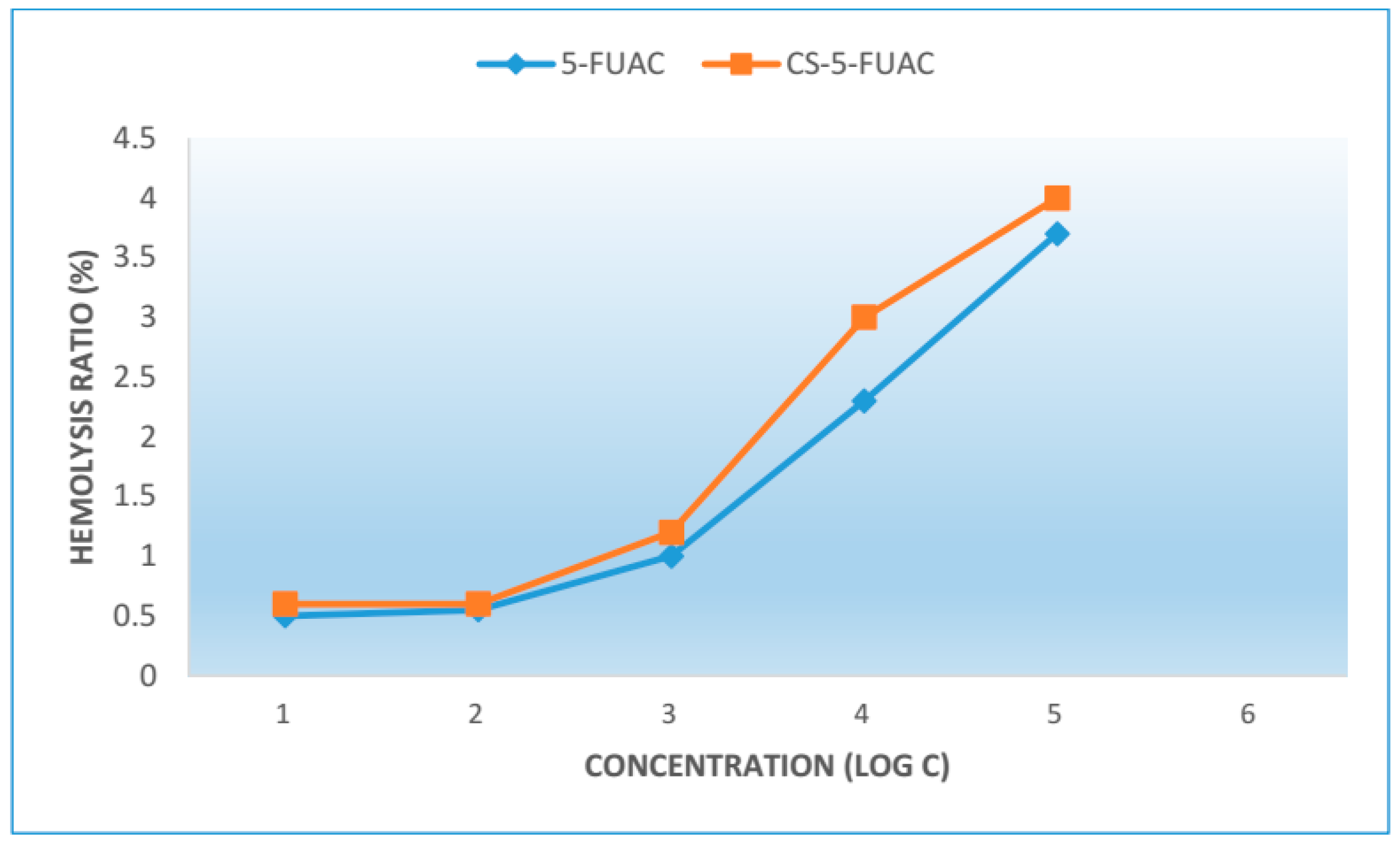 Table 1. Reaction data for CS-FUAC conjugates.

| Sample i | Drug loading (wt %) ii | Yield (%) |
| --- | --- | --- |
| CS-FUAC (1:1) | 0.61 | 60 |
| CS-FUAC (1:2) | 0.75 | 68 |
i All reaction was carried out at 75 °C for 24 h; ii Drug loading determined by UV.
© 2017 by the authors. Licensee MDPI, Basel, Switzerland. This article is an open access article distributed under the terms and conditions of the Creative Commons Attribution (CC BY) license (http://creativecommons.org/licenses/by/4.0/).