Open Access This article is
freely available
re-usable
Review
BACE1 Function and Inhibition: Implications of Intervention in the Amyloid Pathway of Alzheimer's Disease Pathology
CoMentis, Inc., South San Francisco, CA 94080, USA
Received: 15 September 2017 / Accepted: 10 October 2017 / Published: 13 October 2017
Abstract
:
Alzheimer's disease (AD) is a fatal progressive neurodegenerative disorder characterized by increasing loss in memory, cognition, and function of daily living. Among the many pathologic events observed in the progression of AD, changes in amyloid β peptide (Aβ) metabolism proceed fastest, and precede clinical symptoms. BACE1 (β-secretase 1) catalyzes the initial cleavage of the amyloid precursor protein to generate Aβ. Therefore inhibition of BACE1 activity could block one of the earliest pathologic events in AD. However, therapeutic BACE1 inhibition to block Aβ production may need to be balanced with possible effects that might result from diminished physiologic functions BACE1, in particular processing of substrates involved in neuronal function of the brain and periphery. Potentials for beneficial or consequential effects resulting from pharmacologic inhibition of BACE1 are reviewed in context of ongoing clinical trials testing the effect of BACE1 candidate inhibitor drugs in AD populations.
Keywords:
Alzheimer's disease; amyloid hypothesis; BACE1; beta secretase; pharmacology
1. Introduction
Alzheimer's disease (AD) is a fatal progressive neurodegenerative disorder, slowly eroding memory, cognition, and functions of daily living, inevitably culminating in death from pneumonia and infectious diseases resulting from failure to thrive, loss of fine motor skills, and incapacitation. Treatment is limited to therapeutics that alleviate symptoms of memory loss, but are effective for a relatively short duration during and after which disease progression continues. Therefore much effort has been directed toward development of disease modifying therapeutics to slow or delay the progressive trajectory of AD.
2. BACE1 Characteristics
The β-site amyloid precursor protein cleaving enzyme 1 (BACE1), has been implicated as the APP β-site protease through its expression, intracellular colocalization with APP, and activities consistent with FAD mutations at the β site [
14
]. In this review, the β-secretase activity of only BACE1 is discussed, based on its suitability as a target for AD therapeutics, evidenced by the attainment of central Aβ reduction of greater than 90% in numerous trials (reviewed in
Section 3.4
below).
BACE1 is an aspartic protease (aspartyl protease, aspartic acid protease, aspartic proteinase), one of several of members of the pepsin family that are endogenous to humans [
17
]. The prototypic pepsin was characterized having two aspartic acid residues in the active site, and other features common to all other members of the family [
18
]. The two active site aspartic acid residues are conserved within two Asp-(Thr/Ser)-Gly motifs in the amino acid sequence and in the three-dimensional structure are situated with two-fold rotational symmetry of one another, as are each of the globular sub-domains. BACE1, and its close homolog BACE2, possess additional lumenal, transmembrane and cytosolic domains extending beyond the predicted globular catalytic domain (memapsins, membrane anchored aspartic proteases of the pepsin family). Highly conserved among species, BACE1 with its unique structural attributes might be anticipated to perform specialized functions distinct from other general catalytic aspartic proteases.
2.1. Structural Attributes of BACE1
2.2. BACE1 Activity and Native Substrates
2.3. BACE1 Substrate Specificity: Implications for A673T
Amino acid sequences in the proximity of the cleavage site for a selection of validated BACE1 substrates [
73
] are listed in
Table 2
, organized by the allotment of amino acids on each side of the scissile (cleavage) bond at each position of the protein substrate (numbered from amino to carboxy terminus: P4, P3, P2, P1, P1', P2', P3', P4'). Additionally, the sequence of the APP A673T protective mutation is included. All substrates feature generally hydrophobic amino acids at P1 and P3 sites, negatively charged at P1', generally in accord with complete specificity determinations of BACE1 for peptide substrates [
31
,
32
], with specificity increasingly permissive for positions more distal to the scissile bond.
In particular, the Thr present at P2' in APP protective mutant A673T [
15
] is predicted to have subtle reduction (approximately 10%–20%) in catalytic efficiency relative to native APP [
31
,
32
], although isolated synthetic substrate was with approximately 5-fold lower
V
max
and unchanged
K
M
[
104
]. Nonetheless, secretion of Aβ from cells expressing APP A673T was reduced by approximately 40% [
15
] and presumably 20% in carriers [
105
]. Although the magnitude of Aβ reduction in plasma may not reflect that in the brain [
106
], a 28% reduction of plasma Aβ in carriers of the APP A673T gene compared to control subjects [
107
] is consistent with the biochemical studies, and supportive of a beneficial impact of reduced Aβ. Additionally, the protective effect of A673T may also be dependent on the efficiency of gamma secretase to process the A673T APP C-terminal fragment (C99) substrate that results from BACE1 cleavage [
108
]. Therefore, it might be considered that a combination of both BACE1 and gamma-secretase catalytic efficiencies may contribute to the decrease in Aβ production observed from in vitro and human subjects. Additional potential benefits resulting from the protective A673T APP mutation results from the gene product Aβ peptide having a Thr amino acid at position 2 in the sequence, and was found to have less propensity for aggregation [
104
]. Also of note, the threonine at position 2 of the A673T Aβ is adjacent to a native glutamate at position 3 (
Table 2
). An aminopeptidase activity may remove two amino terminal residues to create truncated Aβ species with a glutamate amino terminus [
109
], which are subsequently cyclized by the action of glutaminyl cyclase [
110
,
111
] to form highly insoluble and aggregation-prone pyroglutamate Aβ peptides (pyroGluAβ [
112
,
113
]; see next section). The activity the aminopeptidase activity that generates Aβ
3-x
substrates for glutaminyl cyclase might be impacted by the Ala to Thr change in the P1 position of A673T-generated Aβ. Thus, in addition to the estimated 20–40% reduction in Aβ production [
15
,
105
] and slight reduction in aggregation properties [
104
], may be enhanced or offset by changes in the production rate of pyroGluAβ.
A mutation in APP at the same P2' position of the β cleavage site is associated with FAD, A673V, and was predicted and observed to result in increased BACE1 activity [
31
,
32
,
104
], consistent with increased production of Aβ contributing to rapid accumulation of amyloid [
104
]. Notably, Thr is present at P2' for substrates ST6Gal, Nrg1, and IL-1R2 (
Table 2
, [
73
]), and Val is present for several of the substrates in
Table 2
, although offsetting contribution of amino acids in other positions affecting catalytic efficiency must be taken in account. Interestingly, although the P2' site was not found to be particularly restrictive [
31
,
32
], the P2' site of the aligned cleavage sites of the substrates in
Table 2
reveals to be the most restrictive, with only four amino acids found to be present at this position in this small set of substrate sequences.
3. The Prospect of Therapeutic Inhibition of BACE1 Activity to Block Aβ Production
Acknowledgments
The author wishes to express gratitude to colleagues from the Oklahoma Medical Research Foundation, Purdue University, Zapaq, QPS and CoMentis for prior collaborative efforts on BACE1 discovery. The author kindly acknowledges the invitation from the editors and publisher, who covered the cost of publishing this manuscript.
Conflicts of Interest
The author declares no conflict of interest.

Figure 1. Processing of APP by BACE1 to generate Aβ. APP (left panel, green object) is depicted with the Aβ in darker green, with the β site and γ site in red. Cleavage by BACE1 (indigo object) generates soluble APPβ (sAPPβ) and C99, followed with cleavage by γ-secretase to generate Aβ and APP intracellular domain (AICD).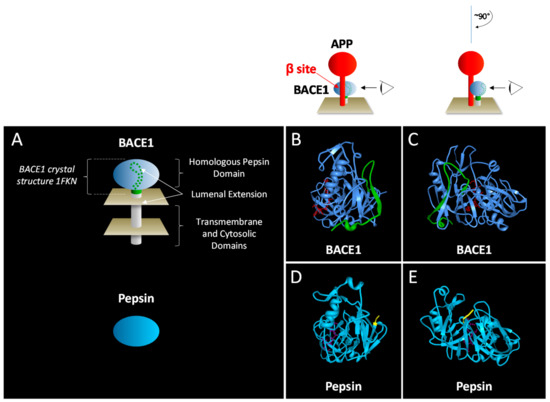 Figure 2.
Lumenal extension of BACE1 interacts with the catalytic domain opposite of the active site. (
A
) Depiction scheme of BACE1 (
B
,
C
), Protein Data Bank code 1FKN [
30
]; and pepsin (
D
,
E
), Protein Data Bank code 1PSO [
46
]. The catalytic domain of BACE1 is depicted in light blue and a portion of BACE1 lumenal extension visible in the 1FKN ctrystal structure is depicted in green. (
B
,
D
) View of BACE1 (
B
) and pepsin (
D
) from side (BACE1 view orientation scheme above panel (
B
)). Ribbon diagram of BACE1 (color scheme as in panel (
A
)), with BACE1 inhibitor (atomic structure in red) marking location of the substrate APP; (
D
) Ribbon diagram of pepsin is viewed in approximately the same orientation as BACE1 in panel (
B
), with the carboxy terminal amino acids of pepsin (yellow) marking the homologous location of the
C
-terminal extension of BACE1. Pepsin inhibitor pepstatin A (violet atomic structure) is located in the pepsin active site. (
C
,
E
) View of BACE1 (
C
) and pepsin (
E
) from behind the active site (view orientation scheme above panel (
C
)). Color scheme as in panels (
B
,
D
). Ribbon diagrams created with the RSCB PDB Protein Workshop 4.2.0 Molecular Biology Toolkit [
47
].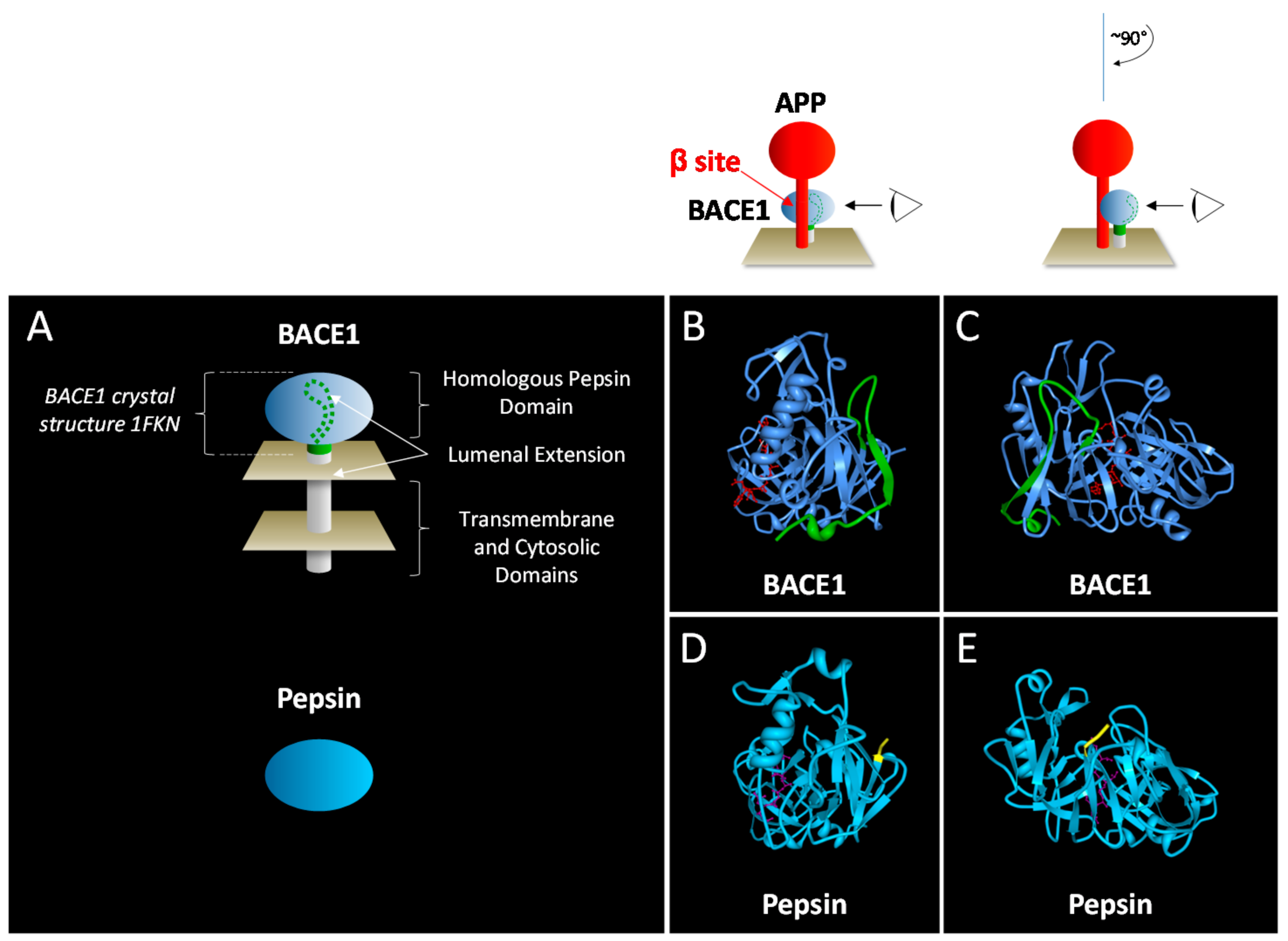 Table 1. Post-translational modifications observed for BACE1 1.
Feature
Position in Amino Acid Sequence 2
Function
References
Propeptide
22–45
Folding, enhancement of activity
[34,35,36]
Disulfide bonds
216–

420

,

278

–

443

,

330

–

380

Structural stability
[30]
Glycosylation
153, 172, 223, 354
Lysosomal targeting, degradation
[37,38,39]
Phosphorylation

498

Endosomal-lysosomal trafficking
[40]
Ubuiquitination

501

Trafficking, degradation
[41,42]
S-Palmitoylation

474

,

478

,

483

,

485

Lipid raft, amyloidogenesis
[43]
Lysine acetylation
126, 275, 279, 285, 299, 300, 307
Stability; transit from ER; enhancement of intracellular activity
[37,44]
1 From [45] with modification; 2 Location in the BACE1 amino acid sequence (Uniprot entry P56817), numbered 1–501 (homologous pepsin domain spans amino acids 62–416, lumenal extension 417–454, hydrophobic region 455–480, and cytoplasmic domain 481–501); residues in italics are

C

-terminal to the homologous pepsin domain; conserved cysteine residues are underlined.
Table 2. BACE1 substrate amino acid sequences in the proximity of the BACE1 cleavage site 1.
↓
Substrate 2
P4
P3
P2
P1
P1'
P2'
P3'
P4'
APP, β site
E
V
K
M
D
A
E
F
APP A673T, β site
E
V
K
M
D
E
F
APP, β' site
D
S
G
Y
E
V
H
H
Nrg1 type I & III-β1α
G
I
E
F
M
E
A
E
Nrg3
G
I
E
F
M
E
S
E
IL-1R2
T
L
S
F
Q
L
R
Navβ2, major site
L
Q
V
L
M
E
E
P
Navβ2, minor site
K
I
H
L
Q
V
L
M
Nrg1 type III-β1α
E
T
N
L
Q
A
P
Sez6
G
R
S
L
D
V
A
K
Delta-1
V
V
D
L
T
E
K
L
PSGL-1
A
S
N
L
S
V
N
Y
Jag2
S
L
L
L
A
V
T
E
Sez6L
A
L
E
A
E
A
A
A
Jag1
S
L
I
A
A
V
A
E
ST6Gal
E
K
A
Q
L
L
A
CHL-l
S
I
F
Q
D
V
I
E
1 From reference [73]; 2 Sequences (single letter amino acid code) are organized by hydrophobicity, charge, and size in P1 and P1' positions; the ↓ symbol denotes the scissile (cleavage) bond; threonine present in P2' are boxed.
Table 3. Morphologic, physiologic and behavioral impact of BACE1 depletion 1.
Function/Dysfunction
Degree of BACE1 Inhibition 2
Reference
Pharmacologic, Subchronic
Gene Deletion
Neurogenesis, Astrogenesis
100%
[170]
Growth cone collapse
100% 3
[171]
Axonal growth
100%
50–100% 4
[172,173,174]
Spine density
60% 5
100%
[175,176]
Muscle Spindle
68% 6
100%
[97]
Myelination
100% 7
[77,78,88]
Synaptic dysfunction
50% 5
100% 7
[176,177,178,179]
Retinopathy
100%
[180]
Muscle coordination
100%
[171,178,181]
Memory impairment
60% 5
100% 7
[176,177,178]
Lethality, growth impairment
50–100%
[98,181,182]
Seizures
100%
[97,98,178]
Social/emotional
100% 6
[177,182,183]
Psychosis
100%
[175,178]
1 Adapted from [73,166]; 2 50% and 100% refer to heterozygous and homozygous

BACE1

gene deletion, unless otherwise noted for pharmacologic inhibition; 3 BACE1 null and ex vivo inhibition of BACE1 100%; authors suggest window of 100-fold for 40% Aβ reduction; 4 Trend in gene dosage; 5 Pharmacologic inhibition of 50% and 60% at 30 and 100 mg/kg doses of SCH1682496, respectively [176]; 6 Effects not evident in heterozygotes.
Table 4. Target Aβ reduction for BACE1 inhibitors currently in Phase 3 clinical trials for AD.

| Compound | Sponsor(s) | Patient Population and Identifier 1 | Dose, Target Aβ Reduction 2 | Reference |
| --- | --- | --- | --- | --- |
| Verubecestat (MK-8931) | Merck | Prodromal AD (NCT01953601) | 12 mg: 50% 40 mg: 75% | [29] |
| Lanabecestat (LY3314814, AZD3293) | AstraZeneca, Eli Lilly | Early AD (NCT02245737) | 20 mg: 60% 3 50 mg: 75% 3 | [186,187] |
| Elenbecestat (E2609) | Biogen Idec, Eisai | Early AD (NCT03036280, NCT02956486) | 50 mg: 60% 4 | [188] |
| JNJ-54861911 | Shionogi, Janssen | Asymptomatic, at risk for AD (NCT02569398) | 5 mg: 50% 25 mg: 75–85% | [189] |
| CNP520 | Novartis, Amgen | At risk for AD (NCT03131453) | 15 mg: N.D. 5 50 mg: N.D. 5 | [190] |
1 ClinicalTrials.gov; 2 Average or AUC reduction in Aβ, to nearest 5%; 3 Maximum reduction, approximates AUC owing to extended pharmacodynamic effect of AZD3293; 4 Average or maximum not reported; 5 N.D., clinical pharmacodynamic activity not disclosed.
© 2017 by the author. Licensee MDPI, Basel, Switzerland. This article is an open access article distributed under the terms and conditions of the Creative Commons Attribution (CC BY) license (http://creativecommons.org/licenses/by/4.0/).