The Effect of Different Starch Liberation and Saccharification Methods on the Microbial Contaminations of Distillery Mashes, Fermentation Efficiency, and Spirits Quality
1
Department of Spirit and Yeast Technology, Institute of Fermentation Technology and Microbiology, Faculty of Biotechnology and Food Sciences, Lodz University of Technology, Wolczanska 171/173, 90-924 Lodz, Poland
2
Department of Technical Microbiology, Institute of Fermentation Technology and Microbiology, Faculty of Biotechnology and Food Sciences, Lodz University of Technology, Wolczanska 171/173, 90-924 Lodz, Poland
3
Institute of Food Technology and Analysis, Faculty of Biotechnology and Food Sciences, Lodz University of Technology, Wolczanska 171/173, 90-924 Lodz, Poland
*
Author to whom correspondence should be addressed.
Received: 6 September 2017 / Revised: 27 September 2017 / Accepted: 29 September 2017 / Published: 30 September 2017
Abstract
The aim of this study was to evaluate the influence of different starch liberation and saccharification methods on microbiological contamination of distillery mashes. Moreover, the effect of hop α-acid preparation for protection against microbial infections was assessed. The quality of agricultural distillates was also evaluated. When applying the pressureless liberation of starch (PLS) and malt as a source of amylolytic enzymes, the lactic acid bacteria count in the mashes increased several times during fermentation. The mashes obtained using the pressure-thermal method and malt enzymes revealed a similar pattern. Samples prepared using cereal malt exhibited higher concentrations of lactic and acetic acids, as compared to mashes prepared using enzymes of microbial origin. The use of hop α-acids led to the reduction of bacterial contamination in all tested mashes. As a result, fermentation of both mashes prepared with microbial origin enzyme preparations and with barley malt resulted in satisfactory efficiency and distillates with low concentrations of aldehydes.
View Full-Text
►

▼

Figures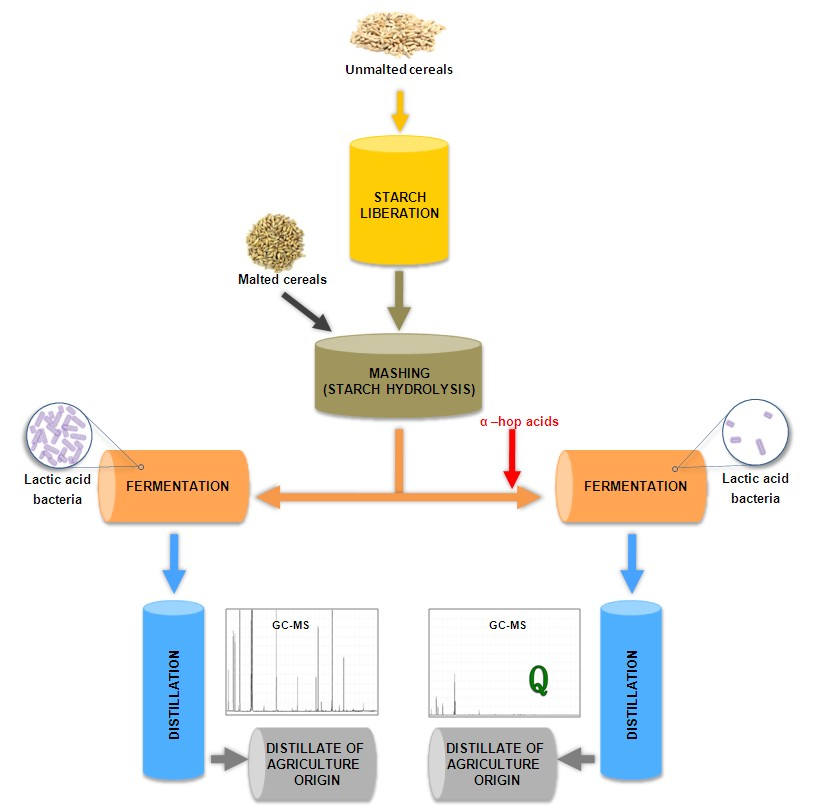 Graphical abstract
This is an open access article distributed under the
Creative Commons Attribution License
which permits unrestricted use, distribution, and reproduction in any medium, provided the original work is properly cited (CC BY 4.0).

Share & Cite This Article
MDPI and ACS Style
Pielech-Przybylska, K.; Balcerek, M.; Nowak, A.; Wojtczak, M.; Czyżowska, A.; Dziekońska-Kubczak, U.; Patelski, P. The Effect of Different Starch Liberation and Saccharification Methods on the Microbial Contaminations of Distillery Mashes, Fermentation Efficiency, and Spirits Quality. Molecules 2017, 22, 1647.
Note that from the first issue of 2016, MDPI journals use article numbers instead of page numbers. See further details here.
Related Articles
Comments
[Return to top]