Design, Synthesis and Cellular Characterization of a Dual Inhibitor of 5-Lipoxygenase and Soluble Epoxide Hydrolase
1
Institute of Pharmaceutical Chemistry, Goethe-University of Frankfurt, Max-von-Laue Str. 9, D-60438 Frankfurt am Main, Germany
2
Institute of Pharmaceutical Biology, Goethe-University of Frankfurt, Max-von-Laue Str. 9, D-60438 Frankfurt am Main, Germany
3
Institute of Clinical Pharmacology, Goethe-University of Frankfurt, Theodor-Stern-Kai 7, D-60590 Frankfurt am Main, Germany
*
Authors to whom correspondence should be addressed.
Academic Editor: Cornelis J. Van der Schyf
Received: 7 November 2016 / Revised: 15 December 2016 / Accepted: 23 December 2016 / Published: 29 December 2016
Abstract
The arachidonic acid cascade is a key player in inflammation, and numerous well-established drugs interfere with this pathway. Previous studies have suggested that simultaneous inhibition of 5-lipoxygenase (5-LO) and soluble epoxide hydrolase (sEH) results in synergistic anti-inflammatory effects. In this study, a novel prototype of a dual 5-LO/sEH inhibitor
KM55
was rationally designed and synthesized.
KM55
was evaluated in enzyme activity assays with recombinant enzymes. Furthermore, activity of
KM55
in human whole blood and endothelial cells was investigated.
KM55
potently inhibited both enzymes in vitro and attenuated the formation of leukotrienes in human whole blood.
KM55
was also tested in a cell function-based assay. The compound significantly inhibited the LPS-induced adhesion of leukocytes to endothelial cells by blocking leukocyte activation.
View Full-Text
►

▼

Figures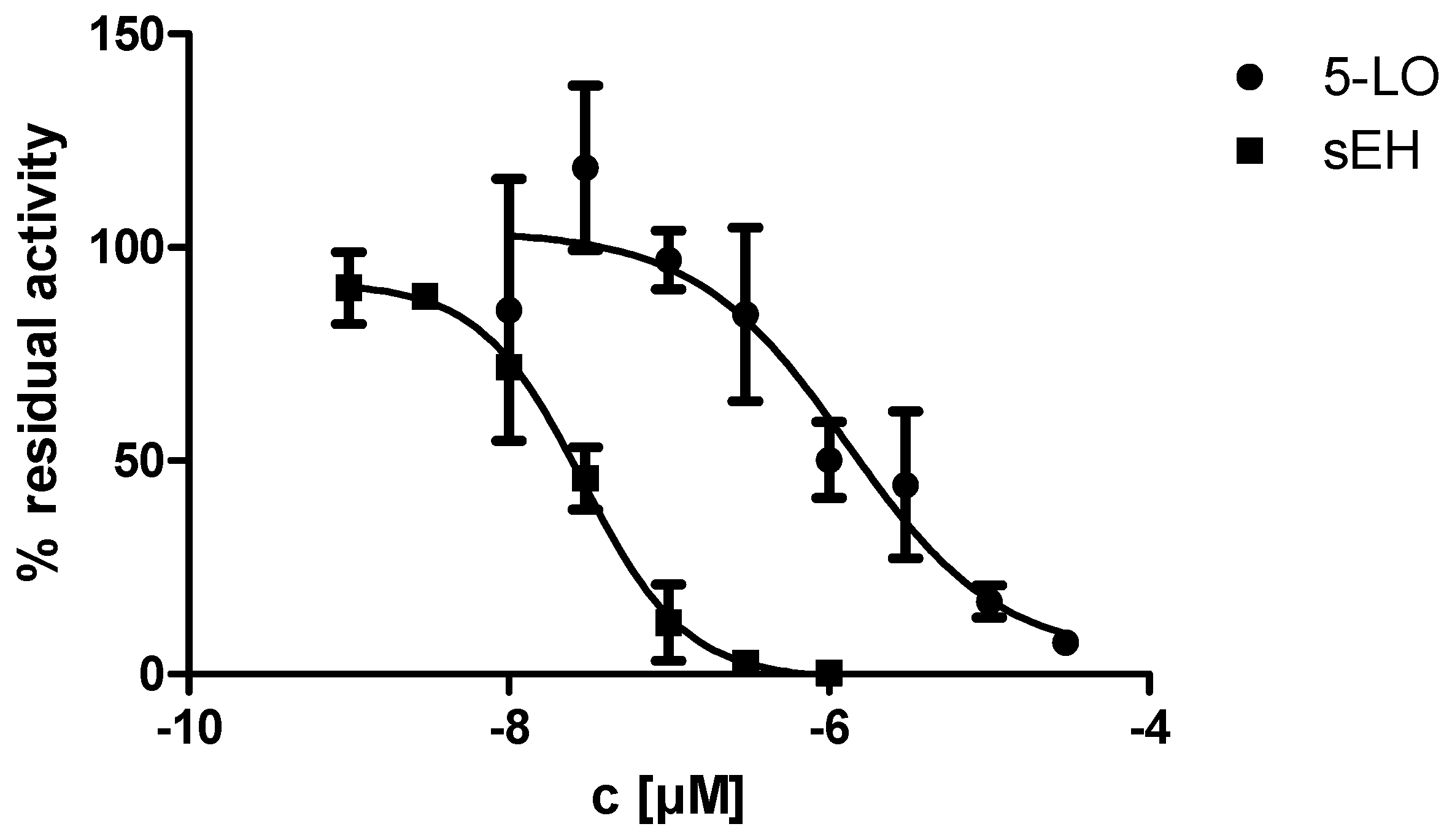 Figure 1
This is an open access article distributed under the
Creative Commons Attribution License
which permits unrestricted use, distribution, and reproduction in any medium, provided the original work is properly cited (CC BY 4.0).

Share & Cite This Article
MDPI and ACS Style
Meirer, K.; Glatzel, D.; Kretschmer, S.; Wittmann, S.K.; Hartmann, M.; Blöcher, R.; Angioni, C.; Geisslinger, G.; Steinhilber, D.; Hofmann, B.; Fürst, R.; Proschak, E. Design, Synthesis and Cellular Characterization of a Dual Inhibitor of 5-Lipoxygenase and Soluble Epoxide Hydrolase. Molecules 2017, 22, 45.
Note that from the first issue of 2016, MDPI journals use article numbers instead of page numbers. See further details here.
Related Articles
Comments
[Return to top]