Near-Infrared Emitting PbS Quantum Dots for in Vivo Fluorescence Imaging of the Thrombotic State in Septic Mouse Brain
1
Laboratory for Nano-Bio Probes, Quantitative Biology Center (QBiC), Riken, Suita 565-0874, Japan
2
Tomy Digital Biology Co. Ltd., Tokyo 110-0008, Japan
3
Immunology Frontier Research Center (IFReC), Osaka University, Suita 565-0871, Japan
*
Authors to whom correspondence should be addressed.
Academic Editor: Zhen Cheng
Received: 15 July 2016 / Revised: 9 August 2016 / Accepted: 15 August 2016 / Published: 18 August 2016
Abstract
Near-infrared (NIR) fluorescent imaging is a powerful tool for the non-invasive visualization of the inner structure of living organisms. Recently, NIR fluorescence imaging at 1000–1400 nm (second optical window) has been shown to offer better spatial resolution compared with conventional NIR fluorescence imaging at 700–900 nm (first optical window). Here we report lead sulfide (PbS) quantum dots (QDs) and their use for in vivo NIR fluorescence imaging of cerebral venous thrombosis in septic mice. Highly fluorescent PbS QDs with a 1100 nm emission peak (QD1100) were prepared from lead acetate and hexamethyldisilathiane, and the surface of QD1100 was coated with mercaptoundecanoic acid so as to be soluble in water. NIR fluorescence imaging of the cerebral vessels of living mice was performed after intravascular injection (200–300 μL) of QD1100 (3 μM) from a caudal vein. By detecting the NIR fluorescence of QD1100, we achieved non-invasive NIR fluorescence imaging of cerebral blood vessels through the scalp and skull. We also achieved NIR fluorescence imaging of cerebral venous thrombosis in septic mice induced by the administration of lipopolysaccharide (LPS). From the NIR fluorescence imaging, we found that the number of thrombi in septic mice was significantly increased by the administration of LPS. The formation of thrombi in cerebral blood vessels in septic mice was confirmed by enzyme-linked immunosorbent assay (ELISA). We also found that the number of thrombi significantly decreased after the administration of heparin, an inhibitor of blood coagulation. These results show that NIR fluorescence imaging with QD1100 is useful for the evaluation of the pathological state of cerebral blood vessels in septic mice.
View Full-Text
►

▼

Figures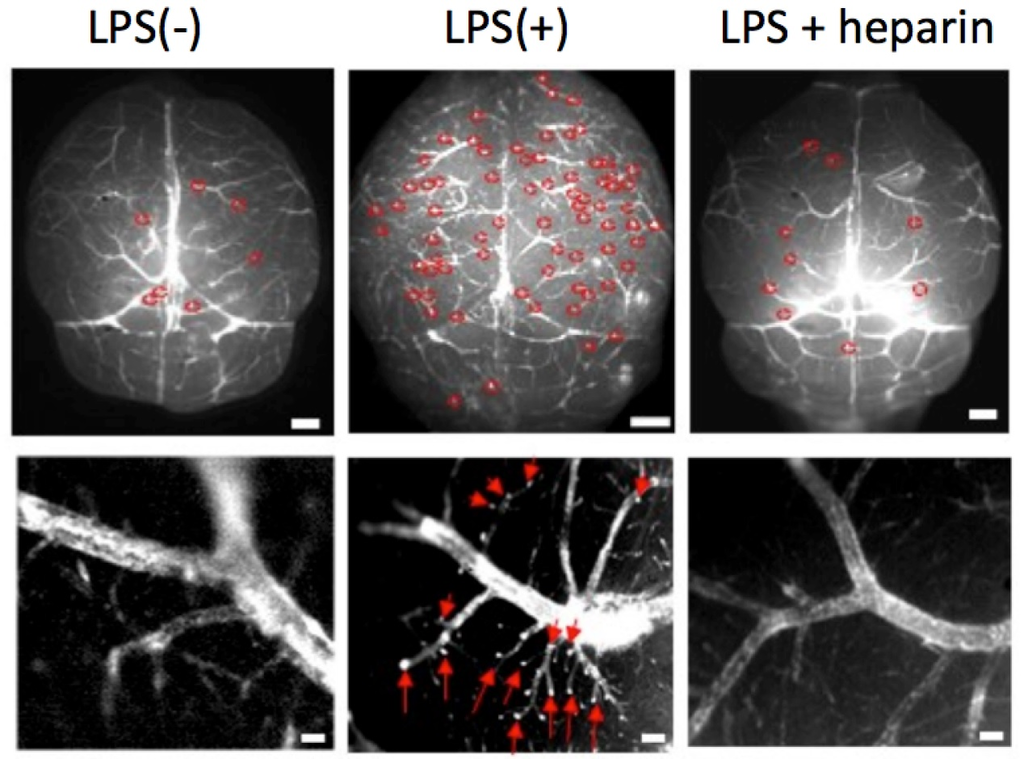 Graphical abstract
This is an open access article distributed under the
Creative Commons Attribution License
which permits unrestricted use, distribution, and reproduction in any medium, provided the original work is properly cited (CC BY 4.0).

Share & Cite This Article
MDPI and ACS Style
Imamura, Y.; Yamada, S.; Tsuboi, S.; Nakane, Y.; Tsukasaki, Y.; Komatsuzaki, A.; Jin, T. Near-Infrared Emitting PbS Quantum Dots for in Vivo Fluorescence Imaging of the Thrombotic State in Septic Mouse Brain. Molecules 2016, 21, 1080.
Note that from the first issue of 2016, MDPI journals use article numbers instead of page numbers. See further details here.
Related Articles
Comments
[Return to top]