Preparation of Hydrochlorothiazide Nanoparticles for Solubility Enhancement†
1
Nanotechnology Centre, VSB—Technical University of Ostrava, 17. listopadu 15/2172, 708 33 Ostrava, Czech Republic
2
Department of Chemical Drugs, Faculty of Pharmacy, University of Veterinary and Pharmaceutical Sciences, Palackeho 1/3, 612 42 Brno, Czech Republic
3
IT4 Innovations Centrum Excellence, VSB—Technical University of Ostrava, 17. listopadu 15/2172, 708 33 Ostrava, Czech Republic
4
Department of Chemical Theory of Drugs, Faculty of Pharmacy, Comenius University, Kalinciakova 8, 832 32 Bratislava, Slovakia
5
Regional Materials Science and Technology Centre, VSB—Technical University of Ostrava, 17. listopadu 15/2172, 708 33 Ostrava, Czech Republic
6
Department of Pharmaceutical Chemistry, Faculty of Pharmacy, Comenius University, Odbojarov 10, 832 32 Bratislava, Slovakia
†
Preliminary Results Were Presented at The Nineteenth Electronic Conference on Synthetic Organic Chemistry (ECSOC-19, http://sciforum.net/conference/80/paper/3080), 1–30 November 2015 (Paper b007).
*
Authors to whom correspondence should be addressed.
Academic Editors: Ecaterina Andronescu and Alexandru Mihai Grumezescu
Received: 1 June 2016 / Revised: 25 July 2016 / Accepted: 29 July 2016 / Published: 2 August 2016
Abstract
Nanoparticles can be considered as a useful tool for improving properties of poorly soluble active ingredients. Hydrochlorothiazide (Class IV of the Biopharmaceutical Classification System) was chosen as a model compound. Antisolvent precipitation-solvent evaporation and emulsion solvent evaporation methods were used for preparation of 18 samples containing hydrochlorothiazide nanoparticles. Water solutions of surfactants sodium dodecyl sulfate, Tween 80 and carboxymethyl dextran were used in mass concentrations of 1%, 3% and 5%. Acetone and dichloromethane were used as solvents of the model compound. The particle size of the prepared samples was measured by dynamic light scattering. The selected sample of hydrochlorothiazide nanoparticles stabilized with carboxymethyl dextran sodium salt with particle size 2.6 nm was characterized additionally by Fourier transform mid-infrared spectroscopy and scanning electron microscopy. It was found that the solubility of this sample was 6.5-fold higher than that of bulk hydrochlorothiazide.
View Full-Text
►

▼

Figures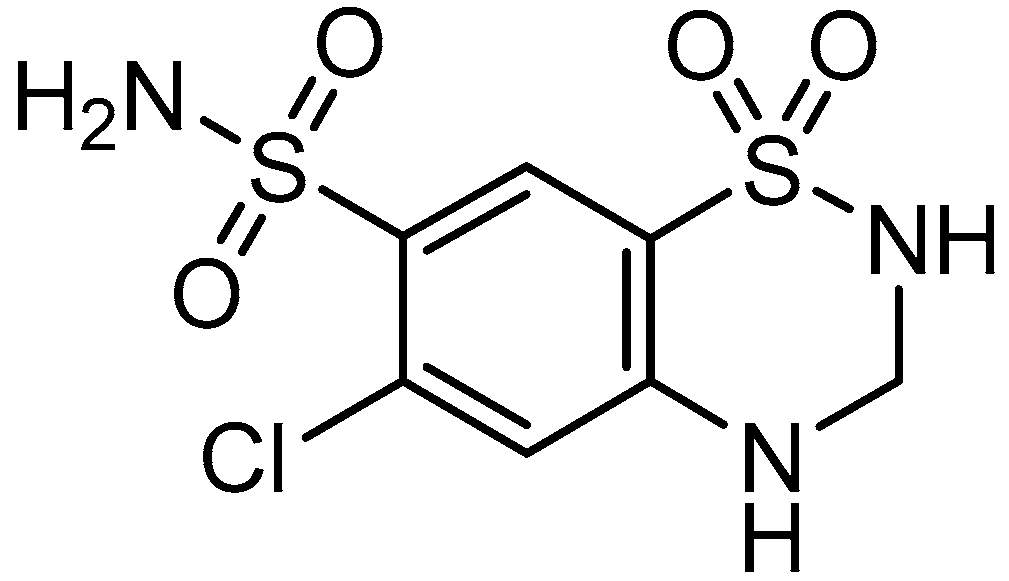 Figure 1
This is an open access article distributed under the
Creative Commons Attribution License
which permits unrestricted use, distribution, and reproduction in any medium, provided the original work is properly cited (CC BY 4.0).

Share & Cite This Article
MDPI and ACS Style
Vaculikova, E.; Cernikova, A.; Placha, D.; Pisarcik, M.; Peikertova, P.; Dedkova, K.; Devinsky, F.; Jampilek, J. Preparation of Hydrochlorothiazide Nanoparticles for Solubility Enhancement. Molecules 2016, 21, 1005.
Note that from the first issue of 2016, MDPI journals use article numbers instead of page numbers. See further details here.
Related Articles
Comments
[Return to top]