A New Method for the Isolation of Ergosterol and Peroxyergosterol as Active Compounds of
Hygrophoropsis aurantiaca

and in Vitro Antiproliferative Activity of Isolated Ergosterol Peroxide

1

Department of Pharmaceutical Botany, Medical University of Lublin, 1 Chodźki Str., 20-093 Lublin, Poland

2

Analytical Laboratory, Faculty of Chemistry, University of Maria Curie-Sklodowska, 3/27 M.C. Skłodowska Sq., 20-031 Lublin, Poland

3

Department of Medical Biology, Institute of Rural Health, 2 Jaczewskiego Str., 20-090 Lublin, Poland

4

Department of Phytochemistry, Institute of Pharmacology, Polish Academy of Sciences, 12 Smętna Str., 31-343 Kraków, Poland

5

Department of Virology and Immunology, Institute of Microbiology and Biotechnology, University of Maria Curie-Sklodowska, 19 Akademicka Str., 20-033 Lublin, Poland

*

Author to whom correspondence should be addressed.

Academic Editor: Derek J. McPhee

Received: 17 June 2016 / Revised: 7 July 2016 / Accepted: 16 July 2016 / Published: 21 July 2016
Abstract
In the present study, ergosterol peroxide and ergosterol were isolated for the first time from fresh fruit bodies of
Hygrophoropsis aurantiaca
(False Chanterelle). The substances were characterized mainly by spectroscopic methods (
1
H-NMR,
13
C-NMR, DEPT-45, DEPT-90, DEPT-135, 2D-NMR). In our study, a new specific thin layer chromatographic method was developed for determination of ergosterol and ergosterol peroxide in
H.
aurantiaca
extract. The method is based on the separation of
n
-hexane extract on silica gel (Silica Gel G) TLC plates using the optimized solvent system toluene/ethyl acetate (3:1;
v
/
v
). The main advantages of the developed method are the simplicity of operation and the low cost. The in vitro study results revealed the antiproliferative properties of ergosterol peroxide against LS180 human colon cancer cells. The described effect was attributed both to altered mitochondrial activity and decreased DNA synthesis. Additionally, in the same concentration range the investigated compound was not toxic to CCD 841 CoTr human colon epithelial cells. The present study suggests that fruit bodies of
H. aurantiaca
have great potential for producing substances and extracts with potential applications in medicine.
View Full-Text
►

▼

Figures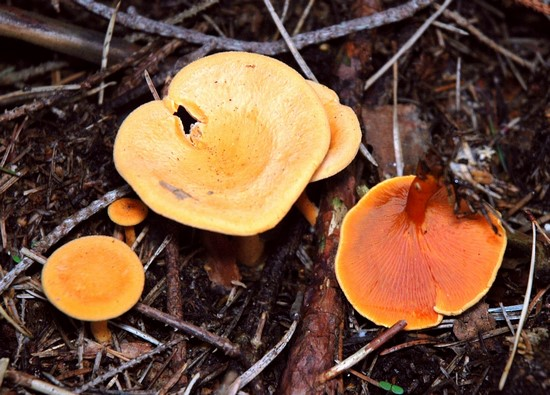 Graphical abstract
This is an open access article distributed under the
Creative Commons Attribution License
which permits unrestricted use, distribution, and reproduction in any medium, provided the original work is properly cited (CC BY 4.0).

Share & Cite This Article
MDPI and ACS Style
Nowak, R.; Drozd, M.; Mendyk, E.; Lemieszek, M.; Krakowiak, O.; Kisiel, W.; Rzeski, W.; Szewczyk, K. A New Method for the Isolation of Ergosterol and Peroxyergosterol as Active Compounds of Hygrophoropsis aurantiaca and in Vitro Antiproliferative Activity of Isolated Ergosterol Peroxide. Molecules 2016, 21, 946.
Note that from the first issue of 2016, MDPI journals use article numbers instead of page numbers. See further details here.
Related Articles
Comments
[Return to top]