Study of the Activity and Possible Mechanism of Action of a Reversible Inhibitor of Recombinant Human KAT-2: A Promising Lead in Neurodegenerative and Cognitive Disorders
1
Group in Biomolecular Structure and Informatics, Faculty of Pharmacy, University of Sydney, Sydney, NSW 2006, Australia
2
Faculty of Pharmacy, University of Sydney, Sydney, NSW 2006, Australia
*
Authors to whom correspondence should be addressed.
Academic Editor: Jean Jacques Vanden Eynde
Received: 12 May 2016 / Revised: 24 June 2016 / Accepted: 27 June 2016 / Published: 29 June 2016
Abstract
Abnormal levels of kynurenic acid (KYNA) in the human brain are believed to be connected to several central nervous system (CNS) diseases, therefore compounds which affect the production of this crucial metabolite are of interest in CNS drug development. The majority of KYNA production is accounted for by kynurenine aminotransferase-2 (KAT-2) in the mammalian brain; hence this enzyme is one of the most interesting targets with which to modulate KYNA levels. Recently developed human KAT-2 inhibitors with high potencies are known to irreversibly bind to the enzyme cofactor, pyridoxal-5′-phosphate (PLP), which may lead to severe side effects due to the abundance of PLP-dependent enzymes. In this study, we report a reversible and competitive inhibitor of KAT-2. Its inhibitory activities were examined using HPLC and surface plasmon resonance (SPR) and compare favorably with other recently reported KAT-2 inhibitors. Our inhibitor, NS-1502, demonstrates suitable inhibitory activity, almost 10 times more potent than the known reversible KAT-2, (
S
)-ESBA.
View Full-Text
►

▼

Figures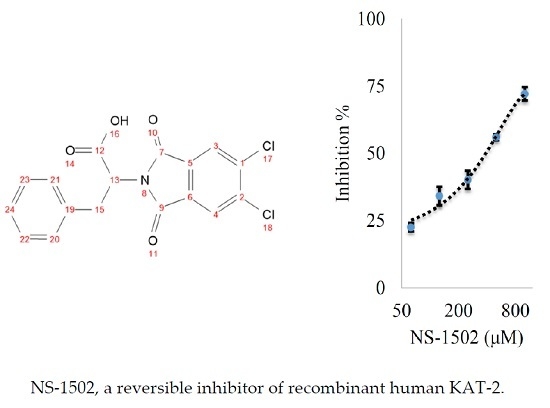 Graphical abstract
This is an open access article distributed under the
Creative Commons Attribution License
which permits unrestricted use, distribution, and reproduction in any medium, provided the original work is properly cited (CC BY 4.0).

Share & Cite This Article
MDPI and ACS Style
Nematollahi, A.; Sun, G.; Jayawickrama, G.S.; Hanrahan, J.R.; Church, W.B. Study of the Activity and Possible Mechanism of Action of a Reversible Inhibitor of Recombinant Human KAT-2: A Promising Lead in Neurodegenerative and Cognitive Disorders. Molecules 2016, 21, 856.
Note that from the first issue of 2016, MDPI journals use article numbers instead of page numbers. See further details here.
Related Articles
Comments
[Return to top]