The Fungicidal Activity of Thymol against
Fusarium graminearum

via Inducing Lipid Peroxidation and Disrupting Ergosterol Biosynthesis

1

Institute of Food Quality and Safety, Jiangsu Academy of Agricultural Sciences, 50 Zhongling Street, Nanjing 210014, China

2

Key Lab of Food Quality and Safety of Jiangsu Province-State Key Laboratory Breeding Base, Jiangsu Provincial Department of agriculture and Forestry, 50 Zhongling Street, Nanjing 210014, China

3

Key Laboratory of Control Technology and Standard for Agro-product Safety and Quality, Ministry of Agriculture, 50 Zhongling Street, Nanjing 210014, China

4

Central Laboratory, Jiangsu Academy of Agricultural Science, 50 Zhongling Street, Nanjing 210014, China

5

Department of Food Science, Henan Institute of Science and Technology, Xinxiang 453003, China

*

Authors to whom correspondence should be addressed.

Academic Editor: Derek J. McPhee

Received: 27 April 2016 / Revised: 6 June 2016 / Accepted: 7 June 2016 / Published: 18 June 2016
Abstract
Thymol is a natural plant-derived compound that has been widely used in pharmaceutical and food preservation applications. However, the antifungal mechanism for thymol against phytopathogens remains unclear. In this study, we identified the antifungal action of thymol against
Fusarium graminearum
, an economically important phytopathogen showing severe resistance to traditional chemical fungicides. The sensitivity of thymol on different
F. graminearum
isolates was screened. The hyphal growth, as well as conidial production and germination, were quantified under thymol treatment. Histochemical, microscopic, and biochemical approaches were applied to investigate thymol-induced cell membrane damage. The average EC
50
value of thymol for 59
F. graminearum
isolates was 26.3 μg·mL
−1
. Thymol strongly inhibited conidial production and hyphal growth. Thymol-induced cell membrane damage was indicated by propidium iodide (PI) staining, morphological observation, relative conductivity, and glycerol measurement. Thymol induced a significant increase in malondialdehyde (MDA) concentration and a remarkable decrease in ergosterol content. Taken together, thymol showed potential antifungal activity against
F. graminearum
due to the cell membrane damage originating from lipid peroxidation and the disturbance of ergosterol biosynthesis. These results not only shed new light on the antifungal mechanism of thymol, but also imply a promising alternative for the control of Fusarium head blight (FHB) disease caused by
F. graminearum
.
View Full-Text
►

▼

Figures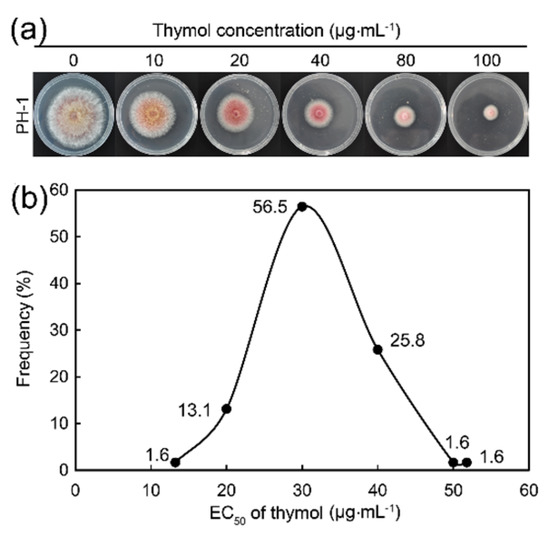 Figure 1
This is an open access article distributed under the
Creative Commons Attribution License
which permits unrestricted use, distribution, and reproduction in any medium, provided the original work is properly cited (CC BY 4.0).

Share & Cite This Article
MDPI and ACS Style
Gao, T.; Zhou, H.; Zhou, W.; Hu, L.; Chen, J.; Shi, Z. The Fungicidal Activity of Thymol against Fusarium graminearum via Inducing Lipid Peroxidation and Disrupting Ergosterol Biosynthesis. Molecules 2016, 21, 770.
Note that from the first issue of 2016, MDPI journals use article numbers instead of page numbers. See further details here.
Related Articles
Comments
[Return to top]