Aberrant Expression of Bacterial Pattern Recognition Receptor NOD2 of Basophils and Microbicidal Peptides in Atopic Dermatitis
1
Department of Chemical Pathology, Prince of Wales Hospital, The Chinese University of Hong Kong, Shatin, NT, Hong Kong, China
2
Institute of Chinese Medicine and State Key Laboratory of Phytochemistry and Plant Resources in West China, The Chinese University of Hong Kong, Hong Kong, China
3
Department of Pediatrics, Prince of Wales Hospital, The Chinese University of Hong Kong, Shatin, NT, Hong Kong, China
4
State Key Laboratory of Quality Research in Chinese Medicine, Macau University of Science and Technology, Macau, China
*
Author to whom correspondence should be addressed.
Academic Editor: Derek J. McPhee
Received: 7 March 2016 / Revised: 6 April 2016 / Accepted: 7 April 2016 / Published: 11 April 2016
Abstract
Atopic dermatitis (AD) is a chronically relapsing inflammatory skin disease, associated with basophil infiltration into skin lesions and
Staphylococcus aureus
(
S.
aureus
)-induced inflammation. Pattern recognition receptors (PRRs), including microbicidal peptide human neutrophil α-defensins (HNP) and dermcidin, can exert immunomodulating activity in innate immunity and skin inflammation. We investigated the plasma concentration of HNP and dermcidin, the expression of bacterial toll-like receptor (TLR) and nucleotide-binding oligomerization domain (NOD)-like receptors of basophils and plasma concentration and
ex vivo
induction of AD-related inflammatory cytokines and chemokines using ELISA and flow cytometry, in AD patients and control subjects. Plasma concentrations of HNP, dermcidin and AD-related Th2 chemokines CCL17, CCL22 and CCL27 were significantly elevated in AD patients compared with controls (all
p
< 0.05). Plasma concentrations of CCL27 and CCL22 were found to correlate positively with SCORing atopic dermatitis (SCORAD), objective SCORAD, % area affected, lichenification and disease intensity, and CCL27 also correlated positively with pruritus in AD patients (all
p
< 0.05). Protein expressions of NOD2 but not TLR2 of basophils were significantly down-regulated in AD patients compared with controls (
p
= 0.001). Correspondingly, there were lower
ex vivo
% inductions of allergic inflammatory tumor necrosis factor-α, IL-6 and CXCL8 from peripheral blood mononuclear cells upon NOD2 ligand
S. aureus
derived muramyl dipeptide stimulation in AD patients comparing with controls. The aberrant activation of bacterial PRRs of basophils and anti-bacterial innate immune response should be related with the allergic inflammation of AD.
View Full-Text
►

▼

Figures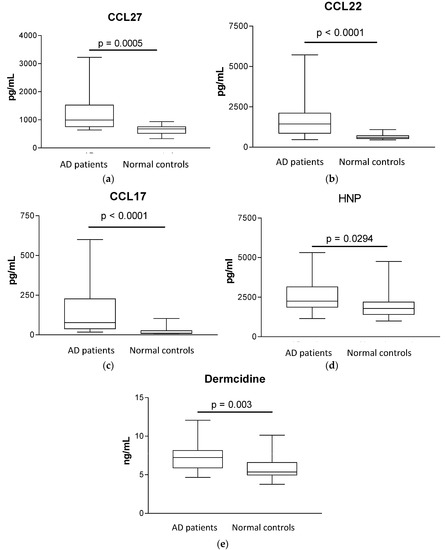 Figure 1
This is an open access article distributed under the
Creative Commons Attribution License
which permits unrestricted use, distribution, and reproduction in any medium, provided the original work is properly cited (CC BY 4.0).

Share & Cite This Article
MDPI and ACS Style
Wong, C.-K.; Chu, I.M.-T.; Hon, K.-L.; Tsang, M.S.-M.; Lam, C.W.-K. Aberrant Expression of Bacterial Pattern Recognition Receptor NOD2 of Basophils and Microbicidal Peptides in Atopic Dermatitis. Molecules 2016, 21, 471.
Note that from the first issue of 2016, MDPI journals use article numbers instead of page numbers. See further details here.
Related Articles
Comments
[Return to top]