Polyphenolic Profile and Targeted Bioactivity of Methanolic Extracts from Mediterranean Ethnomedicinal Plants on Human Cancer Cell Lines
1
Department of Biology, University of Naples "Federico II", Complesso di MS Angelo, 80126 Naples, Italy
2
Department of Chemical Sciences, University of Naples "Federico II", Complesso di MS Angelo, 80126 Naples, Italy
3
Consorzio Interuniversitario Sannio Tech, P.zza San G. Moscati 8, SS Appia km 256, 82030 Apollosa (BN), Italy
4
Department of Molecular Medicine and Medical Biotechnology, University of Naples "Federico II", 80131 Naples, Italy
5
Institute of Experimental Endocrinology and Oncology (IEOS), National Research Council (CNR), Via S. Pansini 5, 80131 Naples, Italy
*
Author to whom correspondence should be addressed.
Academic Editors: Luis Cisneros-Zevallos and Daniel Jacobo-Velazquez
Received: 30 November 2015 / Revised: 3 March 2016 / Accepted: 16 March 2016 / Published: 23 March 2016
Abstract
The methanol extracts of the aerial part of four ethnomedicinal plants of Mediterranean region, two non-seed vascular plants,
Equisetum hyemale
L. and
Phyllitis scolopendrium
(L.) Newman, and two Spermatophyta,
Juniperus communis
L. (
J. communis
) and
Cotinus coggygria
Scop. (
C. coggygria
), were screened against four human cells lines (A549, MCF7, TK6 and U937). Only the extracts of
J. communis
and
C. coggygria
showed marked cytotoxic effects, affecting both cell morphology and growth. A dose-dependent effect of these two extracts was also observed on the cell cycle distribution. Incubation of all the cell lines in a medium containing
J. communis
extract determined a remarkable accumulation of cells in the G2/M phase, whereas the
C. coggygria
extract induced a significant increase in the percentage of G1 cells. The novelty of our findings stands on the observation that the two extracts, consistently, elicited coherent effects on the cell cycle in four cell lines, independently from their phenotype, as two of them have epithelial origin and grow adherent and two are lymphoblastoid and grow in suspension. Even the expression profiles of several proteins regulating cell cycle progression and cell death were affected by both extracts. LC-MS investigation of methanol extract of
C
.
coggygria
led to the identification of twelve flavonoids (compounds 1–11, 19) and eight polyphenols derivatives (12–18, 20), while in
J
.
communis
extract, eight flavonoids (21–28), a α-ionone glycoside (29) and a lignin (30) were found. Although many of these compounds have interesting individual biological activities, their natural blends seem to exert specific effects on the proliferation of cell lines either growing adherent or in suspension, suggesting potential use in fighting cancer.
View Full-Text
►

▼

Figures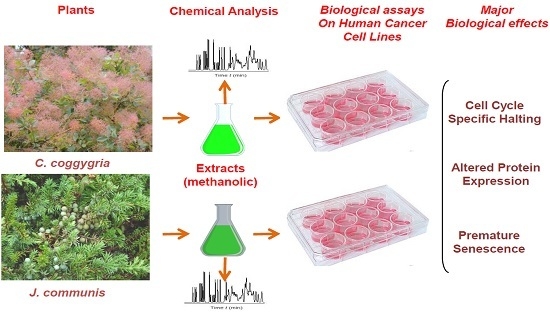 Graphical abstract
This is an open access article distributed under the
Creative Commons Attribution License
which permits unrestricted use, distribution, and reproduction in any medium, provided the original work is properly cited (CC BY 4.0).

Share & Cite This Article
MDPI and ACS Style
Pollio, A.; Zarrelli, A.; Romanucci, V.; Di Mauro, A.; Barra, F.; Pinto, G.; Crescenzi, E.; Roscetto, E.; Palumbo, G. Polyphenolic Profile and Targeted Bioactivity of Methanolic Extracts from Mediterranean Ethnomedicinal Plants on Human Cancer Cell Lines. Molecules 2016, 21, 395.
Note that from the first issue of 2016, MDPI journals use article numbers instead of page numbers. See further details here.
Related Articles
Comments
[Return to top]