Open Access This article is
freely available
re-usable
Article
A Peptoid-Based Fluorescent Sensor for Cyanide Detection
College of Pharmacy, Research Institute of Pharmaceutical Sciences, Seoul National University, 1 Gwanak-ro, Gwanak-gu, Seoul 151-742, Korea
*
Author to whom correspondence should be addressed.
Academic Editor: Scott Reed
Received: 22 January 2016 / Accepted: 7 March 2016 / Published: 10 March 2016
Abstract
:
Peptoids,
N
-substituted glycine oligomers, are versatile peptidomimetics with diverse biomedical applications. However, strategies to the development of novel fluorescent peptoids as chemical sensors have not been extensively explored, yet. Here, we synthesized a novel peptoid-based fluorescent probe in which a coumarin moiety was incorporated via copper(I)-catalyzed azide-alkyne cycloaddition reaction. Fluorescence of the newly generated coumarin-peptoid was dramatically quenched upon coordination of the Cu
2+
ion, and the resulting peptoid-Cu
2+
complex exhibited significant Turn-ON fluorescence following the addition of CN
−
. The rapid and reversible response, combined with cyanide selectivity of the synthesized peptoid, reflects a multistep photo-process and supports its utility as a new type of CN
−
sensor.
Keywords:
fluorescence; peptoid; cyanide sensor
Acknowledgments
This work was supported by National Research Foundation of Korea (NRF) grants funded by the Korean government (MSIP) (2009-0083533 and NRF-2015R1A2A2A01007646).
Author Contributions
B.L. performed the experiments and analyzed the data; J.L. designed the experiments, analyzed the data, and wrote the paper.
Conflicts of Interest
The authors declare no conflict of interest.
Sample Availability: Not avaiable.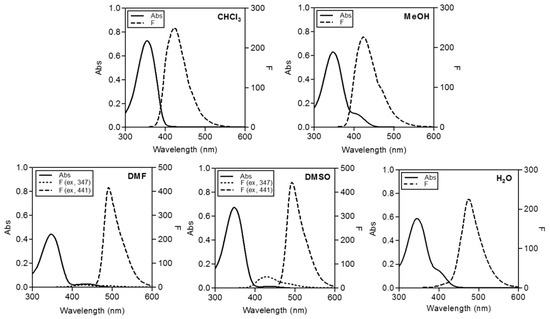 Figure 2. Spectroscopic features of CP3 (1 μM for fluorescence, 50 μM for absorbance) in various solvents.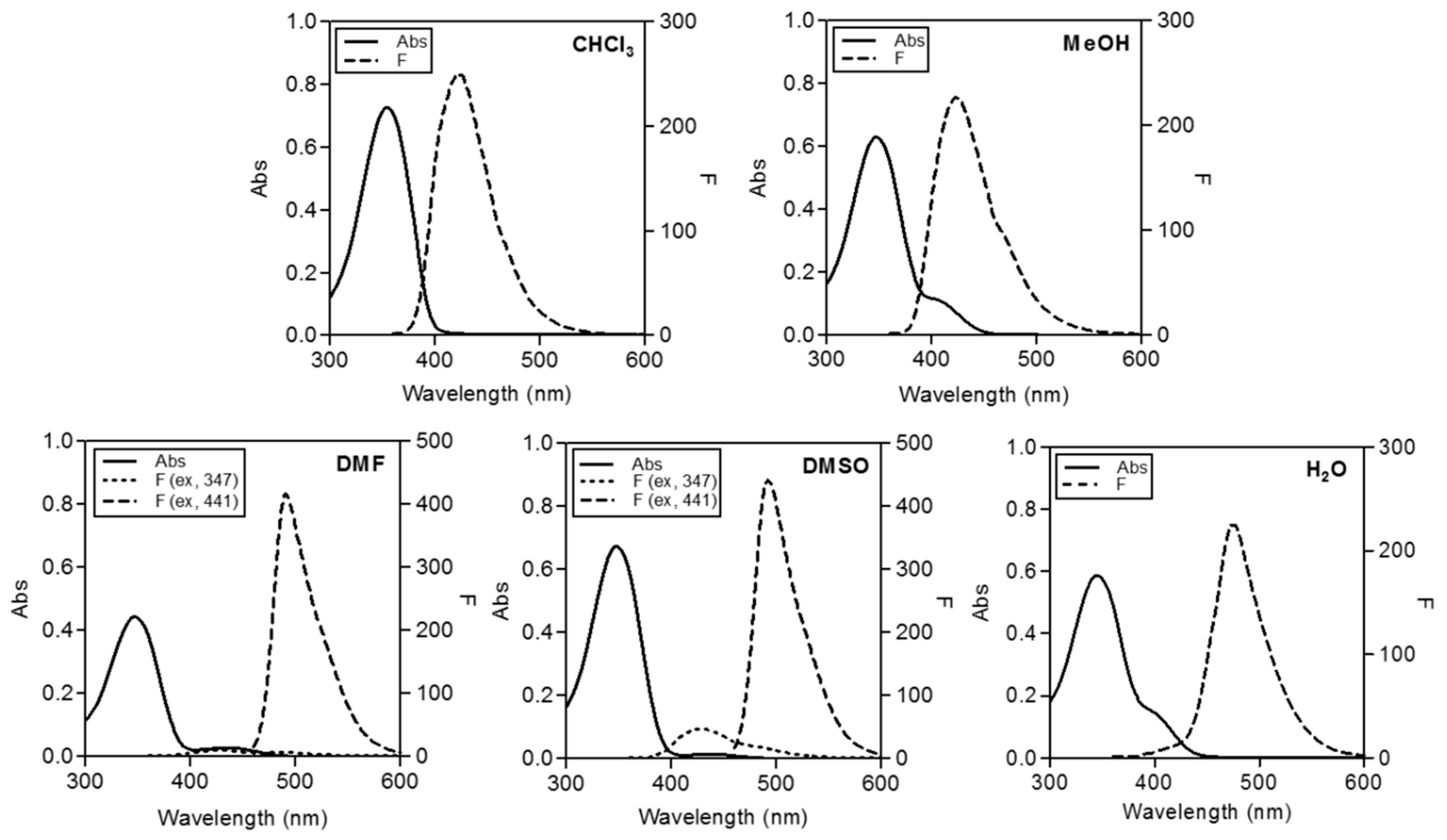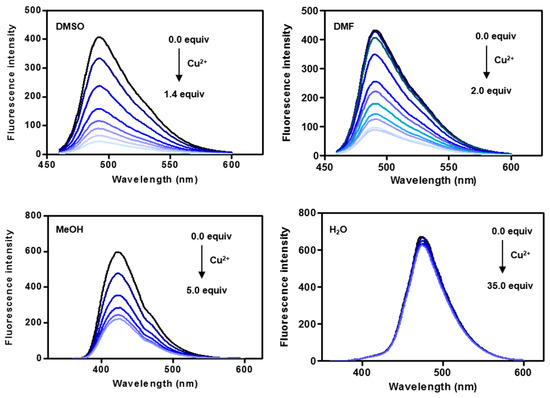 Figure 3. Changes in emission spectra upon addition of Cu2+. CP3 (1 μM) was titrated against increasing amounts of Cu2+ (0 to 35 µM) in various solvents with excitation at 441 nm for DMSO and DMF, 347 nm for MeOH and 344 nm for H2O, respectively.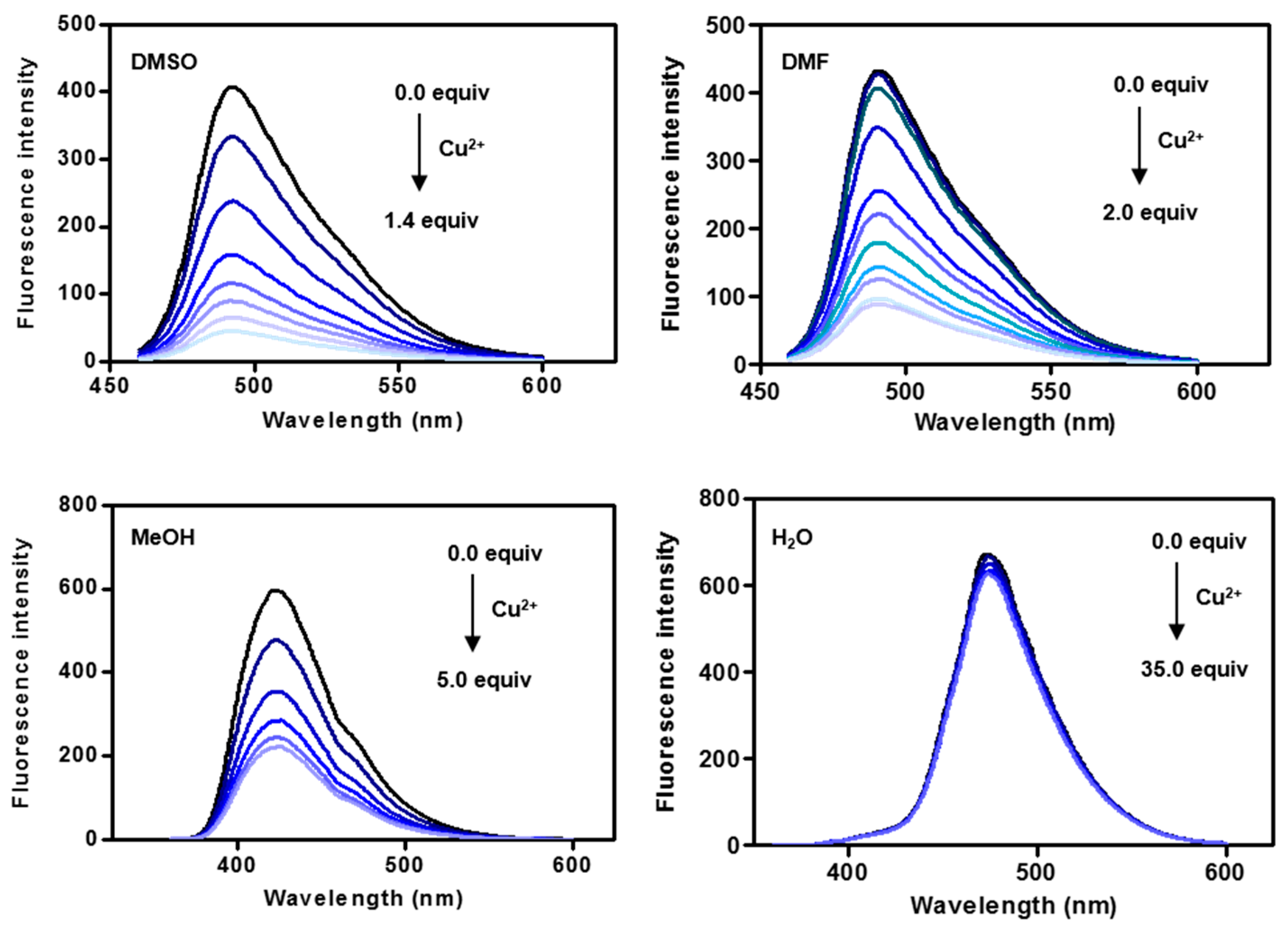 Figure 4. Spectroscopic features of CP3 in the presence of Cu2+. (a) Job plot data on emission changes upon addition of Cu2+ in DMF at 492 nm (λex = 441 nm). The X-axis represents the molar fraction of CP3 and the Y-axis represents relative fluorescence intensity at an invariant total concentration of 1 μM; (b) UV-Vis spectra of CP3 (50 μM) and CP3-Cu2+ (50 μM) in DMF and H2O.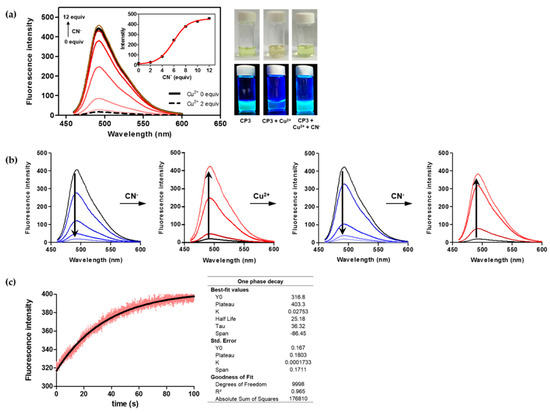 Figure 5. Fluorescence response of CP3-Cu2+ to CN−. (a) Emission increase upon addition of CN− (0 to 12 μM) to CP3-Cu2+ (1 μM) in DMSO (λex = 441 nm). Insert : changes in fluorescence intensity of the solution measured at 492 nm; (b) rapid and reversible ON/OFF switching property of CP3-Cu2+ (1 μM) with CN− (0 to 12 μM) in DMSO; and (c) measurement of the time course for the cyanide detection by CP3-Cu2+ (1 μM) as monitored by fluorescence increase in DMSO. The black line represents the fit of the data.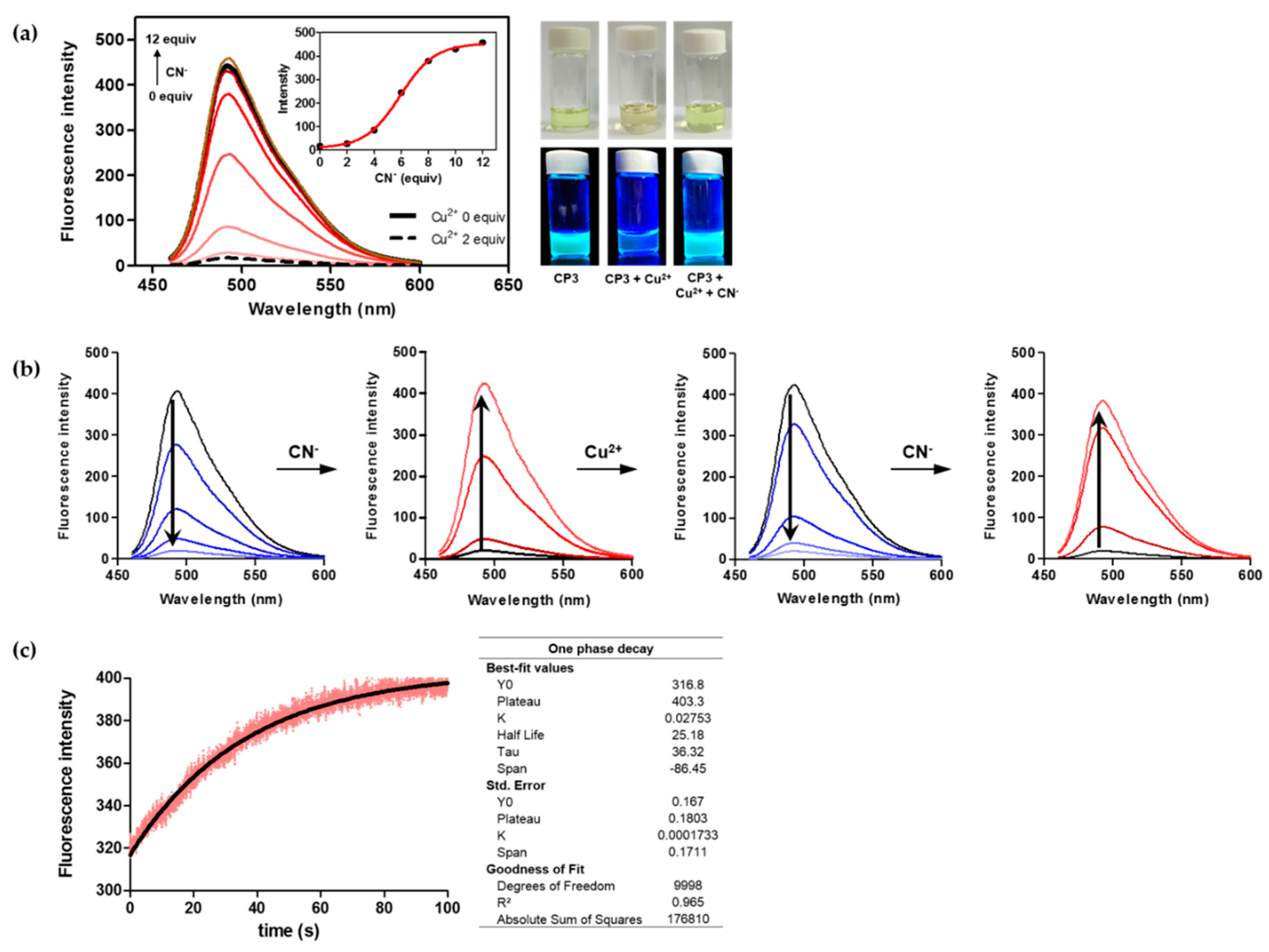 Figure 6. Selectivity of CP3-Cu2+ for cyanide among various anions examined in DMSO solution. Changes in emission spectra of CP3-Cu2+ (1 μM) in DMSO upon addition of 20 equiv. of various anions (CN−, HSO3−, HPO42−, N3−, SO42−, SCN−, S2O52−, NO3−, ClO4−, NO2−, F−, Cl−, Br−, I−) (λex = 441 nm).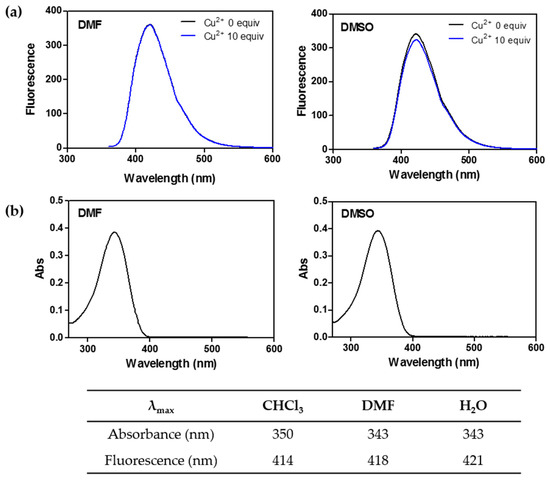 Figure 7. Spectroscopic features of 7-methoxy coumarin-peptoid (CP4) as a control. (a) fluorescence spectra of CP4 (1 μM) in response to the presence of Cu2+ (0 to 10 μM) in DMF and DMSO (λex = 343 nm, λem = 418 nm, slit widths = 3 nm for excitation and 5 nm for emission); (b) absorption spectra of CP4 (50 μM) in DMF and DMSO (λmax = 343 nm).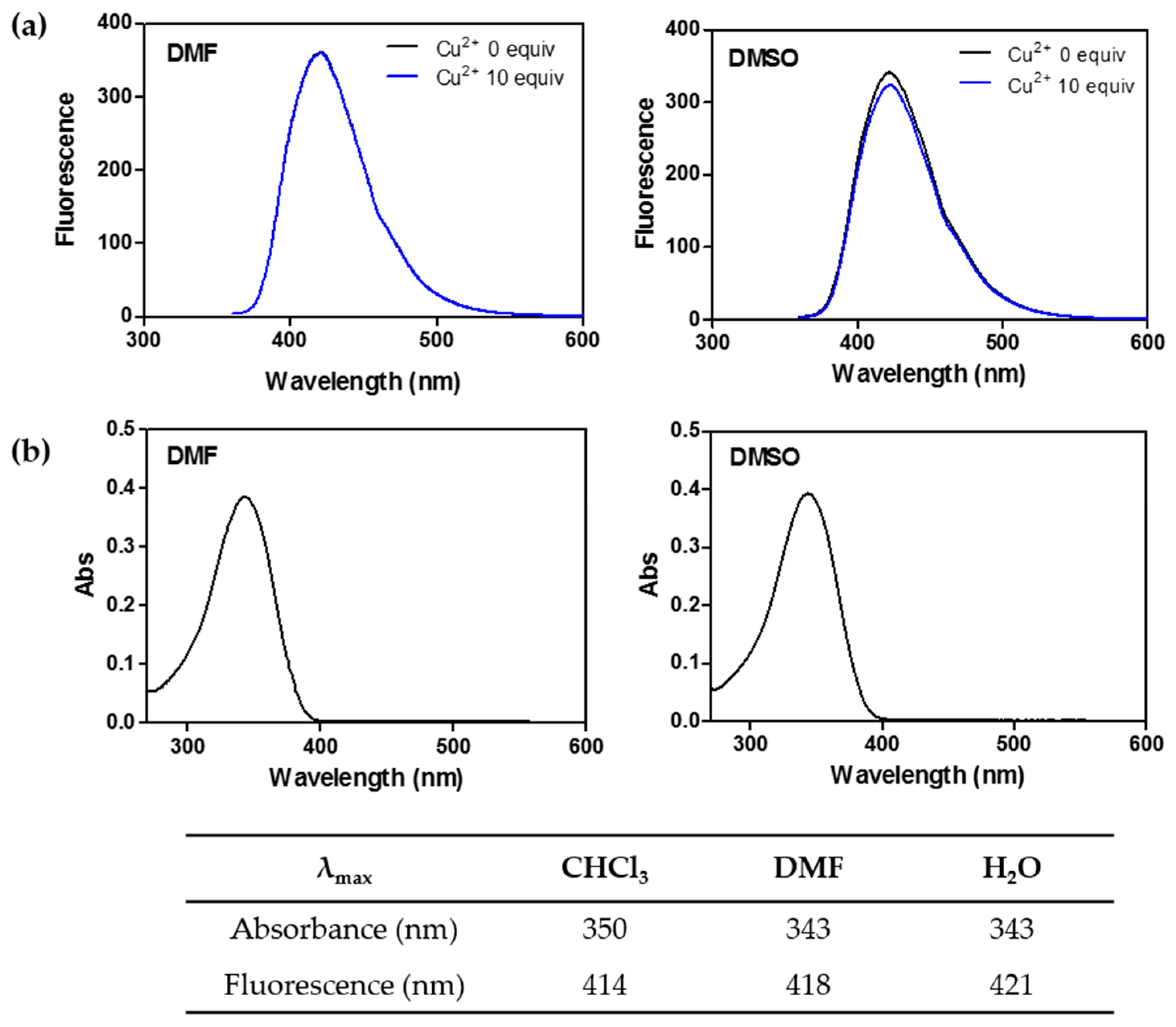 Table 1. Spectroscopic values of CP3.

| Wavelength | CHCl3 | MeOH | DMF | DMSO | H2O |
| --- | --- | --- | --- | --- | --- |
| λex (nm) | 357 | 347 | 347/441 | 347/441 | 344 |
| λem (nm) | 425 | 423 | 429/492 | 429/492 | 475 |
| Stokes shift (nm) | 68 | 76 | 82/51 | 82/51 | 131 |
© 2016 by the authors. Licensee MDPI, Basel, Switzerland. This article is an open access article distributed under the terms and conditions of the Creative Commons by Attribution (CC-BY) license ( http://creativecommons.org/licenses/by/4.0/).