Self-Assembled Modified Soy Protein/Dextran Nanogel Induced by Ultrasonication as a Delivery Vehicle for Riboflavin
1
School of Chemistry and Chemical Engineering, Lingnan Normal University, Zhanjiang 524048, China
2
Engineering Research Center of Starch and Vegetable Protein Processing, Ministry of Education, South China University of Technology, Guangzhou 510640, China
*
Author to whom correspondence should be addressed.
Academic Editor: Alexandru Mihai Grumezescu
Received: 31 December 2015 / Revised: 21 February 2016 / Accepted: 23 February 2016 / Published: 15 March 2016
Abstract
A simple and green approach was developed to produce a novel nanogel via self-assembly of modified soy protein and dextran, to efficiently deliver riboflavin. First, modified soy protein was prepared by heating denaturation at 60 °C for 30 min or Alcalase hydrolysis for 40 min. Second, modified soy protein was mixed with dextran and ultrasonicated for 70 min so as to assemble nanogels. The modified soy protein-dextran nanogels were characterized by Fourier-transform infrared spectroscopy (FTIR) and X-ray photoelectron spectroscopy (XPS) and ζ-potential studies to confirm the formation of NGs. Transmission electron microscopy (TEM) revealed the NGs to be spherical with core-shell structures, in the range of 32–40 nm size. The nanogels were stable against various environmental conditions. Furthermore, the particle size of the nanogels hardly changed with the incorporation of riboflavin. The encapsulation efficiency of nanogels was found to be up to 65.9% at a riboflavin concentration of 250 μg/mL. The nanogels exhibited a faster release in simulated intestine fluid (SIF) compared with simulated gastric fluid (SGF). From the results obtained it can be concluded that modified soy protein-dextran nanogels can be considered a promising carrier for drugs and other bioactive molecule delivery purposes.
View Full-Text
►

▼

Figures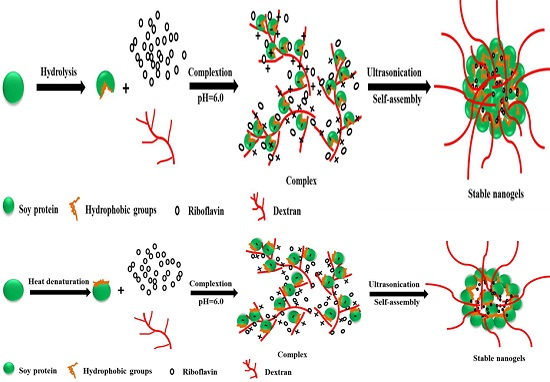 Graphical abstract
This is an open access article distributed under the
Creative Commons Attribution License
which permits unrestricted use, distribution, and reproduction in any medium, provided the original work is properly cited (CC BY 4.0).

Share & Cite This Article
MDPI and ACS Style
Jin, B.; Zhou, X.; Li, X.; Lin, W.; Chen, G.; Qiu, R. Self-Assembled Modified Soy Protein/Dextran Nanogel Induced by Ultrasonication as a Delivery Vehicle for Riboflavin. Molecules 2016, 21, 282.
Note that from the first issue of 2016, MDPI journals use article numbers instead of page numbers. See further details here.
Related Articles
Comments
[Return to top]