New 3-Cyano-2-Substituted Pyridines Induce Apoptosis in MCF 7 Breast Cancer Cells
1
Biomedical Science Program, Department of Health Sciences, College of Art and Sciences, Qatar University, Doha 2713, Qatar
2
Department of Pharmaceutical Chemistry, Faculty of Pharmacy, Alexandria University, Alexandria 21521, Egypt
3
Department of Analytical and Pharmaceutical Chemistry, Faculty of Pharmacy & Drug Manufacturing, Pharos University, Alexandria, 21311, Egypt
4
Biochemistry Department, Faculty of Science, Alexandria University, Alexandria 21521, Egypt
5
Department of Biochemistry and Molecular Biology, Howard University, College of Medicine, Washington, DC 20059, USA
*
Authors to whom correspondence should be addressed.
Academic Editor: Jean Jacques Vanden Eynde
Received: 3 January 2016 / Revised: 1 February 2016 / Accepted: 1 February 2016 / Published: 18 February 2016
Abstract
The synthesis of new 3-cyano-2-substituted pyridines bearing various pharmacophores and functionalities at position 2 is described. The synthesized compounds were evaluated for their
in vitro
anti-cancer activities on five cancer cell lines using 5-FU as reference compound. The results revealed that the benzohydrazide derivative 9a induced growth inhibition in human breast cancer cell line MCF-7 with an IC
50
value of 2 μM and it showed lower cytotoxicity on MCF-12a normal breast epithelial cells. Additionally, 9a induced apoptotic morphological changes and induced apoptosis in MCF-7 in a dose and time-dependent manner according to an enzyme linked immunosorbent apoptosis assay which is further confirmed by a TUNEL assay. Flow cytometric analysis indicated that 9a arrested MCF-7 cells in the G1 phase, which was further confirmed by increased expression of p21 and p27 and reduced expression of CDK2 and CDK4. Western blot data revealed significant upregulation of the expression of p53, Bax, caspase-3 and down-regulation of Bcl-2, Mdm-2 and Akt. Additionally, 9a increased the release of cytochrome c from mitochondria to cytoplasm which provokes the mitochondrial apoptotic pathway while it showed no significant change on the expression of the death receptor proteins procaspase-8, caspase-8 and FAS. Furthermore, 9a reduced the expression of phospho AKT and β-catenin in dose dependent manner while inhibiting the expression of migration-related genes such as matrix metalloproteinase (MMP)-9 and vascular endothelial growth factor (VEGF). Our findings suggest that compound 9a could be considered as a lead structure for further development of more potent apoptosis inducing agents with anti-metastatic activities.
View Full-Text
►

▼

Figures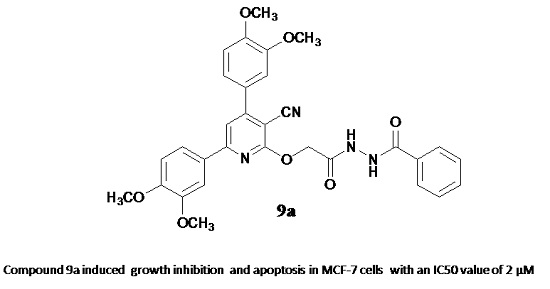 Graphical abstract
This is an open access article distributed under the
Creative Commons Attribution License
which permits unrestricted use, distribution, and reproduction in any medium, provided the original work is properly cited (CC BY 4.0).

Share & Cite This Article
MDPI and ACS Style
Malki, A.; Mohsen, M.; Aziz, H.; Rizk, O.; Shaban, O.; El-Sayed, M.; Sherif, Z.A.; Ashour, H. New 3-Cyano-2-Substituted Pyridines Induce Apoptosis in MCF 7 Breast Cancer Cells. Molecules 2016, 21, 230.
Note that from the first issue of 2016, MDPI journals use article numbers instead of page numbers. See further details here.
Related Articles
Comments
[Return to top]