Open Access This article is
freely available
re-usable
Review
Natural Products for the Prevention and Treatment of Hangover and Alcohol Use Disorder
1
Guangdong Provincial Key Laboratory of Food, Nutrition and Health, School of Public Health, Sun Yat-Sen University, Guangzhou 510080, China
2
School of Chinese Medicine, The University of Hong Kong, Hong Kong, China
*
Author to whom correspondence should be addressed.
Academic Editor: Derek J. McPhee
Received: 29 November 2015 / Accepted: 31 December 2015 / Published: 7 January 2016
Abstract
:
Alcoholic beverages such as beer, wine and spirits are widely consumed around the world. However, alcohol and its metabolite acetaldehyde are toxic and harmful to human beings. Chronic alcohol use disorder or occasional binge drinking can cause a wide range of health problems, such as hangover, liver damage and cancer. Some natural products such as traditional herbs, fruits, and vegetables might be potential dietary supplements or medicinal products for the prevention and treatment of the problems caused by excessive alcohol consumption. The aim of this review is to provide an overview of effective natural products for the prevention and treatment of hangover and alcohol use disorder, and special emphasis is paid to the possible functional component(s) and related mechanism(s) of action.
Keywords:
natural product; hangover; alcohol use disorder; hepatoprotection
2. Natural Products with Anti-Hangover Properties
Herbal therapies for hangover have been used for several centuries. Medicinal plants, fruits and vegetables are rich in antioxidants such as polyphenolic components, isoflavonids and vitamins, which could scavenge free radicals [
35
,
36
,
37
,
38
]. Previous rodent studies implicated oxidative stress as a key mediator of hangover syndrome, and demonstrated that various antioxidants could suppress the adverse events caused by alcohol exposure [
39
]. Several natural plants and products showed positive effects on alcohol metabolism in animal and human studies. They could upgrade the levels of ADH and ALDH in liver and decrease the concentration of alcohol in blood.
3. Natural Plants for Alcohol Use Disorder
Alcohol use disorder involves repeated alcohol use which leads to tolerance, alcohol withdrawal syndrome, physical and psychological dependence as well as compulsive and uncontrolled consumption of alcoholic beverages. The most important purpose of treating alcohol use disorder is centered on reducing alcohol withdrawal syndrome and improving alcohol drinking behaviors. Currently there is no effective therapeutic agent without side effects for alcohol use disorder. Several drugs are available to treating the alcohol use disorder, such as disulfiram (aldehyde dehydrogenase inhibitor), naltrexone (opioid antagonist), topiramate (GABAergic anticonvulsant) and acamprosate (NMDA/glutamate receptor modulator) [
97
,
98
,
99
]. They can reduce voluntary alcohol intake and alcohol cravings. However, compared with natural products, they have some serious side effects (such as ataxia, impaired attention and bad consciousness). Herbal remedies for alcohol use disorder have been in use in China for several centuries. Kudzu (
Pueraria lobata
), mentioned above, could be used for the treatment of alcohol use disorders, and puerarin isolated from kudzu could reduce the anxiogenic effects of alcohol withdrawal [
47
]. Dihydromyricetin, a flavonoid purified from
Hovenia dulcis
could be another therapeutic candidate for alcohol use disorder [
65
].
Hypericum perforatum
and
Salvia miltiorrhiza
could be potential natural products to treat alcohol use disorder and will be discussed below, while
Scutellaria baicalensis
is important in the treatment of liver disease.
3.1. Hypericum Perforatum
Hypericum perforatum
is usually called St. John's Wort. The extract of
Hypericum perforatum
(HPE) is widely used for the treatment of affective disorders [
100
]. It could reduce voluntary alcohol intake in Marchigian Sardinian alcohol-preferring (msP) rats and act synergistically with opioid receptor antagonists to further reduce alcohol consumption. The effect on alcohol intake of the combined treatment remained stable during the 12 days of chronic treatment. The food intake was slightly reduced, while no change on body weight, was observed compared with the control. The whole treatment was without development of tolerance [
101
]. HPE (50 and 100 mg/kg) produced positive inhibitory effects on tremor and audiogenic seizures during the withdrawal period in alcohol-preferring rats. These results suggest that HPE could have some beneficial effects on alcohol withdrawal syndrome in people [
102
].
Hypericum perforatum
exhibits remarkable antioxidant potential due to high content of phenolic compounds, especially flavonoids, hyperforin and hypericin [
103
]. Hyperforin has NMDA-receptor-antagonistic and potential neuroprotective effects
in vitro
which might provide therapeutic effectiveness in the relapse prevention of alcohol use disorders [
103
]. In addition, hyperforin could reduce alcohol intake more effectively than hypericin in alcohol-dependent mice [
104
]. The CO
2
extract of hypericum has been also shown to mediate alcohol intake in msP rats. Animal tests verified that the CO
2
extract with 24.33% hyperforin and a very low content of hypericin inhibited alcohol intake more potently than the alcoholic extract containing 0.3% hypericin and 3.8% hyperforin. Hyperforin might thus play an important role in reducing alcohol intake. Neurochemical mechanisms are responsible for the reduction of alcohol intake and the antidepressant-like effect of HPE [
105
].
Hypericum perforatum
markedly reduced alcohol intake in msP rats, and its effect was behaviorally selective. In other studies, the GABA
A
receptor antagonist bicuculline and the GABA
B
receptor antagonists CGP-36742 did not modify the effect of CO
2
extract of hypericum. These results indicated that the inhibitory effects of HPE on alcohol intake are not mediated by GABA agonist actions [
106
,
107
]. In conclusion,
Hypericum perforatum
might be effective to improving alcohol drinking behaviors, although more efforts are needed to clarify the specific mechanisms. The molecular structure of hypericin is shown in
Figure 2
.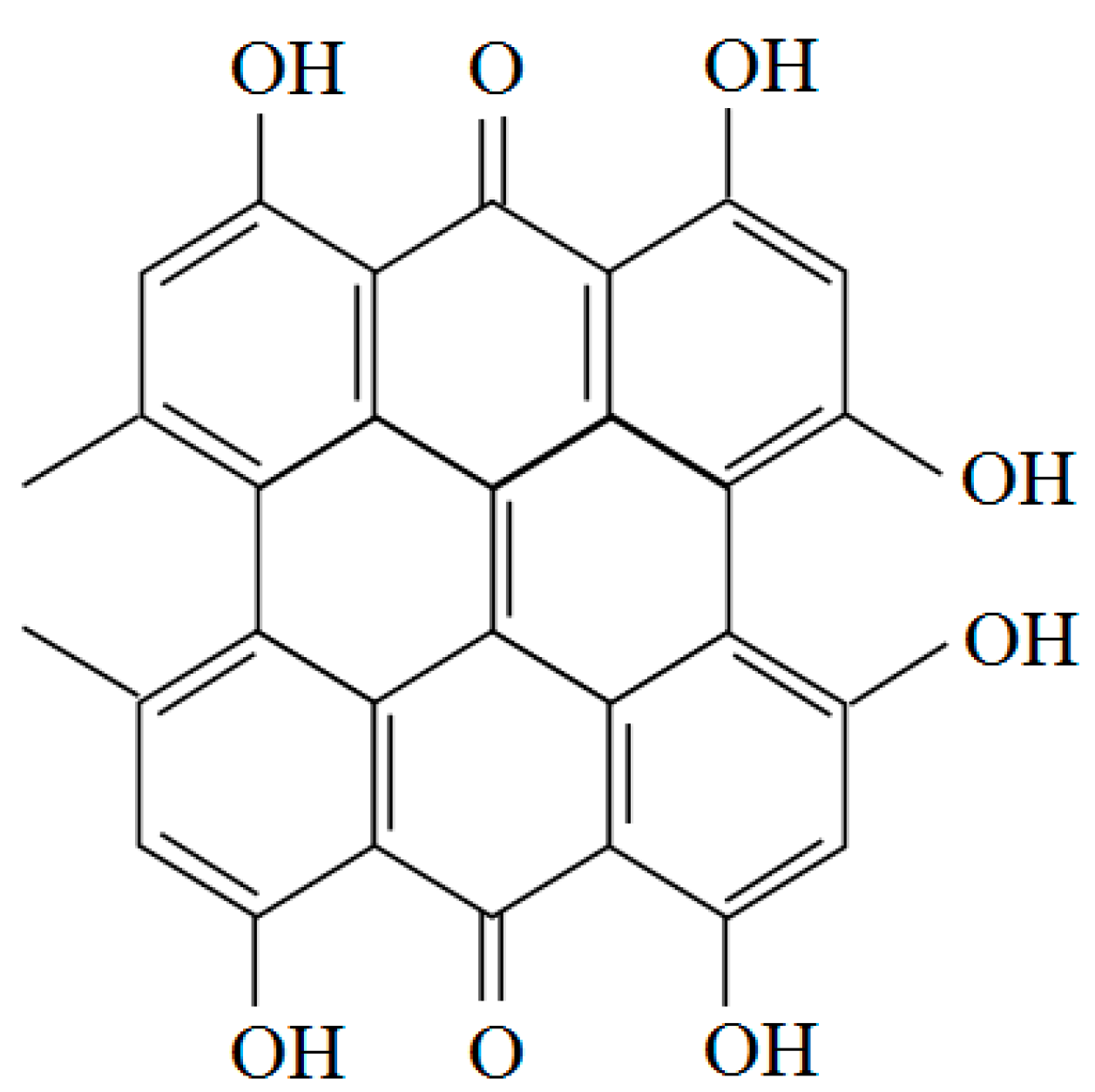 3.2. Salvia Miltiorrhiza
Danshen, the dried roots of
Salvia miltiorrhiza
, is a classical herb with over 1000 years of clinical application [
108
]. It has many biological and pharmaceutical activities such as antioxidant, anti-inflammatory and anti-apoptotic properties. The extracts of
Salvia miltiorrhiza
could reduce voluntary alcohol intake and maintenance of alcohol drinking behavior in Sardinian alcohol-preferring (sP) rats. Two types of major bioactive components in
Salvia miltiorrhiza
are associated with its activities, including water soluble phenolic acids and lipophilic diterpenoid quinines [
109
].
Extracts from the roots of
Salvia miltiorrhiza
could reduce alcohol intake in sP rats. Intragastric administration of 200 mg/kg extract reduced alcohol intake by 40% and preference throughout a 4 day treatment of a 2-bottle free-choice regimen. Intragastric administration reduced blood alcohol levels by 60%. A possible mechanism was that
Salvia miltiorrhiza
curbed alcohol absorption from the gastrointestinal tract [
110
]. Pure miltirone, one of the possible bioactive components of
Salvia miltiorrhiza
, reduced alcohol intake in alcohol-experienced rats and delayed intervals of acquisition of alcohol-drinking in alcohol-naive rats in 2-bottle "alcohol (10%,
v
/
v
)
versus
water" choice regimen. The alcohol levels in blood were markedly reduced while the severity of alcohol withdrawal syndrome in alcohol-dependent rats was not attenuated with the intervention of
Salvia miltiorrhiza
extracts [
111
]. IDN 5082, a standardized extract of
Salvia miltiorrhiza
, could delay the acquisition of alcohol drinking behavior in rats. The reduction in alcohol intake was compensated by an increase in water intake [
112
]. In addition, the IDN 5082 possessed the anti-relapse properties in alcohol preferring rats through complete suppressing of the extra amount of alcohol consumed during the first hour of re-access to alcohol after 7 days of deprivation [
113
]. Another study has demonstrated that proper vehicle such as polysorbate 80 to form micelles with the active ingredient(s) of the
Salvia miltiorrhiza
might contribute to reducing effect on alcohol intake in sP rats [
114
].
Salvianolic acid B (SalB) is an important bioactive component separated from the
Salvia miltiorrhiza
, which could attenuate acute alcohol-induced hepatocyte apoptosis in rats through SIRT1-mediated deacetylation of p53 pathway. Pretreatment with SalB significantly reduced alcohol-induced elevation in aminotransferase activities, decreased hepatotoxic cytokine levels such as interleukin-6 (IL-6), and increased the antioxidant enzyme activity. Moreover, SalB pretreatment inhibited the increase in NF-
κ
B, cleaved caspase-3 and decrease in B-cell lymphoma-extra large (Bc1-xL) caused by alcohol exposure, as well as notably increased the expression of SIRT1 and blocked Sa1B-induced acetylation of p53 down-regulation [
115
]. Several other compounds from
Salvia miltiorrhiza
, such as magnesium lithospermate B, cryptotanshinone, also could be potential effective for liver diseases caused by alcohol because they possessed anti-apoptosis and potential anti-inflammatory activities, and could be used for the treatment of NAFLD and liver cancers [
116
,
117
,
118
,
119
,
120
]. Therefore,
Salvia miltiorrhiza
might be a potential candidate for treating alcohol use disorder through reducing alcohol intake and preventing relapse, and protecting from alcohol induced liver damages through its anti-inflammatory activities. The structures of miltirone, salvianolic acid B and cryptotanshinone are shown in
Figure 3
.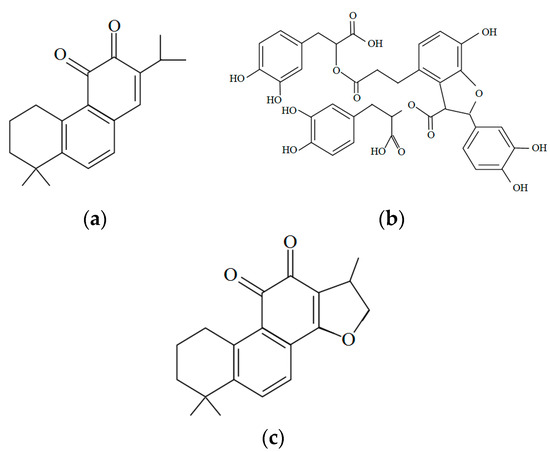 Figure 3.
Structures of several bioactive components in
Salvia miltiorrhiza
: (
a
) Miltirone; (
b
) Salvianolic acid B; (
c
) Cryptotanshinone.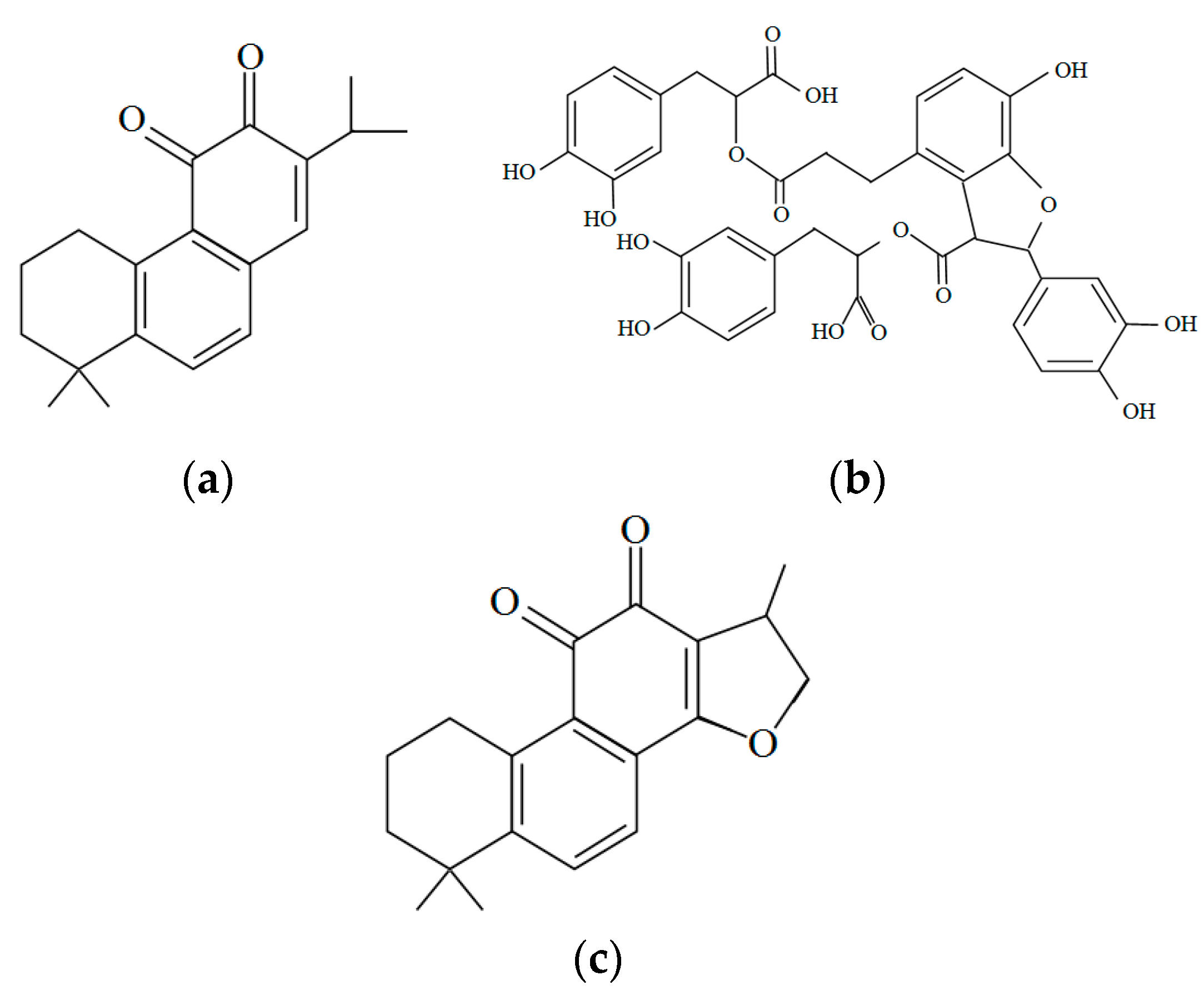 3.3. Scutellaria Baicalensis
Scutellariae Radix
, the root of
Scutellaria baicalensis
, is a Chinese herb widely used for the treatment of liver disease and cancer, as well as improving immune capacity [
121
]. Long-term liver damage and the wound-healing process resulted in liver fibrosis, in which the hepatic stellate cell (HSC) played a key role during fibrogenesis. The extract of
Scutellaria baicalensis
could prevent hepatic fibrosis by promoting ERK-p53 pathways, which may in turn cause G
2
/M cell cycle arrest and activate the Caspase system, finally resulting in apoptosis of HSC-T6 cells [
122
]. As a result,
Scutellaria baicalensis
might be beneficial for the amelioration of liver fibrosis.
The main bioactive components of
Scutellaria baicalensis
are baicalein, baicalin and wogonin. Wogonin showed anti-inflammatory activity [
123
]. Baicalein possessed anti-hepatocellular carcinoma activity
in vitro
and
in vivo
. Baicalein at the concentrations of 40–120 μM exerted cytotoxicity to three hepatocellular carcinoma cell lines but with little cytotoxicity to a normal liver cell line
in vitro
[
124
]. In addition, baicalin has potential beneficial effects on ischemia/reperfusion (I/R) injury in alcoholic fatty liver. I/R-induced hepatocellular damage was attenuated by inhibiting TLR4-mediated inflammatory [
125
]. Moreover, baicalin had been found to prevent liver injury in several animal hepatitis models. Wan
et al.
[
126
] have proved that baicalin could effectively prevent LPS/D-GalN-induced liver injury in mice by suppressing NF-
κ
B activity, reducing TNF-α production. The underlying mechanism may be related to up-regulation of HO-1 protein activity. The structures of baicalein and baicalin are shown in
Figure 4
.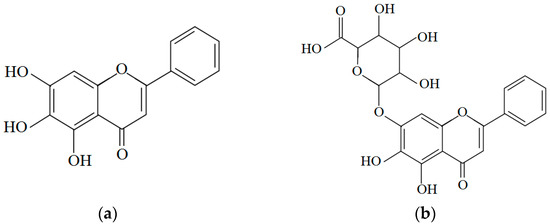 Figure 4.
Structures of two bioactive components in
Scutellaria baicalensis
: (
a
) Baicalein; (
b
) Baicalin.
3.4. Rhizoma Coptidis
Rhizoma coptidis
has a long history of clinic use in traditional Chinese medicine. It is effective in the treatment of gastrointestinal dysfunctions, including diarrhea, dysentery, and inflammation. Berberine is an isoquinoline alkaloid that is regarded as the major active constituent of
Rhizoma coptidis
. It has property of modulating several neurotransmitter systems, especially in alcohol use disorder. In an alcohol withdrawal-induced hyperexcitability paradigm of mice, acute and chronic administration of berberine (10 and 20 mg/kg) dose-dependently attenuated alcohol withdrawal-induced hyperexcitability signs, the effects were identical to diazepam (1.25 and 2.5 mg/kg). The major mechanism might be through its neuromodulatory action [
127
]. In addition, berberine attenuated alcohol-induced rewarding effects in mice through reducing locomotor stimulant effect and expression of sensitization to locomotor stimulant effect of acute alchol, reduced the induction and expression of alcohol-induced conditioned place preference as well as reducing preference to alcohol drinking over water [
128
]. Moreover, berberine had a positive effect on gastrointestinal injury induced by overconsumption of alcohol
in vivo
and
in vitro
. The results showed that berberine inhibited increases of alcohol-induced TNFα and IL-1β expression in gastrointestinal mucosa as well as upstream signals TLR2 and TLR4, and regulated cytokines [
129
]. Therefore,
Rhizoma coptidis
might reduce alcohol intake through its neuromodulatory action.
3.5. Other Natural Products for Alcohol Use Disorder
4. Conclusions
Overconsumption of alcoholic beverages is a well-recognized contributor to a variety of health problems, and may cause function disorders of major organs such as liver, brain, heart, lung and prostate. Several natural products have shown effective protection against alcohol-induced injuries and significant attenuation of hangover symptoms in several animal models and limited human tests The alcohol levels in blood were reduced, the hangover symptoms scores were lowered and the biochemical marks of liver injury were restored with natural plant treatments, and the mechanisms of action are mainly antioxidative and anti-inflammation. In addition, several natural products could be effective in reducing the voluntary alcohol intake, improving alcohol drinking behaviors and attenuating withdrawal syndromes of alcohol use disorder. Natural products have shown wide prospects for the prevention and treatment of hangover and alcohol use disorder. In the future, more bioactive compounds in plants (especially medicinal plants, fruits and vegetables) should be separated and identified, and the mechanisms of action should be studied further.
Acknowledgments
This work was supported by the National Natural Science Foundation of China (No. 81372976), Key Project of Guangdong Provincial Science and Technology Program (No. 2014B020205002), and the Hundred-Talents Scheme of Sun Yat-Sen University.
Author Contributions
F.W. and H.B.L. conceived and designed the review. F.W., Y.L., Y.-J.Z. and Y.Z. wrote the review. S.L. and H.B.L. revised the review. All authors discussed and approved the final version.
Conflicts of Interest
The authors declare no conflict of interest.
© 2016 by the authors. Licensee MDPI, Basel, Switzerland. This article is an open access article distributed under the terms and conditions of the Creative Commons by Attribution (CC-BY) license ( http://creativecommons.org/licenses/by/4.0/).