Design, Synthesis and Evaluation of Novel Phthalimide Derivatives as
in Vitro

Anti-Microbial, Anti-Oxidant and Anti-Inflammatory Agents

1

Department of Pharmaceutical Organic Chemistry, Faculty of Pharmacy, Beni Suef University, Beni Suef 62514, Egypt

2

Department of Microbiology & Immunology, Faculty of Pharmacy, Beni Suef University, Beni Suef 62514, Egypt

3

Laboratory of Growth Regulators & Department of Chemical Biology and Genetics, Centre of the Region Haná for Biotechnological and Agricultural Research, Institute of Experimental Botany ASCR & Palacký University, Šlechtitelů 27, 783 71 Olomouc, The Czech Republic

*

Author to whom correspondence should be addressed.

Academic Editor: Roman Dembinski

Received: 26 June 2015 / Revised: 18 August 2015 / Accepted: 20 August 2015 / Published: 14 September 2015
Abstract
Sixteen new phthalimide derivatives were synthesized and evaluated for their
in vitro
anti-microbial, anti-oxidant and anti-inflammatory activities. The cytotoxicity for all synthesized compounds was also determined in cancer cell lines and in normal human cells. None of the target derivatives had any cytotoxic activity. (
ZE
)
-
2-[4-(1-Hydrazono-ethyl) phenyl]isoindoline-1,3-dione (
12
) showed remarkable anti-microbial activity. Its activity against
Bacillus subtilis
was 133%, 106% and 88.8% when compared with the standard antibiotics ampicillin, cefotaxime and gentamicin, respectively. Compound
12
also showed its highest activities in Gram negative bacteria against
Pseudomonas aeruginosa
where the percentage activities were 75% and 57.6% when compared sequentially with the standard antibiotics cefotaxime and gentamicin. It was also found that the compounds 2-[4-(4-ethyl-3-methyl-5-thioxo-1,2,4-triazolidin-3-yl)phenyl]isoindoline-1,3-dione (
13b
) and 2-[4-(3-methyl-5-thioxo-4-phenyl-1,2,4-triazolidin-3-yl)phenyl]isoindoline-1,3-dione
(
13c
) had anti-oxidant activity. 4-(
N'
-{1-[4-(1,3-Dioxo-1,3-dihydro-isoindol-2-yl)-phenyl]-ethylidene}-hydrazino)-benzenesulfonamide (
17c
) showed the highest
in vitro
anti-inflammatory activity of the tested compounds (a decrease of 32%). To determine the mechanism of the anti-inflammatory activity of
17c
, a docking study was carried out on the COX-2 enzyme. The results confirmed that
17c
had a higher binding energy score (−17.89 kcal/mol) than that of the ligand celecoxib (−17.27 kcal/mol).
View Full-Text
►

▼

Figures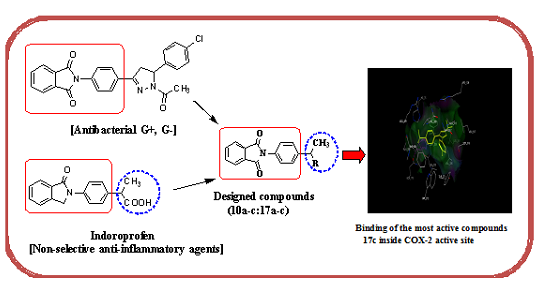 Graphical abstract
This is an open access article distributed under the
Creative Commons Attribution License
which permits unrestricted use, distribution, and reproduction in any medium, provided the original work is properly cited (CC BY 4.0).

Share & Cite This Article
MDPI and ACS Style
Lamie, P.F.; Philoppes, J.N.; El-Gendy, A.O.; Rarova, L.; Gruz, J. Design, Synthesis and Evaluation of Novel Phthalimide Derivatives as in Vitro Anti-Microbial, Anti-Oxidant and Anti-Inflammatory Agents. Molecules 2015, 20, 16620-16642.
Related Articles
Comments
[Return to top]