Fluorination Effects on NOS Inhibitory Activity of Pyrazoles Related to Curcumin
1
Departamento de Química Orgánica y Bio-Orgánica, Facultad de Ciencias, Universidad Nacional de Educación a Distancia, Paseo Senda del Rey, 9, Madrid 28040, Spain
2
Departamento de Química Inorgánica I and CAI de Difracción de Rayos-X, Facultad de Ciencias Químicas, Universidad Complutense de Madrid (UCM), Madrid 28040, Spain
3
Instituto de Química Médica, Centro de Química Orgánica "Manuel Lora-Tamayo", CSIC, Juan de la Cierva, 3, Madrid 28006, Spain
4
Centro de Investigación Biomédica, Parque Tecnológico de Ciencias de la Salud, Universidad de Granada, Avda. del Conocimiento s/n, Armilla, 18100 Granada, Spain
*
Authors to whom correspondence should be addressed.
Academic Editor: Wim Dehaen
Received: 6 July 2015 / Revised: 15 August 2015 / Accepted: 17 August 2015 / Published: 28 August 2015
Abstract
A series of new (
E
)-3(5)-[β-(aryl)-ethenyl]-5(3)-phenyl-1
H
-pyrazoles bearing fluorine atoms at different positions of the aryl group have been synthesized starting from the corresponding β-diketones. All compounds have been characterized by elemental analysis, DSC as well as NMR (
1
H,
13
C,
19
F and
15
N) spectroscopy in solution and in solid state. Three structures have been solved by X-ray diffraction analysis, confirming the tautomeric forms detected by solid state NMR. The
in vitro
study of their inhibitory potency and selectivity on the activity of nNOS and eNOS (calcium-calmodulin dependent) as well as iNOS (calcium-calmodulin independent) isoenzymes is presented. A qualitative structure–activity analysis allowed the establishment of a correlation between the presence/ absence of different substituents with the inhibition data proving that fluorine groups enhance the biological activity. (
E
)-3(5)-[β-(3-Fluoro-4-hydroxyphenyl)-ethenyl]-5(3)-phenyl-1
H
-pyrazole (
13
), is the best inhibitor of iNOS, being also more selective towards the other two isoforms.
View Full-Text
►

▼

Figures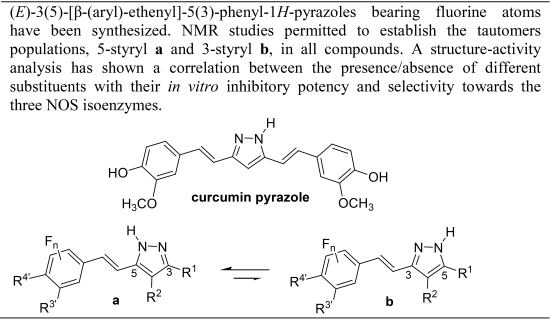 Graphical abstract
This is an open access article distributed under the
Creative Commons Attribution License
which permits unrestricted use, distribution, and reproduction in any medium, provided the original work is properly cited (CC BY 4.0).

Share & Cite This Article
MDPI and ACS Style
Nieto, C.I.; Cabildo, M.P.; Cornago, M.P.; Sanz, D.; Claramunt, R.M.; Torralba, M.C.; Torres, M.R.; Elguero, J.; García, J.A.; López, A.; Acuña-Castroviejo, D. Fluorination Effects on NOS Inhibitory Activity of Pyrazoles Related to Curcumin. Molecules 2015, 20, 15643-15665.
Related Articles
Comments
[Return to top]