Identification and Antioxidant Properties of Phenolic Compounds during Production of Bread from Purple Wheat Grains
1
Department of Food Science, University of Manitoba, Winnipeg, MB R3T 2N2, Canada
2
Richardson Centre for Functional Foods & Nutraceuticals, University of Manitoba, Smartpark, Winnipeg, MB R3T 2N2, Canada
*
Author to whom correspondence should be addressed.
Academic Editors: Luis Cisneros-Zevallos and Daniel Jacobo-Velazquez
Received: 3 July 2015 / Revised: 10 August 2015 / Accepted: 14 August 2015 / Published: 26 August 2015
Abstract
Phenolic profiles and antioxidant properties of purple wheat varieties were investigated to document the effects of bread-making. Bread crust and crumb along with samples collected after mixing, 30 min fermenting, 65 min fermenting, and baking were examined. Free phenolic content (105.4 to 113.2 mg FAE/100 g) significantly (
p
< 0.05) increased during mixing, fermenting, and baking (65% to 68%). Bound phenolics slightly (
p
> 0.05) decreased after 30 min fermentation (7% to 9%) compared to the dough after mixing, but increased significantly (
p
<
0.05) during 65 min fermenting and baking (16% to 27%). Their antioxidant activities followed a similar trend as observed for total phenolic content. The bread crust demonstrated increased free (103% to 109%) but decreased bound (2% to 3%) phenolic content, whereas bread crumb exhibited a reversal of these results. Total anthocyanin content (TAC) significantly (
p
<
0.05) decreased by 21% after mixing; however, it gradually increased to 90% of the original levels after fermenting. Baking significantly (
p
<
0.05) decreased TAC by 55%, resulting in the lowest value for bread crust (0.8 to 4.4 mg cyn-3-glu equiv./100 g).
p-
Hydroxybenzoic, vanillic,
p-
coumaric, and ferulic acids were detected in free-phenolic extracts, while protocatechuic, caffeic syringic, and sinapic were additional acids in bound-phenolic extracts. Cyanidin-3-glucoside was the detectable anthocyanin in purple wheat. Bread-making significantly (
p
<
0.05) increased the phenolic content and antioxidant activities; however, it compromised the anthocyanin content of purple wheat bread.
View Full-Text
►

▼

Figures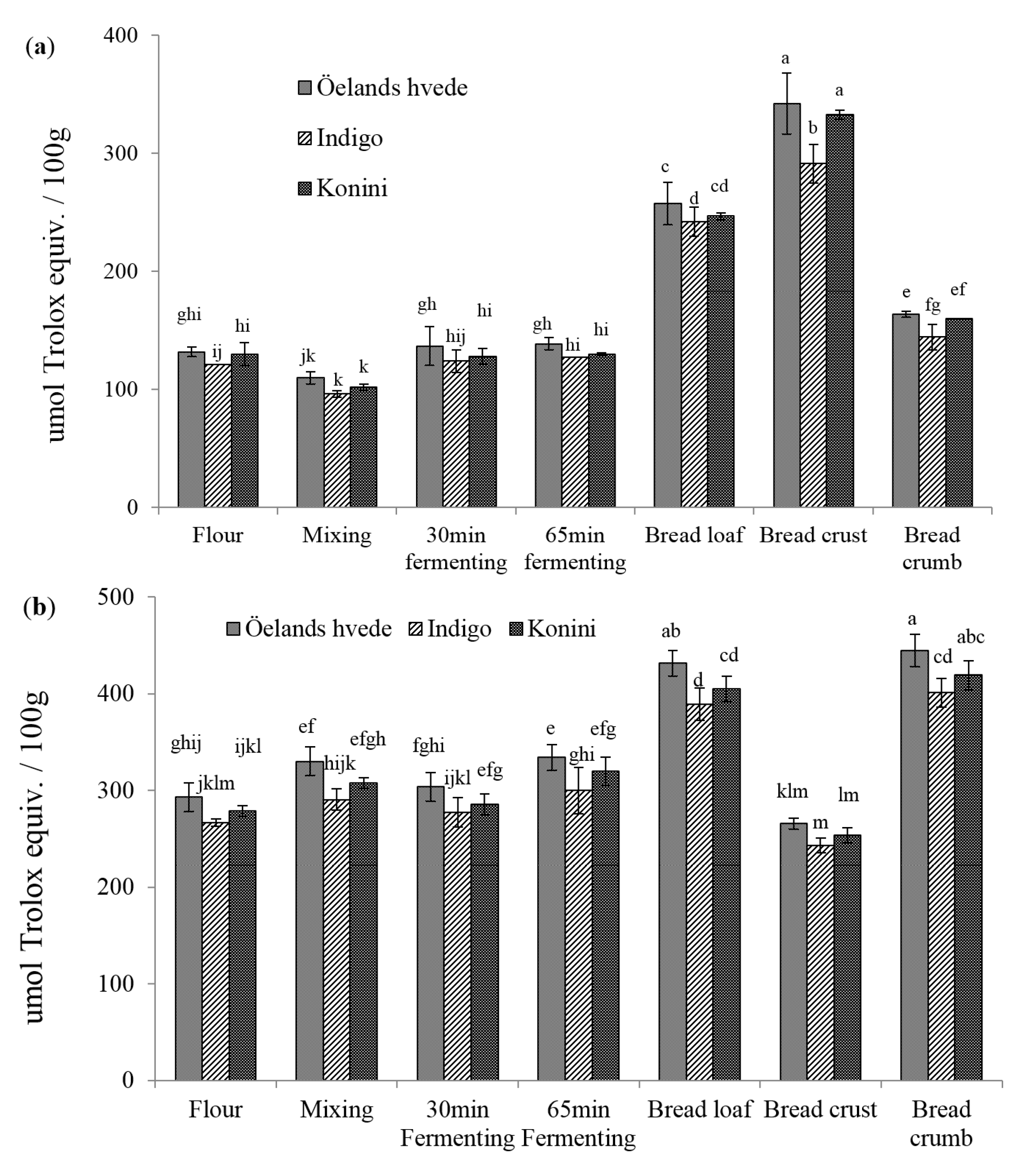 Figure 1
This is an open access article distributed under the
Creative Commons Attribution License
which permits unrestricted use, distribution, and reproduction in any medium, provided the original work is properly cited (CC BY 4.0).

Share & Cite This Article
MDPI and ACS Style
Yu, L.; Beta, T. Identification and Antioxidant Properties of Phenolic Compounds during Production of Bread from Purple Wheat Grains. Molecules 2015, 20, 15525-15549.
Related Articles
Comments
[Return to top]