Imaging the Ultrafast Photoelectron Transfer Process in Alizarin-TiO2
1
Dirección de Postgrado e Investigación, Universidad Autónoma de Chile, Llano Subercaceaux 2801, San Miguel, Santiago, Chile
2
Institut für Chemie und Biochemie, Freie Universität Berlin, Takustraße 3, 14195 Berlin, Germany
*
Authors to whom correspondence should be addressed.
Academic Editor: Sergei Manzhos
Received: 15 May 2015 / Revised: 9 July 2015 / Accepted: 20 July 2015 / Published: 30 July 2015
Abstract
In this work, we adopt a quantum mechanical approach based on time-dependent density functional theory (TDDFT) to study the optical and electronic properties of alizarin supported on TiO
2
nano-crystallites, as a prototypical dye-sensitized solar cell. To ensure proper alignment of the donor (alizarin) and acceptor (TiO
2
nano-crystallite) levels, static optical excitation spectra are simulated using time-dependent density functional theory in response. The ultrafast photoelectron transfer from the dye to the cluster is simulated using an explicitly time-dependent, one-electron TDDFT ansatz. The model considers the δ-pulse excitation of a single active electron localized in the dye to the complete set of energetically accessible, delocalized molecular orbitals of the dye/nano-crystallite complex. A set of quantum mechanical tools derived from the transition electronic flux density is introduced to visualize and analyze the process in real time. The evolution of the created wave packet subject to absorbing boundary conditions at the borders of the cluster reveal that, while the electrons of the aromatic rings of alizarin are heavily involved in an ultrafast charge redistribution between the carbonyl groups of the dye molecule, they do not contribute positively to the electron injection and, overall, they delay the process.
View Full-Text
►

▼

Figures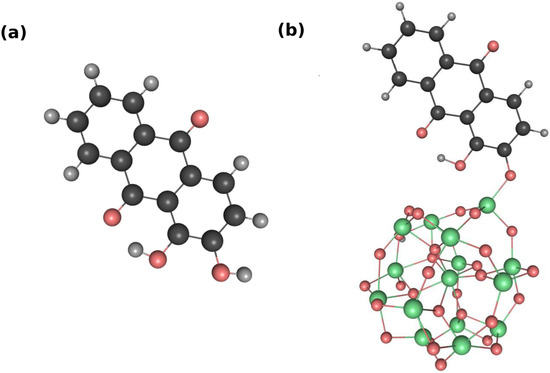 Figure 1
This is an open access article distributed under the
Creative Commons Attribution License
which permits unrestricted use, distribution, and reproduction in any medium, provided the original work is properly cited (CC BY 4.0).

Share & Cite This Article
MDPI and ACS Style
Gomez, T.; Hermann, G.; Zarate, X.; Pérez-Torres, J.F.; Tremblay, J.C. Imaging the Ultrafast Photoelectron Transfer Process in Alizarin-TiO2. Molecules 2015, 20, 13830-13853.
Related Articles
Comments
[Return to top]