Open Access This article is
freely available
re-usable
Review
The Phe-Phe Motif for Peptide Self-Assembly in Nanomedicine
1
Chemical and Pharmaceutical Sciences Department, University of Trieste, Via L. Giorgieri 1, Trieste 34127, Italy
2
Department of Physics, University of Cagliari, Cittadella Universitaria S.P. Monserrato-Sestu Km. 0.700, Monserrato 09042, Italy
3
CSIRO Manufacturing, Bayview Ave Clayton, VIC 3168, Australia
*
Author to whom correspondence should be addressed.
Academic Editor: Didier Astruc
Received: 30 September 2015 / Accepted: 27 October 2015 / Published: 3 November 2015
Abstract
:
Since its discovery, the Phe-Phe motif has gained in popularity as a minimalist building block to drive the self-assembly of short peptides and their analogues into nanostructures and hydrogels. Molecules based on the Phe-Phe motif have found a range of applications in nanomedicine, from drug delivery and biomaterials to new therapeutic paradigms. Here we discuss the various production methods for this class of compounds, and the characterization, nanomorphologies, and application of their self-assembled nanostructures. We include the most recent findings on their remarkable properties, which hold substantial promise for the creation of the next generation nanomedicines.
Keywords:
diphenylalanine; self-assembly; hydrogels; peptides; nanostructures
2. Preparation of Compounds Bearing the Phe-Phe Motif
3. Characterization of Compounds Bearing the Phe-Phe Motif
4. Nanomorphologies Formed by the Phe-Phe Motif
The Phe-Phe motif is an extremely versatile self-assembling building block. Interestingly, subtle changes introduced to the chemical structure of the Phe-Phe derivative are sufficient to obtain different nanomorphologies (
Figure 1
). Alternatively, assembly of any one compound can be driven towards distinct nanoassemblies by varying the experimental conditions. In either case, there is yet no general over-arching principle for the
ex novo
design of specific nanostructures, although the understanding of these systems, and the ability to predict their supramolecular behavior, is rapidly progressing as more reports are generated on the topic.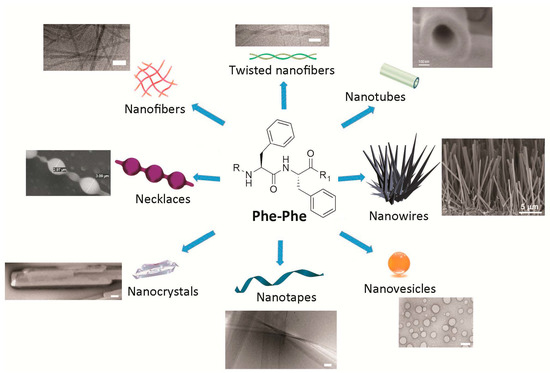 Figure 1.
Simple compounds bearing the Phe-Phe motif self-assemble into diverse nanomorphologies. Scale bars = 100 nm, unless otherwise stated on the image. Adapted with permission from: refs. [
13
,
55
] © 2012 American Chemical Society; refs. [
36
,
54
,
56
] with kind permission of the Royal Society of Chemistry; ref. [
39
] with permission from Wiley © 2008 WILEY-VCH Verlag GmbH & Co. KGaA; and with permission from ref. [
57
] © 2006 Nature Publishing Group.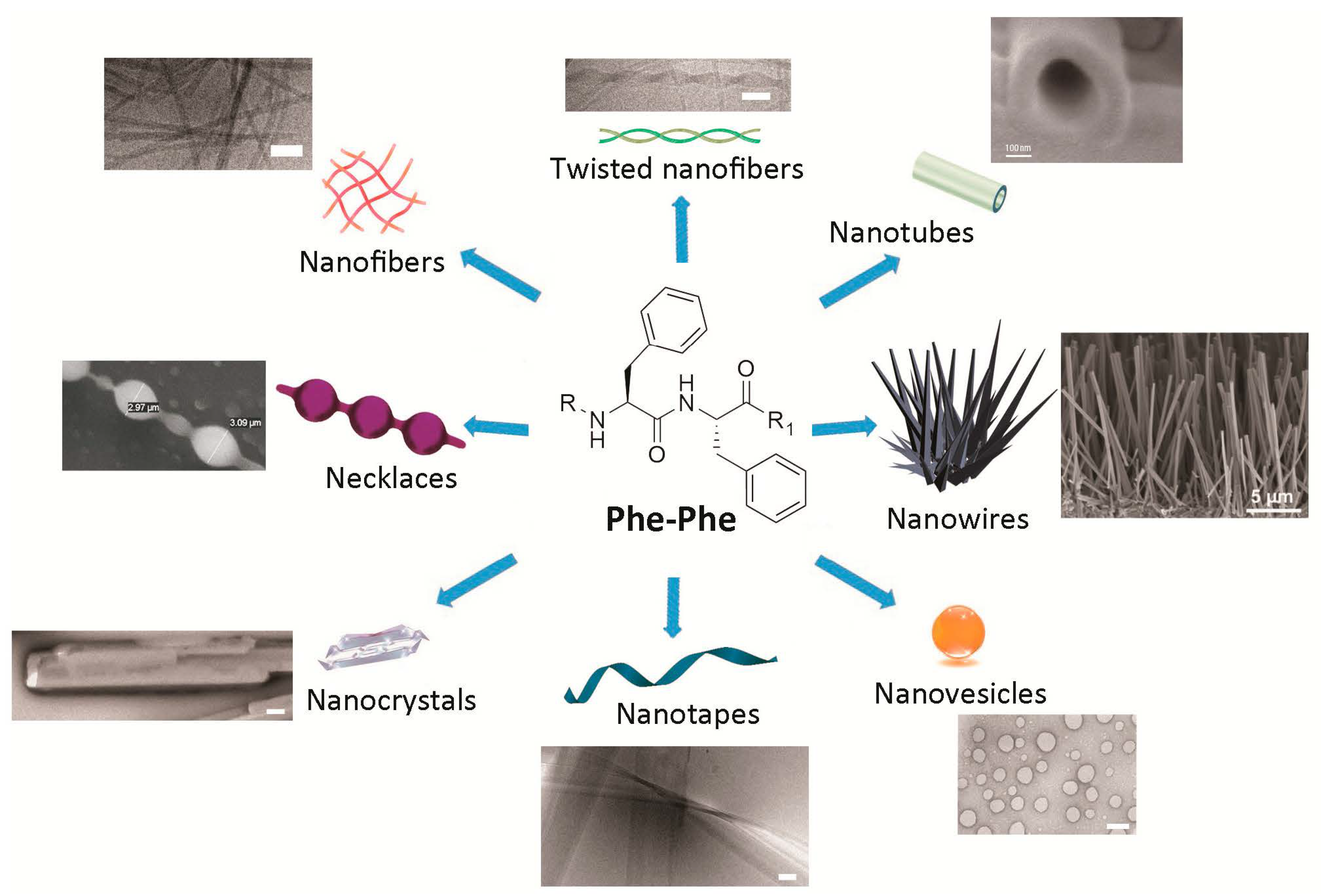 Nanotubes as long as hundreds of microns were first reported for Phe-Phe upon the dilution of a highly concentrated solution of 100 mg/mL of the dipeptide in hexafluoroisopropanol, in water. This elegant study demonstrated the hollow nature of the tubes by using them as templates for the reduction of silver salts to form inorganic nanowires within the nanotubes. The nanowires were easily visible upon protease-mediated degradation of the peptide [
8
]. As an aside, amidation of the carboxyl terminal of Phe-Phe does not hamper formation of the nanostructures [
12
].
The same experimental protocol as described above can result in spherical vesicles when applied to the more rigid diphenylglycine or to a thiol containing derivative (
i.e
., Cys-Phe-Phe tripeptide or Phe-Phe reacted with Traut's reagent). Remarkably, the nanovesicles are stable to a wide range of pH values, including both alkaline (
i.e
., 1 M sodium hydroxide) or acidic (
i.e
., 10% trifluoroacetic acid) conditions, thus giving scope for their adoption in biomedical applications [
13
]. Alternatively, amidated Phe-Phe dipeptide assemblies can undergo structural transition from nanotubes, through a necklace-like intermediate state, to individually dispersed spherical vesicles upon dilution at physiological pH, thus showing that concentration plays a crucial role in the process [
12
]. The Phe-Phe dipeptide can form nanovesicles too, instead of nanotubes, upon further dilution in water [
58
]. Spherical assemblies are also obtained upon introduction of two azide groups, each one in
para
on the aromatic ring of the phenylalanine of the dipeptide, where the azides could serve as photo-crosslinking moieties to fine-tune viscoelastic properties through the use of light. By contrast, the presence of only one azido-Phe does not lead to such nanomorphologies [
59
].
A network of nanofibrils giving rise to a hydrogel is obtained if the dipeptide Phe-Phe is substituted at the
N
-terminal with aromatic synthetic moieties such as fluorenylmethyloxycarbonyl (
i.e
., Fmoc), or naphthalene units [
24
]. Alternatively, addition of leucine or isoleucine as a third, hydrophobic amino acid in a tripeptide with
d
-
l
-
l
stereoconfiguration (
i.e
.,
d
Leu-Phe-Phe [
54
] or
d
Phe-Phe-Ile [
60
]) yields a gelling heterochiral tripeptide with self-assembled fibrils rapidly bundling into thicker fibers.
Nanotapes as wide as tens of nanometers and as long as a few hundred microns are formed by heterochiral stereoisomers of the sequence Val-Phe-Phe upon pH change form alkaline (
i.e
., pH >11.5) to neutral (
i.e
., pH 7.4). Depending on the position of the
d
-amino acid(s) along the tripeptide, supramolecular assemblies are formed with higher or lower order, giving rise to hydrogels with different rheological and thermal behavior [
36
].
Fibers twisted in pairs with a recurrent helical period are obtained with the heterochiral
d
Phe-Phe-Val or its enantiomer Phe-
d
Phe-
d
Val, when the same pH trigger as above is used to obtain the self-assembling zwitterions from a solution of the anionic peptide in alkaline buffer (
i.e
., pH ≥ 11.5) to allow for peptide dissolution at concentrations as high as 30 mM). The resulting matrix holds high amounts of water in a hydrogel at physiological pH [
56
].
Combination of different self-assembling peptides to achieve more complex nanomorphologies is also possible. For instance, mixtures of nanosphere-forming Boc-Phe-Phe and nanotube-forming Phe-Phe allow for the formation of nanosized "necklaces", where chains of beads are connected by elongated structures [
55
].
Switching between peptide nanomorphologies can be achieved upon appropriate chemical design, for instance through insertion of light-responsive units such as azobenzenes that, through photoinduced
cis-trans
conformational change, permit the reversible switch from vesicles to nanofibers [
7
].
Solid-phase growth of Phe-Phe self-assembled structures is another method that can be applied to achieve vertically aligned nanowires. The technique can be combined with soft-lithography to obtain micropatterned nanotopographies of remarkable thermal stability up to 200 °C [
39
]. Alignment of Phe-Phe nanotubes can be achieved with other approaches too, leading to vertical forests through solvent evaporation, or to horizontally aligned nanotubes through use of a ferrofluid and application of a magnetic field [
57
]. Such fine control over self-assembly could find innovative application in the field of flexible electroactive materials and sensors, for example.
5. Use for Drug-Delivery
An interesting avenue for drug delivery is the self-assembly of Phe-Phe derivatives and analogues into durable nanostructures that can enter cells. For example, it was recently shown that fluorinated β-peptides containing two aryl units can form nanotubes that are stable to protease degradation and heating up to 120 °C and can locate in the perinuclear region of cells. Cytotoxicity assays were performed on cultured primary human smooth muscle cells, which are derived from human blood vessels, and thus offer a good model to represent the most abundant cell type directly exposed to nanotherapeutics present in the blood system. After 48 h, no cytotoxic effect was noted for peptide concentrations ranging from 1 to 100 µM, whilst at 200 µM cell viability was significantly reduced to approximately 80% relative to the control [
61
].
Binding of a self-assembling Phe-Phe peptide and a small molecule(s), such as imaging agents or drugs, is an approach that can be used to improve the delivery of hydrophobic or unstable agents. The antitumor drug hydroxycamphothecin has been delivered to cells through the internalization of the self-assembled nanofibers to which it was bound, with a sustained drug release over a one-week period. Use of
d
-amino acids in the sequence provided excellent protease stability, allowing for prolonged therapeutic effect as observed
in vivo
over several weeks, with reduction of a tumor mass in a rat model accompanied by neither significant weight loss of the animal nor histopathological abnormalities or lesions in liver and spleen tissues [
62
].
A similar approach has been applied for the controlled release of the anticancer drug taxol, and of a fluorophore used as imaging agent
in vivo
, upon covalent binding of the small molecules to a self-assembling peptide motif (
Figure 2
). In particular, use of a phosphate precursor allows for the formation of the self-assembling derivative upon phosphatase-mediated enzymatic hydrolysis; preservation of taxol activity was confirmed through MTT assays on HeLa cells [
63
]. Co-delivery of dexamethasone and either taxol or 10-hydroxycaptothecin, two complementary drugs for cancer treatment, was achieved through the hydrolysis of ester linkages that covalently held the drugs attached onto a self-assembling Phe-Phe peptide. In this case, the resulting hydrogels displayed different stability over time at 37 °C, depending on their chemical structure (
i.e
., 48 h for the taxol-derivative, and over two weeks for the other). However, the use of mixtures containing both of the self-assembling components, or just one with the addition of albumin protein, was a useful approach to overall extend hydrogels stability over weeks. Such formulations proved effective for sustained drug delivery
in vitro
, while no peptide component was detected in the release medium, thus confirming the stability of the supramolecular assemblies. In addition,
in vitro
assays revealed no cytotoxic effect arising from the self-assembling peptide for concentrations up to 100 µM over 48 h [
64
]. Other useful applications include the development of hydrogels as vehicles for non-steroidal anti-inflammatory drugs (NSAIDs) for local use. In this case, unexpected advantages such as improved COX-2 enzyme selectivity, and correspondingly reduced side-effects, have been observed for the peptide-drug conjugate. In addition, no cytotoxic effect was observed over 72 h on HeLa cells treated with hydrogelator concentrations as high as over 300 µM, or even 500 µM [
65
].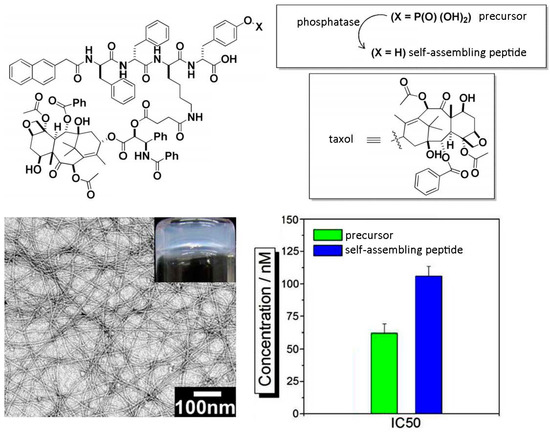 Figure 2.
Chemical structure of a self-assembling peptide derivative covalently linked to taxol and formed upon phosphatase conversion of a phosphate precursor (
top
); upon self-assembly, a nanostructured hydrogel was formed and the IC
50
calculated (
bottom
). Adapted with permission from ref. [
63
] © 2013 American Chemical Society.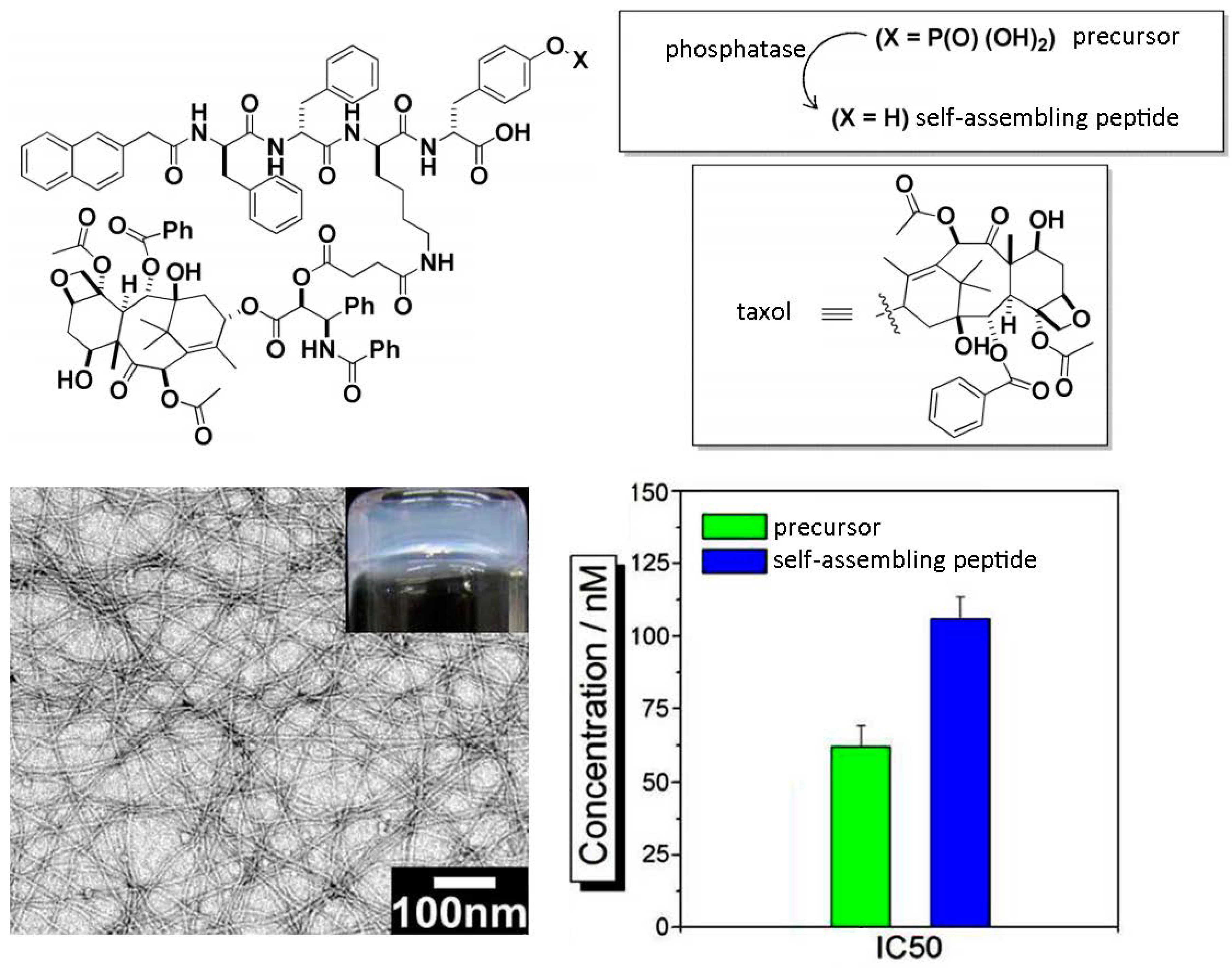 Physical entrapment of small molecules in hydrophobic Phe-Phe-derived gel matrices is possible too, as shown for the controlled release of SPECT tracers
in vivo
[
66
]. Similarly, drugs can be loaded onto nanoparticles for slow release, and these can be entrapped in a hydrogel composed of Fmoc-Phe-Phe-Phe; use of homochiral or heterochiral Fmoc-tripeptide stereoisomers was not accompanied by cytotoxic effects on cells treated for 24 h [
19
].
A more interesting alternative is the non-covalent binding of drugs [
67
] or imaging molecules [
68
] through their active participation in the self-assembly process of Phe-Phe peptides (
Figure 3
), allowing for different release kinetics upon disassembly of the nanostructured hydrogels. Also in this case no cytotoxic effect was observed either on fibroblast cultured on the hydrogel over 72 h, or in hemolysis assays performed with the release medium [
67
]. Spectroscopic evidence pointed to aromatic interactions between the peptide and the cargo, although electrostatic interactions may also play a role. Indeed, the latter were successfully employed for the binding of negatively-charged oligonucleotides that could be delivered inside cells, showing that there is wide scope for the delivery of (macro)molecular cargo [
12
].

Figure 3.
Rhodamine B actively participates in the assembly process of a tripeptide to yield a self-supportive hydrogel (
A
). Confocal fluorescence microscopy highlights the presence of the dye in the supramolecular structures (
B
); resulting in different circular dichroism spectra relative to the peptide alone (
C
) [
68
].

6. Biomaterials Formed by Self-Assembly of Phe-Phe Derivatives
Diphenylalanine by itself does not form hydrogels, however, these can be obtained from self-assembling derivatives that, typically, employ synthetic aromatic units at the
N
-terminal [
69
], or from longer peptide sequences [
70
]. Although the former approach yields self-assembling motifs from simple amino acids and dipeptides, making it convenient from an economical point of view, there are concerns over cytotoxicity as reduced cell viability attributed to the
N
-terminal group has been reported for cells grown on hydrogels of this kind [
71
]. Therefore, there is a lot of interest in identifying self-organizing short peptides that do not require such synthetic capping groups [
53
]. Three is the minimum number of amino acids reported to have the capacity to form hydrogels at physiological pH without the use of organic solvents or synthetic capping groups; examples are the hydrophobic sequences Val-Phe-Phe, Leu-Phe-Phe, and Phe-Phe-Val [
15
,
54
]. Interestingly, it is only the heterochiral sequences (
i.e
., bearing both
d
- and
l
-amino acids at selected positions along the tripeptide) that form nanostructured soft materials under such conditions, while their homochiral analogues do not [
36
,
56
]. It has been hypothesized that the heterochiral stereoisomers can rapidly adopt the appropriate conformation to interlock into phenylalanine zippers, while the homochiral tripeptides suffer from steric clashes that interfere with their ordered stacking [
54
].
The self-assembly process
per se
has a large influence on the resultant viscoelastic properties of the ultimately formed self-assembled material [
72
]. Indeed, while there is a lot of interest in the development of simple building blocks for soft biomaterials, such as tripeptides, the prediction of their supramolecular behavior is still very challenging, and a recent survey of all 20
3
= 8000 natural amino acid combinations identified only four new hits of hydrogelling tripeptides [
53
]. Di- and tri-peptides have obvious advantages in terms of their simplicity, cost, and scalability of preparation relative to their longer or more complex derivatives [
5
]. Additionally, hydrogels formed through the self-organization of small molecules offer an alternative to natural proteins as extracellular matrix (ECM) biomaterial scaffolds, as they allow for defined chemical composition and it is thought that the nanofibril morphology and physicochemical properties mimic that of the ECM.
3D cell culture is another potential biomedical application. Cell infiltration and proliferation has been shown for Fmoc-Phe-Phe hydrogels [
73
]. Incorporation of more than one self-assembling building block, for example Fmoc-Phe-Phe and Fmoc-Arg-Gly-Asp, to include both a self-assembly driver and a biological function such as promotion of cell adhesion, opens the way to more sophisticated biomaterials [
74
]. High cell viability and proliferation was also shown for heterochiral Phe-Phe tripeptide hydrogels, including those with
d
-supramolecular chirality, thus raising interesting questions about cell interaction with biomaterial chirality [
36
,
56
,
67
].
Novel therapeutic paradigms are being developed that incorporate the unique properties of self-assembling short peptides. In one interesting example, the selective formation of a hydrogel "nanonet" in the pericellular space around cancer cells was demonstrated possible through the use of precursors that assemble only when processed by dephosphorylase enzymes overexpressed by cancer cells (
Figure 4
). In this way, the nanonet effectively blocks cellular exchange selectively for cancer cells, eventually leading to apoptosis [
75
]. As another example, combination of self-assembling Phe-Phe, polydopamine spheres, and Fe
3
O
4
magnetic nanoparticles blended different properties into novel nanostructures that formed adhesive nanotubes and magnetic hydrogels under mild conditions, creating scope for stimuli-responsive biomaterial use, for instance for drug delivery or tissue engineering [
76
].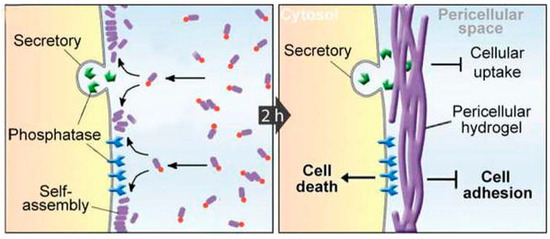 Figure 4.
Enzyme catalyzed formation pericellular hydrogel/nanonets to induce cell death. Adapted with permission from ref. [
75
], Copyright © 2014 WILEY-VCH Verlag GmbH & Co. KGaA.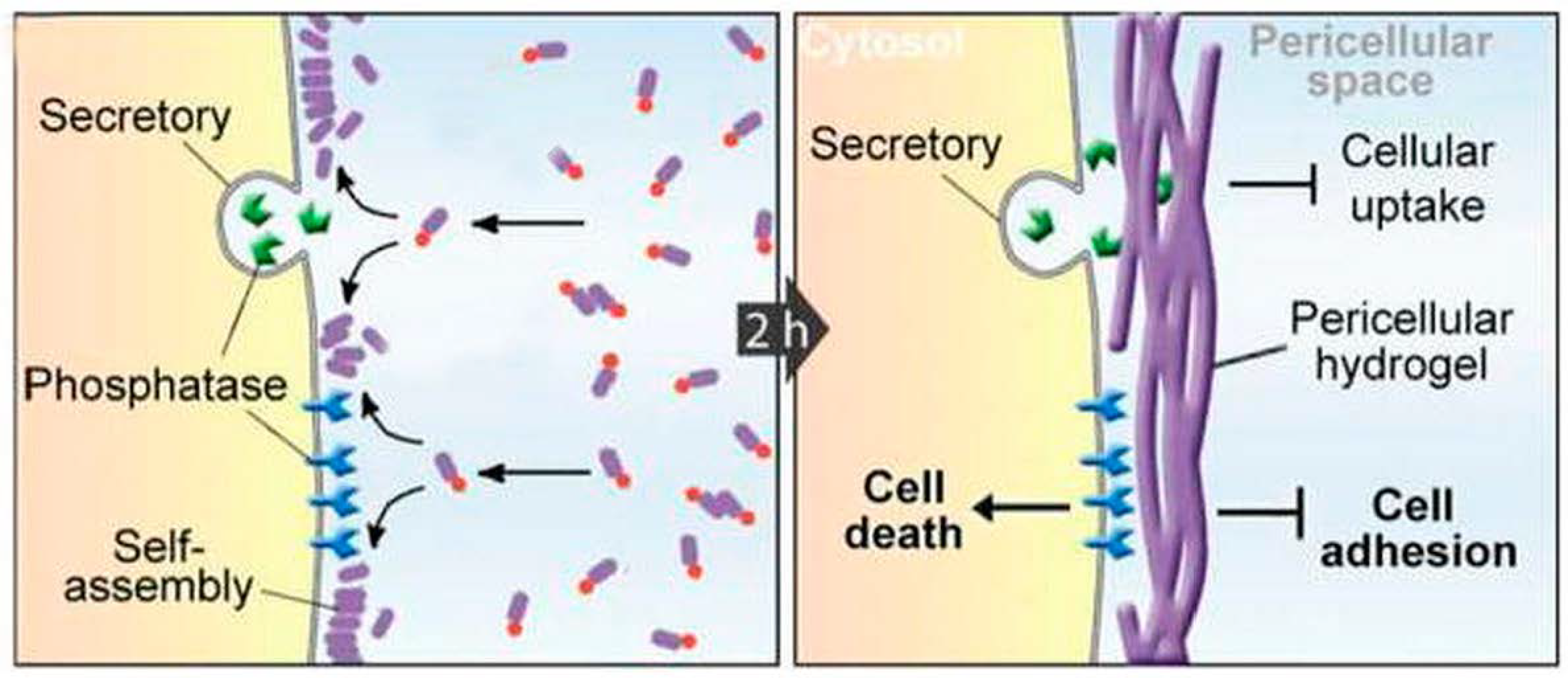 7. Other Applications
A number of other applications are emerging for Phe-Phe-based self-assemblies. For instance, coupling of the fluorinated dipeptide with
l
-DOPA yields adhesive coatings that resist protein adsorption and prevent biofilm formation, thus showing potential for their use on a variety of substrates for health-care or marine sectors [
16
]. The remarkable stability of Phe-Phe nanotubes gives them potential for integration into nanoelectromechanical and medical devices [
77
]. In the field of biomolecule detection, immobilization of peptide nanotubes onto electrode surfaces may assist in the sensitive detection of ethanol or glucose by amperometric biosensors [
78
].
Another original study showed the very unique use of the Phe-Phe as a fuel for supramolecular motors. Phe-Phe can be incorporated into the well-ordered nanosized pores of a metal-organic framework (MOF) structure. Upon release, the dipeptides self-organize into a hydrophobic domain that lowers the surface tension of MOF on the released side, resulting in motion of the MOF with the as-generated surface tension gradient via Marangoni effect. This work opens the way to the use of reconfigurable molecular self-assembly based on MOFs and short peptides towards smart autonomous motors for the biomimicry of bacteria swimming motion and/or for the harvest of target chemicals through the integration of recognition units [
79
].
Recently, a number of interesting properties have been shown for Phe-Phe self-assembled nanostructures, including photoinduced ferroelectricity [
80
] and piezoelectricity [
81
], giving scope for functional nanomaterials that respond to electrical or mechanical stimuli. Non-linear optical effect of a second harmonic generation has also been reported, with efficient frequency conversion from NIR to green and blue light, as well as an effect of nonlinear optical waveguiding [
82
]. Besides, an earlier work showed that photoluminescent peptide nanotubes can arise from the incorporation of lanthanide complexes during the self-assembly process [
83
]. Further development and use of these properties could realize the next generation of electrophotonic devices.
8. Conclusions
We have shown that Phe-Phe is a powerful and useful minimalist building block to drive molecular self-assembly into a variety of nanostructures, as well as hydrogels. These compounds can be produced by a variety of methods, making them easily accessible to scientists coming from different backgrounds, thus allowing rapid progress in their study and application. Besides their innovative use in cancer therapy, biomaterials science, and drug delivery, remarkable properties are continuously being identified giving new horizons for further development of Phe-Phe-based self-assembling compounds towards the next generation of nanomedicine solutions.
Acknowledgments
SM is grateful for to the Italian Ministry of Education, University and Research (MIUR) SIR program for funding under grant agreement n. RBSI14A7PL, HOT-SPOT project.
Conflicts of Interest
The authors declare no conflict of interest.
Sample Availability: Samples of the compounds

d

Leu-Phe-Phe,

d

Val-Phe-Phe,

d

Phe-Phe-Val, Val-

d

Phe-

d

Phe, Phe-

d

Phe-

d

Val and other isomers are available from the authors.
© 2015 by the authors. Licensee MDPI, Basel, Switzerland. This article is an open access article distributed under the terms and conditions of the Creative Commons by Attribution (CC-BY) license ( http://creativecommons.org/licenses/by/4.0/).