Aconitum pseudo-laeve var. erectum

Inhibits Receptor Activator of Nuclear Factor Kappa-B Ligand-Induced Osteoclastogenesis via the c-Fos/nuclear Factor of Activated T-Cells, Cytoplasmic 1 Signaling Pathway and Prevents Lipopolysaccharide-Induced Bone Loss in Mice

1

Department of Anatomy, School of Medicine, Wonkwang University, Iksan, Jeonbuk 570-749, Korea

2

BK21plus Program & Department of Smart Life-Care Convergence, Graduate School, Wonkwang University, Iksan, Jeonbuk 570-749, Korea

3

Imaging Science-based Lung and Bone Diseases Research Center, Wonkwang University, Iksan, Jeonbuk 570-749, Korea

4

Department of Radiology, School of Medicine, Wonkwang University, Iksan, Jeonbuk 570-749, Korea

5

Institute for Skeletal Disease, Wonkwang University, Iksan, Jeonbuk 570-749, Korea

6

Division of Rheumatology, Department of Internal Medicine, Wonkwang University, Iksan, Jeonbuk 570-749, Korea

*

Authors to whom correspondence should be addressed.

†

These authors contributed equally to this work.

Received: 9 July 2014 / Revised: 29 July 2014 / Accepted: 30 July 2014 / Published: 5 August 2014
Abstract
Aconitum pseudo-laeve var. erectum
(APE) has been widely shown in herbal medicine to have a therapeutic effect on inflammatory conditions. However, there has been no evidence on whether the extract of APE is involved in the biological bone metabolism process, particularly osteoclast-mediated bone resorption. In this study, we confirmed that the administration of APE could restore normal skeletal conditions in a murine model of lipopolysaccharide (LPS)-induced bone loss via a decrease in the receptor activator of nuclear factor kappa-B ligand (RANKL)/osteoprotegerin (OPG) ratio and osteoclast number. We then investigated the effect of APE on the RANKL-induced formation and function of osteoclasts to elucidate its underlying molecular mechanisms. APE suppressed the formation of tartrate-resistant acid phosphatase (TRAP)-positive cells, as well as the bone-resorbing activity of mature osteoclasts. Furthermore, APE attenuated nuclear factor of activated T-cells, cytoplasmic 1 (NFATc1) and c-Fos without affecting any early signal pathway of osteoclastogenesis. Subsequently, APE significantly downregulated the expression of various genes exclusively expressed in osteoclasts. These results demonstrate that APE restores LPS-induced bone loss through a decrease of the serum RANKL/OPG ratio, and inhibits osteoclast differentiation and function, suggesting the promise of APE as a potential cure for various osteoclast-associated bone diseases.
View Full-Text
►

▼

Figures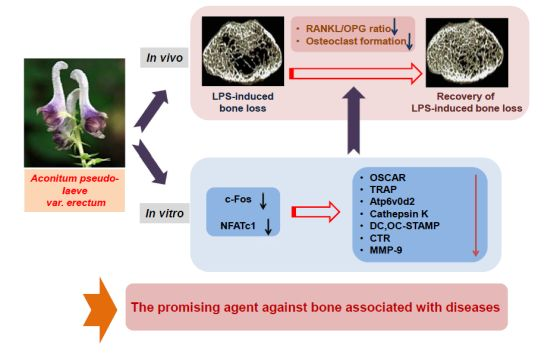 Graphical abstract

Share & Cite This Article
MDPI and ACS Style
Baek, J.M.; Kim, J.-Y.; Cheon, Y.-H.; Park, S.-H.; Ahn, S.-J.; Yoon, K.-H.; Oh, J.; Lee, M.S. Aconitum pseudo-laeve var. erectum Inhibits Receptor Activator of Nuclear Factor Kappa-B Ligand-Induced Osteoclastogenesis via the c-Fos/nuclear Factor of Activated T-Cells, Cytoplasmic 1 Signaling Pathway and Prevents Lipopolysaccharide-Induced Bone Loss in Mice. Molecules 2014, 19, 11628-11644.
Related Articles
Comments
[Return to top]