Two-Step Separation of Nostotrebin 6 from Cultivated Soil Cyanobacterium (
Nostoc

sp.) by High Performance Countercurrent Chromatography

1

Department of Phototrophic Microorganisms-ALGATECH, Institute of Microbiology, Academy of Sciences of the Czech Republic, Opatovický mlýn, Třebon 379 81, Czech Republic

2

Brunel Institute for Bioengineering, Brunel University, Kingston Lane, Uxbridge, Middlesex UB8 3PH, UK

*

Author to whom correspondence should be addressed.

Received: 7 May 2014 / Revised: 17 June 2014 / Accepted: 18 June 2014 / Published: 25 June 2014
Abstract
High performance countercurrent chromatography (HPCCC) was successfully applied for the separation of nostotrebin 6 from cultivated soil cyanobacteria in a two-step operation. A two-phase solvent system composed of
n
-hexane–ethyl acetate–methanol–water (4:5:4:5, v/v/v/v) was employed for the HPCCC separation. In the first-step operation, its neutral upper phase was used as stationary phase and its basic lower phase (1% NH
3
in lower phase) was employed as mobile phase at a flow rate of 1 mL/min. In the second operation step, its neutral upper phase was used as stationary phase, whereas both its neutral lower phase and basic lower phase were employed as mobile phase with a linear gradient elution at a flow rate of 0.8 mL/min. The revolution speed and temperature of the separation column were 1,000 rpm and 30 °C, respectively. Using HPCCC followed by clean-up on Sephadex LH-20 gel, 4 mg of nostotrebin 6 with a purity of 99% as determined by HPLC/DAD-ESI-HRMS was obtained from 100 mg of crude extract. The chemical identity of the isolated compound was confirmed by comparing its spectroscopic data (UV, ESI-HRMS, ESI-HRMS
2
) with those of an authentic standard and data available in the literature.
View Full-Text
►

▼

Figures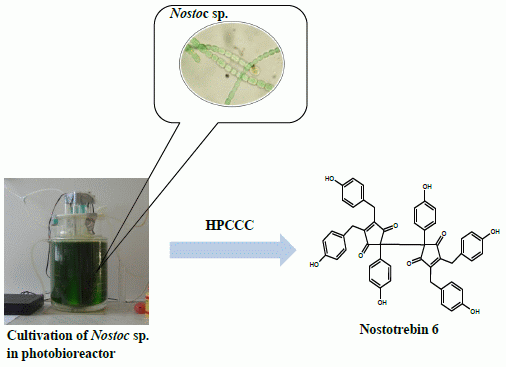 Graphical abstract

Share & Cite This Article
MDPI and ACS Style
Cheel, J.; Kučerová, P.; Garrard, I.; Ignatova, S.; Hrouzek, P.; Kopecký, J. Two-Step Separation of Nostotrebin 6 from Cultivated Soil Cyanobacterium (Nostoc sp.) by High Performance Countercurrent Chromatography. Molecules 2014, 19, 8773-8787.
Related Articles
Comments
[Return to top]