Rice Bran Feruloylated Oligosaccharides Activate Dendritic Cells via Toll-Like Receptor 2 and 4 Signaling
1
Institute of Biomedical Science, National Chung-Hsing University, Taichung 402, Taiwan
2
Department of Medical Research and Education, Taichung Veterans General Hospital, Taichung, 407, Taiwan
3
Rong Hsing Research Center for Translational Medicine, National Chung Hsing University, Taichung 402, Taiwan
4
Division of Chest Medicine, Department of Internal Medicine, Changhua Christian Hospital, Changhua 500, Taiwan
5
Department of Food Science, National Penghu University of Science and Technology, Makung City, Penghu Hsien 880, Taiwan
6
Department of Food Science, National Pingtung University of Science and Technology, Pingtung 912, Taiwan
7
Transplant Medicine & Surgery Research Centre, Changhua Christian Hospital, Changhua 500, Taiwan
8
Biomedical Technology and Device Research Laboratories, Industrial Technology Research Institute, Hsinchu 310, Taiwan
9
Department of Life Sciences, National Chung Hsing University, Taichung 402, Taiwan
10
Department of Applied Science of Living, Chinese Culture University, Taipei 111, Taiwan
*
Authors to whom correspondence should be addressed.
Received: 29 January 2014 / Revised: 29 March 2014 / Accepted: 31 March 2014 / Published: 23 April 2014
Abstract
This work presents the effects of feruloylated oligosaccharides (FOs) of rice bran on murine bone marrow-derived dendritic cells (BMDCs) and the potential pathway through which the effects are mediated. We found that FOs induced phenotypic maturation of DCs, as shown by the increased expression of CD40, CD80/CD86 and MHC-I/II molecules. FOs efficiently induced maturation of DCs generated from C3H/HeN or C57BL/6 mice with normal toll-like receptor 4 (TLR-4) or TLR-2 but not DCs from mice with mutated TLR4 or TLR2. The mechanism of action of FOs may be mediated by increased phosphorylation of ERK, p38 and JNK mitogen-activated protein kinase (MAPKs) and increased NF-kB activity, which are important signaling molecules downstream of TLR-4 and TLR-2. These data suggest that FOs induce DCs maturation through TLR-4 and/or TLR-2 and that FOs might have potential efficacy against tumor or virus infection or represent a candidate-adjuvant approach for application in immunotherapy and vaccination.
View Full-Text
►

▼

Figures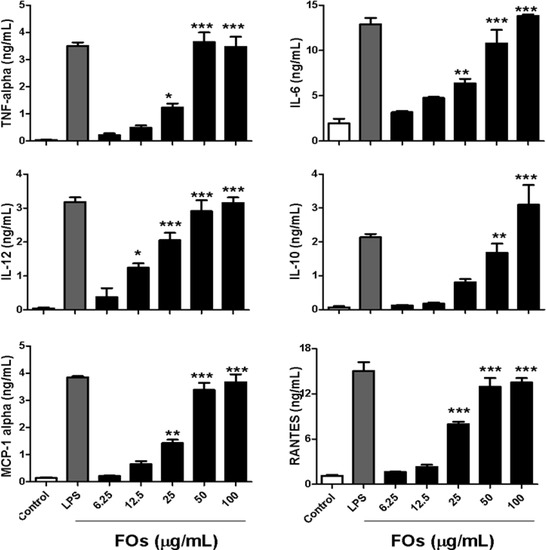 Figure 1

Share & Cite This Article
MDPI and ACS Style
Lin, C.C.; Chen, H.H.; Chen, Y.K.; Chang, H.C.; Lin, P.Y.; Pan, I.-H.; Chen, D.-Y.; Chen, C.M.; Lin, S.Y. Rice Bran Feruloylated Oligosaccharides Activate Dendritic Cells via Toll-Like Receptor 2 and 4 Signaling. Molecules 2014, 19, 5325-5347.
Related Articles
Comments
[Return to top]