Open Access This article is
freely available
re-usable
Review
A Review on Visible Light Active Perovskite-Based Photocatalysts
1
Energy Research Institute @ NTU, 1 CleanTech Loop, Clean Tech One, Singapore 637141, Singapore
2
School of Materials Science and Engineering, Nanyang Technological University, 50 Nanyang Avenue, Singapore 639798, Singapore
*
Authors to whom correspondence should be addressed; Tel.: +65-67904256 (Z.C.); Fax: +65-67909081 (Z.C.).
Received: 25 September 2014; in revised form: 13 November 2014 / Accepted: 16 November 2014 / Published: 1 December 2014
Abstract
:
Perovskite-based photocatalysts are of significant interest in the field of photocatalysis. To date, several perovskite material systems have been developed and their applications in visible light photocatalysis studied. This article provides a review of the visible light (λ > 400 nm) active perovskite-based photocatalyst systems. The materials systems are classified by the B site cations and their crystal structure, optical properties, electronic structure, and photocatalytic performance are reviewed in detail. Titanates, tantalates, niobates, vanadates, and ferrites form important photocatalysts which show promise in visible light-driven photoreactions. Along with simple perovskite (ABO3) structures, development of double/complex perovskites that are active under visible light is also reviewed. Various strategies employed for enhancing the photocatalytic performance have been discussed, emphasizing the specific advantages and challenges offered by perovskite-based photocatalysts. This review provides a broad overview of the perovskite photocatalysts, summarizing the current state of the work and offering useful insights for their future development.
Keywords:
perovskite; photocatalysis; visible light active; water splitting; doping
1. Introduction
Photocatalysis has long been studied for clean energy and environmental applications. Over the past two decades, the number of applications based on photocatalysis has increased sharply, while a wide range of materials systems have been developed [
1
,
2
,
3
,
4
]. Photocatalysis has been of particular interest in the production of hydrogen from water using solar energy [
5
]. Further, conversion of CO
2
to hydrocarbons (fuels) is also of significant interest, as it is a solution to reduce CO
2
emissions across the globe [
6
,
7
]. Apart from the clean energy generation, photocatalysis has several promising applications in the environmental field. Some of the applications include degradation of volatile organic compounds (VOC) for water treatment [
8
], germicide and antimicrobial action [
9
,
10
,
11
], de-coloration of industrial dyes [
12
,
13
,
14
], nitrogen fixation in agriculture [
15
], and removal of NO
x
/SO
x
air pollutants [
16
,
17
,
18
,
19
]. These applications have driven the development of variety of materials systems which are suitable for specific applications. Although TiO
2
-based materials are the most studied for photocatalytic applications, ternary and other complex oxide systems have been increasingly explored as photocatalysts. Among the various classes of materials studied, perovskites-based photocatalysts have unique photophysical properties and offer distinct advantages.
Perovskites are the class of compounds presenting the general formula ABO
3
. Generally, in this crystal structure, the A site is occupied by the larger cation, while the B site is occupied by the smaller cation. Perovskites are one of the most important families of materials exhibiting properties suitable for numerous technological applications [
20
]. Perovskite compounds such as PbZrO
3
, BaTiO
3
, PbTiO
3
are most commonly used piezoelectric compounds [
21
]. BiFeO
3
thin films show multiferroic behavior [
22
], while compounds such as SrTiO
3
have shown excellent photocatalytic properties [
23
,
24
]. The origin of such properties lies in the crystal structure of perovskites. The perovskite crystal structure has corner connected BO
6
octahedra and 12 oxygen coordinated A cations, located in between the eight BO
6
octahedra (
Figure 1
). The perfect structure of the octahedral connection results in a cubic lattice. However, depending on the ionic radii and electronegativity of the A and B site cations, tilting of the octahedra takes place, which gives rise to lower symmetry structures. As seen from the crystal structure, B site cations are strongly bonded with the oxygen (or any other anion) while, A site cations have relatively weaker interactions with oxygen. Depending on the type of the cations occupying the lattice sites, these interactions could be altered to yield the different perovskite crystal geometries.

Figure 1. Crystal structure of simple Perovskite, (a) BaTiO3 and (b) double perovskite Na2Ta2O6 (red: oxygen, green and purple: A site cation, grey and blue: BO6 octahedra).

For example, different degrees of tilting of the octahedra give rise to different crystal fields, which result in different electronic and optical properties. The degrees of tilting may affect the band structure, electron and hole transport properties, photoluminescence, and dielectric behavior [
25
,
26
]. From the point of view of photocatalysis, perovskite structures may offer significant advantages over the corresponding binary oxides for several reasons. Firstly, perovskites could offer favorable band edge potentials which allow various photoinduced reactions. For example, as compared to the binary oxides, several perovskites have sufficiently cathodic conduction band (CB) energies for hydrogen evolution. Secondly, A and B site cations in the lattice give a broader scope to design and alter the band structure as well as other photophysical properties. In the case of double perovskites such as A
2
B
2
O
6
, stoichiometric occupation of two cations at the B site is known to be beneficial for visible light photocatalysis. Thirdly, some studies have shown that it is possible to combine the effects such as ferroelectricity or piezoelectricity with the photocatalytic effect to benefit the photocatalytic activity.
Perovskite photocatalysts have been studied to a great extent because of their promise for being visible light active. A review of the present work on the visible light driven perovskite photocatalyts is essential to provide a broad overview and possible future directions. Shi
et al.
reported a general review of perovskite photocatalysts active under UV and visible light [
27
]. The current review article is focused on visible light active perovskite compounds. We emphasize the strategies used to develop or enhance the visible light absorption and subsequent photocatalytic activities. Further, we attempt to shed some light on the underlying principles specific to the perovskite crystal structure which play an important role in the photocatalytic activity, suggesting potential areas in the field where further work is needed. The first section of the article discusses the mechanism and thermodynamics of some of the most important photocatalytic reactions, while the later section reviews the material systems in detail. In the current review, perovskites are broadly divided into simple (ABO
3
type) perovskites and complex perovskites (double, layered,
etc.
).
2. Overview of Photocatalytic Reactions
Photocatalysis is a process that utilizes the energy input from incident radiation and the catalytic properties of the surface of a material to carry out and/or accelerate certain chemical reactions. To date, numerous chemical reactions have been studied, which are potentially useful in energy generation and environmental cleaning applications. Photocatalysis is known to be able to produce thermodynamically uphill reactions, which otherwise need intense energy inputs in terms of high temperature (or pressure). Understanding the mechanism of photocatalytic reactions is critically important to design and develop new photocatalytic materials. In this section, a brief review of mechanism and thermodynamics of most common photocatalytic reactions is presented.
Figure 2
shows the reduction and oxidation levels of some of the common photocatalytic reactions with reference to vacuum and the normal hydrogen electrode (NHE). It is noted that these values provide an insight only on the thermodynamic feasibility of the reaction. It is seen that for the reduction reaction, the energy of the (photoexcited) electron should be higher (on the absolute vacuum scale) than the redox level. Therefore the CB potential of the photocatalyst should be located at a higher energy value than the reduction reaction of interest.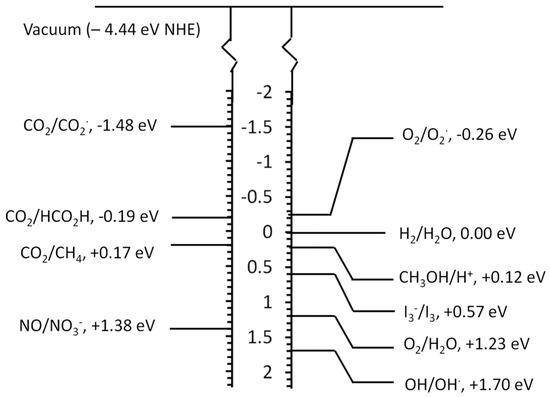 Figure 2.
Energy levels of some of the important photocatalytic reactions with respect to NHE at pH = 0 [
28
].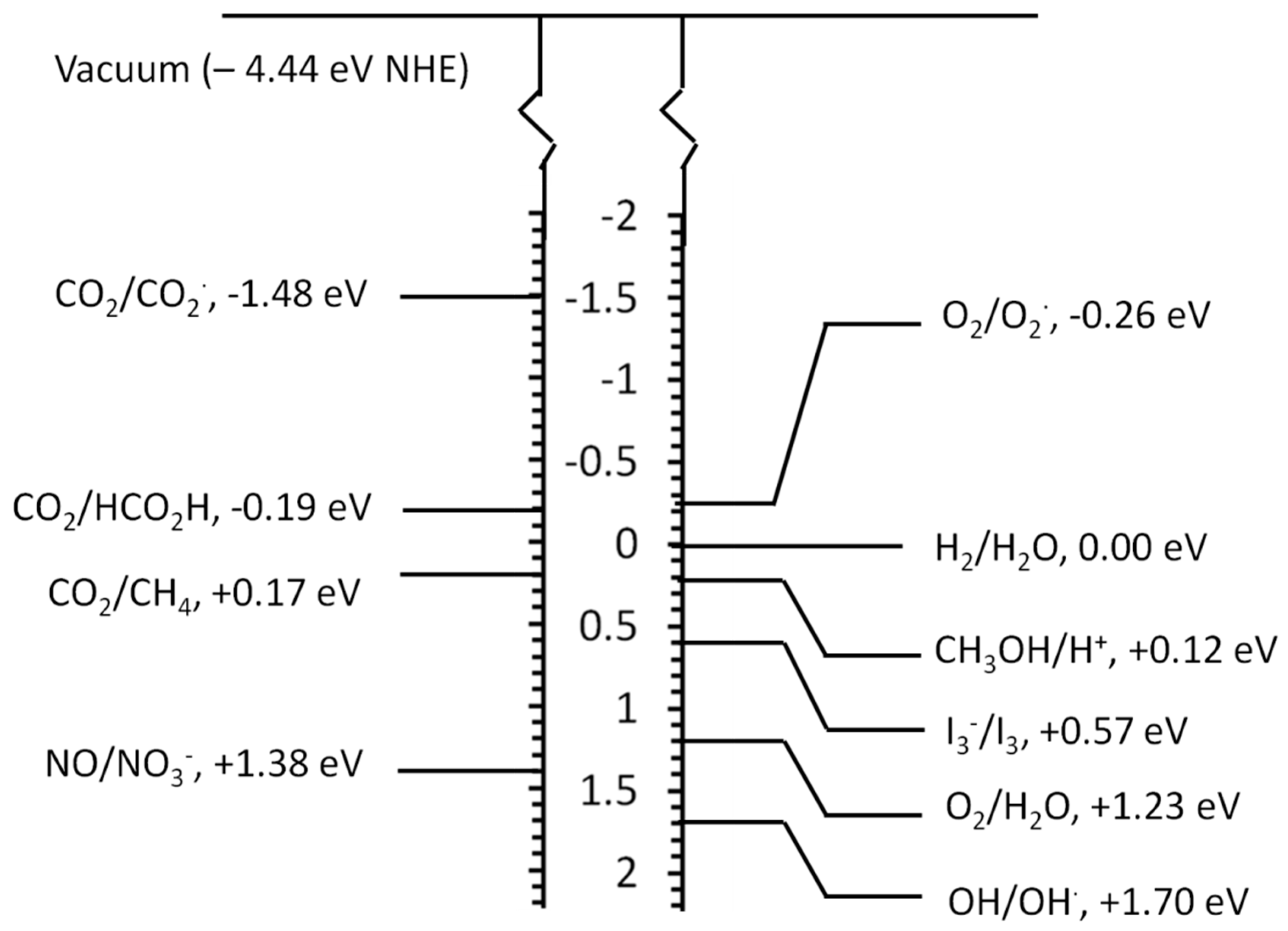 2.1. Photocatalytic Water Splitting
One of the most studied reactions is the direct splitting of water into hydrogen and oxygen.
Figure 3
shows the schematics of the water splitting reaction according to the 4-photon model [
29
].

Figure 3.
Band diagram and schematics of water splitting reaction over a photocatalyst surface [
30
].

In the water splitting reaction, upon the radiation of photon with suitable wavelength, photoexcited pairs of electrons and holes are generated within a photocatalyst. Typically, electron-hole separation takes place, due to surface charge or co-catalyst loading. Direct oxidation of water molecules, chemisorbed on the surface of the photocatalyst (or co-catalyst) occurs, by the interaction of water molecule and hole in the valence band (VB) of the photocatalyst. This reaction results in liberation of an oxygen molecule and 4-protons. The protons then migrate to the sites of photoexcited electrons to form hydrogen molecules (Equations (1)–(3)).
2H2O → 2H2 + O2 ∆H = + 234 kJ/mol
Evolution of hydrogen and oxygen using sunlight is considered as one of the most promising ways to generate hydrogen as a clean and renewable fuel. Like the water molecule, other molecules also undergo decomposition by the process of photocatalysis.
2.2. Photooxidation of Organic Molecules
Several organic compounds undergo photooxidation reactions, where a direct oxidation via photogenerated holes occurs or an indirect oxidation via hydroxyl ions takes place [
31
]. The degradation of organic molecules also takes place by reactive oxygen species (
Figure 4
). Organic dyes, aliphatics and aromatic hydrocarbons, and organic acids can be mineralized to CO
2
and H
2
O by photocatalytic processes. Like organic compounds, hydroxyl ions and reactive oxygen species (ROS) are known to inactivate microorganisms by degrading their cell walls [
10
,
32
]. The photocatalytic inactivation of microbes is effective in antimicrobial, antifungal and antiviral applications. A later section reviews certain silver- and bismuth-based perovskites which display particularly efficient antimicrobial action under visible light.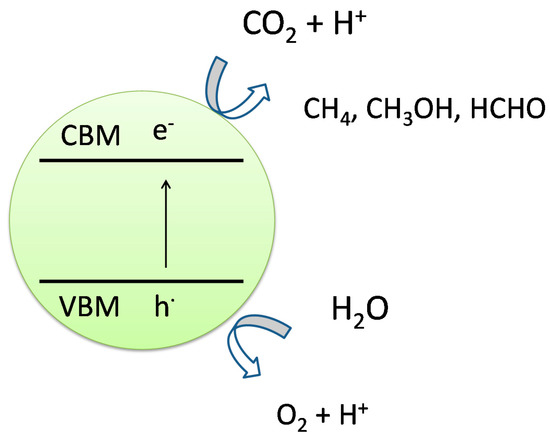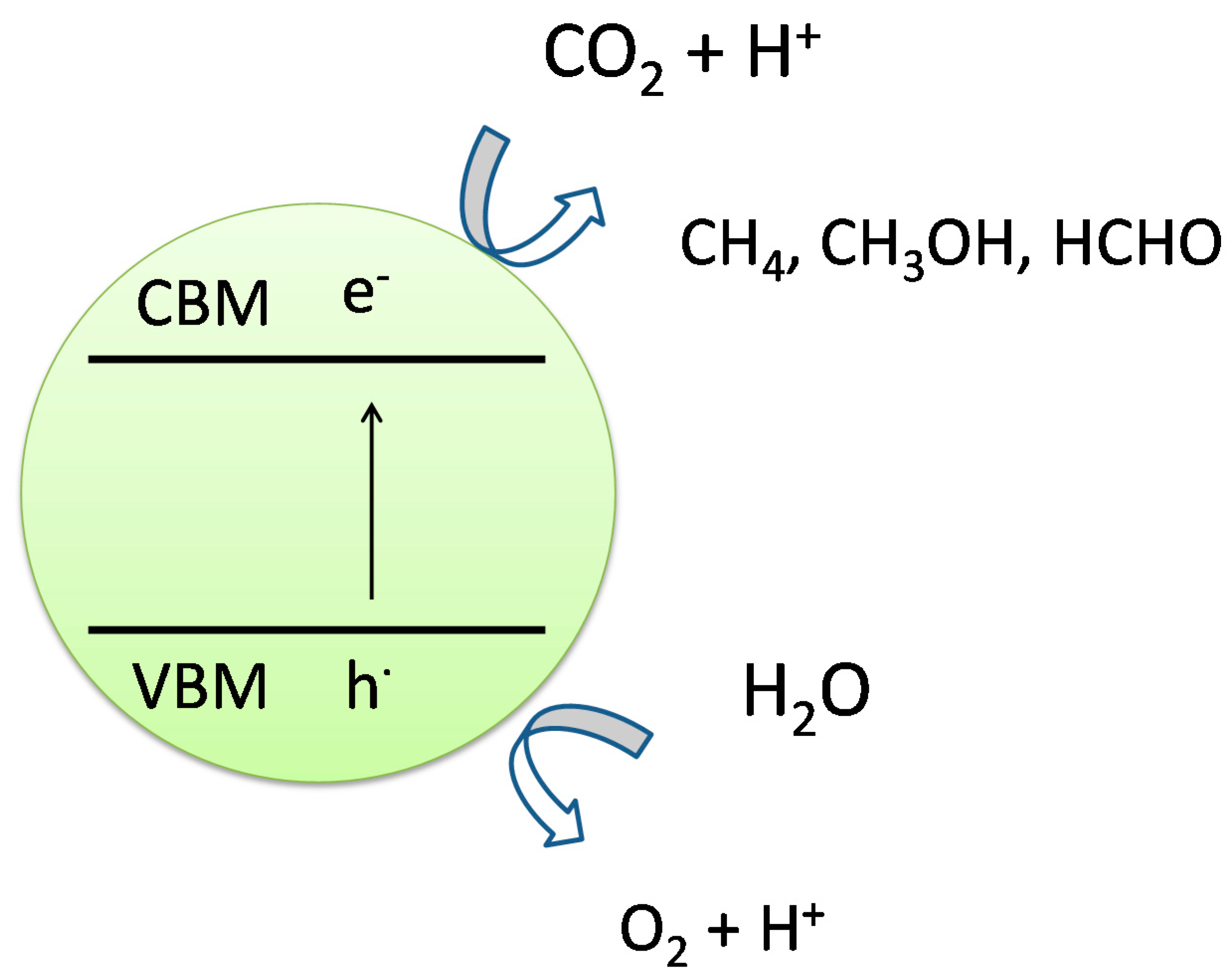 2.3. Photocatalytic Conversion of CO2 to Fuels
CO
2
, with a standard enthalpy of formation of −393.5 kJ·mol
−1
at 298 K, is one of the most stable molecules. With appropriate adsorption and photocatalytic processes, reduction of CO
2
in presence of water could be performed to produce hydrocarbons (
Figure 5
). Possible chemical reactions of adsorbed CO
2
and protons are presented by the following equations (Equations (4)–(7)). It could be seen that different number of protons in the reactants, results in different hydrocarbons as products.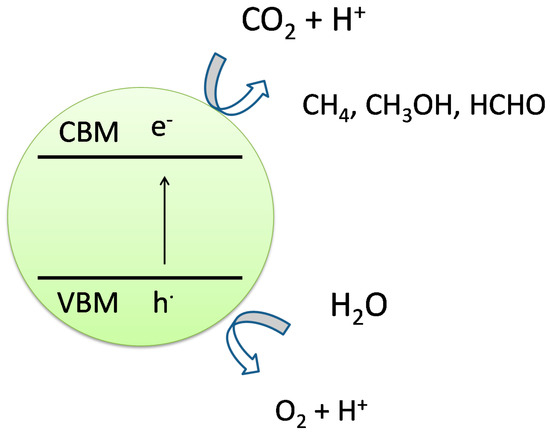 Figure 5.
Schematics of CO
2
photoreduction reaction over a photocatalyst surface [
34
].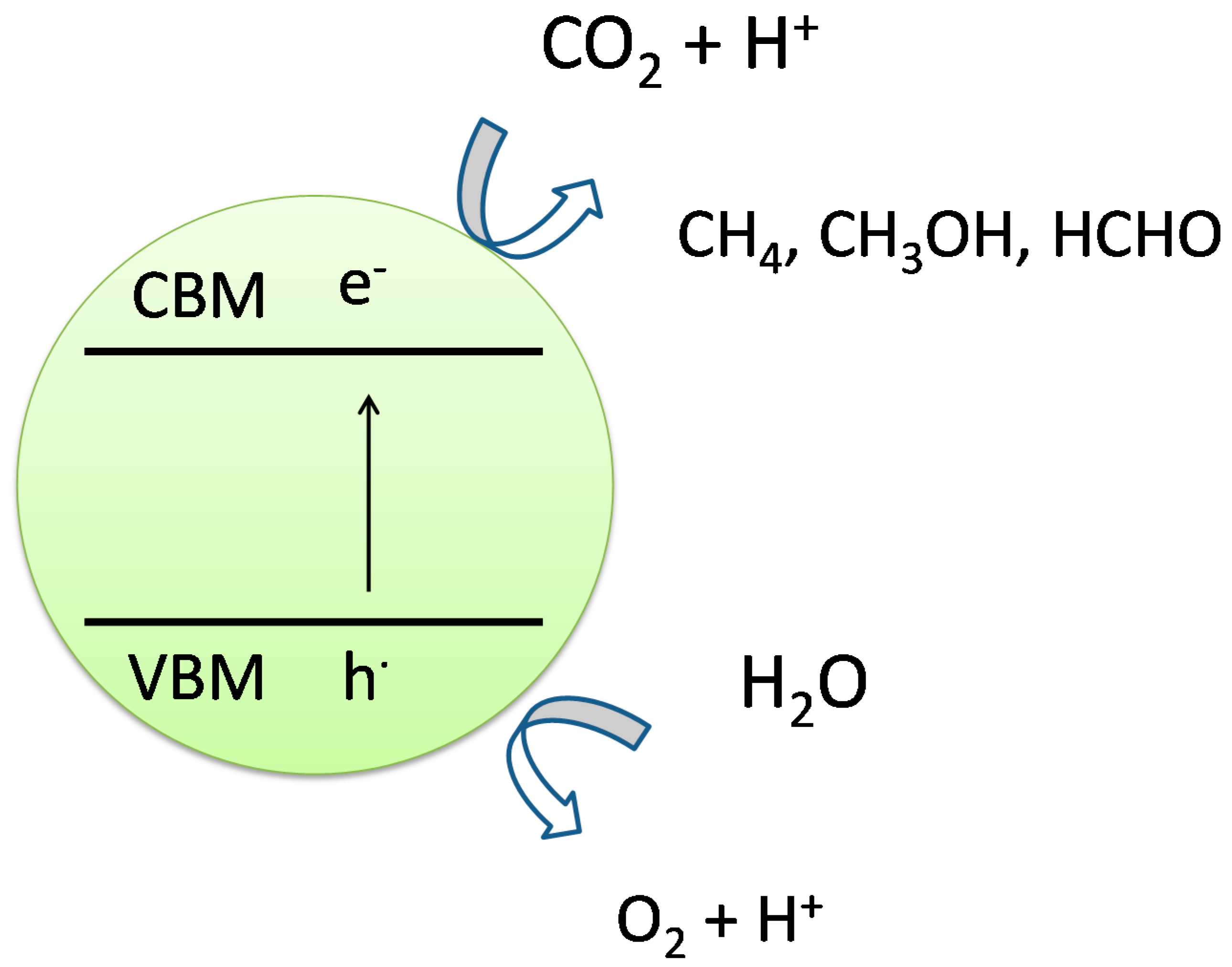 Among these reactions, the reaction with eight protons converting CO
2
to methane is of significant interest. The photocatalytic reduction of CO
2
in the presence of water is a complex reaction and the photocatalyst must possess enough band potential for proton generation:
CO2 + 2H+ + 2e− → CO + H2O
CO2 + 6H+ + 6e− → CH3OH + H2O
CO2 + 8H+ + 8e− → CH4 + H2O
2CO2 + 12H+ + 12e− → C2H5OH + H2O
2.4. Photocatalytic Nitrogen Fixation
Like CO
2
reduction, atmospheric nitrogen could be reduced to ammonia or nitrates by the photocatalytic processes. The mechanism of nitrogen reduction is similar to that of CO
2
, where chemically adsorbed nitrogen molecules react catalytically with protons and form compounds of nitrogen and hydrogen (Equations (8)–(10)):
H2O (hv/TiO2) → 2H+ + 1/2O2 + 2e−
The photocatalytic reduction of nitrogen is extremely useful in nitrogen photofixation processes for agricultural applications [
35
,
36
,
37
]. Although the process of photocatalytic nitrogen fixation is promising, efforts in this area have been severely limited. It is noted that the mechanism of the photocatalytic processes presented above is a simplified understanding, while the photocatalytic processes are complex in nature.
It is known that a given chemical reaction has a specific photooxidation or photoreduction level (potential) and thus the band potentials of the photocatalyst must satisfy the thermodynamic conditions. Intrinsic properties such as band gap (optical absorption) and band edge potentials determine the thermodynamic feasibility of photoinduced reactions under light irradiation. Apart from the basic conditions, there are several factors which affect the photocatalytic performance of the material system under consideration. Properties such as electron and hole effective mass, exciton lifetime and diffusion length, exciton binding energy affect the electron-hole separation and transport within the lattice. These properties are known to strongly influence the performance (kinetics/efficiency) of the photocatalytic reactions. Defects in the lattice, defect-induced energy states, localization of electrons on specific defect sites could determine the fate of the photoexited electron-hole pair. Finally, the electron transfer across semiconductor-electrolyte interface is significantly affected by surface states, surface band structure (depletion region induced electric field), and band bending. Such electronic properties of materials could be altered to suit specific photocatalytic applications. To date, numerous material systems have been evolved through systematic efforts of understanding and improving the electronic properties of materials. Among these materials perovskites have shown excellent promise for efficient photocatalysis under visible light irradiation, on account of their unique crystal structure and electronic properties. The perovskite crystal structure offers an excellent framework to tune the band gap values to enable visible light absorption and band edge potentials to suit the needs of specific photocatalytic reactions. Further, lattice distortion in perovskite compounds strongly influences the separation of photogenerated charge carriers. The following sections present some groups of materials that have shown visible light activity.
3. Simple Perovskites with Visible Light Response
4. Complex Perovskite Materials
4.1. Double Perovskites
Compounds with general formula A2B2O6 belong to the double perovskites and they have similar crystal structures to simple perovskites. Double perovskites have the basic framework of corner connected BO6 octahedra and A cations enclosed within, however, the connectivity of the octahedra may differ from structure to structure. Double perovskites could accommodate different cations at the A or/and B sites, taking a general form AA'BB'O6. Accommodation of different cations at the A and B sites alters the photophysical properties of the compound significantly. Among the binary oxides, only a few compounds are known to have band gap values in the visible region (narrow gap), e.g., Fe2O3, WO6, CuO, Bi2O3. However, these materials suffer from insufficient CB potential for hydrogen evolution. Some of the materials also suffer from poor stability and low mobility of photoexcited charges. On the other hand, many of the binary oxides are known to be efficient photocatalysts, however only activated by UV radiation (wide gap). Complex compounds offer a possibility of combining the elements from 'narrow gap' and 'wide gap' binary compounds to exploit the properties of both types of oxides, and thus are potentially useful as visible light photocatalysts. The following section reviews photocatalytic properties of double perovskites which are visible light active.
4.1.1. Sr2FeNbO6
Sr
2
FeNbO
6
has a cubic crystal structure and a band gap of 2.06 eV. In its pristine form, it is a known photocatalyst, while 7% Ti doping at Fe site has shown two time enhancement of the hydrogen generation in methanol solution. A total of 28.5 µmol·h
−1
and 650 µmol·h
−1
were reported in presence of sacrificial agents and with 0.2% Pt as co-catalyst [
121
]. W doping in Sr
2
FeNbO
6
has also been studied and demonstrated enhancement to hydrogen evolution under visible radiation [
122
].
4.1.2. La2FeTiO6
Hu
et al.
reported higher photocatalytic activity for La
2
FeTiO
6
than for LaFeO
3
for degradation of
p
-chlorophenol under visible light irradiation [
123
].
4.1.3. Other Double Perovskites
Rare earth and bismuth-based double perovskites were studied for visible light photocatalysis. Compounds with general formula Ba
2
RBiO
6
, (R = La, Ce, Pr, Nd, Sm, Eu, Gd, Dy), were prepared and their photocatalytic activity was studied for MB degradation [
124
]. Authors found rare earth cation dependent photocatalytic performance, where compounds such as Ba
2
EuBiO
6
, Ba
2
SmBiO
6
, and Ba
2
CeBiO
6
showed high photocatalytic activity. Complex perovskites such as CaCu
3
Ti
4
O
12
have also been studied for their photocatalytic performance. CaCu
3
Ti
4
O
12
was found to possess an indirect band gap of 1.27 eV and Pt-loaded CaCu
3
Ti
4
O
12
shows degradation of MO under radiation greater than 420 nm [
125
]. Photophysical properties of certain double perovskite compounds have been reported, however, more efforts are needed to investigate photocatalytic properties of these materials. Compounds such as Ba
2
CoWO
6
, Ba
2
NiWO
6
, Sr
2
CoWO
6
and Sr
2
NiWO
6
are stable perovskites compounds for O
2
evolution using sacrificial agents [
126
].
Certain tantalum-based compounds have been studied for degradation of organic compounds. N-doped K
2
Ta
2
O
6
is known to absorb visible light up to 600 nm and degrade formaldehyde under visible light [
127
]. Our group demonstrated that Bi doping in Na
2
Ta
2
O
6
causes visible light absorption and degradation of MB [
128
]. Although some work has been done with double perovskites as photocatalysts, understanding of their fundamental properties is limited. More work is needed to discover their advantages as visible light photocatalyst and develop novel materials systems.
4.2. Mixed Oxides
Mixture of oxides and nitrides or oxides and sulphides has been developed to engineer the band structure of the oxide photocatalysts suitable for the visible light absorption. Oxynitride and oxysulphide photocatalysts offer distinctive advantages over their doped counterparts. Earlier reports on oxynitrides have revealed that replacing oxygen by nitrogen at lattice sites, in a stoichiometric manner, narrows the band gap of the oxide, by pushing the VBM into the band gap [
129
]. Such a modification does not produce native point defects, which would otherwise be introduced in the case of N doping. Stoichiometric incorporation of nitrogen also avoids the localized states induced by N doping and reduces the possible electron-hole recombination. Similar composition containing mixtures of sulfur and oxygen
i.e.
, oxysulfides, has been developed for photocatalysts. Mixed oxysulfide perovskites of Sm
2
Ti
2
S
2
O
5
(E
g
2.0 eV) is known for water oxidation and reduction reaction for oxygen and hydrogen evolution, respectively in presence of sacrificial agents under low photon energy wavelengths of 650 nm. The band structure of this phase reveals that the presence of sulphur narrows the band gap and enables visible light absorption [
130
].
Oxynitride compounds such as CaNbO
2
N, SrNbO
2
N, BaNbO
2
N, and LaNbON
2
belong to the perovskite type crystal structures [
131
]. Photocatalytic hydrogen evolution has been reported under visible light from methanol solution. SrNbO
2
N (E
g
1.8 eV) has been investigated in detail, where the photoelectrode of SrNbO
2
N on a transparent conducting surface shows water oxidation reaction under no external bias [
132
]. Tantalum counterparts of these compounds were developed and utilized in the Z scheme photocatalysis. Compounds such as CaTaO
2
N and BaTaO
2
N were loaded with Pt co-catalyst and coupled with pt/WO
3
for Z scheme water splitting [
133
]. A solid solution of BaTaO
2
N and BaZrO
3
was formulated for hydrogen and oxygen evolution, which showed improved performance compared with the individual photocatalysts under visible light [
134
]. LaTiO
x
N
y
is another perovskite type compound which shows high photocurrent density under visible light [
135
].
Apart from the double perovskites belonging to the general formula AA'BB'O6, there are a several other compounds that show crystal structures close to the perovskite type structure, however such compounds are not included in the current review. Theoretically, double perovskites offer a wider scope to design photocatalysts by selecting suitable cations and AA' and BB' sites in the lattice. Work on design and development of double perovskite is currently limited and synthesis and characterization of new materials in this category are needed.
5. Summary and Outlook
A large number of perovskite-based compounds (over 80) have been studied for visible light driven photocatalytic applications. Perovskite structures offer abundant scope in designing novel compounds based on A and B site occupancy, which gives rise to a wide range of materials systems with unique properties. Among these compounds, photocatalysts with pristine band gaps in the visible region such as LaFeO
3
, PrFeO
3
, NaBiO
3
, and AgBiO
3
(
Table 2
) show promising photocatalytic performance under visible radiation (>400 nm). Although there are reports on the photocatalytic activity of these compounds, detailed studies on these materials are limited. More efforts are needed to understand the structure-property relations in such ferrites and bismuth based compounds and improve their photocatalytic activity. Among the wide band gap semiconductors, SrTiO
3
- and NaTaO
3
-based photocatalysts are the most investigated systems. The strategy of doping foreign elements in wide band gap photocatalysts is widely used to induce visible light absorption and subsequently to enable photocatalytic activity. Nonetheless, very limited knowledge is available on the adverse effect of dopants on the photophysical properties of the compounds (e.g., if the benefit derived from dopant-induced visible light activity is overweighed by a loss of UV light activity). This should be properly investigated in the future. Appropriate dopants which retain the beneficial properties of the host materials while inducing visible light responses should be identified. Research work on complex perovskites show that these compounds offer distinct advantages as compared with simple perovskites. Designing complex perovskite compounds with suitable elements at A and B sites to yield desired photocatalytic properties is a challenge. We expect computational design would help shorten the selection process. Recent advances in computational tools such as DFT based band structure calculations are highly effective to design and understand novel materials systems.

Table 2. Compilation of promising photocatalytic systems for organic compounds degradation under visible light.
Table 2. Compilation of promising photocatalytic systems for organic compounds degradation under visible light.
Materials System
Band Gap (eV)
Photocatalytic Tests Reported
Ref.
Ga doped BiFeO3
2.18–2.50
Enhanced degradation of rhodamine B compared to pristine BiFeO3
[106]
LaFeO3
2.10
Nanospheres show higher rates of rhodamine B degradation than nanocubes and nanorods
[103]
YFeO3
2.43
Rhodamine B degradation rate higher than P25 (>400 nm)
[110]
NaBiO3
2.60
Bleaching rate of Methylene Blue higher than N doped TiO2. (>400 nm)
[113]
AgSbO3
2.58
Eddicient degradation of Rh B. MB, 4-chlorophenol (>420 nm)
[119,136]
AgBiO3
2.50
Inhibition of

Microcystis

[115]
As certain perovskite compounds exhibit ferroelectric, ferromagnetic, or piezoelectric effects, there is a need to understand the correlation between these effects and the photocatalytic activity to a greater depth. Such studies would certainly be helpful in the development of efficient visible light photocatalysts. On a final note, there has been significant progress in the development of visible light perovskites in the past years. This development has laid a good foundation for future work in this area. Further understanding of the crystal and electronic structural factors behind photocatalytic activity is needed for the future development of efficient visible light-driven perovskites.
Acknowledgments
Financial support through an SUG grant from the College of Engineering, Nanyang Technological University, Singapore is greatly appreciated.
Author Contributions
P.K. performed literature research, analysis, and drafted the paper. C.Z. initiated and supervised the work and provided insights. Both authors revised and approved the final manuscript.
Conflicts of Interest
The authors declare no conflict of interest.
© 2014 by the authors. Licensee MDPI, Basel, Switzerland. This article is an open access article distributed under the terms and conditions of the Creative Commons Attribution license ( http://creativecommons.org/licenses/by/4.0/).